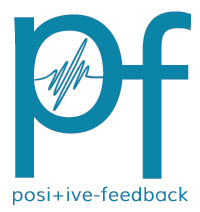 You are reading the older HTML site
Positive Feedback ISSUE 19
may/june 2005
The Home Entertainment 2005 East Show - Show Stoppers
by Myles B. Astor
It was Jack English (then writing for the magazine Sounds Like…) who pointed out to me the discrepancy between whom the reviewers and show attendees chose as best sound at the then Stereophile and now The Home Entertainment Show. Was it that few show attendees made it to the top floors of the show (at least when the Stereophile Show featured more manufacturers and rooms)? Was the voting a popularity contest? Was there a difference in listening habits? Were the differences simply a matter of the spectacular sounding exhibits getting more immediate attention? (we all know the inverse relationship between what sounds good at first and how it sounds with long term listening)? Or are reviewers out in left field and totally out-of-touch with their audience?
Whatever the reason, it is becoming increasingly apparent that choosing a best sound at the HE Show at the current Hilton Hotel show venue is an exercise in futility, especially for those exhibitors showing their wares in the smaller, upper floor rooms. Exhibitors are really presented with difficult problems in overcoming the acoustics/size of these rooms. So what follows is my picks of those exhibitors who managed to transcend the sound of their exhibitor rooms and catch my attention.
Best Sound at the Show AKA Most Perplexing Paradox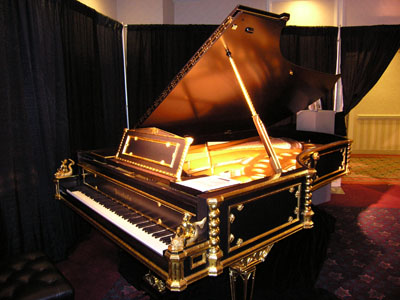 Bosendorfer Room
Is there anyone who hasn't had the experience of walking down the street past a closed window or door and been able to tell that there's a real instrument rather than an audio system playing? Well that's exactly what I experienced when walking past the Bosendorfer room. And when entering, I was pleasantly surprised to find not only a real live-in-the-flesh piano being played—but one of my favorite types of pianos. Indeed Ivan Moravec, one of my favorite pianists, always used a Bosendorfer for his Connoisseur Society recordings. Several years ago when Moravec was performing at the Metropolitan Museum of Art, albeit sadly sans Bosendorfer, I had occasion to meet him after the show. Of course I had to ask him while he was autographing his albums (and unlike Janos Starker who remarked his recordings on Mercury were "the sins of my youth), why he hadn't played a Bosendorfer. Moravec replied without missing a beat that it was extremely difficult to find a Bosendorfer to play in concert. Ughhh… Steinway.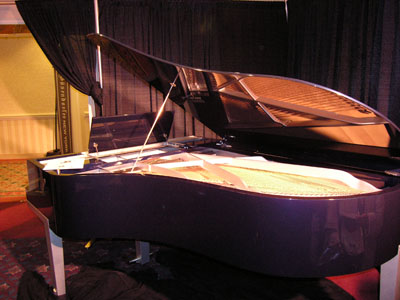 The pianos being played at the HE Show included the 9-foot "Emperor of Japan" and a Porsche design. The former piano is quoting the Bosendorfer literature "…a replica of design commissioned by Kaiser Franz Joseph of Austria in 1869… and presented to Emperor Meijo of Japan." Valued at $500K (so much for high-end audio prices!) and sporting an ornate 24 K gold finish, this instrument put to shame any and all systems at the show. The latter piano design is based upon a design by the grandson of F.A. Porsche and valued at $125K. In fact, I made it a point to attend as many of the Bosendorfer sponsored piano recitals as possible during the show (unfortunately, more people should have spent time listening to the piano!).
Alas, the sound of the Bosendorfer speakers did not live up to the sound of their pianos. All of the models on display, the VC7, 2 or 1 (priced between $9000 and 20,000 depending on finish), simply left me cold. None of the speakers could be listened to on a long-term basis with either analog or digital front-ends (and I made a point to listen to them on all four show days) due to an analytical, cold, over detailed sound and almost unlistenable, rather prominent peak in the upper midrange. Given their price, neither of the speakers really did anything that set them apart sonically from the rest of the field.
Honorable Mention
Kimber Recording Demo
As usual, Ray Kimber presented an ear provoking fascinating demonstration of his ongoing IsoMike recording project. Featured were some tantalizing tidbits from upcoming recordings of the Frye St. Quartet and pianist Robert Silverman (to be released on the Stereophile label) done in normal two channel stereo and surround sound. Playback duties were assigned to Pioneer's TAD Model One speakers (a paltry 100K for the surround sound set-up), Pass Audio 350.5 amps and EMM labs DACC8Mk. IV/Genex GX9000 DSD recorded. Featured pieces on the upcoming releases include Stravinsky's Three Pieces for String Quartet and Beethoven's Opus 132 by the Frye St. Quartet and Beethoven's C-Minor Variation played by Robert Silverman.
Ray did come clean on two items: First, these recordings and the use of his IsoMike recording technique was still a work-in-progress. Second, that the recording projects took up more time than original anticipated and that he would be scaling back the number of recordings done each year.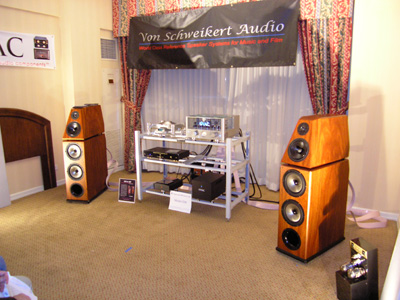 Von Schweikert/VAC Room
The baby has grown up and really come of age. Von Schweikert's VR4Sr speakers have really come a long way since his early models that were dark, darker and darkest, technicolored and low resolution. His new speakers with vastly redesigned drivers are far more coherent, open and resolving, at the same time retaining the earlier model's imaging characteristics. 'Course it didn't hurt that the speakers were driven VAC's Phi Beta integrated amp (of course some might go so far to say that it's hard to design a bad sounding tube amplifier).
Spinning Sources
Setting New Digital Standards
Chesky Records Area 31 (SACD288)
There's just something indescribably right about the sound of a well-recorded performance from the moment the laser (or needle for analog lovers) hits the first pit. Area 31 is not only a great recording, musically interesting and the best work to yet come out of Chesky Records, but the best SACD that I've heard to date. (As we've come find out the hard way, SACDs can sound just a bad as normal discs for various reasons.) There is far more low level resolution, low frequency clarity and definition and dynamics on this disc than any SACD, DVD or CD that I've heard. According to David Chesky, they've been experimenting with the best way to utilize the Soundfield 360 B-format microphone and custom-made tube preamplifier. Chesky also added "this recording is more analog-like and has decreased irritability." I concur wholeheartedly.
Best Actor Starring in a Supporting Role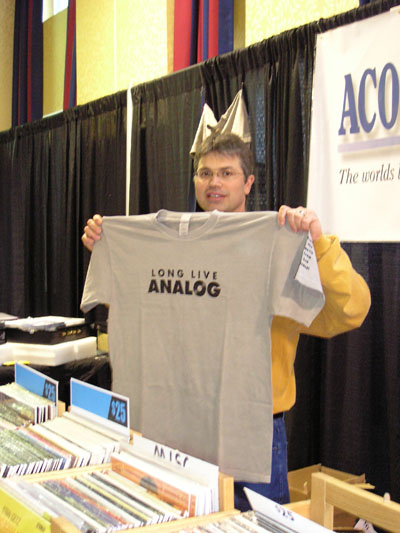 Chad Kassem and the Analogue Production 45 rpm Jazz Reissue Project

Analogue Productions just passed the half-way point in their extraordinary top 100 jazz albums reissue project. While the albums are pricey—they represent an extraordinary reissue job. Whether or not you don't own the originals, make sure to give the 45-rpm reissues though a listen! One small complaint: on occasion the surfaces leave a little to be desired.
Honorable Mention
JVC XRCD Series
Any audiophile who hasn't heard the JVC XRCD reissues must be living on a deserted island. Many audiophiles don't realize, however, that in the not so distant pass, the project was on the verge of being cancelled. Luckily for us, it's survived and now sports a catalog of over 37 classical RCA titles, 127 jazz titles from assorted labels and 60 other releases encompassing different genres. Most discs represent a very good and careful mastering job and are among the best sounding, not to mention covering many greater performances, "unconventional conventional" discs out there today.
Best New Gizmo
Kimber Audio DVD Rewinder
"What do you expect from a cable manufacturer Peter?" asked Ray Kimber as he handed this handy dandy accessory to Audio Critic owner extraordinaire Peter Aczel (and other worthy reviewers) at the New York Show.
Picking up their second award, Kimber's inexpensive accessory rewinds the DVD in no time flat—and without any disc stretching. Even better and demonstrating tremendous forethought, the DVD rewinder is compatible with all regions and disc formats. Best of all, the device makes funny sounds to entertain the owner while rewinding.
Honorable Mention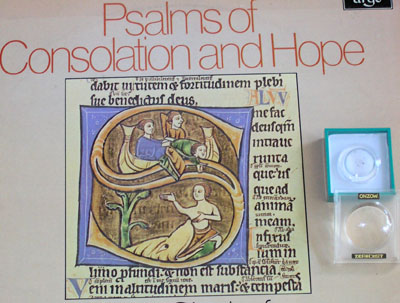 Oznow Zerodust Stylus Cleaner
In case you missed this accessory! As cartridges get pricier and pricier, analog lovers agonize for hours, day, weeks, even months, over what type of stylus cleaner they should use to clean their prized possessions. After all, they don't want to destroy and reduce the lifetime of their precious possessions by cleaning the stylus with the wrong cleaner.
This relatively new stylus cleaner employs a space age, ultra-soft plastic gel to remove pieces of dirt and vinyl from the stylus. Nor could cleaning be any simpler or safer. All one does is place the stylus on the plastic bubble and lift. Voila! Magically the dirt sticks to the gel. For the Ethernet realm doubters, the plastic gel was dotted with little black flecks after three weeks of usage (that can be removed with cleaning). Couple the magical gel with Lyra's SPT for the best in sound. An extra bonus: the Zerodust's cover doubles as magnifying glass to check the stylus for dirt.
One small caveat: I'm not enthralled Oznow's recommending pressing the stylus, even lightly, into the gel! I know for sure at least one cartridge designer who would agree—especially given the fragility of the cantilever. This designer even confided in me placing the cartridge onto the LP causes the most damage to the cantilever system—and one shouldn't ever use an arm without damped cuing. So press at your own risk.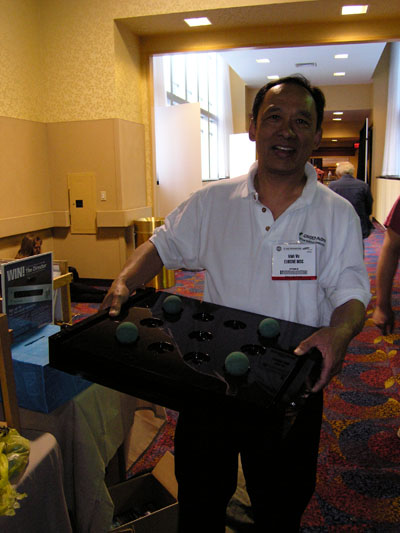 Gingko Audio Dana-Swing Suspended Vibration Control Platform
Here's a product that I'm bursting at the seams to review. Hot on the heels of their highly successful isolation platforms (their balls are now standard issue with the VPI HRX turntable), Gingko Audio introduced a new cost effective vibration isolation platform suspended using nylon strings. This platform can be used with or without the previous ball suspension.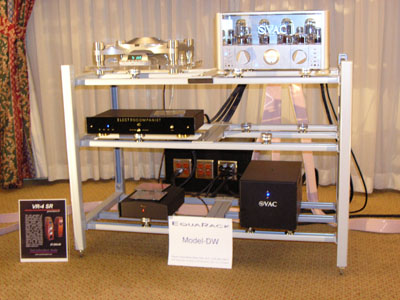 Equa-Rack DW Equipment Rack
Lately I've been on the prowl for a new equipment rack, partly for sound, partly for space considerations and partly for being cat proof. On my short list are the usual cast of suspects including products from SRA, Symposium, HRS, etc. A new contender that caught my eye at the show was the Equa-Rack Model DW used in the VAC/Von Schweikert room. Besides the usual vibration damping accoutrements, what really caught my eye was the ability to place equipment side-by-side to minimize the signal path length. I'd love to place my phono section and turntable side-by-side and on separate shelves! With options, the price is around $3,400.
Irony of High-End Audio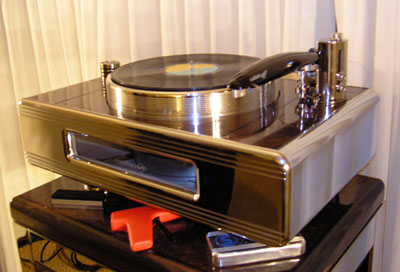 Continuum Audio Labs Turntable
I couldn't help but chuckling when leaving the Continuum Audio Labs Room on the next-to-last day of the show. The table's designer had just given me the Reader's Digest version of the 'tables design; there was particular irony in the fact that analog turntables may be better designed by numbers and measurements than it's much ballyhooed digital playback counterpart.
This 'table uses space age/military technology to come up with unique drive mechanism that is reportedly impervious to the usual speed fluctuation problems afflicting many DC motor designs (speed stability is claimed to be better than 0.006 RT) along with a carbon fiber tonearm that looks right out the 78 rpm era. All that was missing was a couple of quarters atop the tonearm. Kinda ironic too that this "huge-looking" arm was feather light.
Now I'm not sold on carbon fiber technology having played with several products made on both sides of the Atlantic. Again, I find most carbon fiber based products sound different, not necessarily better. When I posed this question to one of the Continuum designers, they talked about how many designers using carbon fiber fail to account for energy tunneling effects that affect the sound.
The You Can Go Home Award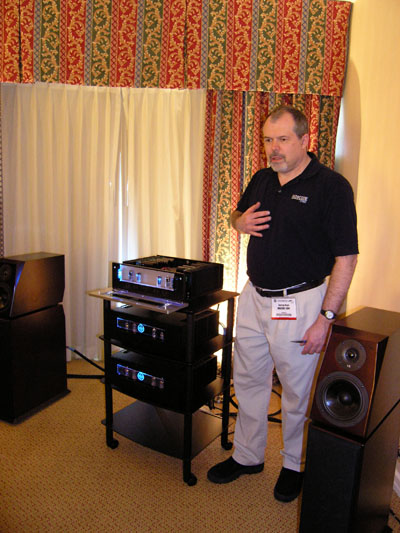 The Reintroduction of the Moscode 401HR Stereo Hybrid Tube Amplifier
Who among us doesn't remember the old Futterman OTL amplifiers? Indeed, one of the best systems I ever heard was a pair of Quad 63s being driven by the old Futtermans. George Kaye, one of the principals involved in the amplifier's design, later went on to found his own company featuring the Moscode series of hybrid tube amplifiers.
Kaye has resurrected the Moscode amplifier series, updated the design and the end result is the new Moscode 401HR stereo hybrid tube amplifier rated at 200wpc into 8 ohms and 300+ into 4 ohms. One unique feature of the 401HR sure to drive audiophiles insane lies in the ability to chose from among a host of input tubes including 6H30Pi, 6GU7, 6DJ8, 6922, 6FQ7, 5814, 7730 or 12AU7. If that doesn't drive audiophile's crazy, it certainly will George given all calls he'll receive from neurotic audiophiles (he better put a FAQ on his web site!) Other stock features include stalwart Edison Price binding post (optional Cardas binding posts) and that the panel lights can be dimmed during playing or used as indicator of warm-up, overheating, power on, etc.
Products to Keep an Eye On
Water Lily Acoustics
Kavi Alexander, owner, recording engineer for Water Lily Acoustics and general all around audio philosopher, announced the imminent release of two new classical recordings done on site in Russia. Both recordings feature Yuri Temirkanov and the St. Petersburg PO performing Mahler's Symphony #5 and 12. This pair of recordings will hopefully be the breakthrough classical recordings we have been expecting from Alexander where he's not handicapped, as were the Philadelphia Orchestra recordings, by poor acoustics.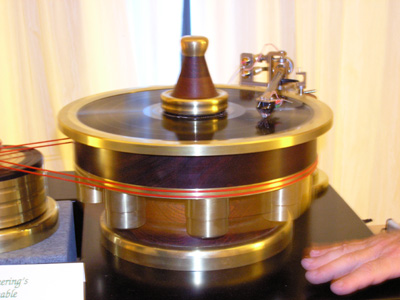 Sound Engineering SE1 Turntable
Hailing from Nashville, TN (home of the old Merrill turntable), this new high-end 'table features a separate arm pod, motor and flywheel assembly and platter. Looking rather homemade (or like an antique), designer Bob Benn's wood and brass constructed turntable uses a DC motor to drive a high mass wood platter with ring clamp and record weight. With arm, the table weighs in a $10,495.
Products that I'd like to Hear in a Different Venue
Butler Audio Monad SE OTL tube amplifier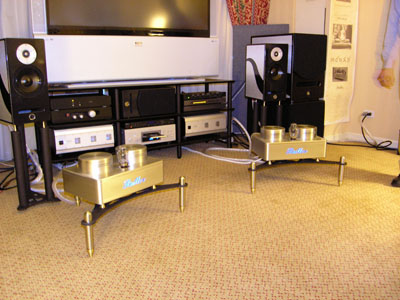 An intriguing new product with flawed sound at the show. It was impossible, unfortunately, given the speakers, to properly evaluate these fascinating amplifiers. Nor was any info on hand; what little information there is available was gleaned from the manufacturer's website. Briefly the Monad is designed by B.K. Butler who until now, primarily designed amplifiers for the likes of David Gilmour, Eric Clapton, Elton John, Eric Johnson. The $18 Monad is 100wpc SE Class A, zero negative feedback amplifier using a single 300B output tube/channel. Yes, that's not a typo and the amplifier according to the manufacturer, isn't a hybrid or use any transistors in the signal path. The Monad can reportedly drive anything including a 10-ton dump truck. According to the website, the Monad used "patented current multiplying DC coupling circuitry to allow the Monad to operate into fixed ratio-reduced speaker output."
InnerSound Kaya Reference Electrostatic Speaker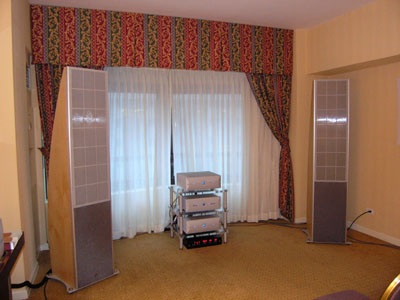 We [reviewers] suffer from a split personality. On one hand, reviewers are obligated to objectively report on the sound of the products in house for review; on the other hand, we do have our own preferences that must be sublimated for the purposes of a review. In this case one of my personal preferences is, despite their shortcomings, for electrostatic speakers. Very little gets my gets my blood boiling like when a new estat design comes to fruition. Here we have designer Roger Sanders' statement speaker where he attempts to overcome the low frequency limitation of estats and the discrepancy in characteristics between conventional cone drivers and panels by coupling the electrostatic diaphragms to a traditional transmission line bass driver. The speaker comes with an outboard electronic Xover and 1200 watt bass amplifier. Unfortunately, showing a dipole under show conditions is brave but often futile attempt. Here in NY the room problems overwhelmed the setup and I definitely have an appointment to hear them under better conditions.