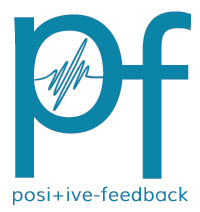 You are reading the older HTML site
Positive Feedback ISSUE 19
may/june 2005
The Weird and the Wonderful at HE 2005 in NY
by Robert H. Levi
Home Entertainment 2005 was a show marked by amazing contrasts—sublime and questionable, expensive and cheap, high minded and questionable, stylish and ugly (though beauty is in the eye of the beholder), musical and, well, not musical, and, of course, expensive and bargain city. Hey, it's HE2005 and it's New York.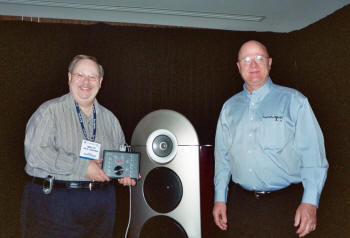 Sublime? Ray Kimber—that's all you need to know. His four-channel surround demo on TAD Model One Pioneer Loudspeakers ($100,000 for the set), was supremely musical and alive, though expensive, powered by four Pass X 350.5s with EMM Labs DAC8MkIV/Genex GX9000 DSD recorder plus Tascam DV-RA1000 DSD recorder. Ray demoed his wonderful recordings to realistic, you-are-there, levels. No wonder so many audiophiles are also recording enthusiasts. Ray's high taste levels came shining through, as less-than-world-renowned musicians gave top-notch performances. I wish all of you could have been there! I loved it. Just think, state-of-the-art speakers from Pioneer! Of course, Ray's Select cables were used throughout.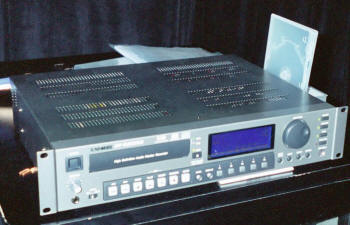 Cheap but wonderful? Ray uses the Tascam DV-RA 1000 DSD recorder with a built-in hard drive that records DSD to perfection for only $1500! The unit features incredible DSD two- channel playback. He says it has more features than the Alesis Masterlink, with vastly higher fidelity. I heard it, and it was the real McCoy! Heads up, recording enthusiasts! This is a must-own for you!
Superb? The Talon Firebirds with diamond tweeters were fabulous! Cool-looking and finished exquisitely, these speakers push the state of the art in reasonably sized cabinets. They weigh 300 pounds each, but their small footprint is quite manageable. I'm now a fan. Only $42,000 per pair!
Expensive and questionable? The ELP Laser Turntable is back, with yet another distributor, Audio Turntable Ltd. of Vermont. Now at $15,000 for the basic model, it's not improved. I heard it play both old LPs and new Classic 45 RPM LPs in exactly the same way—lots of pops and other noises galore. The music was good, but not wonderful, with restrained dynamics and a cool texture. Buy a VPI Scout with a ZYX phono cartridge and an E.A.R. phono stage, all for $3600 retail, and move on.
Expensive and delicious? Used almost everywhere, and sounding wonderful, was the EMM Labs CDSD 6E D-to-A converter and CD/SACD transport at $19,000 for the pair. We're talking lovely, analogue-like sound, with lots of definition. They look great, too.
Oh, how the great have fallen! Just what everyone needs—another black box (actually silver) that makes MP3 sound like SACD. Surprise! Its spokesman is none other than Mark Levinson, in person, selling this Ginzu Knife of audio-land to conventioneers who love MP3 and older, not-so-good-sounding CDs. It did make music sound warm and listenable, but sorry, folks, I'm still in disbelief that Levinson is their guy. It's called the Burwen Bobcat, and is distributed by Daniel Hertz of Advanced Audio Designs. It costs less than $1000, and Levinson likes it, so who knows??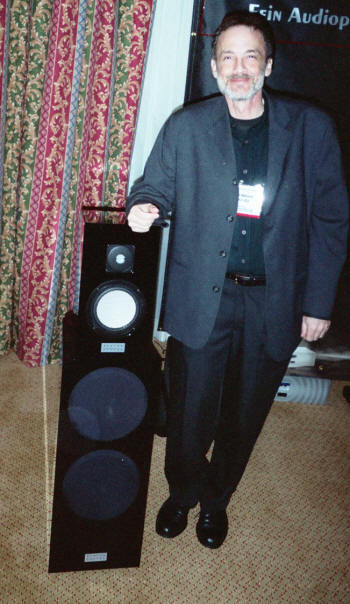 Dan Meinwald of E.A.R. USA.
Meet Duke and Ellington! From Marten Design of Sweden comes a satellite/sub combo for $15,000 ($18,500 for the piano-black-finished pair at the show) called the Duke/Ellington and boy, was it lovely on classical music! I sat there transfixed as the big Brinkmann Balance turntable ($17,500) spun tunes and the EMM Labs front end sang away. The Brinkmann solid-state power amps and hybrid preamp were superb and surprising. What a system! I thought the real-world size of the loudspeakers and their very full-range sound was spot on, and possibly the best of the show. This is a system to aspire to, and enjoy for a lifetime.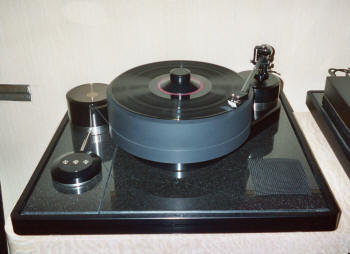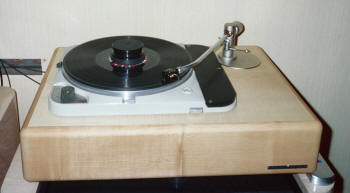 You've got to be kidding! A German company actually rebuilds Thorens TD 124s, adds a big, luxurious wood base (the best part), tonearm, and Ortofon SPU cartridge, and sells them for $10,000! Brinkmann USA distributes them, and I guess there's a market for this. Records played on it sounded okay, but not superb, like the other turntables used in the room. Again, get a VPI Scout for $1600 and move on.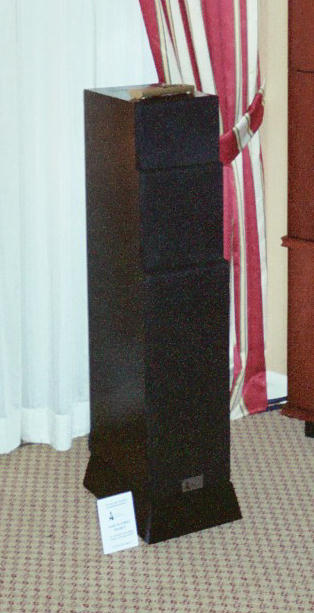 New to the scene? From Aural Acoustics of Greenvale, New York comes a really good speaker, their Model B, for $4500, premiered at the show, sang a great tune. Its phased-array design and individual driver chambers add up to a solid value. Powered by a 50-watter from conrad johnson, it played full out and powerfully, with very musical sound that was a joy to hear. This speaker is going places, and you heard about it here first! This is a true bargain at the price for a full-range floor-stander.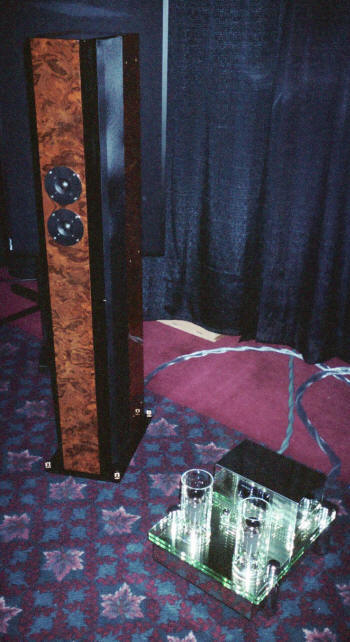 Name calling? Premiering at the show from the legendary makers of Bosendorfer pianos comes Bosendorfer loudspeakers! The piano guys don't design the speaker, of course. A fellow by the name of Hans Deutsch designed them, and they are very pretty. At $25,000 for the VC7 model, I think they should come with a piano. You only get 7-inch bass drivers and some kind of piano-like sounding board built in. Beautiful finish and very nice sound, but that's about it. Oh yes, you get to brag about the name front and center on the speaker. By the way, the ART tube amps were gorgeous, and responsible for the really nice sound from the Bodendorfers. I visited twice, but was more captivated by the Porsche-designed piano and Russian Czar Bosendorfer on display. The speakers sounded similar to the Mac multiple-array loudspeakers, though the Macs are more full-range. Not surprisingly, piano sounded the best on these speakers. Someone give Steinway a call!
Expensive but superb? The Reimyo CDP-777 CD transport/player was playing to great effect. It was supremely musical and well made, as it should be for $15,000. I thought it was as musical as the $20,000 Linn CD player at a $5000 savings. What a deal! I suppose that, as time goes on, companies will try to make CD into SACD in every way possible. Here's a way, if you have really deep pockets!
Some one save me from the names! Want a pair of Amphitryons? Just call Analysis Audio Loudspeakers and get a pair of their new full-range planar ribbon speakers. Very Maggy-like sonically, with a dose of Apogee thrown in for good measure. Actually, they were very musical and nice looking, with top-notch imaging.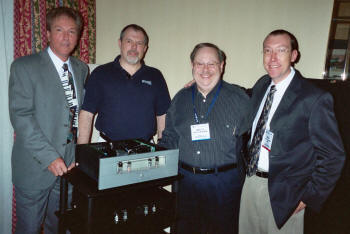 Albert Von Schweikert, George Kaye, Robert Levi, and Kevin Hayes of VAC.
One more time! Moscode is back, and George Kaye is alive and well, selling direct to the consumer. His new amp is a beauty, with tube rolling in mind. The front end is tubed and the output is solid state. With 200 watts into 8 ohms, this powerhouse was gorgeous to see and hear. Put about any tubes in the front end and click a switch. The entire front panel is hinged for easy access. At $4995, it's not cheap, but a sonic winner. The Model 401HR is the one to ask for, with very luxurious sound and strong dynamics. I liked it a lot. It will do 300 watts into 4 ohms, with single-ended operation only.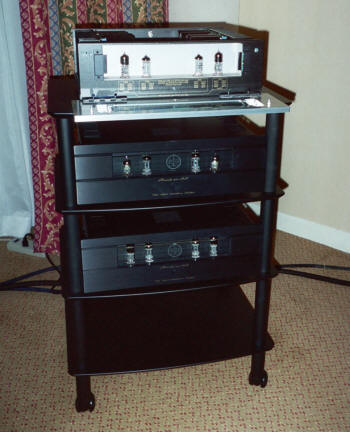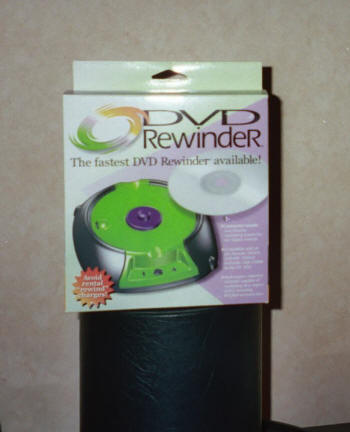 Ludicrous? How about a professional battery-powered DVD Rewinder, claimed to be the fastest in the world? I got one from Kimber. They built them as a joke, but can't keep them in stock! They have a built-in recorder, so you can leave personal messages to remind you to rewind your DVDs before returning them. Very cool!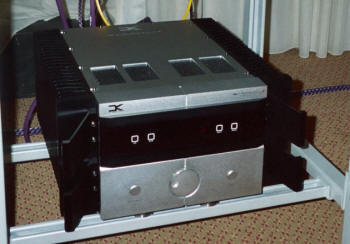 A real deal? The MK3 amplifier from DK with a pair of 6922s in the front end sounded quite good, and at $2995, it's a hell of a deal! You get single-ended and balanced operation and 150 watts into 8 ohms, 600 into 2 ohms! Plus a sweet tube character that comes quite close to fooling you that transistors are on board. This is a true balanced design and quite heavy. Lot's of iron here! This might have been the best amp deal of the show.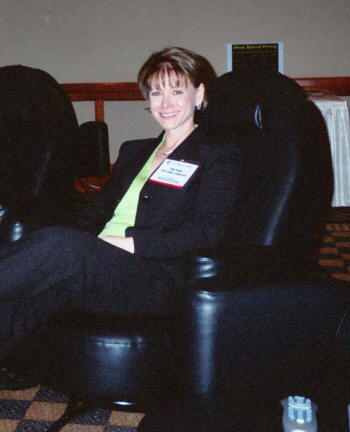 Questionable but with contemporary styling? Ready for the BodySound Chair? Over seven years of research and development has yielded a padded chair combined with a car audio system! For just $2750, you can sit on a subwoofer and "Escape the Ordinary." I quote, "Speakers positioned behind your lower and mid back transmit sound and vibration directly to your spine, conducting sound through your skeletal system to all parts of your body, enriching your listening experience." I'm not making this up! The only thing missing was the Chevy van. I declined to sit in one and watch a movie. Nice-looking ladies in the booth, though.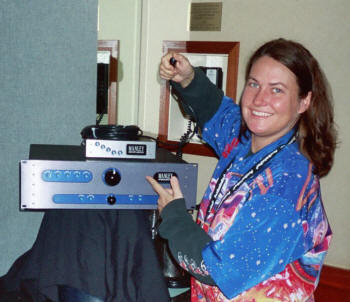 Adorable? EvaAnna Manley always brings great gear and terrific sound. She's just started producing a cool switch box with remote "banana" to expand the inputs of any preamp. Wired in silver and featuring state-of-the-art professional switches, it's a beauty. At $500, you can get five more inputs for your preamp, with zero sonic degradation. There is no volume control, but lots of cool lights so you can identify the input from across the room. Manley showed their superb 250 amplifiers with very musical-sounding Joseph Audio loudspeakers. This was a great room, hosted quite hospitably by EveAnna Manley. All Manley gear is made in the USA, right down to the transformer windings!
Invasion! Gini Systems is importing new producers of audio gear from China, including JAS loudspeakers and amplifiers plus Zion cables and AC isolation devices. I didn't note prices, but the room was filled with gear that looked high quality and well finished. Their Orsus loudspeaker, a three-way floor-stander, sounded quite good. This gear will be sold through dealers. I find the Chinese equipment to be better than the gear first produced in Japan, and on a par with much Japanese gear produced today. The world is becoming flat, and your next piece of audiophile paraphernalia could come from anywhere. Stay turned!