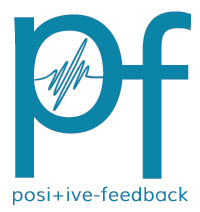 You are reading the older HTML site
Positive Feedback ISSUE 19
may/june 2005
A Trio of Very Diverse Recordings from Chesky
by Karl Lozier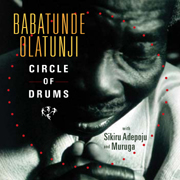 Babatunde Olatunji, Circle of Drums (Chesky SACD295)
Babatunde Olatunji came to the United States from Nigeria in 1950 to study at Moorehouse College in Atlanta, Georgia. Eventually, he and a group of African expatriates formed a band, and the group hit it very big with the release of Drums of Passion in 1959. His albums, featuring traditional Nigerian drumming and chanting with excellent playing, were aided by very exuberant promotion.
On this disc, Olatunji is aided by the Nigerian master drummer Sikivu Odepoju, who specializes in playing the "talking drum," an instrument that can reproduce African tonal language. Serbian drum artist Muruga is also heard, as is his wife Shakti, doing a few vocals. Other instruments include an ektar (a single-stringed Indian guitar), hammered dulcimer, a drum set, a large floor tom, and a synthesizer. There are three outstanding drummers on this recording, but they deliver a message of unity. Although they do not usually play at the same time, and each uses different drums, it works. Not only that, it is cohesive, and flows quite well. Some passages are accompanied by vocal chants. Others have a foundation of droning synthesizer. Some effects are melodic, while some are repetitious, attempting to create a sort of hypnotic trance. Make no mistake—the artistic drumming is the core of this album.
This fine recording was recorded in 1993, but never released. Chesky has remastered it, and the resulting SACD is representative of current high-resolution multi-channel audio. Once again, Chesky's audio quality is full range and excellent, in a natural setting. The clean reproduction should give mid-fi sound systems a bit of a workout. Top-notch systems will render natural sound and great detail in the upper half of the bass range, with no added boom or fullness. Playing around with the volume settings on the surround channels is quite interesting. Raising their level can turn a natural audio setting into a show-off surround-sound drum spectacular. Enjoy this unique recording either way.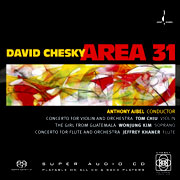 David Chesky, Area 31: Concerto for Violin and Orchestra (Tom Chiu, violin), The Girl from Guatemala (Wonjung Kim, soprano), Concerto for Flute and Orchestra (Jeffrey Khaner, flute). Orchestra conducted by Anthony Aibel (Chesky SACD288)
This ambitious recording starts with David Chesky's Concerto for Violin and Orchestra, which has the traditional three movements. I may be ascribing too much to it, but the first movement begins with hints of Aaron Copland's famous western-American ballets. As the themes develop, there is a very apparent counterpoint of "Classic Contemporary" with jazz. The solo violin alternates between dark, powerful melodies and brilliant passages. The same can be said of the orchestra, though it plays in a more contrapuntal manner. Again as in the tradition, the second movement is lyrical, often dance-like. Although the third movement harkens to the baroque, it is frequently punctuated by contrapuntal lines, some of which could fit into Stravinsky's Rite of Spring. While this interesting composition is definitely contemporary, much of it has roots in the Romantic period of classical music.
Though The Girl from Guatemala, the second selection on this unique disc, is likely to get lost between the other two works, it has much to offer. The unusual but beautiful harmonic fragments in the opening bars struck me instantly. To these, the composer adds soprano Wonjung Kim's flamenco vocal lines. This short composition is an undiscovered gem. I advise discovering it.
The third composition is Chesky's Concerto for Flute and Orchestra. Both the first and last movements begin with great dynamic energy. Much hand clapping and foot stomping abet the fusion of Latin and Brazilian dance rhythms with the traditional concerto form. The middle movement is particularly lovely. Too often in recordings, the flute is inflated to many times life size, and I hate that! Until the last movement of the concerto, I had been thinking that the flute had been recorded in an unusually natural perspective, but in the exuberant fusion of classical, jazz, and Latin music in the finale, the flute increases in size and prominence. The exaggeration was no more than what is found in typical flute recordings, but it was a bit of a disappointment nonetheless. Other than that, this unique recorded gem is about as good as Chesky gets, which is about as good as it gets, period. The multi-channel version adds a significant degree of appropriate concert-hall atmosphere. I would be remiss if I did not add that the orchestra and its conductor seem to be in particularly close rapport with each other, and—perhaps more importantly—with the composer.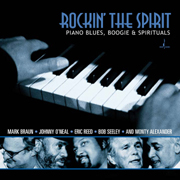 Bob Seeley, Eric Reed, Johnny O'Neal, Mark Braun, Monty Alexander, Rockin' The Spirit: Piano Blues, Boogie & Spirituals (Chesky SACD296)
If you like excellent piano playing, fine music making, and truly top-quality sound, Chesky has all that and more on this new recording. Early on, I decided to award two "D"s to this upbeat release—Decidedly Delightful. I have enjoyed it thoroughly and repeatedly, and I think you will, too. Everything about the recording is so good that reviewing it is easy. Boogie-woogie, played as well as anyone is ever likely to hear it played, occupies roughly half of the disc. Most of the other tracks are well-known blues, gospel, or spiritual selections like "Amazing Grace" and "Glory Glory Hallelujah." Rockin' The Spirit may bring to mind the motion picture hit Ray, in which Ray Charles' bringing of spiritual music into the secular is explored. This live recording was made at Pianocraft Recital Hall in New York City. Microphone placement has a restored 1927 Steinway model D concert grand to the left, with a restored 1936 Baldwin Model D concert grand to the right. Both instruments are approximately ten feet from the microphones. The sound is full-range and excellent. The SACD is at least a tad better than the CD. It is even a bit analog-like, and the surround channels frost the cake with a strong hint of the sound of the recital hall. This is possibly the best recording from Chesky in a long time, which speaks volumes. I gladly give my highest recommendation to this musically fun recording. The boogie-woogie tracks are almost certain to bring a smile to your face.