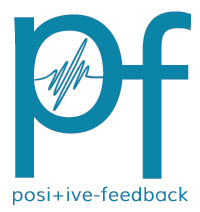 You are reading the older HTML site
Positive Feedback ISSUE 19
may/june 2005
Two from Telarc - The Music of Ivan Lins and Erich Kunzel with the Cincinnati Pops Orchestra and the Mormon Tabernacle Choir
by Karl Lozier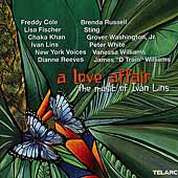 A Love Affair: The Music of Ivan Lins (Telarc SACD 63496)
I was at a bit of a loss to describe this new release, but settled on calling it a cross between a compilation and a tribute album. In truth, it may not be either, but you get the idea. Though not well known to the general public, Ivan Lins is an up-and-comer, familiar and extremely well thought of by musicians world wide. Though a fine vocalist and accomplished keyboard player, the basis for his fame—and expected future greatness—is as a composer. Although Lins has not received the attention that other Brazilian composers have gotten, Barbra Streisand and George Benson have performed many of his compositions, and he would have become much more widely known if Miles Davis had not passed away just a few months before recording an entire album of Lins compositions.
As heard on this fine release, Lins' compositions are harmonically rich, finely orchestrated, and above all melodic. It is easy to enjoy these songs even if they are not familiar to you, but that is only part of the lure and beauty of this fine disc. The recording quality is surprising. I say surprising because each song was recorded by a different group, at a different studio! It was not possible to gather all of these outstanding musicians together at one time or in one place, hence the groups change from one performance to the next.
The high quality of the recording is characterized by a consistent, pleasing emphasis of the midbass. There is never any irritating harshness to the sound, and rich detail abounds. Unlike typical tribute albums, Lins sings one of his compositions and plays keyboard on a couple of others. There are no hard-driving jazz compositions here. Some passages that will remind listeners of the work of Antonio Carlos Jobim. The driving force behind this album was Jason Miles and it is dedicated to Grover Washington, who was the first artist to perform on the project, but passed away soon after.
The highlight of this fine release is the large group of famous performers. They include Freddy Cole, Lisa Fisher, Chaka Khan, Brenda Russell, Sting, Grover Washington, Jr., Peter White, Vanessa Williams, James "D Train" Williams, New York Voices, and Dianne Reeves! Enjoy these outstanding performances, along with the fine sound quality.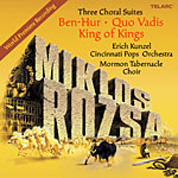 Three Choral Suites: Ben-Hur, Quo Vadis, King of Kings, Erich Kunzel, Cincinnati Pops Orchestra, Mormon Tabernacle Choir (Telarc SACD-60631/CD-80631)
Miklos Rozsa had begun arranging his scores to Ben-Hur, Quo Vadis, and King of Kings as choral suites when he passed away, and a group of pupils, associates, and friends pitched in to complete what he had begun. He wrote the three scores between 1951 and 1961, while he was under contract to MGM. During this ten-year period, he wrote far more than these famous film scores, including a 1953 violin concerto for Jascha Heifetz. After he left MGM in 1963, he wrote a piano concerto, a cello concerto, and a viola concerto, plus several chamber works.
This recording consists of twenty-one tracks, six each for Ben-Hur and Quo Vadis and nine for King of Kings. For each, the first track is the overture or prelude and the last is the score's finale. I have no idea if the tracks in between follow the original score, which of course follows the on-screen action. No matter—it all sounds reasonably appropriate. I presume that most music and movie lovers are more familiar the Ben-Hur score than they are with the other two. Although the Quo Vadis score is a bit more subtle (and sublime) than the others, all are as overwhelming as the classic film epics they accompanied.
The sound quality of this disc is downright spectacular. Audiophiles will find much to enjoy and show off, from cleanly-recorded organ pedal notes to huge choral sections. Some of the choral sections are wordless. I do not know if all three-hundred-plus members of the Mormon Tabernacle Choir perform, but in any event the vocal reproduction is surprisingly clear and detailed. That certainly has not always been the case with previous recordings of the group on other labels. Bravo, Telarc! The CD sounded fantastic on my system; the multi-channel surround SACD added a great deal of atmosphere. That atmosphere benefited a bit from the Height Channel instructions provided in Telarc's notes. I wound up using the usual right, left, and center channels, two height surround channels, two back surrounds, and a pair of subwoofers. This was not really necessary in my opinion, but the sensation of being in an orchestral hall or a very large church was very real.
Whether you are a music lover (hopefully) or an audiophile, remember that audio should be fun. Experiment! With superb recordings like this, you should milk surround-sound for everything it can offer. Play around with the rear distances and/or volume. Try turning the volume/gain of the center channel up a few notches and listen, then repeat with the center channel turned lower than usual. What happens? Try the same with the back surround channels. Also try angling each of them in at least three different directions. Do not stop experimenting with surround sound, and do not think that you need full-range loudspeakers for the surround channels.