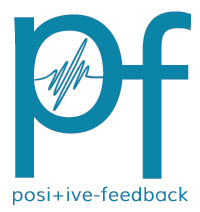 You are reading the older HTML site
Positive Feedback ISSUE 18
march/april 2005
Guilty Treasures: Roger Waters - Amused to Death
by Greg Weaver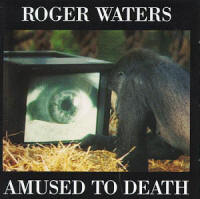 Any discussion of music, much like discussions dealing with religion or politics (both of which this recording touches on, by the way), has the potential to be volatile and raise strong differences of opinion. While some of the cynical viewpoints presented by Amused to Death may run contrary to your own (they do mine), the differences between discussions on such charged issues are greater than the similarities. I would suggest that even should you find the rather bleak outlook expressed on this remarkable creation to be bothersome or disagreeable, you can still discover and revel in its utter musical enchantment. After all, liberals and conservatives alike enjoy Beethoven; atheist or pontiff might equally enjoy either Monk or Coltrane. You see, to enjoy music, as with most art, one need not necessarily share the viewpoint or the agenda of the artist.
With that understanding, I want to touch on the nature of what I call a Guilty Treasure. While many make excuses for what they listen to by applying the term "guilty pleasure," I revel in my love of music. I make no excuses for what I like… well, most of the time. To me, there is no guilt, shame, or embarrassment in listening to anything that in some way brings you some degree of enjoyment, release or healing.
You see for me, that is music's purpose. Since my youth, and I mean like five or six, music has been my anchor. Regardless of what happened to or around me, I could always count on music. It was always there for me, even when nothing or no one could be depended upon. In my case, the term "guilty" indicates simply that the recording falls outside the accepted context of "serious" music, whatever that may be. Substituting "treasure" for the word pleasure is indicative of the degree or caliber of the musical event; it denotes that this experience is elevated past being just pleasant. It is truly a treasure, in the literal sense of the word, making it worthy of being termed precious and sought after, not just delightful. With that modest explanation, here we go…
Haughty Beginnings
The stage name Pink Floyd was fashioned by combining the first names of two bluesmen, Pink Anderson (1900-1974) and Floyd "Dipper Boy" Council (1911-1976), whose records had an enormous influence on the band's founders. While it is unquestionable that the American Blues fuelled the British Invasion of the 1960's, it is doubtful that many will recall either of these two artists today. It seems equally likely that the impact that a 1960's band originally known as "The Pink Floyd Sound" had on popular music was considerable and far-reaching.
George Roger Waters was born September 6, 1943 in Great Bookham, Cambridge, England. His mother, a schoolteacher, raised him after losing his father when Waters was just three months old. Eric Fletcher Waters, to whom the 1983 Pink Floyd album The Final Cut is dedicated, was killed during the British invasion of Anzio, Italy, in early 1944.
Waters and Roger "Syd" Barrett reputedly first met at a Saturday art class they both attended during their school years. It was not until Waters moved to London, where he intended to study architecture at the Regent Street Polytechnic, that he first met Nick Mason, a drummer, and Rick Wright, a keyboard player. That group of students soon formed a band in which Waters played bass and handled lead vocals. It wasn't long before "Syd" joined the boys, and in 1965, Pink Floyd was born.
"Syd," who left the group in early 1968 after exhibiting progressively more alarming signals of mental instability, had been the original creative force of the group. Their first album, released in 1967, Piper at the Gates of Dawn, was primarily his baby. However, even at this early stage, Waters had written or co-written three tacks on Piper, including his exclusive effort "Take Up Thy Stethoscope and Walk."
Whether "Syd" left of his own accord or was asked to depart because of his self-absorption and drug abuse is still subject to some debate, but 1975's Wish You Were Here is both about and dedicated to him. After Barrett's departure, Waters assumed the creative reins of the group, both musically and lyrically, starting with 1968's A Saucer Full of Secrets, and running through 1983's The Final Cut. That was the last Pink Floyd work with which he was associated.
Finding His Way
Waters' solo career has had its vicissitudes, no question. Yet with his first truly solo offering, 1984's The Pros and Cons of Hitchhiking, the alert went out as to the possibilities of his work, which clearly demonstrated his love of the studio process and production. His next effort, Radio KAOS, was vastly underwhelming, to my thinking at least, but was still strong enough to keep the glimmer of a promise of a masterpiece-yet-to-come alive, considering the entire body of his work. 1987's When the Wind Blows found Waters playing composer for his second film soundtrack (the first, The Body, was coauthored in 1970 with Ron Geesin), which was finished immediately prior to the release of Radio KAOS. Waters is credited with ten of the fifteen tracks on that record, eight of them instrumental.
He managed to avoid a studio release for the next five years; five years that saw the fall of the Berlin Wall (November 1989) and the first Iraq war, Operation Desert Storm (January 1991). Though he mounted a live effort, with all-star guest performances, of The Wall in Berlin on July 21, 1990, resulting in the album The Wall - Live in Berlin, he released no studio work. Yet it is certain that those two major historical events, as well as the Tripoli bombing in 1986 and the Chinese government massacre of students during the democracy protest in Tiananmen Square in 1989, greatly contributed to the fashioning of ATD.
Motivation
The project that grew to be ATD was started in the fall of 1987 at Compass Point Studios in Nassau in the Bahamas. The venture was shelved for some time due to the Berlin The Wall concert, deemed timelier, and to Waters' general dissatisfaction with its progress. After even more work in London during 1988 and '89 made it apparent that it was still not ready for the light of day, at Waters' urging EMI announced that the project was being shelved indefinitely. After eighteen months of work in some 10 different studios, the project was near fruition. After repeated track order shuffling to organize the most cohesive flow and a fleeting plan to change the title because it was, in Waters' mind, "too final," it was finally realized. Amused to Death appeared in the United States September 1, 1992, and I found it just 24 days later on my thirty-seventh birthday.
This forceful and dark composition is, in my view, the strongest, most articulate work from Roger Waters; indeed, it is his magnum opus. Central to its theme, not unlike so many of his earlier works (including The Wall, maturing somewhat with The Final Cut, and even a tad in his 1987 solo work from When the Wind Blows), is the absurdity and tragedy found in war. Combined here for the first time we see the influence of Neil Postman's 1985 book, Amusing Ourselves to Death: Public Discourse in the Age of Show Business. With ATD, he updates his now familiar anti-war theme, permeating it with his perceptions on the dangers of greed, his dread of 'Big Brother" government, all woven together with the non-stop barrage of today's media, television in particular, masquerading entertainment as news. It is clear that Waters sees television as a double-edged sword that can both inform and manipulate at the same time.
The TV theme and its symbolism are certainly not new to Waters. In a 1983 interview with Jim Ladd about The Final Cut album, he says, "I keep harping back to this theory about TV. In the 17th, 18th, 19th, and early twentieth century... the only contact you had with your leaders was by reading about them in newspapers... It's only recently that we, the ordinary folk, have had a chance to observe them at reasonably close quarters."
While ATD does not paint a particularly optimistic picture (it takes little effort to glean the conclusion he comes to given the title), it is a vivid, engaging and absorbing one. It is a rather austere statement on contemporary life, tackling war, religion, consumerism, globalization, politics, the media, and the social condition. Lyrically, it is a densely woven tapestry of social commentary rife with political irony. ATD is one of those recordings that cannot be fully realized in just one listen. It will disclose more of its message and musical magic, all carefully constructed and subtlety layered, with each visit.
I have read that the only material to make it to the final release from the original 1987 Nassau sessions was the drum track heard in "Perfect Sense." "The Bravery of Being Out Of Range" was one of the first tracks written, and was actually performed acoustically during the Berlin Wall rehearsals. Two verses of what were to become the title track were quoted in a September 1988 Penthouse interview with Waters. Apparently, the third verse was changed to make it more timely, modifying the original references to Berlin to reflect instead the then current Gulf War. Interestingly, the haunting "Three Wishes" was another of the very early tracks written. "It's A Miracle" was reputed to be the last track recorded, replacing an earlier, livelier version that had included Flea of the Red Hot Chili Peppers.
I must say that I cannot find ATD to be a shamefaced indulgence in the least. I could easily make a case that it is the inevitable and definitive culmination of Waters' work, honed to near perfection, after many previous outings. It is, in my mind, a modern masterpiece. Though some will see it as an overly self-indulgent work (and I'd be forced to agree to some extent), it is nonetheless a milestone in popular music, a significant social statement and a sonic marvel! There is, in my estimation, only one other recording that utilizes Q-Sound to any arguably better effect. Oddly enough, it is a work by Pink Floyd, their 3 record/2 CD chronicle of the Division Bell tour, Pulse, released in 1995. Besides being an exhilarating listen and an unquestioned audio experience, ATD will also tell you in seconds if your listening room set up is average, good, or exceptional.
If you have boundary proximity issues, your speakers have phase or coherence shortcomings, or your speakers and listening position are even slightly asymmetrically arranged, you will experience only half of this recording's extraordinary message. Though the Q-Sound effects require great attention to system set up, the results of spending the time and energy to optimize that alignment are overwhelming. Sounds will be all around you with this recording using just two speakers. There are dripping faucets behind you to the left, dogs barking off your right shoulder, thunder rolling around the room, horse drawn sleighs crossing your listening room—well in front of the plane of the speakers—and even a Genie's voice that surrounds you and fills the entire room. The recording is loaded with myriad of sounds, too many to inventory, with many outside the boundaries of your listening environment!
Though it is not perfect (it is a pop recording, multi mic'ed and recorded in nearly a dozen locations over almost 5 years, after all), this disc has earned a permanent place in my sonic toolbox for its ability to help me dial in a room rapidly and optimally. If you have questions about how to achieve the proper set up, look at the wonderful instructions found at the audio physic web sit and my recent article dealing with simple, fast, and affordable ways to achieve the most effective results. If you continue to have difficulty realizing the effects highlighted in the track-by-track explanations offered below, even after you have done some detailed alignment, try experimenting with speaker toe-in angle. With determined experimentation, you will find a point, and it varies from speaker to speaker and room to room, where the toe-in locks the disembodied voices and effects in space. It is worth making the effort, as this will also be the best toe-in for your speakers in any circumstance. Setting up your room to maximize the effects of this recording specifically, and Q-Sound in general, will be the equivalent of maximizing the overall performance of your system with all recordings.
I wanted to initiate what I plan as an ongoing series with a work that was outstanding both musically and sonically, and ATD was my logical first choice. It is an album that I find myself reaching for and listening to, start to finish, over and over. The crafty lyrics, the wonderfully captivating and arching music and the cornucopia of sounds and effects, coming from nearly every direction in a two-channel set up, deliver the musical goods, time after time. For me, music like this fuels my imagination and recharges my spirit.
Amused To Death
Written by Roger Waters
Produced by Patrick Leonard and Roger Waters
Mixed by James Guthrie
Recorded in Q-Sound.
Engineers: Hayden Bendall, Jerry Jordan, Stephen McLaughlan
Mastered by Doug Sax & Ron Lewter at The Mastering Lab, Los Angeles.
Dedicated to Private William Hubbard (1888-1917), Eighth Battalion of the Royal Fusiliers, City Of London Regiment.
Track 1. The Ballad of Bill Hubbard - 4:19
Listen for the dogs barking WAY off your right shoulder—outside your wall, typically—and a home shopping network type broadcast off to the left. The track then moves into a narration provided by the genuine Alf Razzell, of the British Royal Fusiliers, as he describes his inability to save his colleague, Private William Hubbard (to whom ATD is dedicated), from death and possibly never being found in the trenches during the battle of the Somme in France during World War One. Jeff Beck's creamy, haunting guitar sets the stage while Patrick Leonard's keyboards and Luis Conte's percussion weave an opening track that deftly foreshadow the fantastic aural play about to unfold. If you don't have speakers capable of recreating the bottom-most octave (20-40 Hz), you'd better hook up a subwoofer. You'll need it to appreciate most of the bass work and to recreate the full spatial effects from this recording.
Track 2. What God Wants, Part I - 6:00
With the young girl speaking off to the extreme left and the menagerie of animal noises sprinkled throughout the stage, Graham Broad's somber bass drum pulse eases you into the track before it picks up its tempo. Guitar rock? Yesiree! Jeff Beck, Geoff Whitehorn, Tim Pierce, and Andy Fairweather Low blend their individual guitar work here to exquisite effect and Graham Broad's timekeeping propels the composition along like soldiers marching in lock step.
There were some outcries from some religious groups about the lyrics when first released. Listen for yourself. If you are inclined to be offended, it is important to understand that Waters is not condemnatory of "God"; he is instead satirizing those who declare "God" to be in support of whatever it is they are "selling." As Waters explains, this song "was written as an irritable response to the idea that God can be on somebody's side and not on somebody else's side." And, in my opinion, it is VERY effective here, especially with the combined voices of the London Welch Chorale
Track 3. Perfect Sense, Part I - 4:16
Ok, so close your eyes and just go with this one. There is a bizarre voice off your left shoulder, actually a backward masked message. Fan web sites speculate as to what the rising pitched rant and following message may be, and Stanley Kubrick is at the center of all the speculation.
The cover of ATD shows an ape intently watching television. The Stanley Kubrick connection, through his film 2001: A Space Odyssey, will be obvious to most. From the massed ape vocalizations early on, to lyrics like "The monkey sat on a pile of stone… And he stared at the broken bone in his hand," the symbolism and references seem clear enough. During the opening sequences of 2001, we see the "evolution" of apes, as they progress from passive and timid to aggressive and war-like as they learn how to "master" a tool, an animal bone used as a bludgeon. Here, the tool is television, but used, in Waters vision, in the same fashion.
Be sure to pay attention to the clap of thunder which starts, just after the backward masked message, off your right shoulder then rolls forward, continuing across the front of the stage, then slides up the left completing a clearly defined, semi-circular pattern! A bit later, we are treated to a solo piano followed shortly by a solo violin hanging in space off to the extreme right.
Waters lyrics here are ironic and clever, but the strings, bass and Patricia (P.P.) Arnold's voice are the stars. We're definitely headed somewhere.
Track 4. Perfect Sense, Part II - 2:50
Waters' voice opens, leading into another guitar driven cut. Rick DiFonzo's low grunting guitar is deep, articulate, and powerful. Here the irony kicks into high gear with a battle televised as a sporting event, complete with Marv Albert doing the battle play-by-play.
Track 5. The Bravery of Being Out of Range - 4:42
Here, the energy kicks up again with solid, detailed bass guitar runs. Denny Fongheiser's drum work, Patrick Leonard's Hammond and synth efforts, and Tim Pierce's guitar work are the stars here. Natalie Jackson and Lyn Fiddmont-Linsey's backing vocals are vaguely reminiscent of the "Great Gig in the Sky," from Pink Floyd's Dark Side of the Moon. No super effects here, but this song is definitely rock 'n' roll. The sarcasm here is scathing; the underlying message perhaps too close to home to be funny.
Track 6. Late Home Tonight, Part 1 - 4:01
Ok, be prepared to snap your head over you left shoulder to locate the dripping faucet. This sound effect seems to originate from well behind you on the left side of the room. True to the Q-Sound effect, as soon as you turn your head to localize it, it seems "connected" to the front left speaker. Return your head to the front and center position, and it is again well behind you on the left side of the room.
The tempo slows down again here, and we are back to remarkable sound effects used to heighten the story telling. Fighter cockpit and tower controller conversations, as well as other flight sounds, are all around you. Luis Conti's percussion throughout this track is vividly detailed and varies widely, from rock riffs to tribal rhythms.
At the very end of the cut, listen for the fighter to release its missile and the resultant detonation. That very dynamic explosion (watch the volume here!) literally rolls through the room, starting well behind the speakers then rushing past your chair on its way toward the back wall like a wave!
Track 7. Late Home Tonight, Part II - 2:13
The military dirge-like coronet by Steve Sidwell sets the somber tone. Sounds here include aircraft and felines.
Track 8. Too Much Rope - 5:47
Effects out the wazoo here, and what a blast, ranging from TV shows to chopping wood. From a horse drawn sleigh crossing the stage, considerably forward of the plane of the speakers, from left to right, to a Ferrari later re-crossing from right to left, this cut is quite an extravaganza.
James Johnson's bass runs are DEEP, articulate and defined. As I've indicated, you really need full range speakers (or a good sub?) to appreciate the power of this cut in particular, and this work in general. The beautiful blend of guitar tones from Steve Lukather and Geoff Whitehorn, combined with Andy Fairweather Low's feather strummed 12-string Rickenbacker, yield a delicious sound. We even get to hear Patrick Leonard's children (Jessica and Jordan) screaming near the end of the track before fading into the sound of a warm summer evening with its cricket refrain.
Track 9. What God Wants, Part II - 3:41
Opening with a televangelist speaking off to your left, the choir is back, and this time the theme is more driving; more negative and ironic too. Once more, guitars rule. More crickets, night sounds, and a final train whistle off in the distance—way out behind the front wall and encompassing the room—to close the track. You are surrounded by the sounds of a summer night.
Track 10. What God Wants, Part III - 4:08
Dogs again, go figure, with voices off left during the lead in. Graham Broad's cymbals reveal their lush flavor (listen to the bronzy bite of the ride) and Jeff Beck's weeping, pleading solo guitar is magnificent. And while you may not always care for Waters' voice, here he totally nails the emotion.
Track 11. Watching TV - 6:07
This is the beginning of the real ride. The last quartet of songs is the pièce de résistance of this work. Taken together by themselves, they are so strong that he could have just recorded these four songs and released a killer EP. Effects here include rampant TV channel switching off left and an eerie set of wind chimes. While the lyrics may not be the most inspired, they are certainly clever and Don Henley offers doubled vocals. The tone is set for the beginning of the finale.
Track 12. Three Wishes - 6:50
Wow. The woman's voice, discussing the murder of her children and her own attempted suicide, is way off left. As the track picks up momentum, the disconnected voice of a Genie fills the room—behind you, left, right, behind the front wall. Chills—Goosebumps. The power of that disembodied Genie's voice rattles doors in their frames—down the hall, and closed!
Listen to the cymbal attack and trail. Jeff Beck's solo soars in the middle of the track, but Tim Pierce (Chorus Lesliy) and Andy Fairweather Low (again with that feather strummed 12-string) are haunting as well. James Johnson's bass work is highlighted along with Patrick Leonard's keys and John Rabbit Brundrick's Hammond organ.
Track 13. It's a Miracle - 8:30
The composition here, with the rising synth, the deep background vocals (London Welsh Chorale) and children's voices, the lilting piano solo near the opening, and the chanting "Never more", is ever so slightly reminiscent of the Alan Parsons Project, Tales of Mystery and Imagination. Regardless, the effect is powerful and engaging. In a rare track, Waters picks up the bass…
This track reminds us just why Jeff Porcaro was asked to sit in on so many sessions over his all too brief life. His understated mastery of the drum kit (listen to him switch between sticks and brushes) is enthusiastically displayed, with tom rolls, focused head locations, vital skin tone and pitch. And the application of Q-Sound to the echoed voices and drum strikes have them reverberating all around the room.
Track 14. Amused to Death - 9:07
Starting slowly and building in energy not tempo, Beck, Whitehorn, and Waters on guitar soar with Leonard's keyboards, all the while allowing James Johnson's bass to strut. As with most of his works, Waters makes his closing cut a masterpiece. Rita Coolidge doubles his vocals here, while Katie Kissoon and Doreen Chanter offer superb backing vocals. Final questions asked, and answered.
And when they found our shadows
Grouped around the TV sets
They ran down every lead
They repeated every test
They checked out all the data on their lists
And then the alien anthropologists
Admitted they were still perplexed
But on eliminating every other reason
For our sad demise
They logged the only explanation left
This species has amused itself to death
No tears to cry
No feelings left
This species has amused itself to death
Amused itself to death
Amused itself to death
In Waters characteristic bookend style, the last words we hear are again from Alf Razzell. In closing this work, and in providing closure for himself, Alf describes how he discovered his fallen comrade's name on the memorial to the missing at Arras some forty years later. As the track closes on this remarkable work, the TV switches off and the sounds of crickets take us to fade out…
Discography
I have omitted all 12" and 7" singles, focusing only on the album releases. Italics indicate my preferred recordings.
On Vinyl:
Holland: Columbia 01-468761-20 - limited edition 2LP with lyric booklet
Holland: Columbia 01-468761-20 - 2LP without booklet
Spain: CBS/Sony 12-468761-20 - 2LP
On polycarbonate:
UK: Columbia CK 47127
SC: Columbia COL 468761 2
USA: Columbia CK 47127
USA: Sony/Columbia CK53196) limited edition gold master CD. Comes in longbox sized white cloth and plastic case with cover sticker and gold picture CD
USA: Columbia CK 53196 - limited edition mastersound recording with white plastic longbox and gold picture CD
USA: Columbia CK 64426 - limited edition mastersound recording white cardboard box and gold picture CDJapan - SRCS 6766 - Gold Master
Canada - MCK 53196 - Gold Master
My initial purchase of ATD was the original Columbia CK 47127 compact disc. I had always felt, knowing that Waters was a huge believer in the values of production, that this release seemed darker overall and didn't open up as much as I would have expected. Those suspicions, and a few others, were confirmed when I was able to find the deluxe 2 disc vinyl set pressed in Holland, Columbia 01-468761-20. I actually gave that original aluminum CD to one of the Southern Maryland Irregulars (who now refer to themselves as the backwoods Audio Society, or bAS) when I discovered the virtues of the Gold Columbia CK 64426 mastersound recording, employing Sony's Super Bit Mapping. While the gold CD is not as spacious, as open, or as natural sounding as the Holland pressing, it is VASTLY superior to the original CD release. Bass integrity and special cues seem best recreated with polarity set to 180.
Enjoy.