FOWN-MING TIEN'S SYSTEM:
LOUDSPEAKERS
Thiel CS 2.2
ELECTRONICS
Aesthetix Callisto line stage, Scott Endler Passive Stepped Nude Attenuators, Jeff Rowland Model 10 amplifier, and an Onix H34 tube integrated.
SOURCES
Digital: McCormack Audio UDP-1. Analog: Oracle Delphi MkII, SME 3009 tonearm w/ Cardas cabling, Denon 103 cartridge.
CABLES
Paul Speltz Anti-Cables speaker cables, CryoTweaks Trinity speaker cables, CryoTweaks Silver Reference MkII interconnect, Aural Thrills WBT Gold digital S/PDIF coax interconnect, custom Dodson "secret skunkworks" digital S/PDIF coax interconnect, and Eichmann eXpress6 AC power cable, Electraglide Reference Tri-Glide power cord.
ACCESSORIES
Tice Power Block power conditioner with Hubbell 20A hospital grade outlets, Hubbell 20A hospital grade outlets in wall, Bedini Ultra Clarifier, Auric Illuminator Optical Playback Resolution Enhancement, Quantum Symphony Pro, Black Diamond Racing cones Mk3, Polycrystal amp stands (2), and Verastarr Granite Vibro- Slabs.
I am always on the prowl for products that offer exceptional bang for the buck. While recently browsing through a few audio forums, I noticed that cables from a small company called VH Audio were being spoken of in a very positive light. Since I was not familiar with VH Audio, I paid a visit to their website (www.vhaudio.com). The lack of mega-dollar bling bling caught my attention. I had to find out what the buzz was about, so I contacted Chris VenHaus to inquire about his cables and a few weeks later, several sets of power cords and interconnects were on their way to me.
When I spoke to Chris, he told me that he did not start by manufacturing cables, but by offering his cable recipes on the web for DIY folks to build. When requests for assembled cables grew, he went into the cable manufacturing business full time, in March 2003. Do not fret, DIYers—Chris still offers the ingredients for separate purchase if you have the gumption and know-how to be your own cable chef. (If you are more skilled than a cable chef, he also offers a new Teflon-film reference-grade capacitor called the V-Cap.)
Chris' menu features four different flavors of power cords, each of which can be ordered with a variety of connectors, and one interconnect that doubles as a digital interconnect, and can also be ordered with a variety of connectors. The basic model of the power cord has a Wattgate 320i IEC connector paired with the Wattgate 5266i plug. Upgrading to the Wattgate 350i IEC and Wattgate 330i plug, or Furutech Gold or Rhodium connectors entails an upcharge. For the ingredients of all the recipes, go to http://VenHaus1.com/diymains.html.
The Flavor 1 power cord is designed for digital components that require a safety ground. It features 12AWG, cryogenically treated copper conductors and the VH Audio Counter-spiralled Ground™ geometry pioneered by Chris. The Flavor 2 power cord is designed for analog components such as preamplifiers, amplifiers, and subwoofers. The Flavor 2 also features Spaced Counter-spiralled Ground™ geometry and 12AWG copper conductors, but cryo treatment is an extra-cost (approximately $20) option depending upon length. The Flavor 3 power cord is designed for digital components that do not require a safety ground. Except for the lack of the safety ground, the Flavor 3 is identical to the Flavor 1. The cryo'ed Flavor 4 is designed for high-current amplifiers or other components (analog or digital) that require high current. Its four 12AWG Teflon-insulated stranded bare copper conductors effectively make the Flavor 4 a 9-gauge cord. The conductors are twisted using star-quad geometry, encased in a vibration-dampening Teflon sheath, and finished with a 10AWG bare copper ground wire using the Spaced Counter-spiralled Ground™ geometry.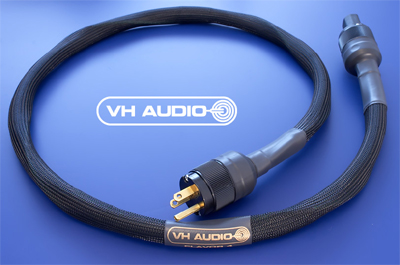 Flavor 4
I received two Flavor 4 cords, a 6-foot one with a 15A IEC and a 3-foot one with a 20A IEC, one 3-foot Flavor 2, and one 6-foot Flavor 1. All were terminated with Furutech Gold IECs and plugs. All were very well constructed and extremely well packaged, with lots of foam peanuts and adhesive-backed bubble wrap affixed to the connectors to prevent scuffing during shipping.
When I attempted to plug the Flavor cords in, I discovered how stiff they were. Chris had asked me for the prong orientation of the power inlets and the outlets on my power conditioner when I placed my order, and I discovered the reason. If the prong orientation is off by 180 degrees, you might not be able to plug the cords in! The Flavor 4 was the stiffest, as well as the thickest.
With the exception of a stock cord on my Rowland amplifier, the power cords in my possession offer their own sonic improvements. They include the Onix Statement, the Audience powerChord (http://www.positive-feedback.com/Issue18/audience.htm), the Eichmann eXpress6 (http://www.positive-feedback.com/Issue12/eichmann.htm), the Revelation Audio Labs Precept (review coming soon), and the Electraglide Reference Tri-glide. I started by replacing the weakest link, the stock power cord on my Rowland amp, with the 20A Flavor 4. It was love at first bite! The bass response was much more extended, with more meat on the bones, and the midrange was much juicier and heartier. Vocals had a forwardness and fullness that I customarily associate with a switch from solid state to tubes.
Chris had informed me that due to the dielectric used, these cables need to burn in for 200 to 400 hours before they can be considered well cooked and fully bursting with flavor, so I decided to replace all of my power cords with VH cords and to let them burn in before doing any critical comparisons. As I replaced each cord, I could not help noticing similar improvements, even though I was not consciously listening. The second power cord I inserted was the 6-foot Flavor 4, which replaced the Eichmann Technologies eXpress6 power cord on my Audio Alchemy DDS-Pro CD transport. The Flavor 1 went on the Monolithic Sound P-3 power supply feeding my Perpetual Technologies P-1/A interpolator and P-3/A DAC. The last cord, a Flavor 2, went on my Aragon Aurum preamp. These cords replaced Onix Statement and Statement 1 power cords. Then the waiting game began, as all the cables were set on simmer with a steady flow of music from my CD transport.
Let me tell you, 200 to 400 hours is a painfully long time to wait for anything, especially if you are not the patient type, which I'm not, or you do not have much spare time, which I don't. I was not able to start evaluating until three months later! I'll start by saying that the Flavor 4s on my amp and CD transport were super yummy. Backgrounds were rendered completely and utterly black. Dynamics were startling, as notes leaped out from silent backgrounds. Highs were clean, clear, extended, and well delineated. Bass was extremely well articulated and thunderous. It sounded like my amplifier had gone through a component upgrade. Although there was more detail, the music did not have an analytical aftertaste. In fact, because of the rich, juicy midrange, my system sounded more musical. Vocals had a bold, tube-like forwardness and texture that was extremely engaging. Because the vocals seemed to be pulled forward, the soundstage was deeper than ever. The scrumptious-sounding Flavor 4 with Furutech connectors is the best power cord that I have heard in the under-$1000 price range. The 4-foot run with 20A IEC for my amplifier cost a mere $179.99, while the 6-foot 15A cord for my transport cost $299.99. This is a genuine steal, because the improvements made evident by these power cords were tremendously enjoyable.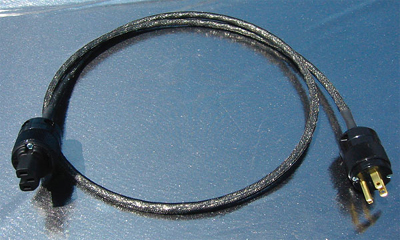 Flavor 2
My experience with the Flavor 2 was equally delicious. A friend brought his Manley Shrimp line stage over, so I was able to get a taste of the Flavor 2 on both a tube and a solid-state unit. On both, the Flavor 2 created a better synergy than the smooth-sounding Onix Statement 1 and the excellent Audience powerChord. Powering my Aragon Aurum preamp, the Flavor 2 delivered exceptional detail and clarity without sounding hyper-analytical. Comparing it to the wonderfully musical Audience cord, I heard more detail across the board, yet the VH cord maintained the musicality that made the powerChord so intoxicating. The Flavor power cords also displayed blazing speed. On the Manley line stage, which is tipped up in the upper mids with the stock tubes, the Flavor 2 delivered cleaner, more defined bass lines while providing a more open, less colored midrange and more transparent highs.
The Flavor 1 was used to power a variety of DACs that I had on hand for review. The midrange was full, robust, and forward, bass deep and thunderously full, highs clear and well separated, imaging precise. One thing that was obvious with all of the Flavor power cords was how quiet and dark the backgrounds became. I believe this is due to their cryogenic treatment. Compared to the $1200 ElectraGlide Reference Tri-Glide that I normally use on my digital sources, the Flavor 1 offered a different perspective. Both cords were equally enjoyable, but different. Both taste great, but which tickles your palate? The Flavor power cords are extremely well balanced. They never altered the flavor of the source, and complemented every piece of gear they came in contact with, which is the highest praise I can shower upon them. The fact that they are among the most affordable power cords I have reviewed makes it easy for me to enthusiastically recommend them as part of a healthy, well balanced audio diet. Fown-Ming Tien
Flavor 1
Retail: $99 2 ft.
Flavor 2
Retail: $82.99 2 ft.
Flavor 4
Retail: $159.99 4 ft.
VH Audio
web address: http://venhaus1.com