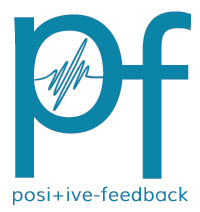 You are reading the older HTML site
Positive Feedback ISSUE 18
march/april 2005
Shatner and Yello
by Danny Kaey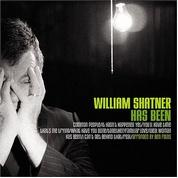 William Shatner, Has Been
"Beam me up, Scotty" are words that have had an undeniable impact on American—perhaps the world's—pop culture. I am of course referring to Captain Kirk asking his main engineer, Scotty to teleport him back to the Starship Enterprise. Captain Kirk, along with Scotty, Bones, Spock, Uhura, Chekov, and of course, Sulu, forever changed the way we look at science fiction. Star Trek spawned several TV series and numerous movies, and has a worldwide fan base that is second to none. William Shatner, the actor who played Star Trek's central character, launched a multi-decade career upon the show's 68 episodes, starring in TV series and motion pictures and making guest appearances and "drop-ins." He also managed to sneak two music albums into his busy schedule: The Transformed Man, released in January of 1968 and reissued on the Varese Vintage label, and Has Been, on the Shout! label, released in October 2004.
I wasn't sure what to expect from Has Been. It was on sale for $11.99 at Tower Records, so I figured I had little to lose, and would at least own an amusing piece of history. I guess sometimes you just have to trust your instincts, as in this case I am happy to report I didn't waste my money. Has Been is one of those exotic, if not esoteric albums that doesn't quite fit into any genre. Shatner teamed up with Ben Folds as producer and co-writer, and the results definitely lean toward pop. Apparently Mr. Shatner is quite the poet, reading and writing short stories, poems, and the like in his spare time. Consistent throughout the project is the fact that Shatner never really sings, rather it is a work of spoken words, rhythmically arranged in a popish sort of way. The album is an ironic reflection on Shatner's life. Certainly the title track plays on that subject. "It Hasn't Happened Yet," the slowest track of the bunch, is a look through the eyes of someone seeking to achieve greatness, yet who constantly has to explain to his parents that it hasn't happened yet. "What Have You Done" was inspired by his wife's tragic drowning in their swimming pool a few years ago.
I guess you have to be a Shatner/Star Trek fan to appreciate the curiosity and self-critique of this album, as I certainly can't see this ringing up in next years list of the 100 most influential albums of 2004. Even so, musically the album is great fun. The recording quality is rather exceptional, with instruments reflecting correct timbres and tonalities. Shatner's voice was recorded very well. Its raspiness and character ring through with each memorable word. Is this a great album? Who knows? I think it is up to the fans to decide, but I think it's memorable. While it can be argued that Shatner has no ability to carry a tune, no one can blame him for trying. Several years ago, I read an interview with Vincent Price, who had the task of speaking the scary coda to Michael Jackson's song "Thriller." In the article, he mentions the enormous difficulty of getting his spoken words in line with the music playing, since you are trying to merge rhythm with a fairly monotone monologue—each sentence had to be timed perfectly in order for the sequence to carry the beat. At the very least, Shatner deserves kudos for successfully doing the same.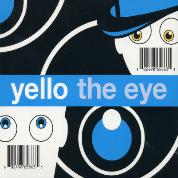 Yello, The Eye
Released in Europe almost a full year prior to the US launch (I guess they are more popluar in the old country) I have been using Yello's latest album The Eye quite extensively for some recent reviews. Dieter Maier and Boris Blank teamed up once again to create an album with significant sonic bliss and imaginary painted landscapes full of fantastic sound.
That pretty much sums up their latest release. From tuneful beats and continues samples and breaks, the album truly shines in full high-fidelity glory. Recorded using Pro-Tools, we hear more of Yello's artistic influence and desire to capture the best possible sound quality—don't fool yourself, while this may appear to be merely another synth induced aural theme park, it will put the limits of your system to the test. Complex soundscapes and the shear volume and size of the soundstage should give any speaker system and accompanied electronics a run for their money. Does the sound come across and tinny and fizzled with so-so imaging? Guess what, you have a major problem!
Having just finished my review of the fabulous $2599 Gallo Ref 3's (see my review), I am happy to report that they are in fact fully certified to play Yello (any of their records really). On my favorite track, "Time Space," the soundstage is simply so vast and enormous that you really have to turn the music off for a quick reality check: no, we did not move our living room into Disney Hall and no, I do not have surround sound system, just plain old 16/44.1 CD! If ever there was a test disc created to check for sound staging, this would surely be it.
Another speaker that has graced my living room recently is the all new Marten Design Duke speaker from our friends in Sweden. Complex passages throughout track Soul on Ice for example, are imaged and portrayed in a truly spectacular fashion. No sign of congestion of shortness of breath—the sound just keeps coming. You would be hard pressed to find a speaker at any price range that can equal the sonic bliss of this grand playback chain. Yello is truly the quintessential high class act that no one seems to be able to follow. Sure, there have been various newcomers to the game, but none have been able to capture and create such awe-inspiring sonic landscapes—remember The Race? All in all, a great album that thankfully will not satisfy the growing number of nonsense kitch pop enthusiasts, instead will remain a gem for those that aspire a touch of luxurious exquisiteness in pop music.