JOHN ZUREK'S SYSTEM
LOUDSPEAKERS
Thiel 3.6.
ELECTRONICS
Cary SLP-88 Preamplifier, PS Audio HCA-2 Amplifier, and a Lehmann Audio Black Cube phonostage.
SOURCES
Cary 303/200 CD player and a VPI HW-19 /AudioQuest PT6/Benz Micro Glider.
CABLES
John Dunlavy Reference, Acoustic Zen MC2 interconnects, Acoustic Zen Satori speaker cables, and Silver Audio PowerBurst AC cords.
ACCESSORIES
Headroom Supreme headphone amplifier, Sennheiser HD 600 headphones, Argent Room Lenses, VPI HW-16.5 Record Cleaner, Monster 2000 power conditioner, Standesign racks, Vibrapods, Sonex panels, and AudioPrism Quiet Line filters.
Vinylphiles really have it made in the new millennium. With all the advances in turntables, tonearms, cartridges, phono preamps, and accessories, there is an unprecedented vinyl-related hardware banquet to feast upon. It's too bad that the output of new vinyl doesn't match the amount of new gear. The subject of this review follows the recent trend of high-end audio products being made in China. This was bound to happen, but I believe that the Opera LP 1.0 ($1895 less arm and cartridge) is the only high-end analog deck to come from that country so far.
Located in Beijing, Opera Audio has become one of the leading tube amplifier manufacturers in the Far East. This, their first turntable, is a minimalist design, a la Acoustic Signature—stark, but attractive, not really in the audio jewelry camp. The look may be minimalist, but the build quality has been maximized where it matters. The Belgian-made, outboard high-torque DC motor has speed control (33 and 45 rpm) fine speed adjustment, and is connected by a wispy-looking piece of monofilament fishing line. The armboard is attached to the plinth by another minimalist assembly. Neither a record clamp nor a mat is included. The mass-loaded suspension sits on three rubber legs. The plinth is a single piece of machined, anodized aluminum, and the platter is a 39mm-thick piece of acrylic indented to match the record label. The bearing is a large-diameter, inverted, fixed spindle with a polished ceramic ball on a Teflon thrust plate.
Be prepared to spend some time on assembly. The instructions are basically a few pictures. I had to find a photograph of an assembled LP 1.0 before I was sure how to put it together. Assembling the arm base was a bit of a challenge. The deck that I received included what looks like a Rega RB250 tonearm. The arm is easy to set up. You can't really adjust VTA unless you're prepared to use spacers. I didn't have any, so VTA tweaking was not on the agenda.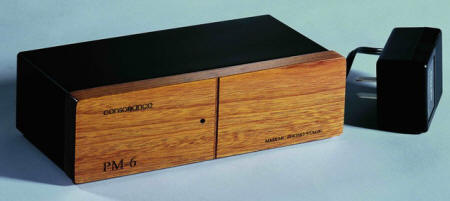 Although Opera's $400 PM-6 phono preamp was included, I did most of my listening with the excellent Cary 302 phono preamp ($2400 and see the PFO review at http://www.positive-feedback.com/Issue13/toc13.htm). The Opera preamp appears to be a budget afterthought, and does not seem to be a suitable match for this 'table. The Cary was much more appropriate, and let the LP 1.0 speak with a stronger voice. I used my long-time reference cartridge, the Benz Glider, a moving coil unit of low (.3mV) output.
In direct comparison with my VPI HW 19 Jr., the Opera won in every respect. It should have, at four times the price (not including arm) of the VPI, but with the addition of the PandaFeet footers to the VPI, the beating was not as severe as it could have been. Not nearly as bad as when Dennis Dombrowski caught up with me in the seventh grade. Still, the Opera was far superior. It extracted much more information from the grooves.
The LP 1.0 is quiet-—much quieter than the VPI Jr. without any tweaking. I suspect that the brutally massive platter and unusually large bearing are the main reasons for its aural stealthiness. Pounding my knuckles around the platter produced no audible result. Because of this, music emerged out the fabled "black background" that vinyl junkies crave
Even before the Opera turntable arrived, I had planned to listen to the Piano Works of Eric Satie, Volumes I and II, played by Aldo Ciccolini. This two-volume set on Angel is a moving collection of the best of Satie's piano compositions. The performance, which sets a standard that has yet to be bettered, is one of the reasons that I love the impressionistic composers and the tonal allure with which they paint. For all of my love of the music, these LPs have some of the worst surface noise in my entire collection, yet the Opera managed to greatly reduce the noise—so much so that my enjoyment of these piano pieces was greatly enhanced. Notes faded, decayed, and just stopped. I listened to both records several times. It was not a perfect performance, but it made the difference between nice-but-noisy and sheer musical enjoyment. The excellent speed stability of the LP 1.0 gave the sustained piano notes (where speed fluctuation can really be evident) a wonderful, flutter-less tone. Ahhh.
Next up was "Apolitical Blues" from Little Feat's Waiting for Columbus. I just couldn't resist this tune with this 'table. Lowell George growls out "The telephone is ringin', they tell me it's Chairman Mao/You can tell him anything/I just don't wanna talk to him now." I consider this to be one of the best live records ever, and this tune (and all the others) bowled me right over with the "Feat experience." The Opera communicates, and makes you feel like you are THERE. Does it boogie? This unsuspended table lets the notes jump right out at you when needed, with no springs to slow it down. Switching to "Chain Lightning" from Steely Dan's Katy Lied, I immediately noticed the satiny-smooth vocal harmony of this altered blues progression. The background vocalists blended perfectly with Donald Fagen's voice to produce a sexy, addictive sound. The Opera rendered the voices with clarity and focus. Sibilants sounding very natural.
While this is a fine deck, I have to question the peripherals. The PM-6 phono preamp is solidly in the sub-Black-Cube camp. The lack of a record clamp is questionable. Also, why is a $295 Rega tonearm paired with a $1900 turntable? $2195 puts this deck in the same price range as the VPI Scoutmaster. How do they compare? Stay tuned, kids—my take on the Scoutmaster will be coming up soon.
The LP 1.0 is one heckuva table, but there's a whole lotta analog goin' on out there at, or around, this price, including VPI's Scout and Scoutmaster, the Teres 150, the Origin Live Aurora, the Audio Note tt1, the Transrotor 25/40 Leonardo, the Acoustic Signature Final Tool, Bluenote's Bellavistsa, and Nottingham's Space Deck, to mention a few. Is the LP 1.0 the best of the lot? I don't know, but I can definitely say that it plays in the same league. It is less sexy and more utilitarian than most of the ones I've listed, but it's big on performance. Analog from China? If Chairman Mao heard Little Feat on this 'table, I think he'd approve. John Zurek
Read Francisco Duran's thoughts on this table at http://www.positive-feedback.com/Issue15/operatable.htm
Reference 1.0
Retail: $1895 (less arm and cartridge)
NAT Distribution
web address: www.natdistribution.com
Opera Audio
web address: www.operaudio.com

Manufacturer's Response
Would like to state that the lp-1 list for $1949.00 with out a tone arm.
We do offer several tonearms, Rega, Morch and Wilson Benesch... all customers choice, but they can use any tonearm they wish.
The pm -6 is our least expensive phono preamp and only solid state unit... and is compared to such as the Grado, the Lemann Black Cube, etc..
We do make several tube units our pm-1 and pm-2:
both tube units -- one only mm and one mm/mc
http://www.operaudio.com/Html/Opera-Products-TUBEAMP-pm1.htm
list is pm-1- $1000 and pm-2 $1200
also make a reference series unit—the reference 40 - tube mm/mc phono-pre-amp
http://www.operaudio.com/Html/Opera-Products-REFERENCE.htm
list is $1600.00
Stephen Monte
Quest For Sound
questforsound@aol.com