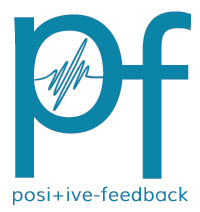 You are reading the older HTML site
Positive Feedback ISSUE 18
march/april 2005
Max on the Music, Part 1: Carlos Franzetti, The Jazz Kamerata, Plays the Music of Miles Davis Featuring Pat Metheny, Keith Jarrett, et.al.; Chesky SACD287; 60mins, 21 secs
by Max Dudious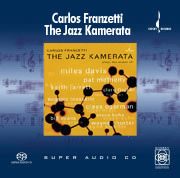 I'm always raving about the taste of the Chesky label, and this ranges through the artists they have under contract (who, mostly, play in an understated, unornamented style), and the excellence of their audio engineering. Well, they've done it again with this album of covers by The Jazz Kamerata. The Kamerata is made up of a piano, a flute, a clarinet, a string quartet (two violins, one viola, and a cello), a bass viol, and a saxophonist who plays soprano, alto, and tenor saxophones on various numbers of this album. They get a very chamber-jazz sound. There are no drums, not at all like Bach in Jacques Loussier's style; but rather something autumnal, something free-floating and dreamy. Dare I say French Impressionistic chamber jazz? Maybe a new kind of jazz, with its roots in Duke Ellington, who wrote complex harmonic arrangements that had to be played exactly as written, yet left enough room for his soloists to take (short) rides. The individual "cuts" (Can you have a cut without a stylus?) are all arranged by the leader, Carlos Franzetti, so they are products of his sensibilities, and they wind up having some similarities that might surprise their composers. These very laid-back presentations also remind me of the mellower ballads on the "Charlie Parker With Strings" albums. That is to say, there is a very harmonically sophisticated quality to this music, which comes across without being in-your-face. It is another of the Chesky albums you might put on repeat mode and listen to all day, sometimes, just to get to know it better.
This kind of music is not hard-driving straight-ahead bop. Even the pieces that were somewhat hard-edged originally have been treated by Franzetti to have his pensive, relaxed "sound." The ten cuts, and their composers are: Circle - Miles Davis; Nefertiti - Wayne Shorter; Last Year's Waltz - Steve Kuhn; Quiet Rising - Pat Metheny; Allison's Dance - Carlos Franzetti; When Autumn Comes - Clare Fischer; Prism - Keith Jarret; Van Gogh - Eugenio Toussaint; Very Early - Bill Evans; Elegia - Claus Ogerman. I think that's a pretty impressive line up. I think the tunes were selected to make a kind of "Suite." And to my surprise, it works, even if it is a tad elegiac. O.K. So, what do we have? I think we have a jazz pianist, sax player, and bassist who front a back up group of strings, flute, and clarinet in playing some slick arrangements of thoughtful, almost melancholy jazz. It is very introspective, as many of the titles suggest. If you're not careful you could spend many hours listening to this album. I have. (Ye Olde Editor would agree with Charles; this SACD really pulled me into a groove. Chesky scores big-time here.)
The members of the ensemble are: Carlos Franzetti, piano; Lawrence Feldman, Soprano, Alto and Tenor Saxophone; Theresa Norris, flute; Paul Gallo, Clarinet; Laura Seaton-Finn, Violin 1; Leonardo Suarez Paz, Violin 2; Maurycy Banaszek, Viola; Staphanie Cummins, Cello; and Jay Leonhart, Bass. The piano and the saxophones usually front the band with string quartet, and woodwinds accompanying, and bass setting tempo. It works out quite well, especially in Surround mode, making my office sound huge. The usual team of Chesky engineers, led by Barry Wolifson and Nicholas Prout, does its usual splendid job. David Chesky puts his sangfroid imprimatur on the project, while Norman crunches the numbers. All in all, a good job was done by everyone.
This is a mood album, and a little sad, but who doesn't get a little sad now and then? I recommend it. It's a cleanser for the soul. When you pick up your copy, tell the guy Max Dudious sent ya'.
This review also appears in the current edition of Audiophile Audition.