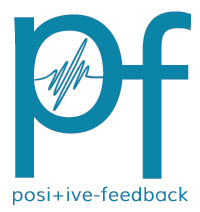 You are reading the older HTML site
Positive Feedback ISSUE 18
march/april 2005
Two from AIX
by Larl Lozier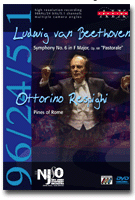 Ludwig van Beethoven, Symphony No. 6 ("Pastorale") and Ottorino Respighi, Pines of Rome, New Jersey Symphony Orchestra, Zdenek Macal, Music Director (AIX Records DVD/Audio/DVD-Video 8006
What an ambitious release for Mark Waldrep and AIX records!
Beethoven's "Pastorale" Symphony is a particularly beautiful and usually an immediately appealing composition. This version by Macal and the New Jersey Symphony Orchestra is a good solid performance and superbly recorded. In addition here the orchestra can be viewed while performing! We may be hearing more from this generally unheralded orchestra.
AIX's claim to fame includes sound quality of the highest order, employing 96kHz/24 bit DVD-Audio­–not DSD. This excellent performance is not quite in the same league as the legendary Reiner version. It holds up fine compared to other recent competing releases. An audible exception is the concluding passages in that famous final section. There Reiner's world class Chicago Orchestra with 117 musicians (including organ and gong) was captured in RCA's finest stereo sound. This was a shining example of the finest of the "Golden Age" of classical music recording! The earliest pressings continue to be one of the most valuable and sought after classical records in history. Here in the last seconds this new AIX release as it is a bit lacking in the deepest bass. Until proven otherwise, I will blame the orchestra, not the recording. Except for those last few seconds, I consider it to be excellent in every other respect. It sounds like the orchestra practiced the piece over and over and over again. It might be a waste of your time looking for a Pines of better quality. It may not exist, as there is no consensus about a top current performance. If I find a better one, I will let you know.
The 24/96 DVD-Audio tracks are on one side of this disc. As with AIX's other releases (mainly cool jazz and big-band swing), the other side has an interesting video track which features outstanding audio. There is a great deal of information included, and the video is interesting and informative.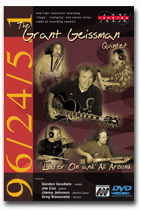 Grant Geissman Quartet, There and Back Again (AIX Records DVD-Audio/DVD-Video 80027)
If you are not familiar with the discs from AIX Records, you have probably heard about them. This is a double-sided disc. The blue side plays like a typical DVD, but it does much more. This is not only a fine video recording, but it features an excellent 96kHz/24 stereo mix and, surprisingly, two different 5.1-channel mixes. It also provides more information than you would ever expect to find, including interviews, biographies, notes, videos of the sessions, even setup information. The other (red) side of the disc—a 5.1, so-called "Stage" mix at 96kHz/24 bits using MLP—is playable only on a true DVD-Audio player or one of the very few universal players that plays DVD-Audio. It is of the very highest quality!
Mark Waldrep, PhD, is slowly and carefully making these superb recordings that should be referred to as state of the art. They appear to be a labor of love that deserves and demands the support of the audio community, so consider this as a warning, or an audiophile alert. The sound quality is as natural as you are likely to hear at this time. There is absolutely none of the artificial highlighting, or the distortion, edginess, and similar artifacts found in most recordings. The smoothness and lack of distortion may delude you into thinking that they sound a bit on the dull side. They are simply on the real side–as played by polished professional musicians. That's it. No hyperbole needed nor given!
I guarantee that you have heard of the musicians. Though each has been responsible for a number of solo releases, their main claim to fame is the fact that they have accompanied or backed some of the most famous names in the business. This was quickly proven when I started checking in the All Music Guide to Jazz. The styles here are fairly traditional. They tend to be cool, almost easy listening, or maybe these musicians just make it sound easy. The melodies, which have a bit of swing, will sound familiar to most, but the titles will not. The more familiar songs command royalty payments that are simply beyond the capabilities of a fledgling company. Audiophiles, make this operation successful and you will eventually get everything you want, with the finest sound quality.