GARY L. BEARD'S SYSTEM
LOUDSPEAKERS
Merlin TSM-M monitors on 24" Osiris stands with an REL Strata III subwoofer.
ELECTRONICS
First Sound Presence Deluxe Mark II preamplifier with Amperex 7308 PQ tubes, George Wright WPP100C phono-preamplifier with Amperex 6ER5, and RCA 12AU7 tubes. David Berning ZH270 amplifier with Brimar 12AT7 black plate, GE 5 Star 12AV7, and cryo'ed Sylvania 6JN6 power tubes.
SOURCES
Cary 303/200, Marantz CC-65-SE, Sony DVP-7700, and a Technics SL1600 Direct Drive Turntable.
CABLES
Cardas Neutral Reference bi-wire speaker cables, Acoustic Zen Matrix Reference, Kimber Silver Streak, Kimber and Hero, MIT 3 interconnects. Acoustic Zen MC2 digital cable. Shunyata Sidewinder and homebrew Belden/Hubbell/Marinco power cords.
ACCESSORIES
Richard Gray Power Station 400 power conditioner, Final Labs Daruma 3II isolation, Vibrapods, DIY "Flexy" equipment rack, DIY points, ceramic cable supports, and various isolation tweaks.
Cones, Cups, and a Preamp, Yamamoto Style
Crafting an intelligently written summary of every component that comes through the door is the sort of like pitching against Murderer's Row. Lately, I have been throwing the fastball instead of the slow curve, as no amount of flowery language can tell you how a component will sound in your system. My job, then, is akin to that of leadoff hitter—I must clearly see the rotation of the ball and give it a good whack. So swing away I will, trying to get on base so that the reviewer on deck can drive me home. Once in a while I may hit a homer over the center field fence and lead the team to victory (dreaming again, are we, Gary?), but standing at the plate could also result in a strikeout or a beanball to the brain bag. That is the nature of the game. With that in mind, I want everyone in the stands to remember that my component assessments are made in my ballpark, with my gear, music, and ears. Batter up.
Several months ago, my audiobud Brian Bowdle of Venus Hi-Fi became the exclusive U.S. dealer for Yamamoto Sound Craft of Japan, and waxed poetic to me about this new line of electronics and accessories. A few days later, he brought over some Yamamoto Ebony Cones and Ebony Cups for me to try underneath my components. Gadgets intended to support audio gear run the gamut in price and purported benefits. I have not spent a lot of money on such devices, resorting instead to penny-pinching DIY supports and relatively inexpensive isolation and resonance control devices.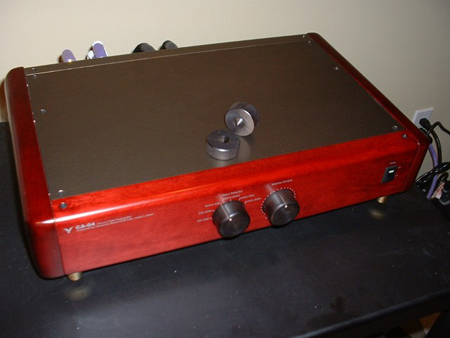 I will make my remarks plain, short, and sweet. The Yamamoto PB-9 Ebony Cones ($40 dollars for a set of four) and PB-10 Ebony Cups ($35 dollars for a set of four) are fastballs down the pipe. They can be used separately (the cones under a CD player and the cups under speaker spikes, for instance) or together, as I did. I had the same positive results with every component I tried them under. They did no harm that I could detect, but enhanced the sound, with deeper and more focused bass, richer tonality, and, as with most cones, an added measure of precision. I used them under my amp and preamp, keeping the rollerbearing Darumas under my CD player. In this often insanely priced category of audio, the Yamamoto bases are a relative bargain. Try them out. I think you'll be impressed enough to buy a few sets.
Next at bat was the new Yamamoto CA-04 line stage, which utilizes a pair of tubes that are (apparently) unique for audio, the Telefunken 6AK5W. The tubes are plugged into Yamamoto's own Teflon tube sockets, which have been a valued part of other well-known manufacturers' components. The smallish chassis is very light, but commands attention on looks alone. The CA-04 is a beautiful piece of equipment. Its greenish-gold-tinted aluminum chassis is wrapped on three sides by gorgeous Japanese cherry wood. The front panel sports two ebony control knobs and the unit is supported by four pointy brass feet.
The CA-04 certainly qualifies as a purist preamp, having nary a bell nor whistle. On the front panel there is a single potentiometer for volume attenuation and an input selector switch with a CD input and two auxiliary inputs. Unfortunately for end users that desire these functions, there is no tape loop or mute switch. In a distinctive setup, each input has a high-gain setting for sources such as phono stages, tuners, and tape decks, and a low -gain setting (-20 dB) for use with high-output sources like CD players and DACs. This is a potentially treacherous scenario. If you have the volume turned up and forget that you are on the -20 setting, shifting over to the full-tilt boogie input could have negative consequences for your ears, if not your speakers. Always turn the volume control to zero before changing inputs.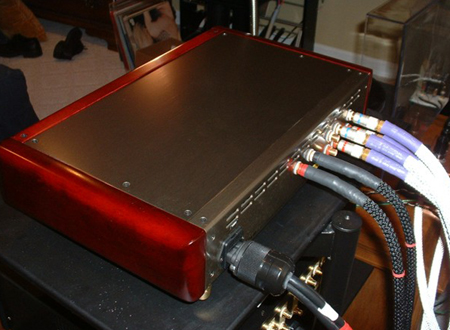 The rear of the unit has an IEC connection for the included 120-volt power cord (a hospital-grade cord that is a nice step up from the stock cord most companies supply), a grounding post, three sets of RCA input jacks, and one set of RCA output jacks. The RCAs are manufactured by Yamamoto of Teflon and gold-plated brass. Because of the language barrier, some of the technical details about the CA-04 are sketchy. Yamamoto's website is loosely translated from Japanese into English, and my knowledge of Japanese has not progressed beyond a cordial bow. Some specs that would normally be a part of a review are omitted because of this.
There are a couple things I feel I should note before reporting my impressions of the CA-04. I wish it had a tape loop and a mute switch, but Mr. Yamamoto apparently feels that they would be detrimental to the sound. It is hard to argue with that. My other comment involves the ebony supports that I used under the preamp during my review. They improved the CA-04's sound so substantially that they ought to be standard issue, as they are with Yamamoto's amplifiers.
Through the normal (un-attenuated) input, the CA-04 was not a match made in heaven for my Berning ZH270 power amp. My phono stage's lower output voltage was not a problem, but when I attempted to drive the preamp with my Cary 303-200 CD player through the high-gain setting, I had almost no range of volume control. Changing to the low-gain setting made a substantial difference, with little, if any change in sound quality. With a little tweaking of the ZH270's volume control, I was able to keep the amp's feedback setting on "Low" (which, at .2Vrms, is also the most sensitive setting), adding a good measure of range on the Yamamoto's volume control, from 6 o'clock to 1 o'clock. That was good enough for me.
At the outset, the Yamamoto's bass was weak and soft and its upper treble slightly grainy. My overall impressions were good, but since the unit was brand new, I put the Cary on repeat and let the preamp settle in for a couple of days. With each listening session, the bass became tighter and the treble less harsh. After about 100 hours of playing time, the Yamamoto began to breathe. The bass deepened and the treble graininess all but disappeared. Break-in did not so much transform the CA-04 as make it bloom like a Japanese cherry blossom. This preamp can be a bit sneaky. It doesn't cause much of a stir, and in fact seems non-committal at times. Instead, it quietly affects the signal, and can sound a bit polite. It is not exactly a beast, with big dynamic swings and control of the lower octaves. Since I am a rock and roll junkie, my first order of business was to find out how well the Yamamoto could do with hard rock.
On the title cut of John Mellencamp's HDCD, Cuttin' Heads, the sound was fast and furious. Resolution was extremely good. I was able to pick out all the instruments and vocals in this busy arrangement. Always transparent, the Yamamoto revealed the slight harshness that is present on this disc, along with the powerful vocals and skillful playing. Bass was tuneful and defined, better than I expected but not as deep or dynamic as my reference preamp. Another surprise was the great sound on Styx' Grand Illusion LP. This is a bright recording, and the CA-04 didn't smooth that over, yet the clarity, punch, separation of instruments, and wide soundstage made for a memorable listen. The fabulous synthesizer work was particularly noteworthy, and one cut, "Castle Walls," sounded better than I had ever heard it.
As is stated repeatedly by almost every reviewer, it is the midrange where the supernatural happens, and while the CA-04's bass is good and the treble very nice, the mids are king. I put on another of my guilty pleasures, Boston's first LP, and took a quick trip down memory lane. As I suspected, the bass was virtually non-existent (it is generally poor on this record) and the treble was smooth and slightly rolled off, but the jangly guitars and vocal harmonizing sounded great. It is good to be a midrange king. On the Edgar Winter Group LP, They Only Come out at Night, the bass was very good and the songs were rendered with a danceable groove that showed off the CA-04's ability to shift microdynamic gears with lightning quickness.
I had presumed that rock would not fare well on the Yamamoto, but was happy to find that a knee-jerk reaction. While the CA-04 exhibits a lot of the qualities usually associated with single-ended triode sound (it has a great midrange, but is slightly rolled off at both extremes), it is also able to show power and punch when needed. Satisfied that rock and roll would make the grade, I went on to music that I suspected would be the ticket to ride on the CA-04—classical and jazz. First up was Reference Recordings' Bolero! Orchestral Fireworks. This HDCD disc has tremendous depth and transparency, which the CA-04 revealed on every selection. "Colas Breugnon–Overture" was a treat, with swiftly changing transients and a good measure of macrodynamic punch. On "The Flight of the Bumblebee," excellent spacial reproduction put the flute on the stage as part of the larger body of musicians, yet gave it space to breath during solos. Massed strings were treated well on every piece, allowing Eiji Oue and the Minnesota Orchestra to weave layer upon layer of a beautiful symphonic tapestry.
After proving itself an able performer on rock and orchestral music, the Yamamoto CA-04 shone brightest on acoustic music—folk and small-combo jazz.
John Scofield's A Go Go was simply fabulous. His intro guitar chords on "Chank" were edgy, soulful, and alive. The organ sounded wonderfully funky, the drums freely resonated, and the bass was tightly wound and reasonably deep. On the fantastic Alison Krauss and Union Station Live, the vocals were rich and inviting, and Jerry Douglas' dobro solos stole the show. All the instruments had a realistic tone and timbre, with acoustic guitar sounding particularly real. The Yamamoto was truly in its element with this music, infusing it with life.
The Yamamoto's soundstage is wide and its imaging precise. The stage is very deep and layered. While not overtly colored, the CA-04 is slightly warm, with just a smidge of that wonderful, euphonic sound that only a good tube preamp can provide. It slowly draws you in, then blows a lightning-fast transient right by your nose. Leading edge transients are very fast, yet notes fully develop and decay into the quiet background, helping to impart a sense of reality to the music. To me, the Yamamoto's strength lay in its refinement and delicacy. Crowd-pleasing dynamics are good, but the CA-04's microdynamic capabilities are striking. Its tonal balance is very good, and instrumental timbre is accurate. Adding much to the Yamamoto's captivating ways is its ability to resolve inner detail. I found myself continually amazed by details that had previously been obscured. When familiar music sounds so different, it can seem as if you are listening to a different mix of the same music.
Like most audiophiles, I gravitate toward the sound that pleases me most, damn the correctness. In this most important of all criteria, the elusive and much debated quality of musicality, the Yamamoto is in a slugfest with my reference, the First Sound Presence Deluxe Mk. II. The First Sound has a visceral, extended, yet natural presentation, while the Yamamoto gives you the seductive inner glow of the midrange first and foremost. The Yamamoto cannot reproduce the lowest octaves as well as the First Sound. It doesn't have quite as much punch, and it lacks just a tad of sparkle at the top. It does, however, give the much more expensive First Sound a run for its money in 3-D imaging, and resolution, and quite frankly bests it in depth of soundstage. Given how well the Yamamoto CA-04 acquitted itself against my longtime reference, which costs nearly twice as much, it is in bargain territory.
I am quite taken by the Yamamoto CA-04 preamp. Its few sins are ones of omission, and are easily ignored given its price-verus-performance ratio. As is always the case, the key is selecting the correct teammates. If you want to listen to Nine Inch Nails at ten on the volume control, it might be better to look elsewhere, but just about anything else is fair game. With the correct partners, it is possible that many listeners will like it better than anything else. It is that good. Remember that every ballpark is different, and every team is comprised of different players, so not everyone who gets a chance to hear the CA-04 will feel the same way. The bottom line is this: Just as the game of baseball has a quirky specialness, so does the Yamamoto CA-04, and like baseball, once it gets in your blood it is hard to forget. It's not perfect, but it is an excellent value, sounds wonderful, and in my opinion, once it gets in a few more games, it will have fans on their feet cheering for more. Don't forget the redhots and cold beer! Gary L. Beard
CA-04 preamplifier
Retail: $2150
Yamamoto Sound Craft
web address: www2.117.ne.jp/~y-s/index-e.html
Venus Hi-Fi
web address: www.venushifi.com