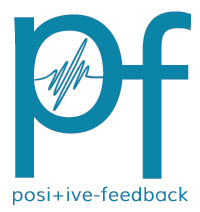 You are reading the older HTML site
Positive Feedback ISSUE 17
january/february 2005
Max on the Music!
by Max Dudious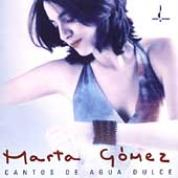 GOMEZ, Marta - Cantos de Agua Dulce - Marta Gomez and her Quartet - Chesky JD 281 Total time: 53:35.
Marta Gomez is a young woman who has chosen to take South American folk-rhythms, and folk songs, and infuse them with a jazz sensibility. Of these raw materials she composes her own tunes and lyrics to make songs. She goes on to perform them as though they were Schubert lieder; that is, she sings them with spare accompaniment and exquisite control. That's not to say she sings with all the trills and artifice of the Schubertian belle canto style: quite the opposite. She sings with the simplicity and plaintive quality of an indigenous folk singer you might catch giving a lunchtime recital at the Mexico City Museum of Anthropology, in Chapultepec Park. Her voice is free of vibrato. She hangs some notes out there for us to feel, beautiful notes held long enough to contemplate, in her rather small, sad voice. She is accompanied by minimal forces; typically, guitar, bass, drums, and on some songs she'll add a flute or accordion.
You might think of Astrud Gilberto singing Bossa Nova here, but hers is a highly sophisticated style developed for jazz singing in nightclubs, complete with microphones, amps, speakers, drumsets, and saxophones. Marta Gomez sings more simply, like Peggy Lee (who sings almost free of ornament), or Kelly Flint (who sings similarly with the band, Dave's True Story). Marta may have more in common with Peggy Lee, who also wrote many song lyrics. And while she sings simply, Marta Gomez is in control of her complex art every second. Her only real similarity to Astrud Gilberto is they both have the charm of the "little girl" voice, and they both are latinas. Marta sings of her Colombian girlhood, happy times, favorite places, and food. And these songs are affecting, but she just tears me up when she sings about love. Shreds me.
To her lover Marta writes; "When I see you, I feel like a thousand ants are running through my chest. It's like a hundred butterflies flying through my body. It all starts in my head, then it goes into my chest and then it starts all over again." I think I remember a special someone in my teens the very sight of whom made me feel like I'd been invaded by ants and butterflies. When we separated, if only for a day or two, I ached. Do you remember your first love? How it felt? When we parted it was like needles in my heart. But I'm not the poet here. The songs of Marta Gomez are filled with such wistful, melancholy tunes, with such sly and subtle poetry, that they reach down into my sensibilities and make me feel her songs in a way that I haven't felt songs in a long, long time. And what does she write about? She writes about home, flavors, sunsets, learning how to kiss, how to cry; tears, pain, love lost.
Some art forms are so universally moving they seem to reach inside us before we can get our defenses in place, like doo-wops ballads (now in their third generation of listeners) "Earth Angel," and "In The Still Of The Night." These simple songs were written and recorded by teenagers for teenagers in the mid-fifties, when I was a teenager. My kids listened to them as teenagers, in the mid-eighties. I'm told there are teenaged grandchildren of my cohort that are now rediscovering those doo-wops. What is appealing about them, I hypothesize, is the bitter-sweet description of first love, the simple structures of the songs, and the sometime wails of adolescent suffering that became part of the performers' style. Roy Orbison's "Crying Over You" for but one example. Marta doesn't wail, but she's caught on to adolescent yearning among other things.
Nor is Marta Gomez a one trick pony. She also writes to children what a joy it is to be six years old. She writes how she hopes her expected child will arrive soon to find her singing. She writes of seasonal change, the joy of spring. (Wasn't there a Clifford Brown tune, "Joyspring?") Of her commemorative composition "Canta!" ("Sing!") she writes, "Dedicated to the tragedy of 03/11/04 in Spain. There are times to sing and times to cry. Fortunately the Spanish have learned the beautiful ability of doing both at the same time." Of her song "Delecta" ("Recipe") she writes: "1/4 of green peppers, 1 onion, 1 glass of wine, a dash of sesame, 4 carrots, 1 teaspoon of brown sugar, cinnamon, and a piece of you. 1 full moon, a place to sleep with plenty of candles, 4 bare feet, 1 teaspoon of brown sugar, cinnamon. And love is about to be made." Or, of the song "Aguellas Pequeñas Cosas" ("Those Little Things") she writes: "Flora, my first voice teacher and good friend, sung me this song once, a long time ago and it just got stuck on my heart. It's a song that talks about the simple things of life, those memories that don't leave our house and come at the moment we least expect to make us cry, just like now when I sing it and that magic afternoon of my childhood comes back to me once again."
If art is the composer's subtle manipulation of the audience to get us to experience the various emotions we all share, then Marta Gomez is an artist of the first rank. Her art is to use folk songs and folk rhythms to create an ambiance of simplicity that complexly conveys our inner states, our humanity. She does this in what is an apparently artless way that suggests an earlier time when grandma sang songs of first love, like "Chanson D'Amour" in France. This young woman, singing songs of the archaic past, of the tribal experience, the family experience, the individual experience, her childhood, suggests to me that Marta Gomez is an artist possessing great depth of understanding. Her world is that of music, poetry, and the human condition. She is able to perform her material with consummate control. And over her shoulder I sometimes think I hear the face of a smiling Jorge Luis Borges. I know it is premature to herald the arrival of a performer's first album as if it were the coming of a new age in performance art, but I believe Marta Gomez has the potential to become something special, similar in style to Astrud Gilberto, Peggy Lee, and Kelly Flint, and similar in impact (if not in presentation) to Edith Piaf. Sad, a little nationalistic, a little fatalistic, she may embody the post-existential view. She is a welcome relief from the drivel of the "Pop" scene.
So, if you'd like to hear a hauntingly hip, new, vocalist—one you might leave on the CD player for days, or your car system for weeks—you ought to check out the sweet water songs on the latest Chesky album, "Marta Gomez: Cantos de Agua Dulce"; Chesky JD 281. She is accompanied by Julio Santillan, guitar; Franco Pinna, drums; Fernando Huergo, electric bass; and Alejandra Ortiz, back-up vocals and small percussion. On some numbers they are joined by Evan Harlan, accordion; or Fernando Brandao, flute. They were recorded at Saint Peter's Church, in New York. The recording engineer was the gifted Barry Wolifson, and I'm sure David Chesky had his ultra-cool hand in the production. This is another example of the taste and all around excellence of the Chesky team. I think I'll make this (by administrative fiat) another winner of Max Dudious's Recording of the Year Award. I really dig this album. How much? "Most Highly Recommended." That's how much! So if you want to be the hippest, most with-it, Dudeliest Dude on your block, get a copy of this CD. You won't be sorry.
Ciao, bambini.
This review also appears in the current issue of Audiophile Audition http://www.audaud.com