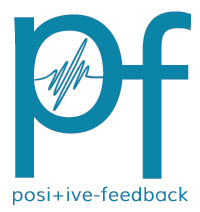 You are reading the older HTML site
Positive Feedback ISSUE 17
january/february 2005
Another One from the Road… CES/T.H.E. Show 2005: Part 2 The Best of the Rest of the Best!
by Greg Weaver
The last several years, for the most part, have brought remarkably good sound to CES. While as recently as CES 2001 I can recall wondering how so many rooms could sound so bad, this year I again marveled at just how many rooms had managed to develop at least good, if not completely involving, results. Don't get me wrong; there were some horrendous sounding systems, some confoundingly so. It was beyond me, as well as a handful of my colleagues when we compared notes, how the folks sponsoring some of those rooms could be so impervious to the sonic shortcomings that were so apparent. That issue aside, it would be wasteful to spend time covering the merely good when there were so many remarkable systems, right?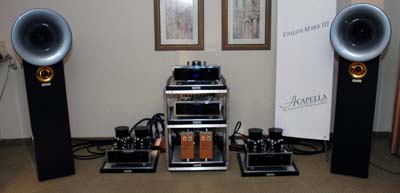 Acapella speakers driven by all Einstein tube electronics; big, bold and breathtaking
One speaker company that continues to get my juices flowing, with both their post-modern appearance and sonics, is Acapella. In 2002, the large and pricy ($32,000), Campanile driven by all Audio Aero gear, while creating an artificially large stage, gave me my first glimmer of hope from horns. This year, the similarly priced ($35,000) Violon Mk II first grabbed my attention, while the somewhat smaller $26,000 Lacampanella really got me jazzed.
The remarkably palpable presentation in the Aaudio Imports room featured products they import including Einstein, Acapella, and Isoclean Power products. The system that really affected me in that room (not pictured) consisted of the German bred and very exciting $7500 Einstein The Last Record Player (funny name for a tubed CD player, no?), The Absolute Tune integrated amp ($9590), and The Tube balanced tube preamp ($13,850). When hitched to the Acapella Violon Mk II, the sound was more detailed and more life-sized than I can recall hearing from other tube/horn systems of late.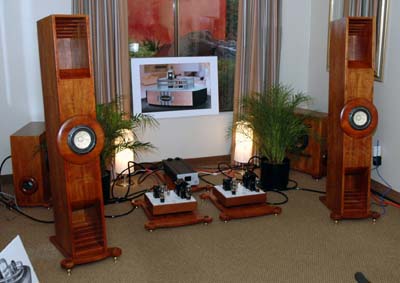 The Cain & Cain/Wavelength room was splendid; contemporary art embracing compelling audio
This year Terry Cain and Gordon Rankin teamed up for some great sound. Sources were a 47 labs Shigaraki transport (modified with Tent Labs XO3), an Apple G4 iBook (!), or the Terres turntable with the Triplanar Arm and Dynavector 10x4. The phono signal was sent to the Tangent battery hybrid designed preamp, then on to an analog input on the new WE 437A based Ultimate Preamplifier with its 100% silver output transformer. The new Napoleon V3 Monos handed off to Terry's new IM-Ben speakers and stereo Bailey subs. Nirvana Audio SX interconnects speaker cable was used throughout, with Nirvana Audio SL speaker on the Baileys.
The $6,500 IM-Ben in its beautiful acid-bleached Cherry finish is a double horn enclosure based around a single Fostex driver. Though the IM in the name deals with the importance of imaging, the name is pronounced "I am Ben"—insert chuckle here. The sound in this room was no laughing matter; it was soulful and seductive. I am hopeful that I can talk both Terry and Gordon into allowing me closer looks soon…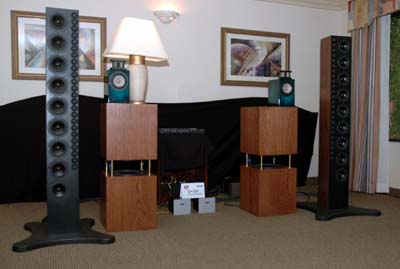 The PipeDreams Artist series Model 5, driven by the CIA D-100s, and the more familiar looking New Frontier Hemisphere
Nearfield Acoustics brought several new toys to this year's event, including a more compact version of the Hemisphere line, the New Frontier. But the system that was making the most impact during my visits to their room was the very stylish looking Artist Series Model 5. Comprised of a small M1 satellite ($5000) capable of standing alone by the way, paired with the M2 sub, this system had some character; bold, detailed and fast. Sourced by the $8500 Bow Eight CD player, the $6500 Bow Warlock preamp handed off to the $1599/pr. Channel Islands Audio D-100 monos.
Fabricated from Polymers, metals, and veneered with hand cut, planed and sanded 3/16' wood, the quality of the cabinetwork just doesn't translate in the photo. The M1 was in that greenish Curly Maple Cobalt sunburst, while the M2 sports the Ambers Sunburst veneer. They were both gorgeous and a real treat to hear. I honestly would have liked to get a chance to hear the New Frontier as they are the newest addition to the signature line, but I am grateful that I had a chance to hear the Artist Model 5s.
One strong point should be evident here. If you have deliberately passed on hearing any of Dusty's Channel Islands Audio products because you felt the price must mean that the products can't be taken seriously, you are making a huge mistake. The superb VMB-1 mono's have pretty much stayed in my system since they arrived, save one short loan period to an audio buddy considering them for his system. Since my primary amplifier retails for three and a half times what the pair of VMB-1 monos sell for, that should be seen as the very strong endorsement it is. My take on them is nearly finished, and then I will bring you my impressions of the new D-100s.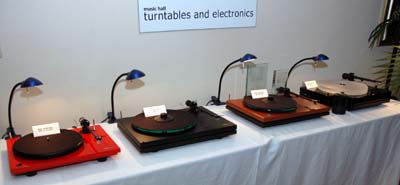 The affordable line of turntables from Music Hall, over-achievers at every price point
No trip to CES would be complete for me without a visit with the friendly folks at the Music Hall room. Roy and Leland were demonstrating their growing line of signature products, including affordable, highly musical products such as the Mambo (a 50 watt/channel class A integrated amp with 24-bit/96kHz PCM upsampling), the Maven (100 watt/channel receiver with 24-bit/96kHz upsampling and video switching), and the Maverick SACD player (they must have some kind of thing for the letter M, eh?). While I've not heard the Mambo or Maven except under show conditions, I have been playing with the Maverick, and it is an extremely well built, wonderful sounding player. And, as always, the Shanling gear looked and sounded great too…
Besides developing his own line, Roy still distributes other affordable and musical British gear, Creek Electronics, and Epos Loudspeakers loudspeaker that Mike Creek purchased back in '99. The sound is always enjoyable in this room, and the company is always first rate. Oh, then there are the assorted single malts! This year, I got to share a sip of my 18-year-old Macallan's with Leland; unfortunately Roy was nowhere in sight when I visited.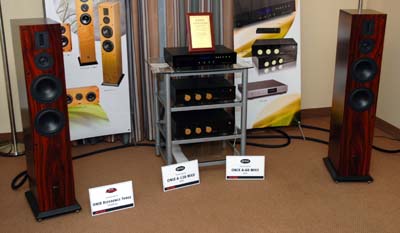 AV123 showed a host of great sounding and highly affordable products, including the Onix Reference line
Showing off their the CD-1 ($1495), the A-120 mkII 120 watt dual mono amp ($695) and the new Reference 3 loudspeakers ($4500), Onix by AV123 had it all going on. There were a bunch of other fun things going on there as well.
First, the long awaited 24-bit/96kHz full-band speaker correction SOCS demonstration was remarkable. The Speaker Only Correction Software demo was shown with the Onix Reference 1 loudspeakers and was, to say the least, spectacular. Many of the original measurements of the Ref 1 speaker, which are utilized by the SOCS software, were made by longtime friend and audio bud, Rich Hollis, of Hollis Audio Labs in southern Maryland, so I was especially interested to hear the results. This is a digital process that has so very much potential that I cannot imagine the impact it will have when it is a mature and fully realized product.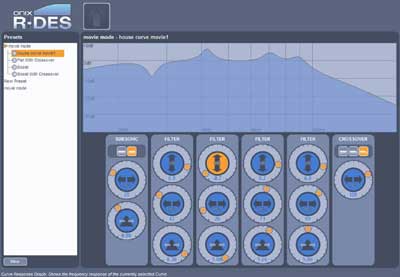 A shot of the GUI for R-DES, the Rocket Digital Equalizer System
The new Rocket Digital Subwoofer EQ System, or R-DES, was introduced, and Mark Schifter was kind enough to send one home with me for evaluation. Essentially, R-DES is a two-channel digital equalization system that utilizes a tiny outboard interface and your Windows computer. It will permit you to create, store up to three pre-sets, then call up and hear any curve YOU DESIGN for your subwoofer using your computer via this outboard box.
The interface lets you turn on or off a subsonic filter, with a variable flex point from 15 to 40Hz. It offers four bands of adjustment, each variable from 20 to 200Hz, but which are centered out of the box on 25, 40, 60, and 90Hz. Each of these four selectable bands may be easily and highly contoured, both in amplitude (± 10dB each) and Q. Way cool stuff with a proposed retail of $300. Look for me to have more to say on this subject when I have some time to play with it.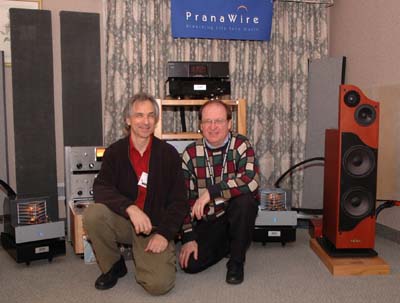 Joe Cohen of Prana Wire and George Kielczynski of deHavilland Electric Amplifier Company in front of their highly enjoyable system
I have to say that visiting a room with either product is almost certain to be wonderful; putting the two together is an outright delight. Since I first ran across Joe Cohen at CES 2003 and his then new product, the Nataraja cables, his products have never ceased to amaze me. And this year, we got to spend a great deal of time together, talking and enjoying some remarkable single malt. The same is true with George and Kara's products.
This year, George Kielczynski, deHavilland's Director of Sales and Marketing, and Kara Chaffee, deHavilland's Chief Engineer, were using an Ampex 351 open Reel recorder (Priceless?) that Kara had modified as a source. The Ampex fed the Mercury Line Stage ($3495) which handed off to a pair the gorgeous sounding and looking Aries GM 70 monos ($9450/pr). Based on the Russian Ulyanov GM70, this is one killer, high-powered SET amp. And of course, the signal coursed through Joe's hand made ribbons including the Cosmos ($4000/meter) and Deva ($995/meter) series interconnects, Cosmos ($4500/1.5 meter) and Deva ($1195/1.5 meter) series speaker cables and Samadhi ($1750/meter) and Maha Samadhi ($4500/1.5 meter) power cables. After a good deal of fussing and fidgeting, the room sounded wonderful. Look for me to be reviewing the Prana Wires soon.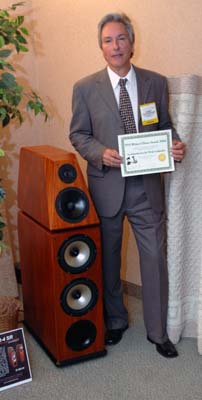 The dapper dresser himself, Albert Von Schweikert, standing beside the VR-4 SR Mk IV and holding his 2004 PFO Writers Choice Award for the VR-4 jr
As is my usual practice, I've saved the best for last. This year, the sheer force of presence of Von Schweikert Audio products was overwhelming, with VSA speakers on display in eight rooms between the Alexis Park and the St. Tropez. Ranging from theaters using LCR-15s ($749 each) with VR-S/1 subwoofers ($1495 each), to high efficiency systems utilizing the dB-99s, VSA also showed several versions of the renowned VR-4, both the jr ($3995 pr) and the first ever audition of the VR-4SR ($7995 pr). The most impressive, however, was their all out assault on the limits of loudspeaker design with the stunning VR-11SE ($120,000 pr) and the introductory showing of the equally stunning VR-9SE ($60,000 pr).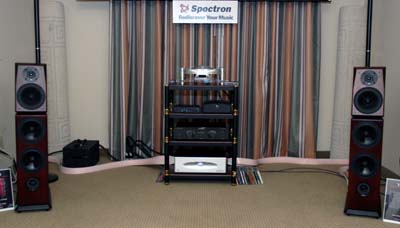 The supremely overachieving VR-4jrs being driven by the new Spectron Musician III and sourced from Spectron's new hard drive based Director
Given the looks on the faces of attendees as they left this room, it was an obvious success. Sourced by either the gorgeous looking Oracle CD Turntable ($7000) or a prototype of Spectron's very promising Director, a hard drive based music filing and playback system, this room really made music. The room was hosted, for the most part, by the personable and remarkably knowledgeable Paul Garner, whose Verbatim interconnects and speaker cables were used throughout. I have been trying to get Paul to let me audition and review these remarkable cables for going on three years now! Keep your fingers crossed.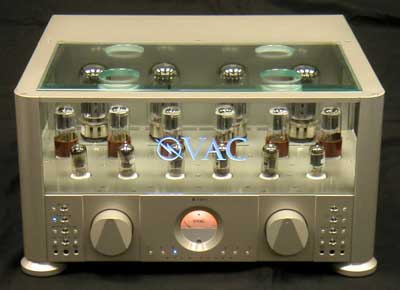 A wonderful example of art merging with technology, the 110 Wpc Valve Amplification Company Phi Beta integrated amplifier
Though there were a handful of problems over the course of the show with this room, including some insurmountable room reinforcement problems and an amplifier issue solved by a re-tubing session, the presentation and the obvious potential of the new VR-4 SR Mk IV was undeniably remarkable. Many of my audio buds, including Jeff Parks and Jonathon Goldman were equally seduced by their potential. Sourced by the Oracle CD Turntable, amplification was provided by the simply commanding looking VAC Phi Beta ($19,000). I heard the Phi Beta in a number of locations and it sounded so notable across the board that I approached Kevin Hayes, Valve Amplification Company's President, about a review.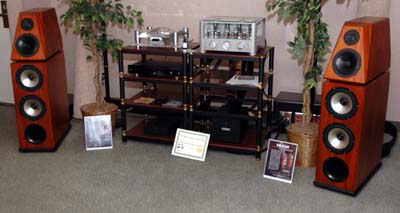 The world got its first taste of the VR-4SR Mk IV, driven by the new VAC Phi Beta 110 Wpc integrated amplifier.
These were the first VR-4SR Mk IV's ever shown, and while they gave a glimmer of their incredible potential, I am sure that the finished product, when it begins shipping in April or May, will be something to reckon with. These are truly beautiful speakers, using Seas woofers, an incredible Audax midrange, and the Vifä/Scan Speak XT-25 tweeter. Yes, a pair will be built for yours truly and the review will be available just a soon as humanly possible after their arrival, hopefully no later than July, but only time will tell.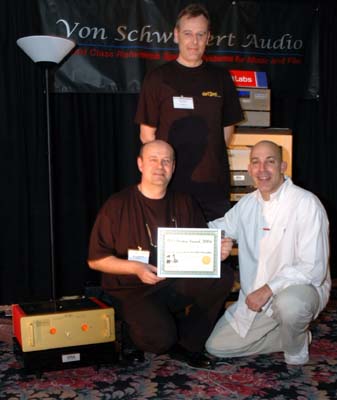 Pictured beside the superlative darTZeel NHB-108 amplifier are, l to r, Serge Roch, darTZeel's Marketing Manager, Hervé Delétraz, Audio Designer, and Jonathan Tinn, the US darTZeel importer.
Entering Ballroom One at the St. Tropez was nothing less than a transforming experience. The room was sponsored by Blue Light Audio, importer and distributor of brands like VSA, EMM Labs, Jena Labs, Silent Running Audio and darTZeel, the Geneva based amplifier company that has turned the solid-state amplification world on its collective ear and earned a PFO 2004 Brutus Award to boot. Jonathan Tinn, President of BLA, and a fellow New Yorker by the way, was a wonderful host.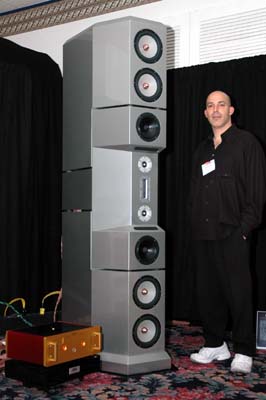 Jonathan Tinn of Blue Light Audio standing beside the stunning Von Schweikert VR-11SE
If you took the time to look up the term synergy in the Audiophile Dictionary, it would no doubt include a photo of this system. My time spent in this room is the most compelling non-musician based musical encounter I've ever had the honor to behold. With live music, until very recently, it had been a toss up between Beethoven's Ninth performed by the National Symphony Orchestra/ Washington Chorus at DAR/Constitution Hall or the Academy of St. Martin-in-the-Fields performance of Tchaikovsky's Serenade for Strings at Leighton Hall in the DeBartolo Performing Arts center. Both were handily trumped by the February 6 performance of Dvorak's New World Symphony by Lorin Maazel leading the New York Philharmonic, also at Leighton hall. However, in terms of electro-mechanical music reproduction, this encounter set a milestone for me and will likely remain a benchmark for some time. No small thing considering I've been at this sport/hobby/disease since the late 1960's!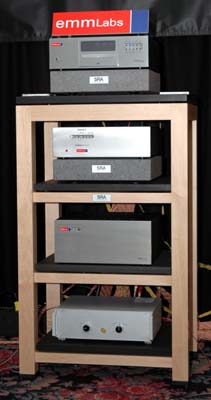 If you haven't heard Ed Meitner's EMM labs digital equipment, you haven't lived
The list of equipment used to breathe life back into recorded music in this room was daunting!
2 - Von Schweikert Audio VR11SEs/$120,000 a pair = $120,000
(rotated into the front left and right location occasionally over the weekend))
4 - Von Schweikert Audio VR9SE's/$60,000 a pair = $120000
4 - darTZeel NHB-108 Model One Stereo Amplifiers/$18,000 each = $72,000
1 - EMM Labs CDSD - SACD/CD Transport/$7900
1 - EMM Labs DAC6e/$11,500
1 - EMM Labs Switchman/3 Multi-channel Preamplifier/$8000
2.5 pairs - Jena Labs Pathfinder Interconnects/$6000 a pair (DAC6e to SWM/3) = $15,000
2 pairs - Jena Labs Pathfinder Interconnects (SWM/3 to darTZeel's)/$6000 a pair = $12,000
11 - Jena Labs T-Rex Power Cords/$1,100 each = $12,1000
2 - Jena Labs Fundamental Power 6.1 Power Supply/$6100 each = $12,200
1 - Jena Labs Fundamental Power 3.1 Power Supply/$1100 = $3300
4 - Silent Running Audio Ohio Class XL Plus Iso Bases (each darTZeel amp)/$2000 each = $8000
2 - Silent Running Audio Ohio Class 3.0 (One for each EMM Labs Component)/$1000 = $2000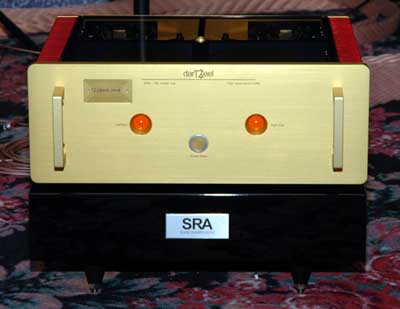 The almost eerie anthropomorphic look of the darTZeel NHB-108 amplifiers really foreshadows their spectacular sound
This was the first multi-channel audio demo I've witnessed that convinced me of the potential of the medium; in fact, it took my breath away. While I've heard more multi channel SACD and DVD-A demos than I can count, this is the first one that essentially opened a window back into the actual space of the recording. It was unnerving. Several exhibitions over the past 5 years have given me a slight glimmer of what multi-channel audio might portend, but none has ever sent the shivers up my spine that this fusion of equipment created.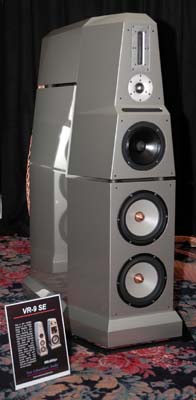 Using essentially one-half the complement of the VR-11SE, the new VR-9SE was far from half the performer
After about 15 minutes of listening to SACD in multi-channel, and in mid track, Jonathan switched back to the two-channel presentation from the multi-channel configuration. The resultant spatial collapse was significantly greater than I have ever experienced previously, and I grant that result to the overall quality of the system in general and Ed Meitner's products specifically.
I talked Jonathan into playing a bit of the newly released multi-channel, DSD SACD of the Who's 1969 Original Rock Opera, Tommy. Remastered and remixed by Pete Townshend himself, it was quite stunning—especially given that it was recorded in 1968 and '69! The now standard "Pinball Wizard" drew a smile from Jonathan and a few of the other listeners in that session. One of the other topics that came up during all my time in front of this rig was the rather obvious midrange harshness and glare apparent on the first batch of the RCA "Shaded Dog" and, to a lesser extent, the Mercury "Living Presence," SACD reissues we had on hand. This rather obvious defect has been attributed to the dCS pro gear used in the transfers and the street buzz is that future transfers for these titles will be done with the Meitner gear.

The anthropomorphic look of the NHB-108 can be seen even in this prototype NHB-18 preamplifier
I also had an opportunity to hear the unfinished prototype darTZeel NHB-18 NS two-channel preamplifier. Nicknamed the "ugly duckling," sporting a hand labeled faceplate with two knobs, one for Pleasure Control, and a 3-position Enjoyment source selector, its performance was also quite compelling.
While it should come as no surprise that with an investment of roughly half a million dollars the room sounded exquisite, it is still the first time I have heard any system approaching anywhere near this close to a live performance. This room was simply as close to "being there" as I am able to recall from live performances. Music in this room had an uncanny breathiness, exhibited blinding speed and dynamics, seamless coherence, sheer transparency, and a ruthless accuracy of timbre. I spent about three and a half hours in this room over my 5 days, both during show hours and in several after-hours, by invitation only showings, and it was hair-raisingly spooky-real. This was the result we all pursue; at least, the one that I chase..
While hanging around in Ball Room One, I also got to spend some time with PFO newcomer Mike Lavigne, who was in the process of selling his Kharma Exquisite 1D's and acquiring the VSA VR-9SEs. If you think you have it bad, drop by our "Meet the Writers" page, scroll down and take a peek at his illness in full bloom; his new dedicated two-channel listening space is a converted barn!
By far, one of the best events I had the pleasure of attending this years was the PFO get together held Saturday night after the closing of the day's events. Sharing some fine libations, including the remains of my 18-year-old Macallan's, with the likes of Editor-in-Chief, David Robinson, Associate Editor Clark Johnsen and so many others in our little community, was just icing on the proverbial cake. If you caught my first installment of this year's event, you will recall that this is my favorite part of my annual pilgrimage to "Lost Wages."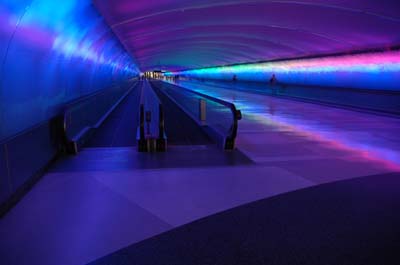 The 70's looking "Color Organ" concourse between terminals at Detroit's Airport was remarkably surreal to me as I shuffled though on my way home
Unfortunately, I had to leave the party just as it was getting up to speed, as I had a 10:30 flight home. Somehow stuck in the middle seat on a four and a half hour flight, and with Jumbo passengers to either side of me for the duration, I arrived virtually sleepless in Detroit to catch my commuter flight back to South Bend. It gave the concourse tunnel a very dreamlike and eerie feel as I moved to my departure gate on the last leg home from what was one of the best events I have had the pleasure to attend. See you there next year?