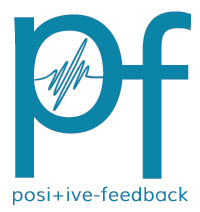 You are reading the older HTML site
Positive Feedback ISSUE 17
january/february 2005
CES 2005 - Part 2
by Dave and Carol Clark
Okay, the idea of telling who gets it and who didn't was perhaps a bit too much in Part 1, so I promise to back off a bit in Part 2. Even so, I will continue point out who was most fun and welcomed us when we came in, and well.... yeah, they get it! By the way, this is not an ego thing, just how to work a show and realize that being nice and friendly is not something that will kill ya!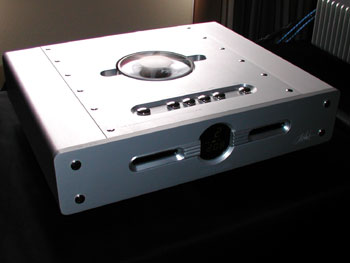 The Wizard Single Chassis CD player from Bow.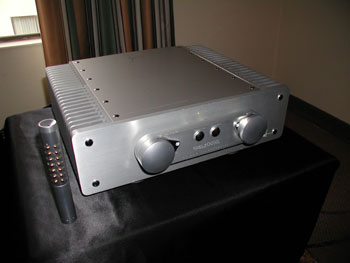 The Wazoo XL amplifier also from Bow. Gorgeous stuff and nice to see Bow back in the states. Too bad we didn't see anyone to talk to as Bo was not around and the lad who was manning the store seemed a bit shell-shocked by having to talk to people.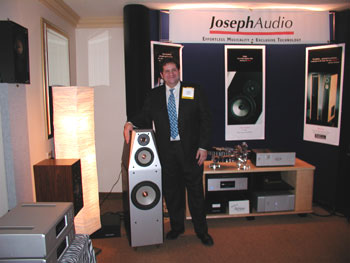 Joseph Audio's Jeff Joseph (Look Abbe! He's wearing the suit!) with the RM55 LE speaker. Their system included Ayre K1X preamplifier, V5X power amplifier, and Esoteric X01 SACD player. Very nice sound and a very nice room that was friendly and into music and having fun!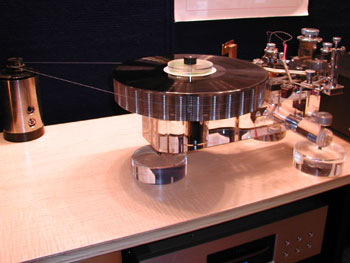 In the Joseph room they used the La Luce turntable ($16,500) made in Holland.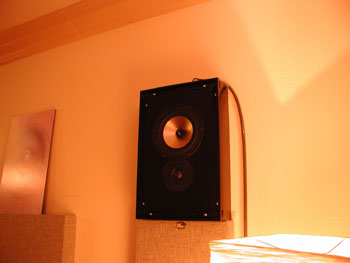 Joseph's in wall speakers called The Insider. Now this sounded unlike any in-wall speaker I have ever heard—meaning musical and well, they sounded (make that... made music) like very nice stand-mounted two-ways. Not inexpensive ($1995), but well worth it if you have to go this route.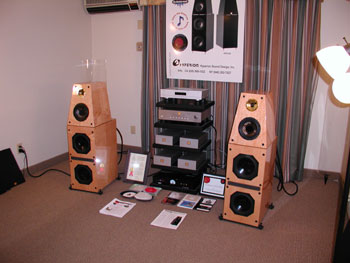 Hyperion was featuring a whole Hyperion system. The HPS 938 speakers ($6000 wood or $4500 black), the BEC P25 preamplifier ($1500), and the BEC Mono amplifiers ($1600 a pair). The CD player is from C.E.C.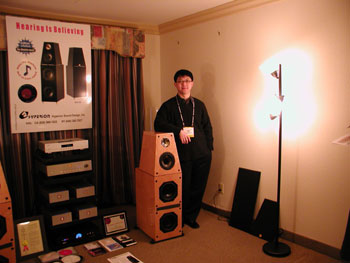 Albert Wu from Hyperion. We have a review of the 938s coming up... and more to follow. Nice guy too.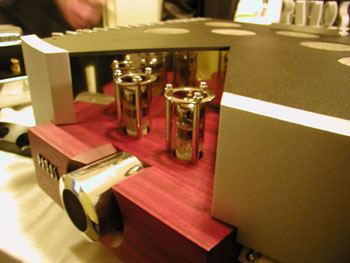 Pathos Acoustics Logos integrated amplifier ($4800) features a hybrid circuit with tube input stage. This is by far some of the coolest looking gear around. A review is in the works.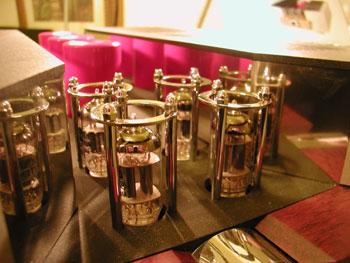 Pathos also showed the Inpol2 amplifier ($10,000). Completely balanced dual-mono pure Class A.
The AAudio Imports room featured Acapella LaCampanella speakers ($26,000) with Einstein electronics. Bryan and I liked this room, but Carol, who is very sensitive to treble anomalies, found it ear splitting. Go figure!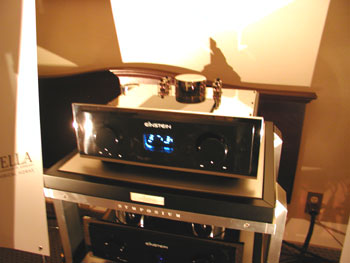 "The Last Record Player" CD player by Einstein ($7490).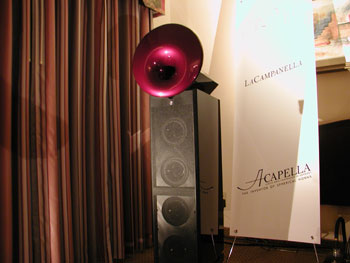 The LaCampanella speakers with the ion tweeter. "Can you smell what the speaker is cooking?" Actually, no smell or odor, but since Carol is a big WWE fan... I just had to take a stroll down memory lane here.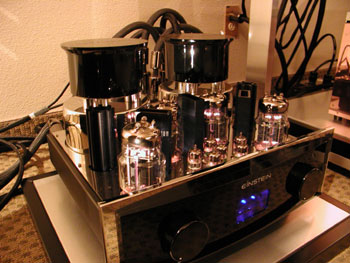 "The Final Cut MK25" amplifiers by Einstein ($21,800). Can you say... drop dead pretty?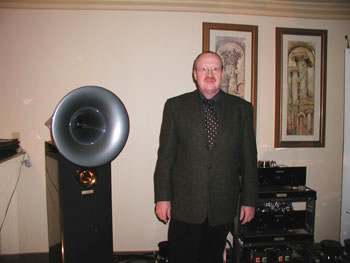 Herman Winters from Acapella along with the Violin MK III speakers ($35,000). Nice in his reserved European way.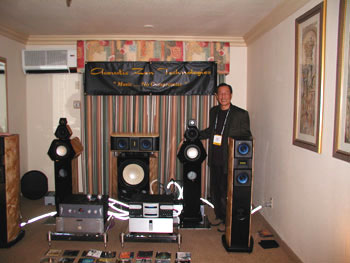 Robert Lee from Acoustic Zen with his new speakers. Talk about being friendly, Robert defines the term. Sounded rather good too. It is a show, so I have different requirements when listening for what is "good" and what is not. Hey, it's a show for cripes sake, so one needs to listen for what the system is not doing as much as what it is doing. This system was not doing anything that I found objectionable and everything I found to be musical.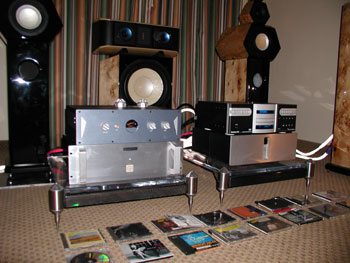 In the Acoustic Zen room they featured the Messenger preamplifier (Linestage $12,500, with phono $16,000) and also the GamuT amplifier.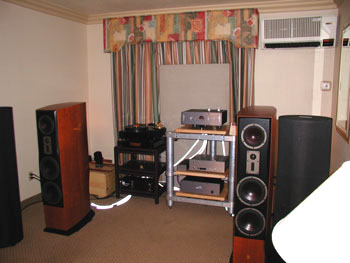 Another shot of Acoustic Zen cables, this time with Dali Euphonia MS5 speakers, Ensemble Dirondo CD player, and the Messenger preamplifier. Also sounded good, but I have always liked the Dali Euphonias.
In the Axiss room, new super tweeters from Japan by KAN sound ($12K). Nice, but come on... $12k?! Ouch!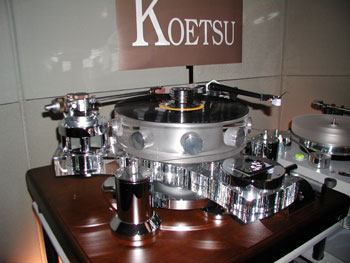 The Transrotor Turbo turntable ($42,000).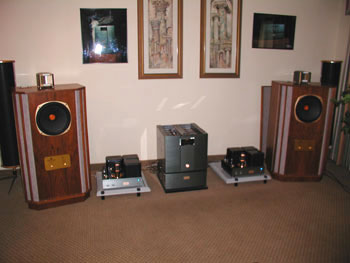 Also in the Axiss room, Tannoy Prestige speakers shown with the new Airtight Reference Power amplifier ($40,000). Now this sounded WAY better than at the RMAF show where we found them to be rather ho-hum. Maybe it was the tweeters!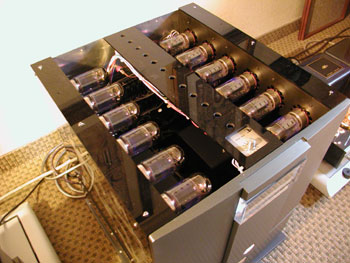 The Airtight Reference power amplifier, 200 watts a channel. Got tubes? Maybe it was the amplifier! Nice seeing Mr. Mura again. He is the class act!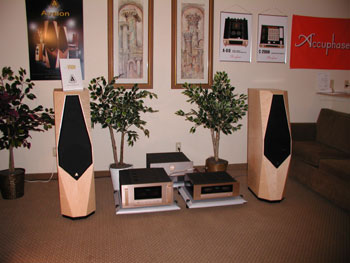 Also in the Axiss room, the Avalon Vision speakers with the Accuphase A60 power amplifier and C2800 preamplifier.
Transrotor and Shelter with an array of Accuphase products.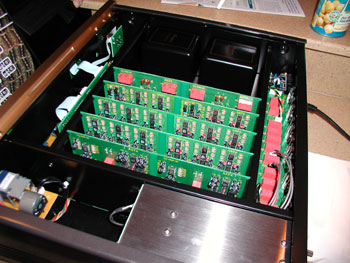 The Accuphase C-2000 Stereo Control Center ($6900). A new product with innovative AAVA type volume control—look ma, no volume potentiometer. It adjusts listening level with out deterioration in S/N ratio or distortion via relays.