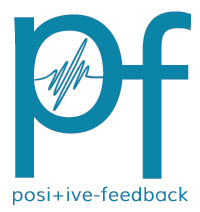 You are reading the older HTML site
Positive Feedback ISSUE 16
november/december 2004
Mid-Fall Musical Harvest
by Bob Neill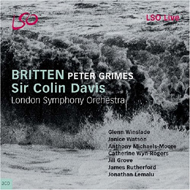 Benjamin Britten's Peter Grimes, Colin Davis, London Symphony Orchestra, soloists. Live performance. (LSO)
Peter Grimes is Benjamin Britten's best known and most celebrated opera, the only one, I believe, to have made it into the repertoire of the Metropolitan Opera, unless Billy Budd slipped in when I wasn't paying attention. The classic recording is the original, on Decca, conducted by Britten and featuring Peter Pears, for whom the title role was written. The original has the strong stamp of Pears' voice on it, a feature that a great many fans of the composer's music consider essential to the opera's introspective power. Pears' voice has a profoundly inward turned, meditative quality that makes Grimes an almost mystical character. It is higher than a standard tenor, almost an Irish tenor but without the flourish, which can make it sweet but also enables it to lash out in anger. In both ways, it causes his voice to stand clearly apart from others around it, which has its point.
Glenn Winslade, Colin Davis' Grimes, has a clear, open, strong voice, more the sort of voice we expect from an operatic tenor and very likely closer in character to the fisherman Peter Grimes of poet George Crabbe's tale on which the opera is based. I read somewhere (and apologize for losing the source) that Davis was aiming in this recording to give the opera more universal significance than he felt is usually brought out in productions of the opera, like Britten's own, which see in Grimes hints of the (self and publicly) tortured homosexual. Choosing a less 'poetic' sounding lead is Davis' principal step in that direction; but we also feel, in part from the power he brings to the famous orchestral interludes, that the sea plays a more conspicuous role in this production, pointing up Grimes' being caught between two equally powerful forces, natural and social.
I have never felt that Britten's tragic male characters—Grimes, Peter Quint of The Turn of the Screw, Captain Vere, Billy, and even Claggert of Billy Budd to single out a few prominent ones—are about homosexuality so much as about human passion, guilt, and self-doubt which, while universal, are more intense in homosexuals and some others profoundly in conflict with themselves, whose conflicts are involved in their very self-definition. To downplay the suggestions in Britten's operas—and that is all they ever are—that these characters' homosexual feelings are essential to the proportions of their tragic experience is to misunderstand that their moral experience is different in degree rather than in kind from that of 'the rest of us.' To my sense of this music, it is the deep conflicts in these characters that give the operas access to a rare power. I am profoundly not homosexual and I am deeply moved by Britten's operas.
I bring this up not because Davis' Peter Grimes is not a fine performance of the opera, which indeed it is, but in order to say that it has a different kind of power than Britten himself brings to it as conductor and chooser of its cast. It is more a traditional tragedy, in which society isolates an already intensely private individual and drives him into the arms of the cruel sea, on which he also depends for his livelihood. Britten's presentation of his opera focuses more on the private dimensions of Grimes' tragedy.
The sound quality of the LSO recording is terrific, and while Decca has done a decent job in bringing the original analogue version back to a reasonable semblance of its original life, it really can't compete with the LSO version on this score. Strings are clear and smooth, which adds significantly to the poignancy of the presentation. All orchestral textures are clearer in this recording. Yes, in this opera especially, sound matters. Much of the success of the whole LSO series lies in its superb sound engineering. I commend not only those behind this production of this recording but of the whole series so far, which is a great musical, technical, and—I understand—financial venture.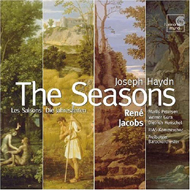 Franz Joseph Haydn, The Seasons; an Oratorio. René Jacobs, RIAS Chamber Choir, Freiburg Baroque Orchestra (Harmonia Mundi)
Haydn's two oratorios, The Creation and The Seasons, both written around the turn of the nineteenth century, toward the end of the composer's life, were enormously successful and remain so. Hardly a concert year goes by without several notable performances (and at least one new recording) of both. But of all his oeuvre, most of which I am extremely fond of, these are the two that have always been hardest for me to appreciate. I took on this audition in yet another attempt to crack through the wall and fear I will not have done it any favors by doing so!
The Seasons sounds like a musical version of a landscape painting by Constable or Poussin (the latter is used to illustrate the album cover): generic rural characters in a pageant like setting or series of tableaus, singing attractive arias about… well, in this case, fairly comfortable rural life during the four seasons. There is no narrative flow, no drama, though there is a gunshot in Autumn when someone shoots a bird. Everyone just stands around and sings in good late eighteenth century neo-classic operatic style. And in this edition, which is apparently the recovered first edition from which Haydn later trimmed some of the orchestral sections, there is some very fine orchestral music. The only way that I can see for a modern listener, even one as open-minded as I, to listen to this oratorio is to just sit back, forget the subject matter, ignore the lyrics (adapted from James Thompson's long poem, The Seasons) and listen to the music. Which given that it's Haydn, is very fine. And to give this review a little lift, the superb sound in this recording makes that a pleasure.
I'm clearly not over the Haydn oratorio hurdle yet here. I hear a pale echo of Handel in them. The denser and more florid textures of the baroque seem to suit this kind of music better. Gorgeous, indulgent, and intricate baroque music making can counterbalance even the most artificial plots; neo-classicism, which is more straightforward, has to work harder at it. Or I have to!
But this is not supposed to be about gaps in my taste: if you enjoy eighteenth century choral music, especially in its more celebratory mode, you need not hesitate to pursue this wonderfully produced example of one of the century's most beloved pieces.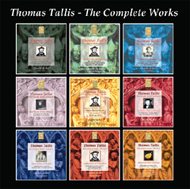 Thomas Tallis, The Complete Works, Volume 9: Instrumental Music and Songs. Chapelle du Roi, Alistair Dixon. (Signum Records)
Actually, Dixon and the Chapelle du Roi don't perform on this recording, Volume 9, which completes this remarkable and pleasing series, but they are on the first eight and so I'm crediting them here. The performers here are mainly instrumentalists, the brilliant group, Charaivari Agrčable, and also the wonderful harpsichordist, Laurence Cummings.
As you can see in the image above, all nine CD's are now available as a set, though not yet, I don't believe, in the US.
I am a Tallis (and Byrd) fan, but even if I weren't I would absolutely love and rave about this recording. If you have trouble sorting out the differences among English renaissance composers, you are not alone. But to my ears, which are passionate but not highly educated ones, the sound of Tallis has always had a particular appeal, which I can't account for in strictly musical terms. He and Byrd separate themselves from the others in ways that go right to the heart, both the heart of what this period's music is all about and to ours. I am singling out Volume 9 because it presents music of the composer I did not know existed, music for renaissance instruments: lute, virginals, and viols. That the religious choral sound of Tallis translates so eloquently to instrumental colors is a revelation to me. To those of you interested in finding a way into Tallis, this may be the most attractive entry point. This music is transporting.
The whole series is a symbol of what can be done in the face of the sad state of classical music recording in the world today. To complete a nine-volume series of the entire works of a not widely known sixteenth century composer of mainly religious choral music I consider a triumph of music over commerce. Hail to Signum! And hie you to your local record shop for one of the best classical albums of the year.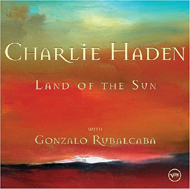 Charlie Haden, Land of the Sun, with Gonzalo Rubulcaba, (Verve)
Is there a better young jazz pianist in the world than Gonzalo Rubulcaba? Keith Jarrett? Jackie Terrason? I couldn't live without all three, but Rubulcaba is the one I would miss most. With Charlie Haden or with his own group, playing his own Cuban or anybody else's something else, he is an eloquent and also deeply moving jazz musician. There is a sense of authenticity to his music that grounds him like no others. Is this because of the Latin musical tradition that informs it? (Is this what gives classical composer Golijov so much of his power?) Are the blues and torch song roots of most modern American jazz losing their power over contemporary musicians? I can't say, but speaking for myself, as much as I enjoy listening to Jarrett and Terrasson, I find myself more moved by Rubulcaba. And I have never been much taken by Latin music. My problem, my ignorance. I have the sense that Rubulcaba is showing me the way in…or finding what is universal in his native music.
You can hear his deliberate, almost walking lyric course through every piece clearly, almost as if it were in its own world, as counter-melodies and rhythm whirl around it. I can't take my ears off him. This CD, which has become my favorite jazz recording in the last several years, also has Joe Lovano on tenor and several other musicians I am embarrassed not to know. Haden's bass, as always an engaging melodic foundation, makes a wonderful accompaniment.
Another Hayden/Rubulcaba collaboration not be missed is The Montreal Tapes, which also features drummer Paul Motian on Verve. Rubalcaba records with his own group(s) on Blue Note. His latest, Paseo, will very likely change your idea of Latin music. Follow this man!