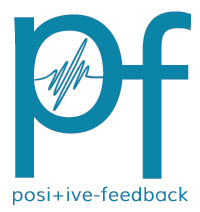 You are reading the older HTML site
Positive Feedback ISSUE 15
september/october 2004
Super Audio CD: The Column
by Stephen Best
Welcome to a new column by Stephen Best! Stephen's column will feature a round up of 6-12 new discs that recently have caught his eye. These will include some obscure discs, rather than just titles everybody knows about. He will also (when appropriate) feature a brief bit on the RCA Living Stereo and Mercury Living Presence titles. That is, what titles are coming out and how they were transferred. Stephen will offer a regular profile on a label, as well as provide details on any firmware fixes for the Sony SCD-1 and SCD-777ES players that addresses a mastering change.
Stephen runs the site SA-CD.net (www.sa-cd.net) which not only features information on just about every SACD title in existence, but has links to where these titles may be purchased. It should be mentioned that Stephen does receive a small percentage of any sale made through his site.
Label profile – Caro Mitis
Great music. Great performance. Great sound. Pick any two. Or so goes the old (or not so old) adage. This will be the first of a series of profiles on SA-CD producing labels humbly suggesting that it's possible to have it all!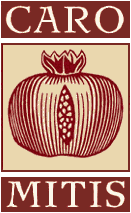 I first heard about Caro Mitis ("juicy fruit" in Latin) a year ago from Ivan of www.sacd.ru who was trumpeting the "First Russian SACD". Now that they have a few titles under their belt and the discs are somewhat easier to obtain, it's my turn to pass on the good news.
Caro Mitis (www.caromitis.com) is a new label from Essential Music (www.essentialmusic.ru) dedicated to state-of-the-art recordings of classical works, some of established repertoire and others championing those of less known Russian composers (or composers working in Russia). To date, seven titles have been issued, all single-inventory multichannel (surround) hybrid SA-CDs. New titles are issued at the rate of one a month and fall into one of two series: Eminens for performances on modern instruments and Eximium on authentic instruments.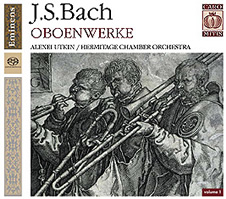 In the Eminens series are currently three individual volumes of J.S.Bach "Oboenwerke" with Russian oboist Alexei Utkin and his young Hermitage Chamber Orchestra, formed of graduates of the Tchaikovsky Conservatory in Moscow. Included here are Bach's compositions for oboe (concertos, sonatas, orchestral suites) as well as some very successful transcriptions by Utkin for oboe of other works. Of course, Bach wasn't beyond doing a bit of "re-composing" himself (and sometimes of the work of others) for whatever instruments were at hand (or in vogue) as the included booklet attempts to explain. Also according to the booklet "Alexei Utkin plays oboe F. Loree specially made for him by the owner and head of that company Alain de Gourdon. The widened range of the instrument makes it possible to enrich the musician's repertoire, adding opuses originally composed for [other] instruments." The results anyway are persuasive.
The Eximium series currently encompasses works of the Russian composers Maxim Berezovsky [1740s-1777], Dmitry Bortnyansky [1751-1825] and the Austrian composer Anton Ferdinand Tietz [1742-1810] who made his career in St. Petersburg. A fair percentage of these are premiere recordings, some of works only recently discovered. Performances of the above are by the Pratum Integrum Orchestra under the artistic direction of Pavel Serbin on original instruments of the eighteenth and nineteenth centuries (or modern copies). The orchestra goes back to 1993 when the Ancient Music Ensemble was created from members of the Moscow Conservatory. They now record exclusively for Caro Mitis.
Future titles include a series of Mozart's oboe works, rarely performed pieces by Telemann, "Harpsichord Gems" of J.C.Bach and others by Olga Martynova, works of Shostakovich, Schnittke, Benjamin Britten, Taneyev, C.P.E.Bach etc. Also planned is a premiere of Berezovsky's early opera "Il Demofonte". No Mahler in sight.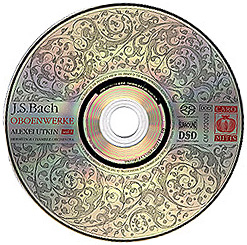 In keeping with the positioning of Caro Mitis as a fine music label with worldwide aspirations, all recording is being done by the team at Polyhymnia (www.polyhymnia.nl) who are also responsible for some great work with Philips Classics, Pentatone etc. The names of Erdo Groot, Roger de Schot, Carl Schuurbiers will be familiar to many. All current recordings by Polyhymnia for Caro Mitis are directly to DSD using Meitner converters and their own custom microphone buffer amplifiers and pre-amplifiers. The venue used is the new 5th Studio of the Russian Television and Radio Broadcasting Company (RTR) in Moscow. Twelve such recordings have already been made.
Distribution channels for Caro Mitis SA-CDs are still being established. Discs can currently be ordered from Germany from sites such as www.amazon.de and www.jpc.de. See the Caro Mitis web site (www.caromitis.com) for an updated list of distributors worldwide. (Their site also carries sound samples, images of the recording sessions, reviews and more.) If you're tempted, you may want to try one title from each of the two series. I guarantee though that you'll be back for more!
Title round-up
Each month I'll be showcasing up to a dozen new releases on SA-CD. Given that the worldwide release rate for SA-CDs is currently about three per day, this selection will just be the tip of the iceberg. You're encouraged to check out the new & upcoming lists of your favorite vendor or consult www.SA-CD.net for the full list. The discs selected below include some I've heard personally (and which pushed my buttons), or there's some buzz about, or I just think could be worthwhile checking out. The idea is simply to highlight some of what's on offer. I hope you'll discover one or two discs here you like.

DHM 82876587052
Mozart: Requiem - Harnoncourt
A commanding performance with decent sound. One of four such Requiems on the format already (five if you count the Kuijken Kwartet's transcription on Challenge).

Deutsche Grammophon 474 868-2
Prokofiev: Cinderella, Ravel: Ma Mère l'Oye - Argerich/Pletnev
These two virtuosi play Pletnev's own arrangement of Cinderella for two pianos. A 24bit/96kHz PCM recording.

Hyperion SACDA67480
Francois Couperin: Keyboard Music 2 - Angela Hewitt
Delicate music which will reveal its charms on repeated listenings.

HighNote HCD 7123
Buster Williams: Griot Liberte
Some infectious playing from the bassist Buster Williams and gang.

Proprius PRSACD2030
Albeniz, Ponce, Tarrega - Georg Gulyas
A varied and interesting programme from Gulyas on guitar with typically fine sonics from Proprius.

Island
Nick Drake: A Treasury

Exton OVCL-00162
Bach: Viola da Gamba Sonatas - Radek Baborak
Transcriptions for horn and piano from the Japanese Exton label, an early champion of high resolution recording.

Concord SACD-1033
Ray Charles: Genius Loves Company
Ray's last recording with a who's-who of today's music world.

Mercury B0002439-36
Allman Brothers Band: Eat a Peach
A classic remastered. Also available is Live at Fillmore East.

Telarc SACD-63588
Eric Bibb/Rory Block/Maria Muldaur: Sisters & Brothers
Other news
The big news at the moment for classical listeners is the release of the Mercury Living Presence and RCA Living Stereo transfers on SA-CD, ten titles of each. For full details, see www.deccaclassics.com/music/mercurylivingpresence/ and www.livingstereo-sacd.com respectively. If you have a multichannel setup you'll be able to hear most of these in "three channel stereo" for the first time ever.
The ten Living Stereo titles have now been released worldwide. All Living Presence titles are out in Europe, Asia etc. but in North America they're scheduled for release in two batches of five on October 12 and November 9. Further titles from both series have been promised.
Also, following on from San Francisco Symphony's ongoing Mahler series on their own label, we now have RCO Live (for the Royal Concertgebouw Orchestra) and LSO Live (London Symphony Orchestra) both issuing SA-CDs. The first title from RCO Live is Dvorak's "New World" symphony conducted by Mariss Jansons. LSO Live have announced their first titles: Verdi's Falstaff from Colin Davis and the third installment in Haitink's Brahms cycle. Future recordings from LSO Live will all be available as SA-CDs together with a selection from their back catalogue. For more information on LSO Live, see www.lso.co.uk.
Attention Sony SCD-1 and SCD-777ES owners
There have been quite a few reports by owners of early Sony models (specifically the SCD-1 and SCD-777ES) of a loud noise or distortion being heard at the end of a selected number of newer SA-CDs, mostly of European origin but not exclusively. The problem is caused by faulty playback operation by a gap area outside of track area. There is a solution!
The following serial numbers of SCD-1/777ES made with ROM version Ver 2.40 (or less) are liable to encounter this noise problem:
SCD-1 (US) serial Nos: 800001 - 801353
SCD-1 (Euro/Asia) serial Nos: 500001 - 500739
SCD-777ES (US) serial Nos: 800001 - 801625
SCD-777ES (Euro/Asia) serial Nos: 500001 – 501366
Parts Replacement:
Old IC Chip: Ver.2.40, P/N: 8-759-663-89 (MBM29F400TC-90PF-S23)
New IC Chip: Ver.2.53, P/N: 6-706-246-01 (MBM29F400TC-90PF-S253)
Please contact your local Sony Service department to arrange for the update/repair. Note that Sony Service advise that the biggest problem they have with returned SCD-1s and SCD-777ES's is that they are not packed sufficiently enough to not sustain damage in shipping. The units are so heavy that they will go right through peanuts or bubble wrap. The original box by itself is NOT enough protection. They must be double boxed with plenty of packing to survive.
Good luck!