Mobile Fidelity Sound Lab Surround Series - Vox Quadraphonic Reissues
by Roger S. Gordon, CPA
Mobile Fidelity has a stellar reputation for the sound quality of their reissues. This was true in the vinyl era and it is still true today in the digital era. In fact, if quality sound reproduction is your reason for living, you probably already own the entire MoFi catalog, past and present. Mofi, however, has always marched to the beat of a different drum. Their reissues have been as eclectic a mixture as you can imagine—film scores, rock, jazz, classical—you name it, they have probably reissued something from that genre at one time or another. This tradition of taking a different slant on what to reissue continues in MoFi's new SURROUND Series. More and more audiophiles are setting up 5.1 surround sound systems, either as part of their main system or as a secondary home theater system. However, music to play over your 5.1 system can be a problem, particularly in the field of classical music. While there are a reasonably large selection of DVDs of classical music using 5.1 surround sound, the recordings usually don't take full advantage of the 5.1 format. It sounds like a standard two channel recording with a few extra mikes scattered around the orchestra. In addition, the sound quality of these performances is usually not that exceptional. If you just want surround sound without the video, your choice of surround sound CDs or SACDs is very limited. MoFi's SURROUND Series is meant to fill this niche— classical music in a surround format with superb sonics on CD/SACD hybrids.
Where does a reissue company like MoFi find surround sound recordings of classical music that not only have excellent sonics, but for which the reissue rights don't cost a fortune? Think 1970s—quadraphonic sound. Quadraphonic was the first commercial surround sound system sold to the public. It was only a 4.0 system. But it was surround sound. Vox Productions, Inc. and its subsidiary Turnabout issued quite a few quadraphonic recordings. Many of the quadraphonic recordings were recorded by the engineering team of Joanna Nickrenz and Marc J. Aubort. Nickrenz and Aubort made some of the finest sounding recordings during the analogue era. Cost cutting during mastering and pressing turned the superb sound of the master tapes into the average sounding Vox and Turnabout LPs that were sold to the public. However, a number of Nickrenz/Aubort recordings have been reissued by various audiophile labels over the years on both vinyl and CD. These reissues have revealed that the Vox master tapes have as fine a sound as any of the famous RCA Shaded Dogs, Colorback Mercurys or Blueback Londons. Thus, MoFi's solution was to start reissuing some of the Vox Quadraphonic recordings. These reissues are multi-layered hybrids: they can be played either in their original four discrete channel format in surround SACD or as two channel CD or as two channel SACD.
The sound quality of these reissues is everything that you would expect from MoFi. They even went the extra mile by hiring Marc Aubort to assist in the remastering and production of these reissues. With the participation of one of the original recording engineers and the use of the original master tapes, these reissues should sound as close to the original as possible. Not having heard the master tape, I can not comment. However, I think you will be hard pressed to find better sounding recordings for any of these pieces of music. There is a small difference in the sound between the CD and the SACD formats.(1)
The first three recordings of MoFi's SURROUND Series are: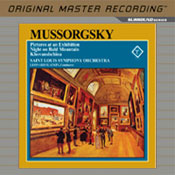 Moussorgsky: Pictures at an Exhibition/Night on Bald Mountain/Khovanshchina. Leonard Slatkin and the St. Louis Symphony Orchestra, recorded 1975.
These three pieces are amongst the most recorded pieces in the repertoire. You probably already have copies of them in your collection already. While perfectly acceptable, performance-wise, these recordings are not in the running for best performance in the world. They are very good performances in wonderful sound. If you love good sounding recordings you need this resissue. If you are into surround sound, you probably will not find better sounding recordings than these. So again you need to buy it.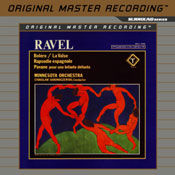 Ravel: Bolero/La Valse/Rapsodie espagnole/Pavane pour une Infante defunte/Daphnis et Chloe Suite 2. Stanislaw Skrowaczewski, Minnesota Orchestra, recorded 1975.
These recordings were issued originally on a single Turnabout LP and also as part of the Vox Box four LP set of Ravel: All the Works for Orchestra. Of all of the Vox/Turnabout reissues, the recordings from the Vox Box Ravel have been reissued more times on more labels than any other Vox/Turnabout recording. This is great music, wonderfully performed, in fantastic sound. You can't go wrong buying this reissue.
As an added bonus, MoFi has added the Daphnis et Chloe Suite 2 track as a bonus. This music was not on the original Turnabout LP, but was included in the Vox Box. The entire 17 minute Suite 2 is presented in its original 4.0 format. On an additional track, 4 minutes of Suite 2 has been reprocessed into 5.0 format. This will allow you to hear the difference between the 4.0 and the current 5.0 format.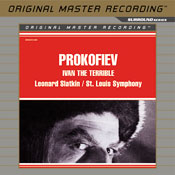 Prokofiev: Ivan the Terrible. Leonard Slatkin, St. Louis Symphony Orchestra, recorded 1979.
This music is the concert suite from the film score for Serge Eisenstein's Ivan the Terrible Part I and II. While Eisenstein's previous film, Alexander Nevsky, is routinely listed as one of the top 10 movies of all time, the film critics and the public don't really know what to make of Ivan the Terrible. The same can be said for the two film scores. The concert suite taken from Prokofiev's film score for Alexander Nevsky, while not frequently performed in concert, is recorded fairly frequently. This is probably due to its block buster nature. If you are lucky enough to own the Athena vinyl reissue of the Turnabout two channel recording of Alexander Nevsky also performed by Slatkin and the St. Louis Orchestra, you know what I mean—a Sonic Spectacular—and fun music besides. The music from Ivan the Terrible is very seldom played or recorded. I do have one of the few recordings of Ivan the Terrible—the Muti, Philharmonia Orchestra recording (EMI 7 69584 2). I also own the video of Ivan the Terrible Parts I and II. I play the music and watch the video very infrequently. In its own way, the music from Ivan the Terrible is just as spectacular as the music from Alexander Nevsky. However, for whatever reason, audiences just don't take to it. Sonicly, the MoFi reissue is wonderful. I doubt if you are going to find a better sounding recording of Ivan anywhere. I also prefer the Slatkin/St. Louis performance over the Muti/Philharmonia performance. Slatkin and the St. Louis do a terrific job of adding life and zest to a very difficult score. If you are going to buy a copy of Ivan the Terrible, the MoFi reissue is definitely the one to buy.
(1) My CD/SACD player upsamples the CD signal and processes it through the SACD circuitry. This probably explains the small difference that I heard between the CD and SACD formats.
Mobile Fidelity Sound Lab
318 N. Laflin St.
Chicago, IL 60607-1006
www.mobilefidelity.com