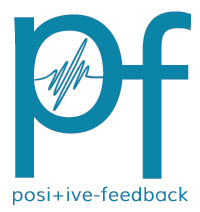 You are reading the older HTML site
Positive Feedback ISSUE 14
july/august 2004
HE 2004 Highlights, Part 2
by Mark Katz
On the 2nd Floor, the Vandersteen 5As were hooked up with Rogue Audio Zeus amps in mono mode, a prototype Rogue line stage, Wadia Reference digital front end, Clearaudio Master Reference turntable, Benz Micro cartridge and Aesthetix phono preamp, with Kubala Sosna cables. All the electronics were on Harmonic Resolution Systems racks and fed thru Equi=Tech balanced conditioners. Some recordings had a creditable 3D soundfield. Overall, the sound was powerful and dynamic with good tonality on wood winds and percussion. At the back of the room was the sign in for the big HE 2004 High End drawing where someone could win an audio system with Vandersteen 2Ce Sigs, ClearAudio turntable, Rogue Audio 66 Magnum preamp, an Equi=Tech power conditioner, and some Kubala-Sosna interconnects. Needless to say, by the end of the show, the boxes were packed with applicants for the drawing.
Dropping in briefly to see/hear the Paradigm Reference Signature home theater demo in the Gibson Suite, with Anthem Statement electronics and a subwoofer "signature servo" that was said to go down below 11Hz in room. The bass was indeed literally gut wrenching!
Until recently, I had never heard of Gilmore Audio, but their ads got my attention. "Tacky but memorable" might be the best way to describe them, showing Mr. Gilmore, a speaker, and a beautiful scantily clad model with the caption "Sometimes you get VERY lucky!" The distributor's website below has variants on this with the model more attired, but in various poses to complement the speaker. http://www.glacieraudio.com/Manufac/Gilmore.html
Anyway the speakers seem to be a hybrid ribbon, dynamic driver array with no boxes behind the drivers mounted on symmetrical corian plinths. I was wondering how they got good bass and am not sure they went as deep as they claimed. The cross over sat behind the speakers. The electronics were the excellent Atmasphere line.
Daniel Marz, a fellow member of the LA and Orange County Audio Society, demonstrated his Red Planet Labs STR201 solid state amplifier with Rethm loudspeakers (based on Lowther DX-4 driver) with a Teac DV-50 as a source. Lowther based speakers are traditionally coupled with low power single ended or very sweet sounding push/pull tube amplifier. Having a 200 Watt solid state, class AB amplifier make music with a Lowther driver based speaker was, to me, impressive. The amp was recently reviewed in Issue 12 of Positive Feedback Online.
Dan Meinwald, another member of the LA and Orange County Audio Society, is also the distributor for the marvelous EAR electronics line from England, as well as the Marten line of speakers. He demonstrated the Marten Alto, a member of the "Coltrane" series with a downward firing woofer and Kevlar drivers, powered by Brinkmann amps. The sound seemed smooth, detailed, with decent bass control, and a natural tonal balance. The setup was a standout on female vocals with a jazz combo accompaniment.
Although they've been around for over a decade, I had never before seen the AKG-1000 headphones. They list for about $1K. I heard them both with a Sophia EL34 based SET amp($1K) and an Antique Electronics low powered amp($600) apparently made to go with these headphones. They're unusual in that the band rests on one's temples with movable open baffle mesh boxes that can rotate around the vertical axis on the side of each ear. This allows one to alter the apparent soundstage. Not enough to make it completely like a stereo system, but enough to make them sound less like headphones. I enjoyed the sound very much. My only concern would be the comfort of the band on my head over time. In the ten minutes I spent listening, it was comfortable.
Roy Hall demonstrated again the Epos line of speakers, which seemed musical, but laid back. When paired with the Creek 5350 SE, they seemed to sound their best with more energy.
The Audiopax room had the model 88 amps, model 5 preamp and a very interesting looking Zanden transport with a small lid that lifts off, Plexiglas layered with metal sides. The sound was quite good. I had thought they said that the transport cost about $2,500 and was considering it as a future purchase, until I found out that there was an extra "0" attached to the price tag!
The Thor Audio preamp/amp with Electocompaniet Transport and Thor DAC drove WHT bass reflex speakers very nicely. On Pujol's Suite Buenos Aires for guitar on ASV, the sound was slightly brighter than I'm used to, but not harsh or edgy. Enjoyable.
The Goldmund room featured the midi-monitor Epilogue speakers with brass tuning knobs and an umbilical connection to Mimesis 18.4 amps. The Eidos 18D CD/DVD player served as source thru the Mimesis 24 Audiocontroller. The system was 1) expensive, 2) sounded very good – high resolution, very clear, good bass. The mid size Epilogue monitors did not sound "small", though they can be paired with the Epilogue 2s to create much larger full range speakers.
In the expensive but "got to hear" category, I'd add the Audio Note Kondo Nero amp with NOS 2A3 tubes, Ongaku preamp, 47 Labs digital source, and the Horning Hybrid Agathon speakers (based on Lowther DX-4 drivers, but crossed over at 6 KHz to a tweeter). This system was a treat for those of us who enjoy single ended triode sound.
I'm unfamiliar with Living Voice, a UK based company, but really enjoyed their system - the Living Voice Avatar II speakers ($5.7K) with Exposure Classic CD, preamp, and amplifier (each $2.7K). Even with the constraints of show setups the sound grabbed me. I found it lively, present, with excellent tone. I know there's no such thing as a "fast" speaker, but that's the best way I can describe what I heard. The last time I experienced a speaker with this characteristic, it was much larger, heavier, and more expensive. The Avatar II is a ported 2-way design with a D'Appolito configuration.
The Bosendorfer room unsurprisingly did a fine job on piano reproduction. Power came from the Art Adagio amplifiers. The bass was deep and solid. When asked what subwoofer they were using, the exhibitor pointed down to the nearly sofa sized trunk he was sitting on! On closer examination, wires were coming out of one side. I had thought that's what they shipped the speakers in, not that it WAS a speaker.
The 2-way Reference 3A Dulcet speakers at $1695, powered by the Antique Sound Labs 1009 amps, with Eichmann cabling had very good sound in a compact package. They claim the secret is the lack of a traditional crossover.
Sophia Electric introduced an amazingly flexible integrated amp that can take 45, 2A3, or 300B tubes and can be switched between these tubes while running and attached to the speakers.
Aperion Audio makes affordable speakers and home theater setups, including towers with powered subwoofer built in($1200/pair) and rear speakers that can work as dipole or bipole with 1" thick HD fiber sides and Kimber designed DiAural crossovers. They sell direct which cuts down on costs, but reduces opportunity to check them out in a store. Thus, they offer a 30-day in-home trial, including return shipping.
The Innersound amp and speakers used the Linn Unidisk 1.1 as source with the DPR 500 watt amp, RCP-1 preamp, Kachina Reference hybrid speaker (electrostat, 8" transmission line woofer with external passive crossover). The system was characterized by clear, tight bass, excellent integration between the speakers' parts. On piano, I heard slightly restrained dynamics and very smooth, detailed treble, with a near perfect tonal balance.
In the Spendor/Perreaux room, the smaller S5e seemed to be a better value than the bigger S9, sounding a bit more refined and subtle.
The very impressive Kharma Ceramique with subwoofer, Lamm amps, Gingko Cloud 10 platforms, Kubala-Sosna speaker wire/interconnects, had a great sense of space, dynamics, and good tonal balance. A top-notch system in the show.
The Totem Arros paired with the Plinius 9200 integrated amp and Ayre CD player strutted their stuff again. These slim, small towers never cease to amaze me in terms of imaging and the ability to "disappear" acoustically with more than decent bass for their size.
To be continued…