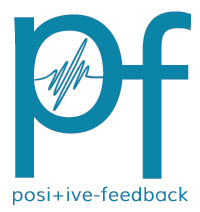 You are reading the older HTML site
Positive Feedback ISSUE 14
july/august 2004
Aldeburgh Music Festival Diary, 2004 - Aldeburgh and Snape Maltings, England
by Bob Neill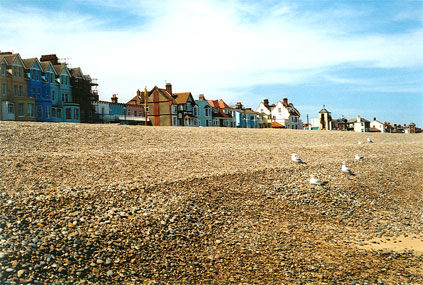 Aldeburgh, Suffolk, seen from the beach on the shore of the North Sea.
The Aldeburgh Festival in Aldeburgh, Suffolk on the North Sea coast of England, has been an annual affair since 1947, established by Benjamin Britten and Peter Pears as a new vehicle for both Britten's and other contemporary composers' music. The festival was held in Jubilee Hall in Aldeburgh and in several churches in the surrounding area from 1947 to 1967. In 1967, the present Concert Hall at Snape Maltings, a few miles away on the Alde River marsh, was built by converting a huge malting house.
Contemporary music has remained the principal focus, though the practice has been to set it in the context of the historical musical tradition. (The last concert I heard before leaving, by French pianist Pierre-Laurent Aimard, included pieces by Thomas Adès, Beethoven, and Ives.) I have dreamed of going to Aldeburgh since I first discovered Britten many years ago but could not find a way to do so until this summer. My timing turned out to be perfect. Coming after two days of listening to Audio Note's Peter Qvortrup's reference analogue system down in Hove next door to Brighton on the English Channel, my four days and eight concerts—in the Snape Concert Hall, in Jubilee Hall and in the parish church in Aldeburgh proper, and in two medieval gothic churches in the neighborhood proved both a sonic and a musical revelation to me that it might not have been just a few years ago. Upon my return to Massachusetts, I found that the very molecules in my brain had been rearranged! Moral: ears can change, truly change.
In the first place, I don't get to hear much live music, certainly not in as wonderful as venue as the Snape Maltings concert hall. In the second, I haven't heard analogue sound since around 1990, when I sold my Linn LP12 and nearly 2500 LPs. At that time, the music that interested me most (early and contemporary) was coming out exclusively on CDs, and I decided I did not want to spend the rest of my audio life comparing media. I abandoned analogue, set out to build a sound system tailored to the character of digital, and determined never to look back. I still consider it too late in my life to look back in any comprehensive way: I have a huge collection of CDs, my digital front end is superb, and I am sixty-five. But I am now prepared to admit that I made a mistake, at least in dumping my LP's. I should have known something I did not. Considering the pennies I got for them, I should have put them into storage and would have them now. Where was Peter Qvortrup in 1990?!!
What I heard from Peter's system, once I made the transition to it from digital, albeit Audio Note digital, was an extraordinary sense of ease and lucidity—not just clarity but lucidity, a sense of being able to hear everything without a sense of its being brilliant, insistent, or contrasty. It was not at all sensational or mind-boggling, which is why it took me a day or so to 'get it.' It was simply there, relaxed and obvious. My goal in audio in recent years has been a sense of wholeness; and this was the most whole presentation I'd ever heard. It made my LP12 in retrospect sound tubby, which it may or may not have been.
And then, when I took my seat in Row R in the Snape Maltings concert hall, I had the experience all over again, the same thing only much better. I had ordered my tickets months ago and, realizing this was likely to be a once in a lifetime visit, asked for the best seats available for all eight of the concerts I could fit into my short visit. When I saw how far back I was in the hall, around two-thirds of the way from the stage to the rear wall, albeit toward the center, I was disappointed. And then, when the first notes of Birtwhistle's new chamber opera, The Passion of Io, were sounded by the clarinet and string quartet accompanying it, my disappointment vanished. I clearly had what, for this concert hall, which rises steadily from the stage to the rear, were the best seats in the house. The instruments, and if you know Birtwhistle you know they weren't playing anything we'd conventionally consider lovely, sounded beautiful. Smooth, lucid, firm, and full of character. I was shocked, not that they sounded better than I had heard from any audio system for the last ten years, but how much better. This was not the sound I knew. It was beautiful, without sounding in the least euphonic. It gave me a sense of effortless well-being. I'm sure it would have sounded a little more like my system in Row G. But that's not where I like to sit. I like to hear the instruments after they've begun to blend into the whole sound the composer hears in his head, which is why I tend to prefer Reynaud Concordes to Offrandes. And the beauty lasted throughout the four days, both in the Snape concert hall and in the other venues. This I now realized was the real sound of music from the sweet spot, the real thing.
This opening section belongs at the end of the article, after my notes on the music that I heard. But as wonderful a musical experience as I had, it is this sonic one that in the end had the greatest effect on me, so here it is up front. I love the sound of music as much, sometimes more, than its content, which is why I am an audiophile and not a pure music lover. Unlike Benjamin Britten, I do not sit around reading musical scores for pleasure. What the long-range ramifications of this experience in England will be for me here in Massachusetts, I don't yet know. At Peter's recommendation, I have borrowed an Audio Note Turntable Two, Arm Two, and the best of the AN moving magnet cartridges, and have begun listening to the several Britten LP albums he gave me and two Mosaic collections of Miles Davis I immediately ordered, comparing them all with my digital versions. Though the digital editions still sound very good indeed, I find I love the vinyl versions. They are, despite some surface noise on the Britten recordings, lucid, effortless, uninsistent. They are not perfect: I would not mistake them for what I heard in Aldeburgh. But they are a very fine analogue of what I heard. The presentation, as I said recently on Audio Asylum, is different in degree, not in kind. Digital, as good as it is at my house, is more of a difference in kind. I'm not going to get metaphysical about the whys here. I'm just reporting what I hear, now that my poor head has been altered.
The bad news for me is that I am already finding that whereas the LP's sound good on all of my equipment, it is likely my digital is now going to need help to please me, whereas before it sounded just fine. The 2A3 monoblocks I have here, Audio Note Neiros, paired with either my Reynaud Concordes or a pair of AN E/Spe speakers I've borrowed from AN importer/distributor Dave Cope, don't sound as good as they did before the trip to England. This is a sober truth of audio that often brings down boos on reviewers. Experience changes experience. Everything you hear changes how everything else is likely to sound thereafter, for better or for worse. The molecules inside our brains do indeed seem to change. I may have to shift to a 300B tube based amp. Peter Qvortrup feels the 2A3 tube is more accurate, but he listens to analogue virtually all of the time, and acknowledges a change of this sort may be necessary for someone whose collection is overwhelmingly digital. Digital clearly needs a little slack cut for it if it is to get close enough to the real sound of music to satisfy me, now. It will be interesting to see just how much accuracy my new ears find acceptable from digital recordings. Or whether my head and ears revert to their earlier state. As I re-read this before sending it off for publication, home now for two weeks, I am aware that a mild reversion is already taking place. A blessing, I guess.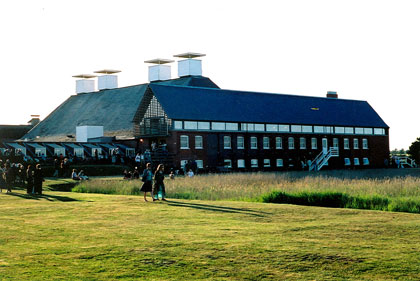 Concert Hall at Snape Maltings, situated on a large marsh leading to the River Alde, Suffolk, England.
The Music
Friday Night, June 11: Harrison Birtwhistle's The Io Passion. Alan Hacker clarinet, Quatuor Diotima, vocal soloists. World Premiere. Snape Maltings Concert Hall.
Most of us listened to a pre-concert talk by a Birtwhistle scholar and had read a transcribed conversation between composers Birtwhistle and John Woolrich (this year's festival program director), and thus had some idea of what to expect of the preeminent British avante-guard composer's latest, a chamber opera. But The Passion of Io was still strong and difficult stuff, even for those of us receptive to and interested in the more radical and abstract school of contemporary music. The stage set is essential to the opera's meaning, so I can't imagine Io working as a recording, other than as a DVD. Birtwhistle uses the myth of Io to inquire into and illuminate, in the ways that myth illuminates, a modern 'scene' between a man and woman, who had a brief love tryst years ago. The man is trying to revive the affair, the woman to resist him. It becomes clear as the narrative develops—mainly through constant iteration—that the original experience was a good deal more traumatic for the woman, very likely, we suspect, her first.
The set is wonderfully surreal, reminiscent of a Hopper painting, consisting entirely of the inside and outside, side by side on the stage, of a room in which, on the right side of the stage, the woman paces about, sits reading a book about the myth of Io, falls asleep and dreams (mainly about the myth), and sits at a writing table responding to letters dropped through the mail slot in her door by the man, who can't bear to intrude on her life any more forcefully. He is outside, on the left side of the stage, under the light of a street lamp and the moon, which goes through several phases, she is inside. Io: Inside Outside. This modest action, which repeats itself over and over with slight variations, is expanded by the appearance of identical versions of each of the characters and by Zeus and Juno (the major characters, along with Io herself, in the Io myth), whom we are led to believe are products of the woman's dreams. At one point there are several versions of both the man and woman and also the gods wandering around the set at once. Music is provided by ariettas sung by the two leads and instrumental interludes and accompaniment by Alan Hacker's clarinet and a string quartet. Understanding the action has mainly to do with reading the mythic action as psychology, though there are hints that more may be involved. It all depends on whether the woman was 'simply' traumatized by the earlier experience or whether something more real, as in more external, possibly supernatural, was involved, as she has come to believe. Clearly she interprets her experience as having an importance bordering on, if not actually a part of, a world Elsewhere.
The balance between the instruments and voices made it nearly impossible to make out much of what was being said (sung) in the ariettas, so I don't know whether Birtwhistle has made his meaning more explicit. I doubt it. I liked the instrumental music a good deal. I think Birtwhistle is among the very best at what he does. But there is no denying it is difficult, especially on first hearing… and seeing. The Passion of Io definitely feels like a step beyond (in historical musical development, if not excellence) the operas of Britten, which hovered over the premises in the audience's collective musical consciousness. I came to feel differently about Io as the festival proceeded—more on that later.
Saturday morning, June 12. Music for Children. Britten and Vaughan Williams. Christ Church Cathedral Choir, Oxford. Aldeburgh Parish Church.
I have always heard the shadow in Britten's music. I expect that is what initially drew me to it. It is especially suggestive in his music for children. But hearing the Missa Brevis and Ceremony of Carols sandwiched (intentionally) around Vaughan Williams' Mass in G Minor, brought the shadow into greater prominence. The Missa Brevis is haunted by a pedal bass on the organ, felt as much as heard. The piece as a whole is characterized by stirring dissonances and brought to a close with the almost literal darkness and near quiet of the concluding Dona Nobis Pacem. I used to play a recording of this music during the Christmas season and my youngish children hated it—at best made fun of it. Today, I finally understood why. (Live music makes you concentrate more than recordings do!) It is as disturbing a setting of the mass as I know, especially since it casts a shadow over the traditional expectations we bring to a mass rather than boldly challenging them, as purely modernist music tends to do. And it is sung by children. They are the carriers of its dark concern, and we cannot help but feel they are its recipients as well. This really is Britten's particular gift: the ability to strike the note of doubt and misgiving—sometimes mild, sometimes powerful—which expresses the melancholy that inhabits, or sometimes just shadows, happiness.
The Ceremony of Carols achieves the same effects, but so much more subtlely that when it is played at Christmas, which it invariably is, many listeners find it full of innocence—though when pressed, they do sense its…peculiarity. The young voices provide the air of innocence, as they do in the Missa Brevis; but the chromaticism, which has the effect of throwing the carols just out of emotional focus, cast a shadow, an undertow of dark knowledge in the midst of the innocence, as they are intended to do. My wife, who is especially sensitive to the vulnerability of children in the adult world, is made extremely uncomfortable by this piece and dislikes it. I have and continue to love it.
The Vaughan Williams Mass in G Minor did nothing for me and I find I have nothing to say about it. In general, I find his music sentimental and full of pathos rather than real feeling.
Saturday afternoon, Refrains and Choruses by Birtwhistle and Peter Maxwell Davies. Composers Ensemble. Jubilee Hall, Aldebugh.
Saturday evening, Tippett, Holst, Birtwhistle, Britten, and Vaughan Williams. Britten Sinfonia, Thomas Adés conductor. Isabelle Van Keulen, viola. Snape Maltings Concert Hall.
Birtwhistle is a major focus of the 2004 festival—and in the afternoon we got three more of his pieces, including the fairly well known Tragoedia, along with three by his exact contemporary, Peter Maxwell Davies. (Both composers recently turned seventy.) Urging us to see Birtwhistle in relation to non-modernist British music rather than in relation to his modernist peers is an express theme of the festival, as John Woolrich explains in another pre-concert talk. To my ears, this is a challenge bordering on a contrivance, a connection that is more evident in an intellectual approach to the music than an emotional one. For listeners, as opposed to musicologists, Birtwhistle belongs to modernism. His music's frame of mind is that of Berio, Ligeti, and Kurtag, all of whom, to be fair, are represented in the festival.
I enjoyed the Birtwhistle without visual distractions. The Maxwell Davies contributions were forgettable, as I generally find them.
In the evening concert, to make matters even more interesting, Birtwhistle's music was surrounded by even more anti-Birtwhistle fare. A schmatzy Tippett Fantasia on music by Corelli, which Adés's (Adés is overall festival director and has been for several years now) conducting nearly redeemed; a confused traditional folksong arrangement by Britten, which Adés also gave its best chance; and another schmaltzy folksong arrangement by Vaughan Williams that had both Adés and superb violist Isabelle Van Keulen going for it, such that it actually turned out quite wonderfully. Can a superb performance turn a sentimental piece of music into something fine? Yes it can. It can make it into a fine piece of sentimental music—this happens every year on New Years in Vienna, I am told.
Sunday afternoon, June 13. Tales of Schumann, Music by Schumann, Mozart,and Kurtág. Michael Collins, clarinet; Isabelle Van Keulen, viola; Noriko Ogawa, piano. Blythburgh Church.
In the afternoon program, Isabelle Van Keulen, one of my favorite musicians, whose long out of print recording with Olie Mustonen of Stravinksy's music for violin and piano on Philips is my favorite recording of all time and who has done great things for modern music in her native Netherlands, appeared again, this time with her British husband on the clarinet and a very moving young pianist I did not know. Van Keulen stayed in the background until she soloed in the second of three Schumann pieces, at which point she transformed the atmosphere of the thirteenth century church entirely. I have a periodic problem with the clarinet, especially in its upper range, which renders my objectivity on clarinet performances iffy. I hated what it did to the Schumann Fantasiestüke. I didn't enjoy it in a Mozart Clarinet Trio either, where it is supposed to be a slightly darker bassett horn. Actually, the only music I truly enjoyed besides Van Keulen in the Schumann (and Ogawa's stirring performance of Schumann's Märchenerzählungen) were some miniatures by Kurtág made exquisite by Van Keulen and her viola.
Sunday evening, Bartok and Haydn Quartets, Belcea Quartet & Vertavo Quartet, Snape Maltings Concert Hall.
In the evening, I was looking forward to the Belcea in particular. Their new Brahms Quartets recording on EMI has been getting lots of the right kind of praise, and apparently they have been regulars at the festival for several years running.
The (Norwegian) Vertavo's Haydn Opus 20, No. 6 was okay as a warm-up—and I love good Haydn. But the Belcea's Bartok was not only the best performance I'd heard at the festival so far, it also made me realize what I really thought of the Birtwhistle's Io, which had been sitting on my chest since Friday night. Whatever its composer may think, it is a piece of surreal melodrama about a hysterical woman who 'will never forget the first time,' as the expression goes. This is one of the mysteries of art: how a major piece of music can bring the elusive inferiority of a lesser piece to light.
The Belceas played all four movements of the Bartok quartet without pause—they wouldn't let us off—and it came through as the first truly monumental piece of music we'd heard. I know this quartet via the Tokyo, the Emerson, and the Tackacs Quartets, and the Belceas tonight were every bit as good as all of them. I wonder, having just read Florestan Trio pianist Susan Tomes' fascinating book, Beyond the Notes, in which she tells us how different (generally tamer) recording a piece is than playing it live, whether the Belceas would/could sound this good on disc.
Monday morning, June 14. There is a Willow. Music by Britten, Bridge, Schumann, Janáček, and Berio. Paul Silverthorne, viola; Richard Benjafield, percussion, Andrew West, piano. St. Bartholomew's Church, Orford.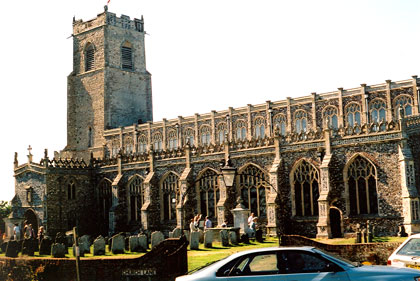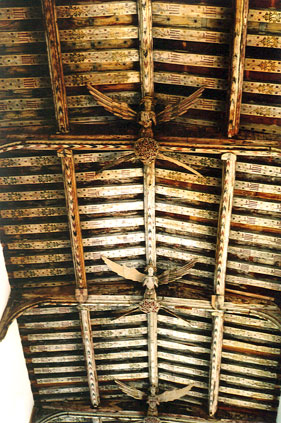 St. Bartholomew's Church, Orford, built 1190.
Today we are in St. Bartholomew's, the parish church of Orford, where Britten's Noyes Flud was first performed. This is an extraordinary Gothic structure, built in the twelfth century, "typical," a fellow listener from Northumberland tells me, "of many just like it all over England." This particular one seems utterly magic to Neill, the American innocent used to looking at eighteenth century colonial American churches, especially the interior where the and-painted rafters with their wooden angels smile benignly down at me from 1190!
The viola has had an unusual prominence in this first week's programming, and with Silverthorne playing Britten's Solo Elegy for Viola, it became clear that one of the festival's inexplicit themes is Britten as a pathway between traditionalists and modernists. The viola was Britten's instrument. Silverthorne has put out a fascinating CD, Transformations, on England's innovative Black Box label, which I own and recommend. He played the familiar Britten piece with a bit more panache than Van Keulen would likely have, and then a very moving piece, There is a Willow Grows Aslant a Brook, arranged by Britten, written by his first and most valued teacher, Frank Bridge. This is the closest I've come to hearing Britten in Bridge.
With the Schumann Márchenbilder, it became evident to those of us who hadn't studied the program notes ahead of time, that this morning's program was a historical "V" proceeding back in time, musical sensibility, and aesthetic from Britten to Bridge to Schumann, and then up the other side through Janáček to contemporary Berio. A very effective piece of programming. The Schumann sits at the heart of the nineteenth century, openly emotional, from boldly expressive passion to some of the most serenely beautiful music in the canon. To hear this utterly straightforward expression of emotion after the emotional reserve and guardedness of the Britten Elegy is to get a poignant sense of what we have lost in emotional confidence: what a composer feels he can authentically express about humanity, when sincerity and authenticity coincide. In the Schumann piece there is no doubt about the worthiness and efficacy of romantic rhetoric.
Starting up the other side of the "V," Janaček's songs for tenor, viola, and piano sound like wilder, more worldly Schumann. Janaček's musical stock is rising these days, as musicians, critics, and audiences discover his 'premature' exploration of modernist musical possibilities. We can hear the folk origins of his music, which are not as thoroughly incorporated into his style as they are in Bartok, resulting in an earthier and more robust music. Paul Silverthorne is a wonderful musician.
In Berio's Naturelle, the viola and an original Sicilian folk singer via tape, in dialogue and juxtaposition, along with bold and imaginative percussion, refuse absolutely to absorb or transform the folk sources. Berio clearly wants us to hear the modern composer confronting, working with, trying to make something meaningful and true to him out of his sources. This comes through with special power as we hear Silverthorne playing along with the folk singer and then, as the singer fades out, playing alone, working his (Berio's) way out from the primitive sounds to something related to it but movingly different. This afternoon's concert was one of the most powerful and effective music lessons I've ever had.
Monday night. Pierre-Laurent Aimard. Adés, Traced Overhead; Beethoven, Sonata Opus 31, No. 3; Ives, Concord Sonata. Snape Maltings Concert Hall.
If this weren't in diary form, tonight's performance, the Beethoven sonata in particular, would have had the lead paragraph. My fellow guests at the Laural House B&S in Aldeburgh (most highly recommended) told me they had come from London for the weekend specifically to hear Aimard, whose Ligeti they had sat through spellbound earlier this year in London. These were the most sought after seats at the festival's first week.
Never before have I heard a Beethoven closer to the one I imagine, a Beethoven who, while coming out of Haydn and Mozart, virtually beats them into the past with his passionate cultivation of contrast and dynamics. Aimard's Beethoven is the Beethoven that the heroine of E.M. Forster's Howard's End was warned to be wary of. Aimard's Beethoven is the destroyer of eighteenth century decorum and restraint. His most powerful strokes literally lifted him off the piano bench. While his right hand never veered from perfection, all of his strokes produced notes with more meat on them than I am accustomed to hearing on anything from anyone. Aimard's lecture in music history came down in effect to, the more things change, the more they remain the same. He brought power and eloquence to the early nineteenth century, the early twentieth, and the early twenty-first alike. I looked over at my fellow B&B guests, two rows closer to the stage and center right while I was center left, and both were on the edges of their seats.
I have heard much about this pianist, we all have. But it is heartening to be able to report that the new emperor is entirely clothed. I ran out into the lobby at the end of the performance and grabbed his recent set of the Beethoven concertos with Harnoncourt, on Teldec.
The Thomas Adés piece, which actually began the program, sounded far more than interesting, more than an avant-garde exercise, less than a new major statement. A pianist sitting next to me in the audience commented in response to my amazement at Aimard's finger work on this piece (which were totally visible from our seats) that he himself had literally dislocated two fingers trying to play it! Adés is the crown price of British contemporary music and, as I reported earlier, is clearly a gifted conductor as well. He is seen as Britten's true successor, which his holding of the overall directorship of the Festival underlines. I have heard a handful of his other pieces in recordings and am still working on it.
And the Ives! This is the first piece of concert jazz, or 'third stream' as Gunther Schueller calls music that exists in the border country between classical and jazz music, and finally we have a pianist who understands this. It is, after all, the French who have understood this aspect of American music best. Another extraordinary performance to end the concert—and it's just out on CD, so go get it!
Last Notes on Leaving Aldeburgh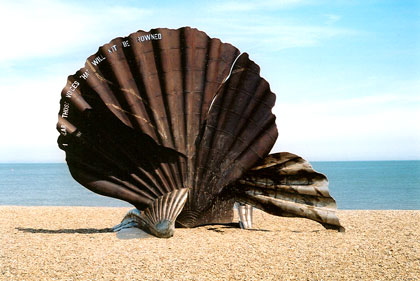 Environmental sculpture in memory of Benjamin Britten on the beach at Aldeburgh
I have been on the North Sea just four days, I am leaving, and there are still nearly two weeks of music left! I've heard a Birtwhistle premiere, I saw Adés conduct, I heard Van Keulen, Silverthorne, the Belceas, and Aimard. But I will miss Stephen Isserlis, Mitsuko Uchida, the Florestan Trio, Jordi Savall, the Belceas playing the other five quartets of Bartok, Philip Pierlot, Oramo and the City of Birmingham Orchestra, Ian Bostridge and Adés performing together, Jordi Savall and Paul Mcreesh. What an extraordinary way to spend sixteen days in June, if you have them.
For me, as is obvious by now, this trip was a pilgrimage, which I now find it difficult to believe I put off so long. Benjamin Britten is the composer who has meant most to me during my entire adult life. He has the spiritual eloquence of Eliot without the faith, the tough wit and salt of Auden without the excessive savoir faire, and the psychological and moral acuity of Henry James—all of whose writings, by the way, he set to music. He sounds like a minor composer to many, simply because he writes music which refuses to move beyond misgivings about human nature to bold and confident expressions we cannot endorse, if we are to remain undeceived.