VICTOR CHAVIRA'S SYSTEM:
LOUDSPEAKERS
Marten Design Monks.
ELECTRONICS
Magnum Dynalab MD-208.
SOURCE
NAD T541 CD/DVD player. LINN Axiss turntable with the K9 cartridge.
CABLES
Nordost Quattro-Fil interconnects, Analysis Plus Oval 9 speaker cables, and El Dorado power cords.
ACCESSORIES
Audio Magic Stealth Power Purifier, Vibrapods, Townshend 3D sink, and Echo Busters.
I only purchase compact discs if absolutely necessary. For example, New Conceptions, the latest group recording by Cuban master pianist Chucho Valdes, is a diverse disc of original compositions and uniquely arranged standards. The Beatles' Let It Be… Naked is a fascinating work of revisionism for fans of the Fab Four. However, over the past eighteen months—since renewing my relationship with the LP—music is more likely to be in the form of vinyl rather than polycarbonate. Since then, I've been on a quest to rediscover classic rock, Afro-Cuban jazz, Beethoven, and Bach.
My trusted companions in this quest have been a Linn Axis turntable with Basik arm and Adikt or K9 cartridge mated to an E.A.R. 834P phono stage. The music made by this system is warm, yet detailed and harmonious. Most importantly, the elements of the system work together to create a synergistic whole. With an LP in good condition, the system is capable of moving the listener to dance with delight, drum the air with imaginary sticks, or sigh with emotion.
JR Transrotor is a long established German turntable company with over twenty-five models in their line. On this side of the Atlantic, Transrotor products are imported by Axiss Distribution in Gardena, California. The PHONO is a solid state phono preamp with an outboard power supply. The unit is housed in an industrial-looking extruded aluminum case with integrated cooling fins. Though the unit appears as if it could generate a fair amount of heat, it in fact produced an unperceivable amount. The outboard power supply is connected to the preamp via a shielded umbilical cord. The PHONO is finished off with a thick polished faceplate engraved with the company logo and accented by a sapphire blue light. Once plugged in, the unit is always on.
The PHONO is adjustable for wide variety of MC or MM cartridges. Simply remove the faceplate and engage the prescribed switches according to the specifications in the owner's manual. Once the unit was dialed in for my Adikt cartridge, I plugged the PHONO into the Audio Magic Stealth power conditioner and played some records. My first impression was that the PHONO was very, very quiet. Surface and inter-track noise was also noticeably reduced. From this extraordinarily quiet background emanated a sound that was light and flavorful, like a good Riesling wine.
My copy of Beethoven's Piano Concerto No. 5 by Wilhelm Kempff and the Berliner Philharmonic conducted by Ferdinand Leitner on DG is a sonic spectacular, and a deeply moving masterpiece of music. The PHONO recreated the grand architecture of this opus with precision and clarity of line. Kempff's vibrant piano performance demonstrated the PHONO's ability to effectively communicate micro and macro-dynamic contrasts and complex tonal colors. Overall, the soundstage was more clearly exposed with the PHONO, but dryer in character than the three-valve 834P. Bach's Violin Concerto No. 1 in A minor as performed by Isaac Stern with Eugene Ormandy and the Philadelphia Orchestra on Columbia Masterworks (mono) sounded superb. This recording was made during the era of black-and-white, but the music was full of color and emotion. The orchestra sounded layered and spacious while Stern's violin was rendered in sharp focus. The PHONO tracked Stern's bowing like a Porsche Carrera on the Autobahn.
Next I went from Bach to rock. Led Zeppelin is a band I've only come to fully appreciate in my middle age. Perhaps because Zep was the soundtrack of my adolescence, I never took the time to admire their incredible power and musicianship, as demonstrated in their 1975 double album, Physical Graffiti. My favorite track is "Ten Years Gone," with its lavish guitar textures and overdubs. Listening to this album through the PHONO made it easy to form mental images of the acoustic and electric instruments Jimmy Page used to create his sonic collage. Robert Plant's bluesy vocals sounded lucid and coherent. The sonic signature mildly favored upper mid and high frequencies, in contrast to the 834P's warmer midband and muscular bass.
The PHONO's clear, focused midrange was an asset to a recording such as La Onda Va Bien, a 1980 LP by Cal Tjader on Concord Picante. Tjader's percussion-based ensemble was recreated with bold crisp lines and good contrast between the varied elements of the group. At the moments in which vibes and piano shared the melody, each instrument retained its unique character and harmonic structure within the soundspace. Congas, bass, and drums locked into infectious rhythm. When the flute blew in, its timbre was appropriately brilliant and silvery.
Another LP from the early 1980s is a legendary recording by Al DiMeola, John McLaughlin, and Paco de Lucia called Friday Night in San Francisco. My original copy is long gone (and was probably worn out from repeated playing in a futile effort to learn some fancy fretwork), but I recently acquired a used copy in very good condition. Listening to this album evoked fond memories of playing along with the record in hopes of one day joining the trio on stage for a jam. The recording also sounded better than it ever did on the family console. The TransRotor revealed fine nuances and rhythmic variations in each player's performance. The music filled an ample soundstage with superb strumming and furiously fast notes.
Finally, I listened to the perfect Sunday morning LP, Bach Cantatas Nos. 57 and 140 by the Conservatory Chorus of Sarrebruck under the direction of Herbert Schmolzi and the Chamber Orchestra of the Sarre conducted by Karl Ristenpart on Nonesuch. This music is rich in texture, with the contrasting and complementary sounds of choir, soloists, and orchestra. The TransRotor deftly rendered the grandeur and grace of this sacred music.
The JR Transrotor PHONO is a fine phono preamplifier. It is well built, quiet, and easily adjustable. Its strengths lie in its ability to illuminate details and accurately recreate musical scale and structure. Nevertheless, in the final analysis I preferred the E.A.R. 834P's warmer and more dimensional embodiment of music over the Transrotor's more direct perspective. In any case, the PHONO served music well and would be a welcome addition to a serious system. Victor Chavira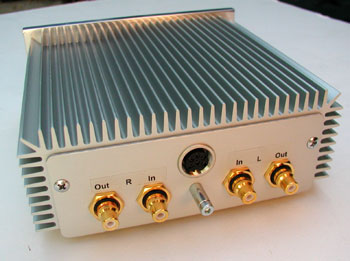 I would concur with Victor on all counts—this is a nice and competent phono stage that stresses speed and clarity of the music over tonal warmth and richness. Having the Transrotor for a brief period, my observations are a bit limited (it was in house at the same time as the Hagerman Trumpet, but only for a week). Additionally, I had my trusty E.A.R. 834P for comparison, and while both units are from the "tubed-based" design, as Victor points out the Transrotor is not, nor does it remotely sound like one either.
Being somewhat smallish, the Transrotor is a neat and simple design the speaks boldly to the listener in terms of what a solid-state phono stage from Germany should sound like. That is, it exemplifies that Teutonic sound best heard from Kraftwerk—the originator of the techno-electronic sounds. Fast, clean, with a precision of pace and sense of beat to the highest level. It also possess a clarity and presence that puts the music well out into the room with no hint of anything being added to the tapestry of tonal shadings. What you hear is what you get—nothing more, nothing less—this is a highly revealing phono stage that is dead quiet and easy to use.
But the Transrotor is not the phono stage for the music lover who is after tonal warmth and 3D palpability, as heard from tube-based phono stages or those of the solid-state design that are closer that sound (the PhD from Sutherland for one). Nor will it provide a sense of ease and comfort. No the Transrotor is all about riding down the Autobahn at 200 mph in a stripped-down Porsche that is race-ready. It is electronic music personified that avoids the more "natural" character of real instruments. Which is not to say that music comes across as being artificial—not it is just a bit too "washed-out" in terms of tonal richness and warmth. A bad thing? Depends on what you are after and how your ssytem is already balanced.
If one uses an interconnect that is darker and richer, as opposed to leaner and more analytical (think Soundstring versus Nordost in this case—which is what I used in the review), one can "adjust" for this personality quite a bit. Even so, using a more "colored" interconnect (or for that matter throw in a change of AC cords and one moves even farther) will not "correct" for the overall tonality. It simply gets one considerably more of one "sound" as opposed to another. Consider it "tonal seasoning." But why should one have to go to this extreme?
Well the Transrotor offers such a clear view with amazing speed, though at the expense of the "right" amount of tonal warmth, that the unit can come across as... well, as not so much being bright but perhaps as being a bit too "electronic" in terms of its tonality or presentation through the midrange. So by adding a bit of "color" here and there, one can retain all its strengths, while mitigating to a a great degree its weaknesses. I hope you do not think that the unit is not musical—it is—just that it has a different presentation that leans perhaps too far to the "too fast, too furious" crowd. With the right cabling and partnering system, one can slow things down a bit and enjoy the ride, as opposed to having the ride of their life! Recommended if used in the right system—but only you can decide that. Dave Clark