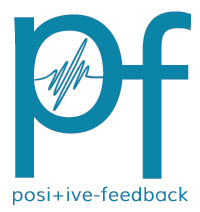 You are reading the older HTML site
Positive Feedback ISSUE
11

january/february 2004
Manley - A factory tour of sorts, err... okay it's really more of a photo essay!
by Dave and Carol Clark
We were recently invited to tour the Manley facilities in Chino, CA. Occupying 11,000 square feet with 50 employees, Manley is no little guy in the audio business. With 80% of the products directed towards the professional audio market and only 20% fro the home audio enthusiasts, it was an eye-opener to learn that Manley produces their products completely in house, with the exception of sheet-metal work, creation of the face-plates, and power transformers. Everything from circuit boards, to audio transformers, to assembly, to Quality Control is accomplished in this unassuming building. EveAnna Manley was a gracious host and tour guide. To learn more about the history behind Manley, visit their website at: http://www.manleylabs.com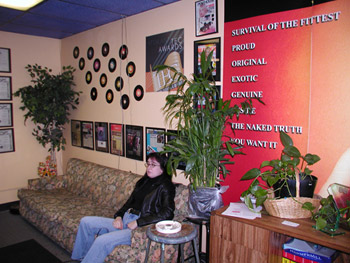 Carol in the waiting room... waiting. The room is filled with many awards, magazine covers, and other forms of recognition from the press and audio industry, along with the Manley mascot, Max.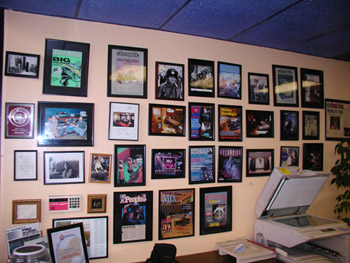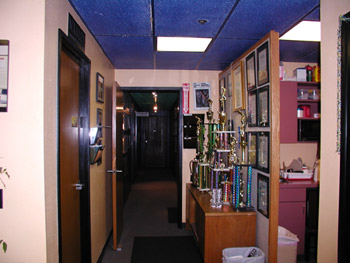 A shot down the hall that leads to the exciting world of Manley! The trophies are for various soccer teams that Manley sponsors - not their products. Manley is a business that sees the surrounding community, as well as its own employees, as part of the bigger picture, in that they are all a part of the "Manley family."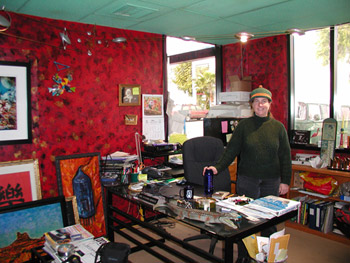 Head honcho and chief typist EveAnna Manley in her understated and subdued office.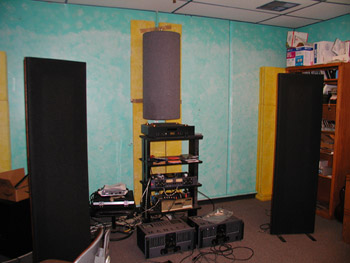 The design studio of Craig (Hutch) Hutchison who is responsible for many of the Manley designs. The AB listening system where the sound does not have to be absolute, but relative to what they have established as the absolute or their goal. While the circuit does make the product, Manley is careful about the parts selected in the component. As the design/component works it way through this stage in its development, changes in the circuit and such are evaluated against each other till they reach a point of no return. This is done by combining careful AB listening and measurements.
Hutch's workbench. Much of the design work is done on computer before it reaches this point. It is obvious that a lot of work goes into every Manley product as every workbench was awash in parts and whatnot!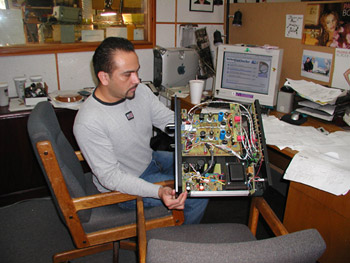 Baltazar Hernandez works closely with Hutch in getting new products to production. Here he is seen with the still in development Prawn preamplifier.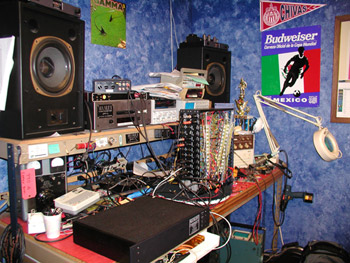 A custom mastering console in the Quality Control room. every product from Manley is tested and measured before it is boxed and shipped out.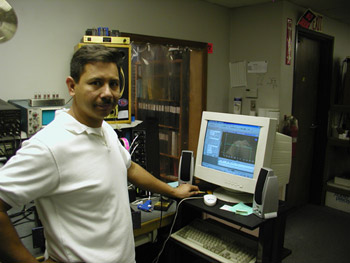 Martin Garcia in another of the QC rooms - there were two actually - checking the measurements of one of the professional products Manley produce.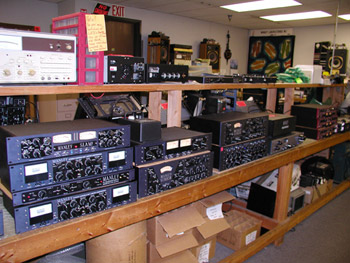 A ton and half of professional gear waiting to see if it measures up in the QC department.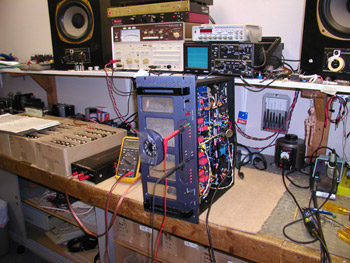 A Neo-Classic 250 getting a workout before shipping off to a happy customer.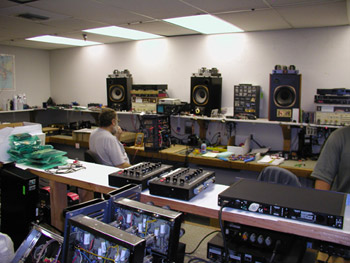 A wide shot of the QC department. That is Smokey in the back, named because everything he tests ends up in smoke! Just kidding!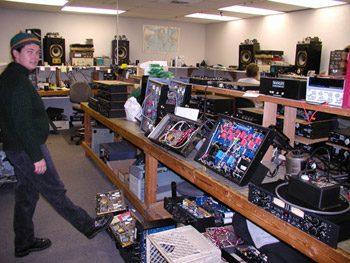 EveAnna with a few of the classic Manley products in for either repair of updating. Lots to see from the early days of Manley.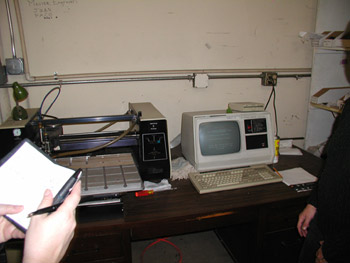 A classic Apple II used for the engraving of all their faceplates and cases. Works better than a newer PC! Yes, Manley does their own engraving!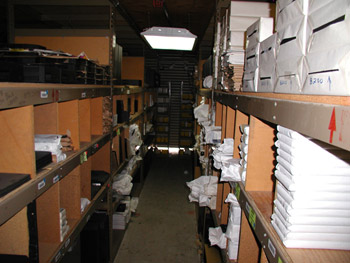 Faceplates and cases waiting to find a good home.
Parts?! We got parts! Manley stocks everything they need to build their complete line and keep thorough inventory with a custom database designed by one of their own employees. Keeping it in the family!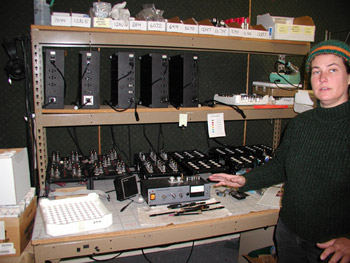 A tube burn in station to see which tube will fail first. Noisy and bad tubes are cast aside and those that pass, go on to the station to see where they stand-up against their peers.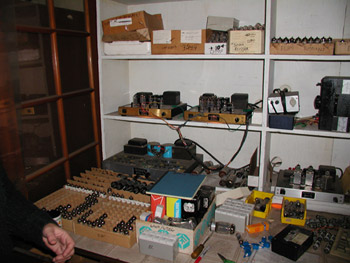 Here is where every tube is batched by how well it measures against a standard. This means that if you own a Manley product and you need to replace a tube, they can get you one that measures the same as the one you are replacing! Not only that, every tube and potentiometer is measured and tested to make sure it is good enough to be used in the first place.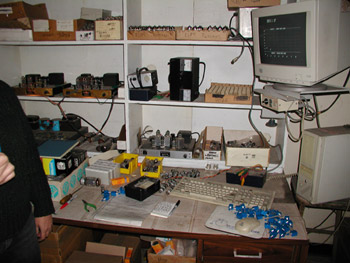 Bourns pots trying to make the grade. Those that do not, end up in the "not good enough for Manley box."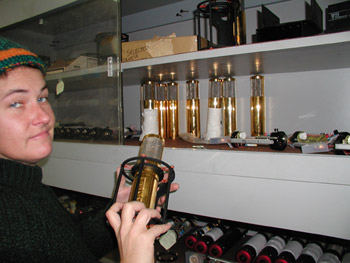 Eve Anna with one of their Gold microphones. 80% of Manley's production is in the professional market - recording, mastering, and touring gear.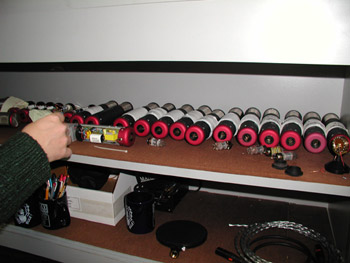 Reference microphone innards waiting for their "skin."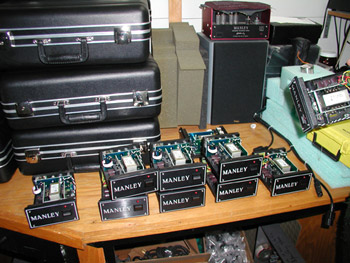 Power supplies for their microphones.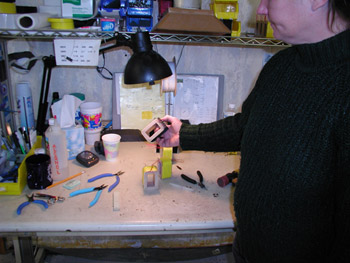 Manley winds all their own audio transformers themselves in a "clean-room."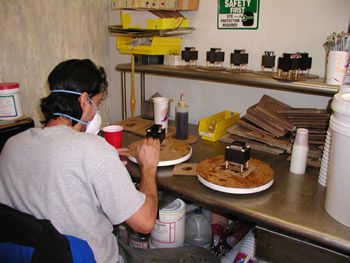 Epoxing a finished transformer - see the pretty colors?! Actually, Manley is very environmentally conscious and I saw careful consideration to meet the needs of their employees in terms of hazardous chemicals and fumes.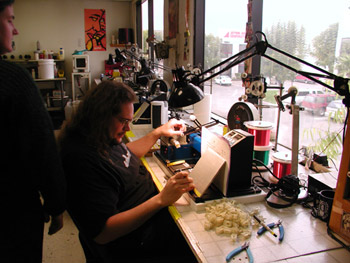 Winding a transformer - talk about needing good eyes and a steady hand. While it is machine calibrated, this is still a hand made product that owes much to being a work of art.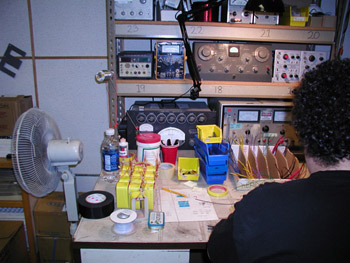 Even the transformers go through QC as each is measured and tested. Here are a few Stingray transformers waiting to see if they measure up.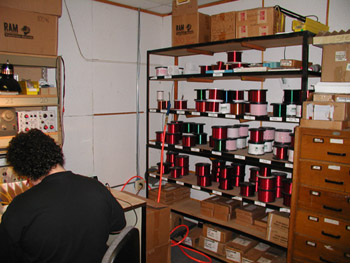 Wire and more wire. All waiting to be wound and wound... we go!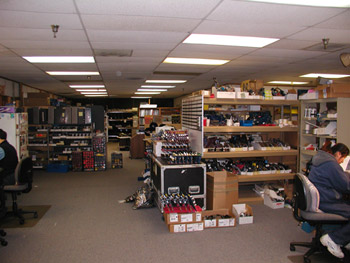 A shot of parts waiting to be stuffed onto a board.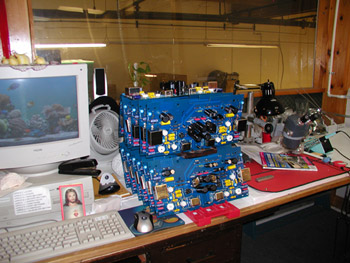 A work station of stuffed boards for the pro audio side of Manley.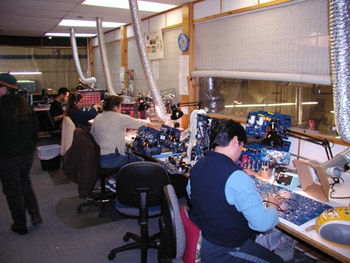 The board room is referred to the "girls plus Jorge." Here boards are stuffed and passed onto the assemblers down below. Each person can build whatever is needed - meaning that they are all knowledgeable of the entire Manley line. Manley uses minimal point to point wiring and stress a clean and simple printed circuit board to minimize signal degradation and grounding issues.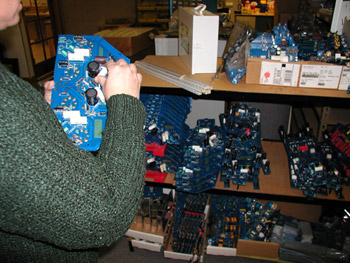 Finished boards for the Snapper. Watch your fingers there Eve Anna!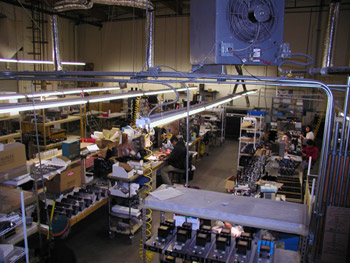 A big shot of the assembly area.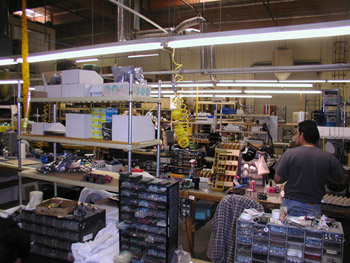 Here is where the products get assembled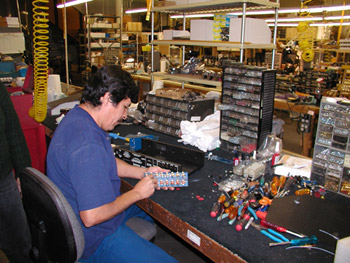 Assembling a bank of RCA connections one at a time. Not an easy job.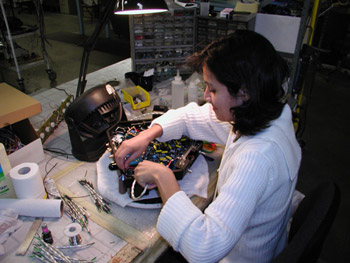 Estella wiring up a Stingray. Freshly caught and ready for the market.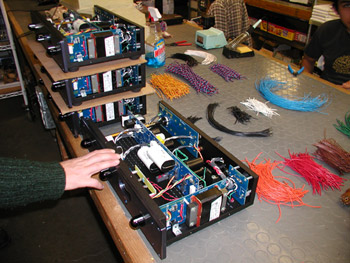 A Shrimp on the assemble line. Each product is made by one of their "assemblers" with love and care. "Carol, open your coat." "EveAnna, quick, look over there!"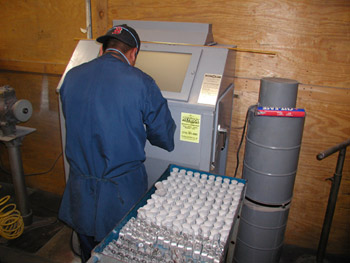 Manley has their own metal shop where they do fine finish work on their faceplates and various other parts for their products. Here is a sand blaster cleaning up microphone boom parts.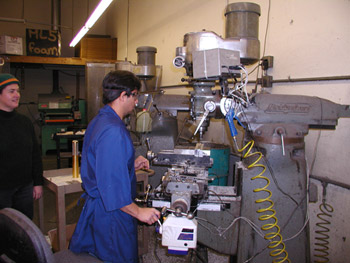 CC'ing some final touches to the faceplates.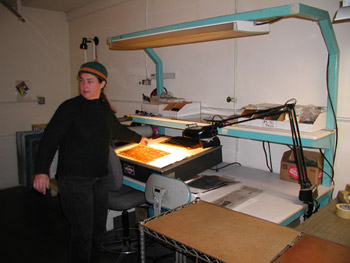 Manley also does their own circuit boards. Eve Anna showing a circuit board "template" prior to the next stage .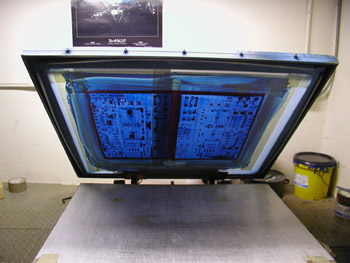 Here is the silk-screening where it will be transferred to the actual copper plates.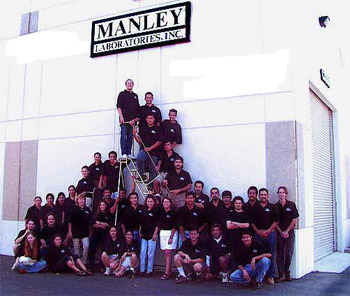 A shot courtesy of Manley.