DAVID ROBINSON'S SYSTEM
LOUDSPEAKERS
Kharma Grande Ceramique loudspeakers, Nova Rendition II loudspeakers, Nova Ovation monitors.
ELECTRONICS
Linn Klimax power amps (1 pair), Meitner EMM Labs Switchman-3 (SWM3) 2/6 channel preamp, Balanced Audio Technology (BAT) 6200 2/6-channel reference amplifier, Linto phono amp.
SOURCES
Meitner DAC6 2/6 channel DAC, Meitner-modified EMM Labs Philips SACD 1000 w/optical DSD output (2/6 channel), Linn CD-12 reference CD player, Linn LP-12 turntable, with the Akiva reference cartridge, Ekos tonearm, the new Lingo power supply, Cirkus subchassis, Linn reference silver phono cable, Revox B-77 Mk. II 15ips half-track reel-to-reel tape recorder, Pioneer RT-707 7.5 ips quarter track reel-to-reel tape recorder, Nakamichi Dragon cassette deck, Panasonic SV-3900 DAT player, Magnum Dynalab FT-101 tuner w/Audioprism 6500 internal antenna, Taddeo Digital Antidote II, Monarchy Digital Interface Processor (DIP) modded by JENA Labs
CABLES
Interconnects by JENA Labs, Cardas, and Kimber. Speaker cables by JENA Labs, Cardas and Kimber. Power cables by JENA Labs, Cardas, Kimber, FIM, and VansEvers.
ACCESSORIES
Vibraplane turntable isolation platform, Sistrum SP-101 amplifier stands, Black Diamond Racing "The Shelf" and cones, Extremephono VCS Platforms w/Black Diamond Racing cones under the Switchman-3, JENA Labs Fundamental Power (Washing Machine) 6.1 (line conditioning for primary sources), Shakti Stones and Shakti Onlines, Tice Signature III Power Block (line conditioning for secondary sources), VansEvers Clean Line, equipment racks by Michael Green and Target, VPI 17F LP cleaning system with the Record Research Lab LP cleaning system, Torumat TM-7XH Superfluid cleaner, and acoustical treatments by ASC, VansEvers, and Michael Green.
The Linn Kontrol: A Brutus Award winner for 2003!
Introduction
At the heart of most audio systems is one form or another of preamp. Whether active or passive, the function of this component is at the least to provide gain, and one level or another of switching. Ideally, a good preamp will also toss in some other nice features—balance, phase control, muting, and remote control (tethered or not)—without costing us too much sonically in the bargain. "Pure gain" is the ideal; "gain without pain" is our motto!
Alas…in the realm of the "real," things are often not that way. Many preamps provide a great deal of switching, but deviate when it comes to achieving pure gain; others provide good levels of clean gain, but sacrifice some level of functionality to do so. Advocates of active and passive designs square off, with tube vs. solid state proponents raising their own ruckus, and those who would like to eliminate preamps altogether recommending that 'philes plug their components as directly as possible into their amplifiers. (High purity, low utility, that one!)
Assuming that one is going to use a preamp, there are a number of fine choices out there. You'll have to set a budget, of course, then decide which approach to preamplification you prefer: tube, solid state, or passive. Over the past 2-3 years, I've had the privilege of hearing a number of very fine preamps at some length, and in familiar surroundings. The solid state stereo design that I've liked the best as of the end of 2003, however, is quite clear: the Linn Klimax Kontrol preamp.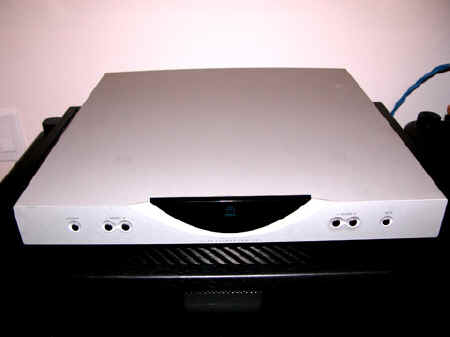 The Linn Klimax Kontrol
As long-time PF/PFO readers know, I've been following the Linn designs for quite a number of years now. Ever since I purchased my LP-12 back in the later '80s, I've been impressed by the performance and quality of the Linn gear. This is especially true since the late '90s, when the Linn line seemed to move out of the backwaters of audiophile awareness and on to a whole new… and much higher… level. The Klimax family of electronics, the Komri/Akurate klan of speakers, achievements like the CD-12 and the UniDisk 1.1, done without abandoning the venerable and fine LP-12 design (which is still being improved!) all spoke of a creative depth, a breadth of vision, and commitment to excellence across a wide range of products that is extremely rare (unique?) among fine audio companies. No where else that I can think of can you purchase an entire fine audio/home theater system from a single source, including multi-room configuration, stratospheric car stereo, hard disk-based PCM audio—and even a turntable! I do believe that Linn is the name of that game.
To put it another way, Linn has become a design and engineering powerhouse for fine audio and home theater worldwide.
Gaining Kontrol!
When I was told that Linn had a new stereo reference preamp in the Klimax family, I contacted Brian Morris immediately. Brian, Linn's Director of PR and Media Relations, made the arrangements to get Positive Feedback Online a sneak preview of the Kontrol in the winter of 2002. Though that first contact was somewhat brief, my initial on the Kontrol was very favorable, so we arranged for a return visit in May of 2003.
The Kontrol preamp partakes of the family design of the Klimax series of components. Beautifully machined out of a single block of aluminum, the Kontrol is low, wide, deep, and sleekly attractive. No unnecessary controls clutter up the face. Instead, there is a display window based on the CD-12/Klimax stylus motif, with a digital readout of internal functions, inputs, and volume level, and several buttons.
The remote control for the Kontrol is the truly choice and versatile Linn AV 5101, a unit so solidly built that you could use it for personal defense in the next John Woo flick. (In heft it reminds me of the BAT VK-51SE; there is very little plastic on those premises either!) Most everything that a listener would want can be handled from here via the remote's high scatter IR, which means that you don't have to point directly at the Kontrol to steer it. The only thing that I truly miss is having phase inversion, an item that the ARC Reference Two, Mk. II and the BAT VK-51SE have, but the Linn Kontrol does not.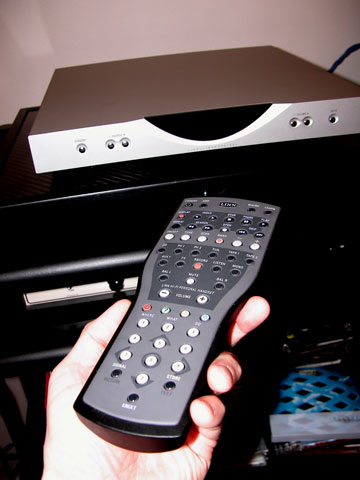 Yowzah! The AV 5101 remote control is a powerful and hefty handful!
The Kontrol is completely programmable via either the remote or the front panel buttons. (Those buttons work very well for simple volume and input selection tasks, and to set the Kontrol to Standby mode, by the way.) These are easily done if you follow the instructions in the manual, but the operations are non-intuitive. You'll definitely want to consult the book if you want to label your inputs, for example, or set the display units for volume. Once you get the hang of it, the programming works quite well.
Overall, the Kontrol is compact, slim, elegant, and easy to set up. It's solid, at nearly 20 pounds, but so trim that it's easy to handle. You can have it unpacked and running in minutes, which is not necessarily true of all preamps.
Technical specifications
For those interested in such things, here are a few gizmological highlights:
Claimed frequency response (no dB range given): 2.3 Hz – 200 kHz

Gain range: -95.5dB to +9.5dB in .5dB increments

Input impedance: 10k Ohms unbalanced, 7.8k Ohms balanced

Output impedance: 300 Ohms unbalanced, 600 Ohms balanced

Noise floor: Claimed at less than -100dBV

Dynamic range: 115dB

Dimensions: 60mm H x 350mm W x 355mm D

Weight: 9kg or 19.84 pounds

Power consumption: 15 Watts

International power supply: 115/230 Watts, 60/50 cycles
The rest of the tech scoop will be found over at Linn.
The Kontrol is strictly a stereo preamp, without interest in the world of multi-channel, and without compromise. The I/O on the rear of the unit is strikingly simple and compact.

Rear view of the Linn Kontrol preamp: stereo purism
There are three sets of unbalanced inputs, a pair of balanced inputs, and both balanced and unbalanced outputs. There is a level of real sophistication in some of the I/O's, however, since the Linn product line has the ability to offer complex control possibilities for those who purchase one of the larger Linn control packages. For example, the RJ's to the left in the photo above are for RS-232 input/output, allowing programmability of system functions via local connection to a computer. Likewise, the RJ's and mini-jacks are for the purpose of communicating with Linn's Knekt Room Control System should the user install a Linn multi-room system.
Multi-room… not multi-channel!
Not something that your typical fine audio company is producing, eh?
The rest of the system
During the time that I had the Kontrol (May-December 2003), the main system remained reasonably constant. The main sources were the Meitner SACD 1000/DAC6 for SACD and CD, the Linn CD-12 for CD/HDCD, and my trusty Linn LP-12/Ekos/Akiva/Cirkus/Lingo II on a Vibraplane isolation platform, feeding the Manley Steelhead reference phono amp. Downstream, the great chain of audio coolness was mightily anchored by a pair of the WAVAC HE-833 SETs (another 2003 Brutus Award winner), at 100 Watts per channel, which in turn fed a pair of the Kharma Grande Ceramique loudspeakers (yep, another bowzer of a Brutus Award here!)
The power and interconnect cabling was Cardas Golden Cross at the phono amp end of things; the Linn LP-12 is using the new Linn Silver Reference phono cable with the Akiva cartridge. The Meitner system is wired with JENA Labs power cabling, and a combination of JENA Labs and Empirical Audio interconnects, depending on whether or not I'm running balanced or unbalanced on a given component. Source components receive line conditioning via the JENA Labs Fundamental Power 6.1; amplification was plugged directly into two dedicated 20 amp circuits. Speaker cabling were the exceptional JENA Labs Pathfinders.
There is an issue with power cabling the Linn Kontrol, one that is shared by the Linn Klimax monoblocks. Both products have a beautiful low profile, but this comes at a price. The back end of both units has a chassis overhang that looks good, but means that Wattgate style IEC power connectors—or anything that takes a plump approach to connectivity—is going to have an insurmountable problem. Take a look at the photo below to see what I mean: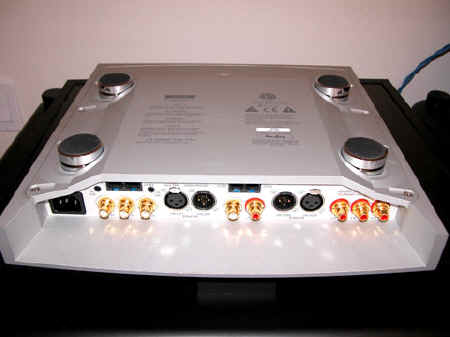 I flipped the Kontrol over so that you can perceive things more clearly. The IEC socket is on the left. I can assure you that "fat plugs" do not fit well here. It was no problem for me to use Cardas cables on the Kontrol… and it's a good synergy, anyway… but neither the JENA Labs power cables, the Kimber Palladiums, nor the VansEvers Pandoras were able to negotiate the Linn overhang. Ditto on the Linn Klimax monoblocks.
Keep this in mind should you decide to purchase the Linn Kontrol or Klimax components; you'll want to make sure that your phavorite 'phile power cables will phit phirmly.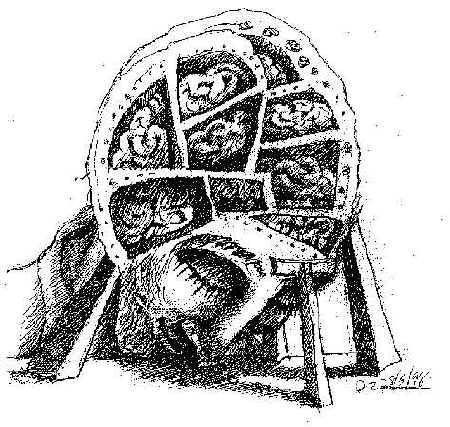 A Digression on Metasynergy and Preferences in Audio
The proof of any plum (or lemon) is in the pudding, of course. Fine audio is an intensely empirical experience, contrary to what some of the audio urban legendarians would have you believe. (You'll recognize these folks rather easily; they spend most of their time talking or arguing about audio, instead of training their senses by broad and deep experience.)
You can't know a thing just by talking about a thing. You have to experience it.
You train your senses, in order to convert them into sensibilities.
Metasynergy is at the heart of it, a gizmo-gestalt.
Metasynergy stretches from the original performance and recording all the way to the shape of your soul. Your preferences sculpt your reaction to audio experience (and all experience in general) much more than any given component or any combination of components do. This is why it is vital to have some sense of what you prefer—and a definite notion of what a writer or reviewer (who acts as a guide in your journey) prefers—before you can benefit from reading their reflections.
I've made it clear over the years that my preferences are founded upon references of mic feeds and master tapes; the control room or live venue experience, as mediated and transformed by fine recording equipment into a concrete form. (Note that this explicitly rejects the notion of "live music" as an ultimate guide for fine audio. In my opinion, audio as a compositional or concrete medium is an independent art form, not bound by the imperatives of live music, which is of the family of performing arts. But this is a different essay…) I've done audio production work in years past, have traveled to some great mastering studios (e.g., MoFi, Grundman's), know what mic feeds and master tapes sound like—and that's what I want in my listening room. This is why DSD and SACD was such a breakthrough for me all the way back in 1998, and why I am so pleased at that development in fine audio.
Properly done, it gets us into the studio.
And anything that stays out of the way of that is just fine with me.
Therefore, my interest is in fine audio equipment that provides reproduction that is as close to the original audio source as possible.
Give me truth; I'll deal with beauty.
Or, to put it another way, if we have "ugly" recordings (and they certainly exist), I want to know it. Then we can work to improve things at the source: microphony, studio gear (superior DSD and analog machines come to mine), cabling, proper EQ/bias, power supplies, etc. We can't fix the problem by pouring honey all over it; we need to strip away everything that gets in the way of the pure signal… and if we don't like that pure signal, if it isn't beautiful, then we need to make the signal better in its genesis and then pipe it through in all its glory.
All of which is why my powerful preference in preamps is to have utter transparency, or what some call "neutrality," as the measure of greatness in fine audio. You, as a reader, need to understand this passion of mine as you read on…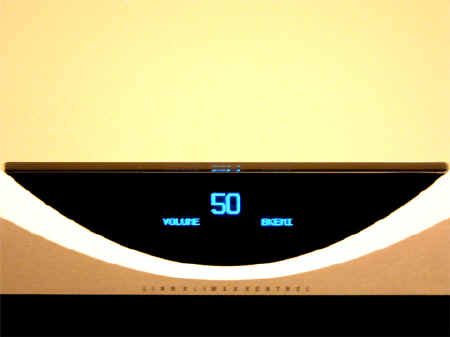 The Sound
The Kontrol was given several days to warm up; then I began listening to it. My previous experience with a Linn preamp was with the Linn 5103 AV preamp, which I wrote up as part of a study in system synergy way back in Positive Feedback, Vol. 8, No. 1 (see Linn). The 5103 was a very good component, and worked extremely well with the Linn reference system of that time (which was bloody good!) Nevertheless, the 5103 was clearly not an all-out attempt by Linn to produce a world-class stereo preamp. And its sound was not nearly in the same league as some of the exceptional preamps that I've heard since then.
o how would the Kontrol stack up?
At first, the sound was very slightly cold and congested, not surprising with only a bit of time on it. But then, as I began to listen to various SACDs via the Meitner reference system, I found myself increasingly impressed—then delighted—by the unfolding transparency of the Kontrol. Upstream was the "mighty Meitner" DAC6; downstream were the unbelievably wonderful WAVAC HE-833's, with 100 Watts of Single-Ended, Directly-Heated Triode action showing me everything more impressively than I had ever heard it through the Kharma Grande Ceramiques… the synergy was simply spectacular! The Meitner/Kontrol/WAVAC/Kharma combination was a natural, like great Port with a truly choice cigar, or a fine Cabernet with a well-matched cheese. WAVAC lovers, take note!
Any blemish, any real coloration, and the Meitner/WAVAC/Kharma chain, as configured, would have revealed it over time. I was amazed at how effortlessly the Kontrol stepped out of the way of the music, and simply supplied volume. "Gain without pain," truly!
In all categories, the Kontrol left behind the 5103, and established itself as one of the finest preamps that I've ever heard.
The tonal balance of the Kontrol has to be explained in terms of a continuum of my experience. If I construct a line, with "warm and romantic-sounding" (some would say "euphonic," though I find that to be a troublesome label; a better term might be "forgiving") at one end, and "cold and extremely detailed" at the other, and place "neutral/transparent" in the middle, then I would place the following key reference preamps as follows (not to scale):
"Warm" "Neutral or Transparent" "Cold"
---
BAT VK-51SE ARC Reference Two Mk. II
Linn Kontrol
MFA MC Reference
Jennifer Crock prototype
In other word, the Kontrol was "in the midst," perhaps just the slightest touch to the cool side… quite extraordinary, really.
Timbre and texture was rendered with excellent clarity, without ever giving a sense of over-doing it. For example, the SACD of The Rolling Stones Aftermath UK has a song that is a particular favorite of mine, "Lady Jane." The plucking of the guitar strings, the attack and feel of hammer on strings in the harpsichord was quite compelling; the natural warmth of this recording was presented without excess, allowing the listener to respond emotionally without suggesting what that response should be. This is a very important achievement, and one that exists only in the best preamps.
Solid-state preamps have a stereotype that suggests a certain leanness or "coldness." I certainly hear none of this with the Kontrol. SACDs that have a natural "lack of detail" like Chad Kassem's reissues of Creedence Clearwater were not rendered astringently; instead, Creedence sounded like… well, Creedence. I have the vintage blue label Fantasy LPs for comparison, as well as a couple of Steve Hoffman's DCC pressings—this is what the CCR recordings sounded like. And that's what the Linn Kontrol gave me.
The Kontrol excelled on delivering both bass and extended frequencies, which is no surprise given the remarkable frequency response of this preamp. Just over 2 Hz to 200 kHz will deliver anything we need from any source; clearly the Kontrol was built with SACD and DSD in mind! (And that's got to be good for LPs, as well… there's a lot of high frequencies in some of those grooves, though it can be lost over time.) I was pleased at the sense of spaciousness and air in the terrific Tommy SACD by The Who, which is truly an exceptional reissue. (You do have this one, don't you? If not, why not?!) Through the Kontrol, the sense of bass control was spot on, while I found myself hearing things that I'd never heard before.
In part, this was because the soundstaging and imaging of the Kontrol on all my favorite recordings was superlative. Beck's Sea Change SACD is a particular rave of mine; even in stereo mode, you get to hear the image palette of Beck as he steers things about in an aural virtual space. The Kontrol places these sonic locales without any smearing, and without making a single atom sound etched.
One of the most remarkable things about SACD is how we finally get to have DEPTH DONE RIGHT. The very first thing that I noticed when I had SACD in my listening room was, "Good Lord! Listen to how far back it goes!!" Of course left/right is important, and so is image height; but depth was the vast surprise of SACD soundstage/image presentation for me. The Kontrol does an exceptional job of making my back wall go away, so that I can listen to the back wall of the studio when Duke Ellington's Blues in Orbit is smokin' through the Meitner!
As a matter of fact, as I think about the seven months that I listened exclusively to the Kontrol, I can't think of a single category of any significance that I would criticize. Yes, I would very much like to have phase inversion. Yes, perhaps having only one set of balanced inputs is inconvenient, though some 'philes would be more concerned about having only three sets of unbalanced inputs. Maybe there could be more inputs. Then again, few users would need more than three or four sources; my needs are a bit more extreme than most.
Apart from those considerations, though, I'm stumped. The Kontrol worked flawlessly from start to finish, never caused any problems, never overheated, never overloaded, and never sounded stressed. It didn't buzz, hum, or draw attention to itself, other than in its sculpted visual beauty. There was not one single moment of frustration, trying to debug some problem. For seven months it simply provided gain, switching, and stayed out of the way of the signal.
High purity, high utility.
World class!
Conclusion
There are only a small handful of truly great preamps, in my experience, each taking a different path to eminence: the MFA MC Reference (tubed, and the best I've heard so far), Jennifer Crock's custom preamp (tubed also, and prototypes only), the Audio Research Reference Two, Mk. II (also tubed), the BAT VK-51SE (tubed; review notes forthcoming), and the EMM Labs Switchman-3 (solid-state; review later in 2004). I have several other candidates for this group (WAVAC and Joule Electra, for example) that I also intend to examine, but that's not been arranged yet.
If you're noticing that there are an awful lot of tubed preamps in that group, you're right. A huge percentage of the best fine audio gear is tubed.
Into that exalted glass company I now add the Linn Klimax Kontrol reference preamp as the 2003 Brutus Award winner for solid state preamplification. Clean, clear, and neutral; beautiful to behold; wonderful to listen through, the Kontrol rates a "Ye Olde Editor's Very Highest Recommendation."
Enthusiastically!
Friends, this is a great one. Don't miss a chance to audition it.
The Linn Klimax Kontrol
Retail: USD $9895
Linn Products Ltd.
For more information about the Linn Klimax Kontrol preamp, visit the Linn website at http://www.linn.co.uk.