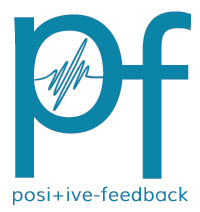 You are reading the older HTML site
Positive Feedback ISSUE
11

january/february 2004
The Gene Harris Trio Plus One
Groove Note GRV1019-1 (Two 45-rpm LPs)
by Dave Glackin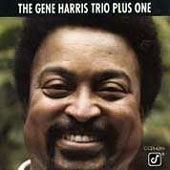 This recording grabs me right from the start. There's nothing like a live recording to catalyze musical chemistry. Something about playing in front of a live audience energizes musicians, and extracts performances with an extra measure of excitement that often just isn't achieved in a studio recording. Sparks fly out of these grooves. Groove Note's 45 rpm re-mastering of this Concord album lets every little nuance be heard in an album that should be on every music-lover's shelf.
Some of my favorite jazz recordings feature the legendary never-before-never-again combination of Ray Brown on bass and Gene Harris on piano. When these two get going, magic happens, and they really get going on this album. Gene's piano style is unique, and hits me right where I live. His rolling, keyboard-spanning style is impossible to convey in print. These two irreplaceable musicians are very ably backed by Mickey Roker on drums. The "Plus One" in the album title refers to Stanley Turrentine, who is absolutely red hot on tenor sax.
On the opening number "Gene's Lament," written by Ray Brown, the musicians work the crowd up into a frenzy, leaving no question as to why Harris and Brown, now sadly having passed onto the great unknown, have achieved such legendary status. And I've never heard Turrentine in better form. What a recording!
The second cut, "Misty," lets the band cool down, after which they get up to a medium boil on another Brown-penned piece, "Uptown Sop." A more prolific musician and composer than Ray Brown is hard to find. And Harris and Turrentine play off one another as if they are telepathically linked. The magic continues with a blow-out rendition of "Things Ain't What They Used to Be," on which Gene Harris shows once again why Ray Brown worked so hard to pry him out of Boise and back into making recordings. His fingers fly across the keyboard in ways that I've never heard from any other jazz pianist. Amazing. The quartet stretches out on "Yours is My Heart Alone," in a driving yet lyrical rendition in which all of the musicians get to strut their stuff. The last cut is "Battle Hymn of the Republic." You're unlikely to hear another interpretation like this high-energy, driving, happy one, in which Gene's initial contemplative chords suddenly segue into a celebration, and evolve into a jazz masterpiece.
I sincerely thank Ying Tan for releasing this as two 45-rpm LPs. This album deserves special treatment, and it certainly gets it from Groove Note, the mastering skills of Bernie Grundman, and the plating and 180-gram pressing skills of an unacknowledged company (presumably RTI). Groove Note consistently achieves flat, quite pressings with sound quality that is state-of-the-art. I always look forward to popping a Groove Note LP onto the old VPI TNT, and this one is certainly no exception. It won't be straying far from my TNT's platter for some time to come.
Just in case you can't tell, this is a flat-out rave review. The next time you're sitting down and flipping through your favorite mail-order catalog in print or on-line, put this release on your list immediately. You won't be sorry.
Groove Note
web addess: http://www.groovenote.com
Enjoyment 10/10
Sound Quality 10/10