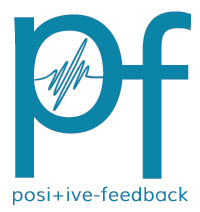 You are reading the older HTML site
Positive Feedback ISSUE
11

january/february 2004
2004 CES
by Danny Kaey
How quickly a year flies by, aided by the fact that I must have attended at least two more (non-audio) shows in Vegas over the last six months. Unlike last year, my wife didn't accompany me, which was good–I was able to get much more done! The show started at 3:00 AM Friday morning for me and my traveling companion and fellow PFO writer, Victor Chavira. We arrived at the crack of dawn, ready to rock the showroom floors in style. My wish was to cover the entire high end portion of the show (CES at Alexis Park and T.H.E. Show at both the St. Tropez and the San Remo) rather than hustling across the city between the "Zoo" at the main CES event and the high end portion, as I did last year.
Where do I begin the story? First I would like to thank every exhibitor that took the time to explain the in and outs of their equipment and what made it special. Having done many shows myself (again, non-audio), I know how tiresome it can be when people you don't know ask you a gazillion questions, so I appreciate your patience. I hope that everyone will reap the benefits of the show and the press coverage.
What an event this was! The show left me with two main conclusions. First, about surround sound, the great demon of the audiophile community: I guess being 33 years old, and well versed in operating computers and electronic gizmos, leads me to think that the life expectancy of two-channel audio is limited. Much to my surprise—and certainly more so than in the previous year—anyone who was anyone had surround-sound demonstrations. Two-channel playback was there, of course, in some cases in absolutely magnificent presentations, but I came away wondering how much longer it will hold out. Don't get me wrong, I love two-channel music, and think it will lead to an even greater presence of the vinyl community. In my humble opinion, vinyl will outlast two-channel CD playback by far. Multi-channel done right is a whole different story, however.
Let me make it clear that I am NOT talking about Wal-Mart specials or those pre-packaged (fill in the blanks) surround-sound setups. I am speaking of carefully-designed, properly configured, high end multi-channel audio playback systems, with matched speakers, good sources, and most important, outstanding source material. This was precisely what I found myself yearning for at the Halcro/Wilson Audio surround-sound demo room, hosted by Philip O'Hanlon, Halcro's US distributor. Ironically, I didn't get to experience this sonic delight until the last day of the show, while dropping off a defective review unit to an exhibitor at T.H.E. Show. It was just a click past 9 AM that I ran into Philip, who was kind enough to demo the Halcro/JM Lab Novo Utopia two-channel setup for me.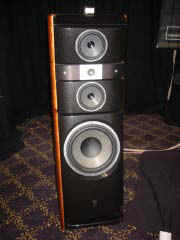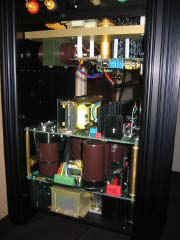 I heard a few tracks of Hugh Masekela and the 45-rpm Classic Records/Tim de Paravicini reissue of "A Whiter Shade of Pale," only to walk away asking for more, as I was utterly impressed with this effortless presentation.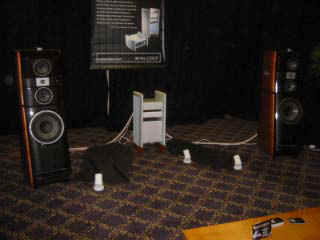 Philip then walked me over to the BIG room, with the Halcro/Wilson Maxx surround setup, with Wilson Sophias working as rear channel speakers.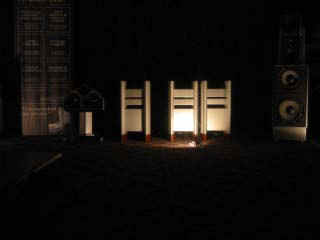 The source was (as in many cases throughout the show) the Meitner/Philips combo spinning some truly amazing surround sound SACDs—Roxy Music's Avalon, Elton John. David R. would have loved this!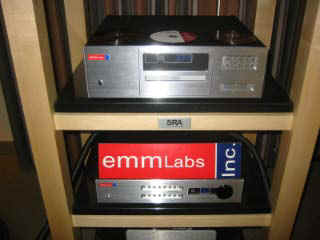 This was stunning! I have heard my share of ridiculous attempts at creating surround-sound music, so I am not one to jump just because I had a new room to go to. This was different—the sound was so convincing that I walked away trying to plot my entrance into the surround-sound audio world. I am introducing my "Best of Show" awards this year, and the Halcro room deserves the Best of Show award for the surround-sound category.
If only Sony/Philips and the DVD-A camp would come out with first-rate titles, and phase out RedBook CDs in favor of hybrid discs and sell them at $10. It would guarantee them a successful sell-through in both multi-channel software and, most important, equipment.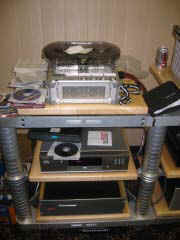 Next up, two channel playback. I am all for two-channel stereo if it is done right, and there was plenty at the show to satisfy. Memorable were the new $25K Verity Audio Sarastro speakers running via a Nagra/DCS front end. Usually a good sign that something sounds right is when the room is packed, in this case every time I walked by the room. The sound was really, really good—air, space, pace, and timing were outstanding.
The E.A.R./Marten Design room was another one of my favorites. The Marten speakers are truly reference quality.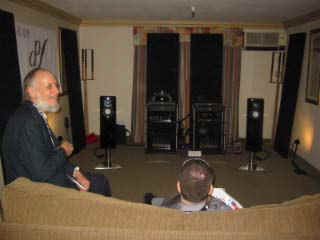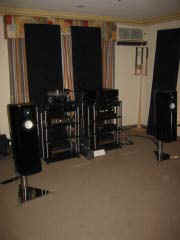 Two world premieres were launched in this room—the to-die-for Coltrane Altos from Marten and E.A.R.'s new solid state integrated. The Altos are the smaller brothers of Marten's über-speakers, the Coltranes. Dressed in super-solid carbon fiber with Thiel & Partners' ceramic drivers, the three-way Altos were something else. At $22K per pair, I know of at least one manufacturer who will need to battle it out with these beautifully-made Swedes.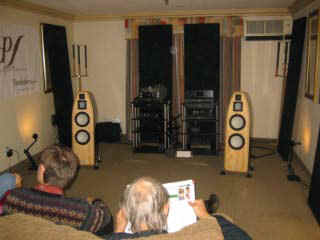 The big system consisted of the anniversary edition E.A.R. 509s, a British turntable, the great E.A.R. 324 phono section, and the reference-level Alto "monitors." I purposely say "monitors" because, with a smallish footprint and very manageable overall size, these puppies can be taken just about anywhere. The sound was very open, dynamic, and fluid—my kind of thang! Best of all, Dan Meinwald, importer for E.A.R. and Marten, switched out the Altos for the Coltranes.
Ahh… the Thiel & Partner diamond tweeters did their job of taking resolution to the nth level without distortion, over-presentation, or coloration.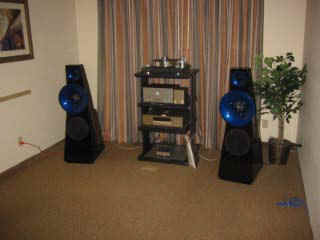 Other notable rooms (as in, I could live with these!) included Totem, Axiss Distribution's small system, consisting of the small but fine Air Tight integrated, Transrotor's The Rock turntable/AudioCraft 3300/Shelter 90X, and Odeon horns.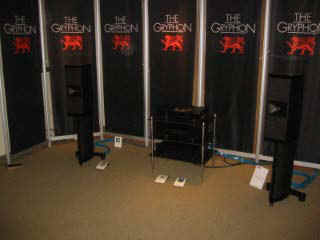 I also came across the Gryphon guys, who were showing off their new CD player, and the sound was exquisite, although I do question the validity of spending $10K+ on a RedBook CD-only player in 2004.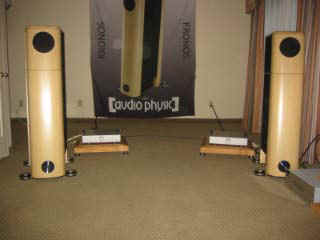 The Immedia/Audio Physic/Connoisseur room was also quite nice—I stumbled across them late Friday afternoon and rested my legs to the wonderful tunes of Louis Armstrong. The setup was showing off great vinyl sound and left me wondering about possible Audio Physic speaker reviews.
Then I was off to T.H.E. Show at the adjacent St. Tropez hotel, where I found the winner of the overall Best of Show award. Wandering through the halls, seeing the "small" guys and those who are fed up with the fees CES is charging, I found the thing I had been looking forward to in the back of my mind. At the Classic Records/Kuzma room was the product that blew my socks off, the one that was so advanced, and so ahead of the competition, that it will be the reference against which others will be judged: the all-new Kuzma Air Bearing Passive Linear Tracking Tonearm.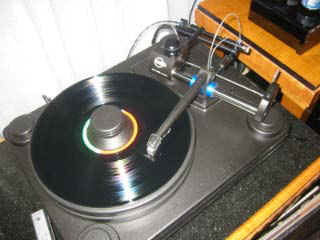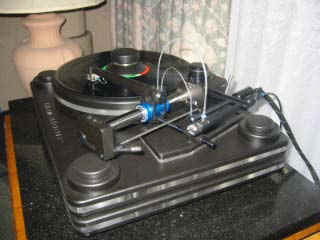 Wow. I know that linear tonearms have been around, and there have been valid attempts at getting the concept to work—Eminent Technology and Clearaudio come to mind. What also comes to mind is my dad's ca. 1976 Bang & Olufsen servo-driven, linear-tracking turntable and all the problems we had with it. Franc Kuzma threw out all the old ideas and started with a clean sheet of paper. Among the things he wanted to achieve was an arm that would be compatible with existing armboards and turntables, that was simple to use and set up, that was sturdy and solid, and lastly, was at least somewhat economical. He achieved ALL of his design goals, save for the price—at $7K, it ain't cheap! BUT, you get the most effortless, the most true, the most refined and magical extraction of audio information stored inside a vinyl record that I have EVER heard. Since Classic Records is now the U.S. importer/distributor for Kuzma, all sorts of records I am familiar with were available for playback. I concentrated on the aforementioned 45rpm pressing of "A Whiter Shade of Pale" and Billy Holiday's Songs for Distingue Lovers, and was literally blown away by the information retrieval of this arm/table combo. The Kuzma system played through another U.S. first, the Tom Evans Audio Design S15 hybrid amp with matching pre, through Lowther horns. I know the Billy Holiday record very, very well, but NEVER have I heard it playing the way it did through the Kuzma setup.
Franc and I conversed in my native Serbian (which was a pleasant surprise for both of us), and as we did so, people kept coming into the room and asking the same question: How is the arm different from the others? The answer was always the same—take your hand, make a fist, and move it up and down an imaginary horizontal line—that's it! No friction, none, zero! I did the same demo with the arm, and simply could not believe its stoutness and quality. All other systems seem like you don't want to get too close to them or touch them the wrong way. Pressurized at about 46 PSI (if I recall correctly), the arm is truly a work of art, especially for someone who gets a kick out of mechanically intricate designs. The Kuzma Air Bearing Arm rightfully deserves the Best of Show 2004 product award!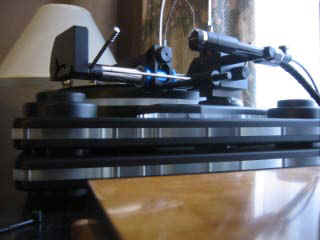 Congratulations to Franc for an outstanding job. The fact that the arm is more or less compatible with all existing turntables prompted me to inquire with Franc and Mike about acquiring one of these arms as my new reference.
As I said in my opening paragraph, I foresee two-channel stereo playback decreasing in importance, with only those products that really bring that technology to new levels making a splash. No doubt many great products will come, and it is an exciting time to be part of this industry, but the "big guns" will want the return on their investment to be in the form of multi-channel playback. Stereo will co-exist with multi-channel for some time to come, for sure, but just as internet shopping increases by leaps and bounds each year, multi-channel playback will increase in importance, and those who don't embrace it will either have to focus upon truly outstanding two-channel gear or find other ways to express their love for audio.
I was surprised by the seemingly lackluster presence of SACD or DVD-A two-channel playback in Las Vegas. I figured that we'd see or hear about new developments on that front, but no Sony SACD bash, no Philips SACD barbeque or Toshiba DVD-A cocktail party. Lots of exhibitors utilized the quite superb Esoteric DV-50 multi-format, multi-channel player, but those exhibits weren't emphasizing SACD or DVD-A. I had expected that a good number of exhibitors would tout these two-channel extended-definition audio formats in some way, but not much came my way, except when multi-channel was being demo'ed.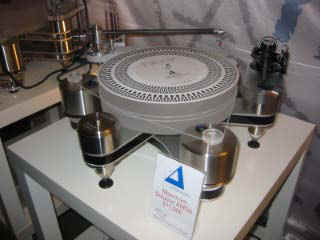 Turntables and vinyl seemed well represented, though I could have sworn that more rooms had vinyl front ends last year. Clearaudio and Basis had rooms dedicated to the last bastion of classic two-channel playback. Basis launched a new reference player costing about $45K, while Clearaudio dazzled the audience with what is possibly the longest commercially available toneram, measuring a full fourteen inches in length!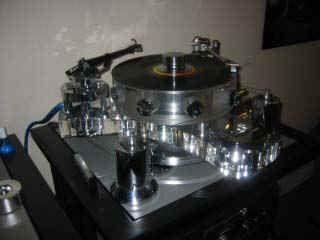 Transrotor had easily the most beautiful of all turntables on display—the knockout (in looks and performance) Tourbillion at around $25K including the awesome AudioCraft 3300 with top-end Koetsu Onyx. VPI's TNT-HRX was seen at several places, as were other respected marques and a handful of not-so-well-known models.
The Most Unique and Useful Product of the Show award goes to Air Tight for their record flattening machine, costing around $1200. This little gem is surly worth every penny if it does what it's supposed to. It looks like a toaster oven and works quite simply—stick the record inside, close the "toaster," and voila, after about an hour or two, your record is flat.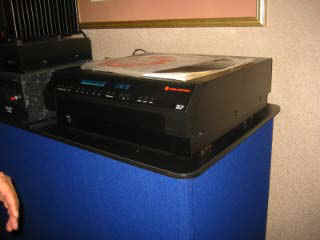 Much to my dismay, the Laser Turntable was only to be seen at the manufacturer's room at T.H.E. Show. Even greater was my surprise when I entered the room to find music playing through mediocre electronics running PA-style horn speakers! After the rather good writeup in Stereophile, I had hoped to hear the unit in a more audio-friendly environment. This machine works, and in theory is quite possibly is the most efficient way to retrieve audio signals from vinyl. In practice, however, its build quality seemed fair at best, with much room for improvement. Maybe next year they will have something a little more in line with the accompanied $12- to $15-K price tag. The sound was okay, though I couldn't really tell—the setup did not inspire critical listening.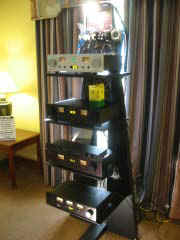 Especially noteworthy was the Magnum DynaLab room, with very nice people demoing perhaps the last of the in-house-manufactured tuner front ends.
I had heard that just about everyone has stopped in-house tuner production and shifted to ugly-sounding mp3 128kps DAB (Europe) or Sirius/XM Radio (US). What a shame, as I would be happy listening to FM through ANY of Magnum DynaLabs' offerings. Best of all, each model is upgradeable to a tube output stage, making the sound even sweeter and more real. I'd go for a model 102 with the tube stage. Cost? $3495. One thing that I kept telling myself throughout the show was how much money I will need to earn this year in order to afford all the toys I want! Danny Kaey