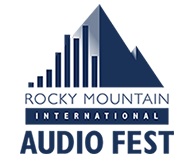 October has arrived and for many audio fans on the West Coast that means it's time for the annual Rocky Mountain Audio Fest also known as RMAF. This year's edition of RMAF (Rocky Mountain Audio Fest) was held, as in the past, at the Marriott Tech Center Hotel in Denver, Colorado. 
RMAF has several advantages over other audio shows held during the year. It's a bit quieter and more mellow (it's in Denver after all). RMAF also has the advantage of being held in the Fall, some distance on the calendar from the many audio shows held from March to June, on either side of the massive High End Munich international audio show. This lack of competition provides RMAF a unique opportunity to showcase new audio products destined for market during the upcoming Christmas selling season. And once again, that proved beneficial to show attendees and organizers.
On the other hand, this year's RMAF was a logistical challenge to the show organizers. Half of the Marriott Tech Center hotel was closed and unavailable due to an extensive renovation project. RMAF staff worked around that by setting up Tents and Pods in front of the hotel to house the Can Jam headphone show and seminars portion of the schedule. Not optimum but a clever workaround for this year. And now, on to the show.

PS Audio DirectStream Memory Player
PS Audio provided a very high end Stereo system in their suite on the 11th Floor at RMAF that featured a host of PS Audio products including the company's new DirectStream Memory Player ($5999) along with the DirectStream DAC, BHK Signature Preamplifier, a pair of BHK Signature 300 Power Amplifiers and P10 Power Plant Power Regenerators. The system was finished with a pair of Scaena La Maitresse Ultimate loudspeakers that sell for $125,000 a pair (!).
Introducing an optical disc transport like the DirectStream Memory Player runs a bit contrary to recent trends in the high-end audio world where more and more companies are dropping CD and SACD players from their product line. With the DS Memory Player, PS Audio brings us a transport based on the Oppo Universal Disc player together with PS Audio designed audio circuitry. Also worth noting, the new player features 6 channels of coax and HDMI/I2S audio outputs that bring stereo and 6 channel audio from CD, SACD, DVD Video and DVD Audio discs into a PS Audio DirectStream DAC (without the need to rip the disc before playback) using a proprietary connection. Orders for the DS Memory Player start November 1st.   
Audio Designer Ted Smith from PS Audio was at the product introduction and told me that he has one of the beta DS Memory Players in his home system connected to a trio of PS Audio DirectStream DACs, giving him Multichannel SACD playback via the DirectStream.  Very nice!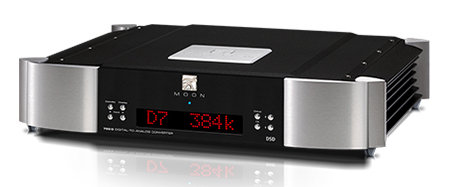 Simaudio Evolution 780D DAC + Streamer
Another top-notch system at RMAF was from Canadian audio manufacturer Simaudio. Over the years, Simaudio has brought a series of well received CD players, amps and preamps to the audio market. More recently, they have introduced a series of DACs and Integrated Amps with PCM and Stereo DSD at prices starting at $1500. 
At RMAF 2016, Simaudio highlighted their top of the line Evolution 780D DAC and streamer ($15,000) in a system that included Simaudio's Evolution 700i integrated amp ($14,000) and B&W's Diamond Series 802 D3 speakers ($22,000). Simaudio was demonstrating the system with tracks from Shelby Lynne's Dusty Springfield tribute album Just A Little Lovin' using the analog to DSD64 download from Acoustic Sounds. The tracks "Just A Little Lovin'" and "Anyone Who Had a Heart" sounded excellent with plenty of detail and wonderfully reproduced female vocals. This is a system you could easily listen to for hours as your favorite music played. Well done.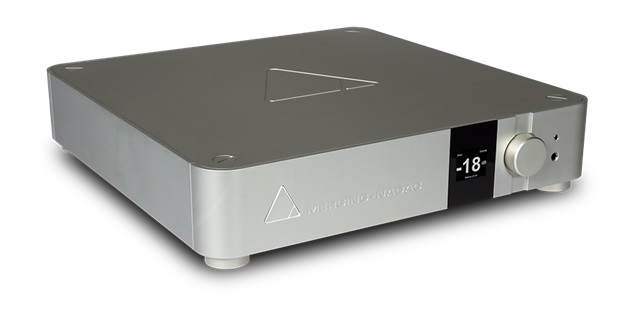 NADAC Player from Merging Technologies
Merging Technologies teamed up with Roon Labs to demonstrate a pre-production model of the NADAC Player. The NADAC Player is based on the original Stereo ($10,500) and 8 channel ($11,500) models of Merging's Network Attached Digital to Analog Converter (NADAC).
The new NADAC Player adds a computer inside the NADAC that includes the popular Roon Labs software. This "single box approach" removes the need to have a computer or separate music server in the listening room. The product's integration includes direct control of the NADAC's volume and muting from the Roon interface and allows the system to be controlled from a tablet or smartphone. The NADAC Player is connected to the home network to access the remote-control tablet through Wi-Fi and stream music files from a NAS server that stores the music. Optional USB drives containing music may be connected directly on the back of the NADAC Player.
Existing NADAC owners will be able to upgrade their NADAC converters to a NADAC Player for $2500 which covers the new Roon-enabled computer and a lifetime Roon subscription. The NADAC Player will also be available as a separate Stereo ($13,000) and Multichannel ($14,000) editions with the Roon-enabled computer inside. NADAC Player upgrades and full units are scheduled for release starting in Late November and will include the debut of multi-channel music playback in the Roon Labs software.
To show the NADAC Player in action, Philip O'Hanlon from On A Higher Note, the US Distributor of the NADAC product line, demonstrated the unit on a stereo system that included a pair of Vivid Audio Giya G3 loudspeakers with Luxman electronics. Musical selections included unreleased DSD files from Yarlung Records (Sibelius Piano Trio) and Channel Classics (Mahler Symphony No. 3 with Ivan Fischer and the Budapest Festival Orchestra) as well as the rare "RL" (Robert Ludwig) edition of "Whole Lotta Love" from Led Zeppelin II. (The RL edition is the original version which was later remastered for general release because the RL edition was too wide range for early turntables and stereo equipment). A fine demonstration of how the NADAC Player with Roon can handle both classical and hard rock music with ease.
I also had an opportunity to chat with Dominique Brulhart, Merging's head of software engineering and NADAC product manager. Brulhart told me that while Merging's focus for NADAC right now is to release the NADAC Player units and upgrades, the product development team is already at work with future enhancements to both the home audio NADAC line and the company's pro audio products. He said "we're very busy right now on future products for NADAC and Pyramix." I'm looking forward to hearing more on this in the year ahead.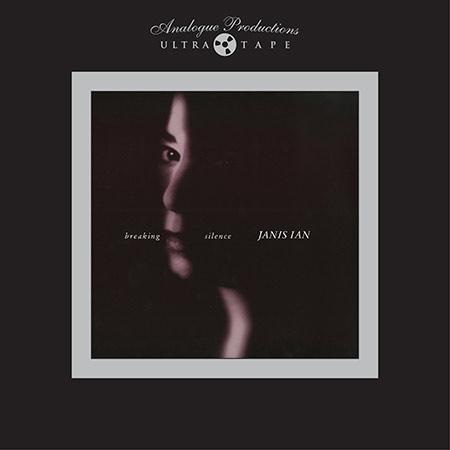 Breaking Silence by Janis Ian on Analogue Productions Ultra Tape
During the AXPONA Audio Show in April, Chad Kassem from Acoustic Sounds announced his company's plans to release some of the reissued albums from the Analogue Productions catalog on Analog Tape. At RMAF, Kassem formally introduced the new Analogue Productions Ultra Tape line with 12 titles, two of which—Breaking Silence by Janis Ian and Gentle Ben by Ben Webster—will be released by the end of the year. Each one will be a copy from the Analogue Productions Analog Tape, transferred by Gus Skinas from the Super Audio Center on an Ampex ATR-100 Tape Machine at Blue Heaven Studios in Salina, Kansas. The price will be $450 per album. Kassem joked that if the Ultra Tape line takes off, Skinas may need to move from Colorado to Kansas to keep up with the demand.
Acoustic Sounds had a suite on the 9th floor at RMAF to offer analog tape fans a chance to preview the Janis Ian album on analog tape. (It had previously been available on a stereo gold CD and vinyl LP). The title track from the album sounded excellent and I'd say that the Ultra Tape line is off to a great start. Also worth noting, Acoustic Sounds is considering a stereo SACD release of the Breaking Silence album next year. (Gentle Ben by Ben Webster is already available on Stereo SACD and Stereo DSD Download).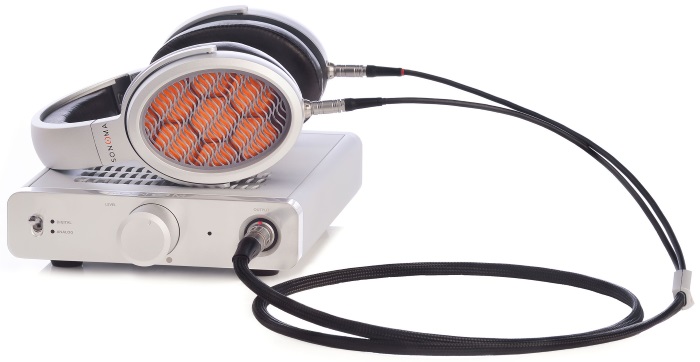 Sonoma Acoustics Model One Electrostatic Headphone System
Across the hall from Acoustic Sounds was the Sonoma Acoustics room where the new Sonoma Model One Headphone System ($4999) was making its debut. Sonoma Acoustics is a new company formed by David Kawakami, Andrew Demery and Gus Skinas. Those of you familiar with the Super Audio CD (SACD) format will recognize this team as the leaders of the SACD format roll-out in the United States.
The Sonoma Model One headphones use a High Precision Electrostatic Laminate (HPEL) transducer invented by Warwick Audio Technologies in the UK. HPEL is described as offering very low moving mass, extended high frequency response (to over 60kHz), light weight and unmatched transient response. The Model One also features injected magnesium ear-cups, handmade cabretta leather ear and headband pads and a Nylon 12 headband. The Model One is connected to a headphone energizer and DAC capable of playing DSD (up to DSD 128) and PCM (up to 32-bit, 384kHz) music files with a custom low capacitance cable developed with Straight Wire. The Model One energizer features Class A amplification, an ESS Sabre DAC, an AKM ADC, custom universal voltage power supply, gold plated connectors and a silver-plated data path via a USB data cable developed with Straight Wire.
The Model One system was designed by Dan Anagnos, who is best known as the designer of the famed Sony ES Series SS-M9ED Loudspeakers which were used in the recording and production of SACD discs and DSD recordings. The SS-M9ED loudspeakers were also available to the audiophile market which was taken aback by the very high quality of these loudspeakers, the first at that quality level from Sony.
With this team's track record and prior accomplishments, expectations for the Sonoma Model One were very high before the show. At the Sonoma Acoustics suite, listeners could audition near production Model One systems with the new Ultra Tape of Breaking Silence by Janis Ian as well as a large collection of music played back on Microsoft's Surface Pro laptops running Windows 10 and JRiver Media Center. Listening to familiar tracks by Dusty Springfield, Elvis Presley, Dave Brubeck, Elephant Revival, Wayne Horvitz and others in stereo DSD was a real treat. The Model One headphone system provides smooth sound, plenty of micro detail and high definition audio with headphones that are very lightweight and comfortable. There's no question in my mind that the Sonoma Acoustics team has a hit on their hands with this headphone system!
The Model One will begin shipping in the US and UK in mid-November with discussions about bringing the product to the audio market in Japan shortly thereafter.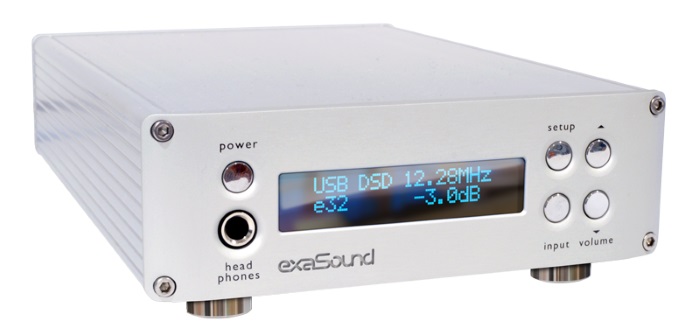 exaSound e32 Stereo DAC with DSD 256
exaSound is a Canadian firm known for their stereo and multi-channel DACs that support up to DSD 256 playback. They were the first home audio company to support DSD 256, the first to release a DSD 256 driver for Apple Mac computer users and one of the first to release a product supporting the Roon music software with their exaSound PlayPoint ($1999).
I had a chance to chat with exaSound's chief George Klissarov during RMAF. Not surprisingly he told me that exaSound has a pair of new products coming out at the end of October that will be unveiled during the TAVES Consumer Electronics Show in Canada based on the new ESS ES 9028Pro DAC chips.
A quick visit to the exaSound web site confirmed that the company is once again ahead of schedule with one of the new products—the e32 stereo DAC. It features the new ESS ES 9028Pro DAC chip and appears destined to replace the company's popular e22 Stereo DAC. The e32 has all the features of the current e22 stereo DAC from exaSound and some enhancements yet it remains at the same price ($3299). The e32 is available for purchase now. At the TAVES show exaSound will also debut their new e38 Multichannel DAC with the ESS ES 9028Pro DAC chips. The price and availability date of the e38 will be announced shortly.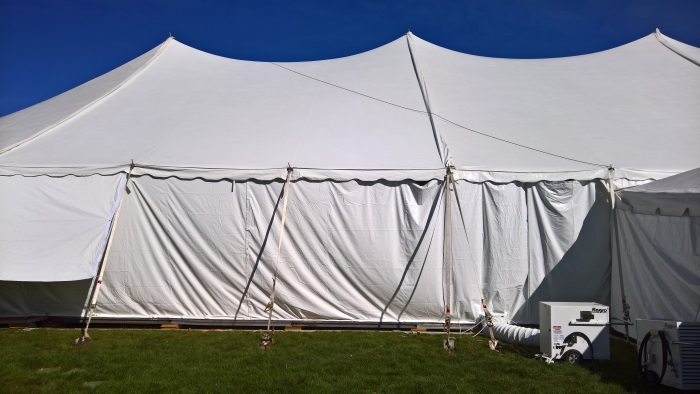 Can Jam Headphone Tent
Finishing up the rooms at the Marriott, it was time to check out the Can Jam headphone show. As noted earlier, this year's edition of Can Jam was full of exhibitors located under a large tent on the front lawn of the Marriott.
Companies under the tent struggled with some power fluctuations and issues and a noisier than desirable setting. Even so, Can Jam once again proved to be a place to audition and discover some new and interesting products.

Audio-Technica AT-HA5050H Headphone Amp
Audio-Technica brought the production edition of their long-awaited AT-HA5050H Pro Series Headphone Amp ($5999) to Can Jam. This headphone amp supports Stereo DSD (up to DSD 128) and PCM (up to 32-bit, 384kHz). 
Key features include a tube based preamp stage with two E88CC vacuum tubes along with a power section that uses a pair of Toshiba bipolar power transistors. The AT-HA5050H also offers two large VU meters on its front panel along with 8 headphone jacks with a choice of four output impedances. It's an interesting addition to the ever-growing number of headphone amp + DAC products on the market.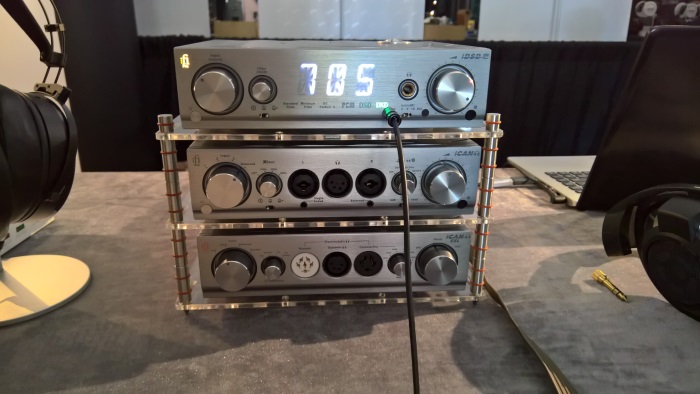 iFi Audio's Pro Series (Pro iDSD - Top, Pro iCAN - Middle, Pro iCAN ESL - Bottom)
iFi Audio has made a name for itself in the $500 and under market for portable headphone DACs and amps with their Nano and Micro series products including the iDSD Nano ($199) and the iDSD Micro ($499). Earlier this year, iFi Audio moved upmarket with a new Pro Series product, the Pro iCAN Headphone Amp and Preamp ($1699). The Pro iCAN features fully balanced headphone inputs, selectable tube or solid-state amplification and a whopping 14,000mW power output to support hard to drive headphones.
At Can Jam, two more members of the Pro family were previewed—the Pro iDSD ($1999) and the Pro iCAN ESL, a Pro series electrostatic headphone amp. Like the Pro iCAN, the upcoming Pro iDSD features both solid-state and tube amplification with three modes (solid-state, tube and tube + for an even warmer sound signature). The Pro iDSD also supports stereo DSD (up to DSD 1024) and PCM.  For those of you that have heard the Pro iCAN amp, the Pro iDSD shares much of its musical personality and sound quality and provides improved sound quality compared to the earlier iDSD Nano and Micro series products. The Pro iCAN ESL was being demonstrated with a prototype pair of electrostatic headphones from Mr. Speakers at RMAF.
iFi Audio is taking companies like Questyle (600i) head-on with the upcoming Pro Series for headphones as well as full size headphone amp + DACs from companies including Mytek (Brooklyn) and exaSound (e12) in the $2000 and under market. I am looking forward to seeing how they fare in this upcoming market duel when their full Pro Series emerges in early 2017.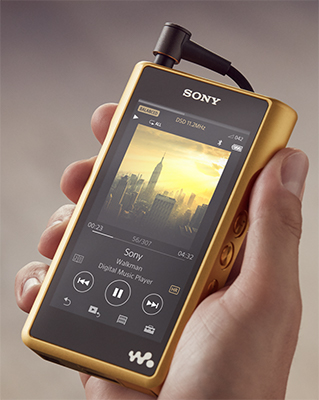 Sony Signature Series Walkman NW-WM1Z
Sony was at Can Jam showing their recently announced Signature Series audio products which are scheduled to start shipping in mid-November. The Signature Series includes the new TA-ZH1ES headphone amplifier + DAC ($2199), MDR-Z1R Headphones ($2299) and two Signature Series Walkman digital players—the NW-WM1Z ($3199) and the NW-WM1A ($1199).
Sony emphasizes that the Signature Series were designed by their top audio engineers to bring a new level of audio performance to the market by taking a "no holds barred" approach to their design.  Worth noting is the Signature Series DAC and Walkman products are the first from Sony to go beyond Double DSD playback (DSD 128, 5.6 mHz) and support Native DSD playback at DSD 256 (11.2 MHz).
The new TA-ZH1ES Headphone Amp and DAC supports both unbalanced and balanced inputs (the balanced inputs use a Sony balanced design). It offers upsampling to DSD 256 (11.2MHz) and playback of DSD 512 music (22.4MHz) with the DAC's USB port.
The NW-WM1Z and NW-WM1A Walkman players have traditional and Sony balanced input jacks.   key difference is that the traditional jacks offer DSD to PCM converted audio while the Sony balanced inputs are the ones that offer Native DSD audio to DSD 256 (11.2 MHz). The 1Z has an oxygen free copper chassis, uses Kimber Kable wiring internally and is a statement portable digital player. I was impressed with the NW-WM1Z Walkman and the new MDR-Z1R headphones through the Sony balanced inputs using several PCM and DSD music files up to Stereo DSD 256.
I will also tell you that the lower priced NW-WM1A Walkman is not to be ignored when matched with the MDR-Z1R headphones and a Sony Balanced Cable. While not at the level of its higher priced family member, it still brings a lot of audio quality to the table at a more modest price. If you're in the market for top notch portable digital players, headphones and a DAC, the Sony Signature series products should be on your audition list.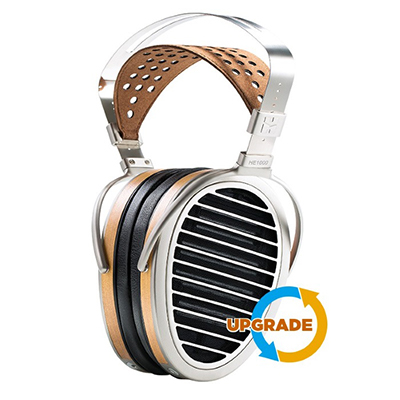 HiFiMan HE-1000 V2 Upgrade Program
HiFiMan announced a new program to allow owners of their popular and highly rated HE-1000 headphones to upgrade to the new HE-1000 V2 headphones. The upgrade involves returning the original HE-1000 headphones and cables to the manufacturer along with an upgrade payment of $650. This will enable original HE-1000 listeners to enjoy the benefits of the new V2 model which includes a new headband, lighter headphones (420 grams), slimmer ear cups, thicker ear pads and upgraded cables.
HiFiMan also offered demonstrations of a prototype of the upcoming Shangri-La Electrostatic Headphone and Amplifier System ($50,000). The Shangri-La was demonstrated at RMAF with some unique but unfamiliar music. That plus the noisy setting of the Can Jam tent made judging its sonic quality difficult. The Shangri-La system will be available in 3 months and HiFiMan started taking pre-orders for the system at the show.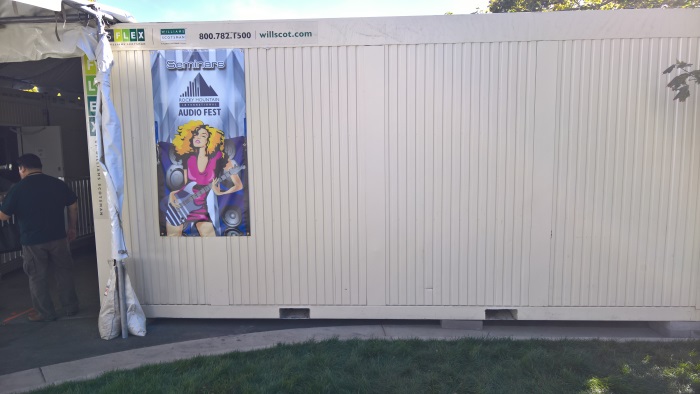 Seminar POD at RMAF 2016
Seminars on a variety of topics were once again an interesting part of RMAF. Unfortunately, there was no space inside the Marriott for the seminar program. 
Instead they were hosted in a series of portable classrooms called "PODs" on the hotel front lawn, next to the big tent hosting the Can Jam headphone exhibits. Even so, the seminars provided some interesting information and views for show attendees albeit in a much smaller space than in prior years.

Cookie Marenco at The Future of DSD seminar
One packed seminar featured a discussion of The Future of DSD hosted by Cookie Marenco, owner of Blue Coast Music along with Gus Skinas, chief of the Super Audio Center and Marc Sheforgen, Chief Operating Officer for Acoustic Sounds. Unlike previous seminars on DSD, many of the attendees at this session were owners of DSD music downloads (over 75% of the audience in a show of hands) and they wanted to see more albums released in DSD.
In response to a question about buying Analog Recordings transferred to DSD Downloads, Cookie Marenco said that Blue Coast Music DSD Downloads are created from DSD recordings (up to DSD 256) and Analog recordings. Analog to DSD Downloads are also available from a number of music download sites including Acoustic Sounds Super HiRez and Native DSD Music. Gus Skinas said that DSD was originally developed by Sony and Philips for archiving Analog Tapes and he continues to encourage that practice with artists and record labels.  Marenco noted that a recent trend is for recording engineers and artists to hold on to their Analog Master Tapes rather than giving them to record companies to ensure that the Analog Tapes are available for later use rather than risk their loss.  An interesting trend.
Marc Sheforgen shared some interesting sales information and trends data with attendees.  Even though the DSD Downloads on Acoustic Sounds Super HiRez downloads site make up just 10% of their available download catalog (over 600 albums), these DSD Downloads represent 40% of the company's music download sales!  Sheforgen said things are changing with more and more of the company's regular customers asking when a high-resolution reissue of an album is coming to DSD Download rather than asking for an SACD disc release.  Acoustic Sounds is taking this into account in their planning for future releases.  He noted that several of the company's remasters of the RCA Living Stereo series will be coming to Super HiRez as DSD Downloads "very soon, in the next few weeks". 
Another trend was the increase in albums released as DSD Downloads but not SACDs.  Acoustic Sounds has several albums in this category as does NativeDSD Music with over 200 DSD only, not on SACD titles. Cookie Marenco noted that Blue Coast Music has over 50 original recordings available as DSD downloads, but only three of these albums are also available on SACD disc with a fourth SACD, Into The Mist, the best-selling stereo DSD 256 download by pianist Fiona Joy coming soon. At Blue Coast, only a really big seller will justify an SACD release these days. The panel noted that while some music fans rip their SACDs to DSD 64 music files for playback on a DAC, they recommended that DSD fans keep an eye out for these "only on DSD, not on SACD" albums as well as DSD 128 and DSD 256 music downloads (also not available by ripping an SACD) as they build their downloads collection.
It's A Wrap
So, there you have it.  Some fine sounds and excellent audio discoveries, along with some interesting seminars. Another edition of the Rocky Mountain Audio Fest is in the books. Once again, a very enjoyable event for all.
Rocky Mountain Audio Fest
Report from AXPONA 2016
https://positive-feedback.com/show-reports/report-axpona-2016/
Analogue Productions Ultra Tape Debuts with 12 Killer Titles
https://positive-feedback.com/industry-news/analogue-productions-ultra-tape-debuts-12-killer-titles/