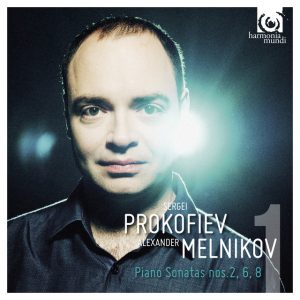 Serge Prokofiev, Piano Sonatas, Vol. 1. Nos 2, 6, and 8. Alexander Melnikov, Harmonia Mundi HMC 902202.
For those of us who find early twentieth century modernism one of the pinnacles, Prokofiev's piano concertos and piano sonatas are among its richest assets. What I have always found especially attractive in this music is a sense of the composer's brain working. In the midst of swells, storms, and dance, a presence of mind. We can feel the backbone, sense the skeleton within the emotional expression. This is Prokofiev's neo-classicism.
Alexander Melnikov moved to the center of my attention with his recording of Shostakovich's Twenty-four Preludes and Fugues, a performance of this marvelous music that holds its own with the long established definitive edition by Tatiana Nikolaeva that foregrounds the music's eloquence and beauty. Melnikov has become one of Harmonia Mundi's principal pianists over the last decade, frequently playing with violinist Isabelle Faust with whom he comes across as a full equal who never disappoints. But his Shostakovich release was a wonderful shock. He showed us what this great music can be: muscular, dramatic, and passionate.
I've lived happily with Frederic Chieu's complete sets of the Prokofiev sonatas since they came out in the 1990's, also on Harmonia Mundi. Like Nikolaeva's Shostakovich, Chieu's Prokofiev is eloquent, almost rapturously so. There is a good deal of narrative flow to his interpretation—we are less aware of his left hand, contrast is turned down a bit. Melnikov tends toward the percussive and if anything amps up contrast. Narrative flow gives way to drama. Melnikov's interpretation is more exciting, seems to have more dimensions; Chieu's is a bit more refined. Both work well, both feel utterly Prokofiev, who is a protean composer if there ever was one. I'm pleased that Harmonia Mundi has the confidence in their new man to call this album Volume One.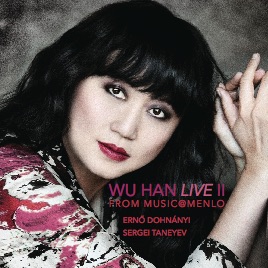 Wu Han Live II. Ernö Dohnányi, Piano Quintet No. 1. Sergei Taneyev. Piano Quintet in C minor. Wu Han, piano. Music@Menlo LIVE / ArtistLed  
Unless you live in or around New York City where she and her husband, cellist David Finckel, administer and perform for the Chamber Music Society of Lincoln Center, buy the annual set of releases from Music@Menlo, or are fortunate enough to live near one of the college towns where she performs on tour as a duo with her husband each year, you probably don't know that Wu Han is one our finest pianists. Her work with Finckel is right at the top, their set of the Beethoven Cello Sonatas among the very best ever.
Wu Han's and Finckel's (and recording engineer and violinist Da-Hong Seetoo's) proprietary record label, Artistled, has now released two CD's in conjunction with Music@Menlo featuring Wu Han, presumably to broaden her audience. Her first album was a solo program focussing on Tchaikovsky's Seasons and a series of Rachmaninoff's Preludes. This new one draws two of her performances from Music@Menlo programs (2014, 2016) with such notables as violist Paul Neubauer, violinist Arnaud Sussmann, and cellist Finckel.
Both of these works are from the late romantic repertoire, rich with nineteenth century flavor. If you did not know who is playing the piano here, you would likely conclude that the performer, while clearly the central voice holding everything together with firm and graceful tact, is not a virtuoso. And you would be correct. The only way you could truly appreciate her contribution would be be if some less attentive, less proficient, and less intuitively tuned in performer took her place  at which point, I guarantee you, the music would fall apart. Her excellence is especially evident in the Taneyev quintet.
If this music is your preferred fare, you should enjoy this release immensely, not least for the usual extraordinary good sound engineered by Da-Hong Seetoo.
Kat Edmonson. Take to the Sky. Convivium KCR 0901.
I was introduced to the stunning voice of Kat Edmonson by an Amherst Audio customer from Houston, Texas, who must have known I'm a fan of Iris Dement. Edmonson does not sing Dement's repertoire—she is, at least in this album, a jazz singer of the American Songbook; but her unique voice has a similarly striking effect on us until we adjust to it. Which we soon do! She is a soprano sax, a twenty-first century musical descendent/cousin of Anita O'Day—she can be both reedy and velvet smooth. And she is accompanied by a magically skilled group of convivial musicians, all of whom are unknown to me, but I'm out of my familiar territory here, so don't take that to mean anything significant.
There are almost no album notes, so I had to go to Google to find out that this is her first album, self-released (2009); that she's from Houston (and later Austin), Texas, and now lives in Brooklyn; that she has since released two more albums, which I will now order. She's absolutely wonderful. Here she is: www.katedmonson.com
System used for this audition is made up of a Resolution Audio Cantata CD player w/BlackJack power cord; Blue Circle O22i integrated solid state amplifier, Jean Marie Reynaud Offrande Supreme, V2 loudspeakers; Crimson interconnects and speaker cable. Mapleshade Samson equipment rack.
Bob Neill, a former equipment reviewer for Enjoy the Music and Positive Feedback, is proprietor of Amherst Audio in Western Massachusetts which sells equipment from Audio Note (UK), Blue Circle (Canada), Crimson (UK), Jean Marie Reynaud (France), Resolution Audio (US), and Tocaro (Germany).