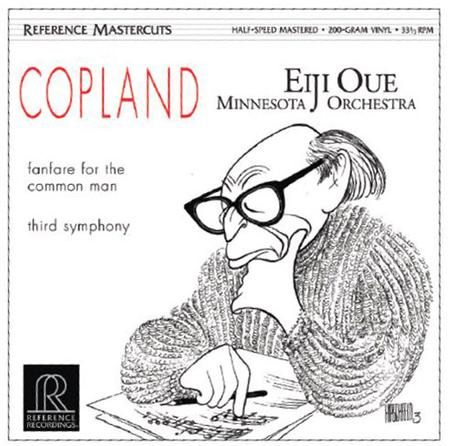 Pressed by QRP on 200 gram vinyl, 33.3, half-speed mastered, this recording from 2000 is receiving its LP release for the first time. The original release was on HDCD CD and has been a reference disk for my reviews since it was available. It features Eiji Oue conducting the Minnesota Symphony Orchestra. The Producer was J. Tamblyn Henderson Jr. The Recording Engineer was the inimitable Keith O. Johnson. It was recorded March 25-26, 2000 at Orchestra Hall in Minneapolis.
I am so very pleased that RR waited until QRP and its fully tweaked 200 gram LP presses could have a go with this. I am also blessed by today's remarkable cartridges like the Stein Aventurin V2 and the Kiseki Purple Heart N.S., which track the Copland flawlessly. I dare not try my older cartridges with this.
Like all great LPs, they produce more pure definition than their CD counterparts regardless of the player. This goes for bass, too. Speaking of which, starting with the bass, the Copland will provide the most dynamic, visceral, floor rattling, detailed, layered, mellifluous bass provided by a 33.3 RPM LP yet devised and released! My reference carts tracked this flawlessly. I hope yours does too.
The mid-band is truly lovely and richly layered in space, front to back, and side to side. Depth perspective is huge and deep. It is recorded as mid-hall or a bit further back for maximum power without distortion. This is quintessential Keith Johnson sound. I find the CD more compressed than I realized by comparison. The high-band with trumpets abounding and more is marvelous. With my Marten diamond tweeters, the air and spatial cues are exquisite.
The Minnesota Orchestra does full justice to these ground breaking American works. Eiji Oue is the real deal. His style is both controlled and emotional. You miss nothing in these interpretations. Appalachian Spring, which is on the CD, is not on the LP by the way. Something had to give to make the grooves big enough for this recording's power.
My recommendation is get your copy before it is gone. It is the best of the best! Hats off once again to Keith Johnson and the gang at Reference Recordings. A great recording, and a brilliant mastering and pressing. Well done to Chad and the gang at Quality Record Pressings, too!
Performance A
Sound A+