Here's a hot flash update (if such things exist in the world of classical music!) from John Marks of The Tannhauser Gate (http://www.thetannhausergate.com). This is a fine new recording from the Parker Quartet, a young and refreshing ensemble. The samples that John provided are quite moving, showing both great verve and boldness, as well as a touching feel for the quieter moments. This is a recording that shows this quartet to be a very promising conjunction of musicians.
As to John's comments about the under-rated Mendelssohn, I plead guilty! He is not towards the top of my favorites, I confess; Mozart and Beethoven remain firmly ensconced. 
But given what I hear in this recording, I must reconsider, obviously....
Dr. David W. Robinson, Ye Olde Editor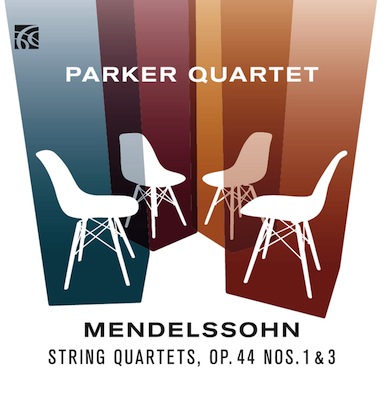 The Parker String Quartet: Felix Mendelssohn, Opus 44 String Quartets 1 & 3
(No high-resolution download available at present, apparently.)
Except for his few "Greatest Hits" (those being the "Wedding March" from A Midsummer Night's Dream; the Violin Concerto; and the Italian Symphony), I think that Felix Mendelssohn is an often-overlooked or often-underrated composer. Further, given the rarely-equaled felicity (I should be re-programmed) of his solo-piano music, perhaps then it is not surprising that Mendelssohn's string quartets remain, for many music lovers, undiscovered gems.
The Boston-based Parker Quartet has a name that is new to me, but, it should not have been. Their recording of Ligeti's first and second quartets received the 2011 Grammy award for Best Chamber Music Performance, and they are the Blodgett Artists in Residence of Harvard University's Department Of Music. UK's legendary Nimbus imprint has just released the Parker Quartet's CD of two of Mendelssohn's Op. 44 quartets, the first and third. What lovely music making! (I also love that the cover image is of four of Charles and Ray Eames' fiberglass "scoop" chairs, which are icons of Mid-Century Modern design.)
More, and sound samples, after the jump.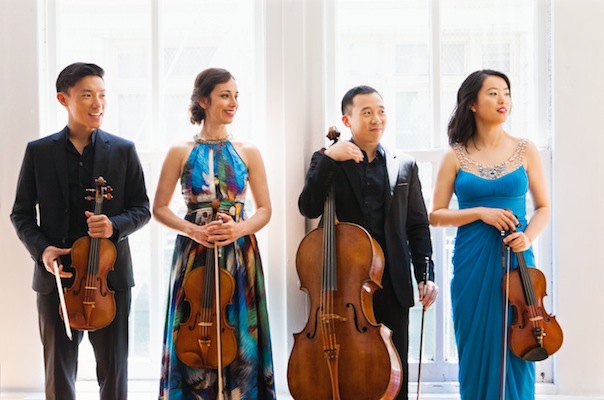 Photography by Jamie Jung, courtesy of the Parker Quartet
The Parker Quartet's brisk playing seems spontaneous, but their carefully-calibrated dynamics (especially at the quieter end of the spectrum) and tight ensemble suggest that much rehearsal time was invested in the enterprise!
The Op. 44 quartets are both youthful and serene—they are the polar opposites to Shostakovich's quartets in terms of feeling-tone. Says violinist Daniel Chong:
For the Quartet, this music is enormously refreshing. There is no other composer who can channel the inner, youthful soul in all of us as well as Felix Mendelssohn. In his hands music can be pure joy and can capture the spirit of life with such an irresistible energy, that one cannot help but share it with others.
If your music collection includes string quartets by Haydn, Mozart, Beethoven, or Schubert but not Mendelssohn, I cannot think of a better way to remedy that state of affairs than buying this CD (or listening to the music via Tidal streaming). As one would expect from Nimbus, the recorded sound is superb. The recording venue was Mechanics Hall in Worcester, Massachusetts, which is a fabulous venue; dare I say it, for some music, even better than Boston's Symphony Hall. Most highly recommended.
Congratulations to Daniel Chong and Ying Xue, violin; Jessica Bodner, viola; and Kee-Hyun Kim, cello. I look forward to future releases from them.
[To hear the samples from this recording, please visit HERE..]