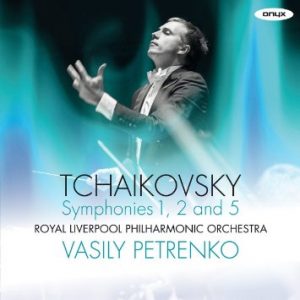 Tchaikovsky, Symphonies 1, 2, and 5. Royal Liverpool Philharmonic Orchestra. Vasily Petrenko. Onyx 4150 (2 CD's)
Vasily Petrenko found the poetry in Shostakovich—what will he find in Tchaikovsky? Symphonies Nos. 1 and 2 are my favorite of the six and we seldom hear them: Winter Dreams and the Little Russian. People of my generation know them best via Van Karajan who taught us to love them as bold, romantic melodrama.
Petrenko will have none of that. His Russian sensibility finds the dance in them. There is drama in these performances but it is a drama of quiet shadows behind whirling dancers. This is the mixture of Paris and the Slavic spirit that we are told defined nineteenth century upper class Russian culture. This is the Tchaikovsky who remembers Mozart (and composed Mozartiana), not the one who competes with Brahms. Van Karajan plays this music slower, meatier, and more sensual and builds toward huge crescendos. Petrenko plays it lighter, faster, livelier, with a great sense of delicacy and touch.
That's all well and good for Symphonies 1 and 2. How does it work in 5? Petrenko realizes that Symphony No. 5 calls for more sweep and overt expressiveness; but while he steps things up a bit, the spirit of the dance still prevails.
In all three of these symphonies, Petrenko builds a somewhat smaller 'theatre' of sound than Van Karajan and then creates a full range of drama and grace within it. This approach enables a lot to happen in the way of subtlety and detail that can otherwise be lost. While there are some die hard fans of bigger and bolder Tchaikovsky, I expect the composer would recognize and approve of these performances.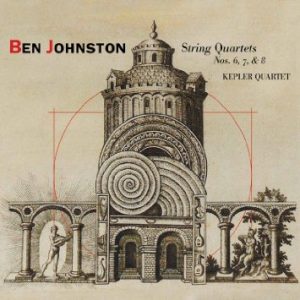 Ben Johnston, String Quartets Nos. 6, 7, and 8. Kepler Quartet. New World Records 80730.
If you want to hear, quite literally, the music that exists inside music—between the notes—here is your man: contemporary American composer, Ben Johnston, the master of microtones. His string quartets are reportedly a challenge to perform. I can vouch for their being a challenge to the listener as well. They require faith, faith that if we can let ourselves become accustomed to living between the notes we will in fact be able to get inside the music.
Listening to Ben Johnston is not, for example,  like listening to Far Eastern music for the first time. We can feel that especially with Chinese and Japanese music that we are not so much inside music as inside another cultural world. Johnston's music is clearly Western. It feels like another dimension of American modernism. We are in a jungle of familiar but unrecognizable species. In Quartet No. 8, it feels as if we're walking through the jungle backwards.
Yes, but does it all work? Is it enjoyable or at least interesting as music? Is everything that can be done worth doing?
My judgment is that interest and enjoyment come and go here. A movement (the fourth movement of Quartet No. 8 (1986), for example) reaches a little farther towards us, with a hint of American mountain fiddle music. The single movement Quartet No. 6 (1980) begins as if it's is exploring the underside of meditation and then turns into a dissonant debate. I found myself returning to this quartet several times. So yes, some of this music works for me, in its way.
That said, the incurious or faint of heart best not venture here. The rest of you...?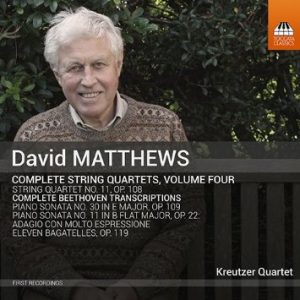 David Mathews, Complete String Quartets, Volume 4. Quartet No. 11; Diabelli Variation. Complete Beethoven Transcriptions. Kreutzer Quartet. Toccata TOCC 0318.
I have grown fond of the string quartets of contemporary English composer, David Matthews over the past few years. I suspect he is the least well known composer of great merit in the UK. And I am impressed and truly taken by his new album, which presents his Quartet No. 11 preceded by several extraordinary transcriptions for string quartet of Beethoven music for solo piano. The whole album is essentially a composer's informed love affair with Beethoven, whom he claims as his primary influence.
The transcriptions contain some of the most perfect expressions of Beethoven I've heard, which sounds like a foolish remark. But it's not really. Many of us hear so much Beethoven that its familiarity sometimes gets in the way of our actually hearing it. Matthews' transcriptions are one of those seemingly bad ideas that works brilliantly. They feel like new music that is also hauntingly familiar. And then, in his Quartet No. 11, variations on one of the Beethoven Bagatelles Matthews transcribes in the first section of the recording, he marries the composer. It is all Matthews at his bold and exciting best, but Beethoven lies at the heart of it: it is stunning music.
When we emerge from this album, there is no denying that no matter how it's been done, we know Beethoven better, Matthews too. I hope this album gets even half the notice and praise it deserves. It is far more than the tour de force some will take it for, one of the very best albums so far in 2016.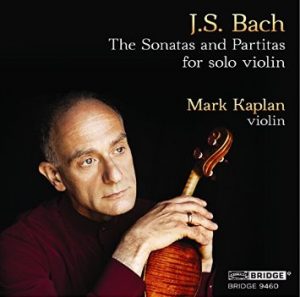 Bach, The Sonatas and Partitas for Solo Violin, Mark Kaplan. Bridge 9460A/B.
There are so many recordings of the Bach solo violin sonatas and partitas that the only reasonable way to choose among them is just to listen and see if you are taken in by what you hear. Is anything happening? (Do I love her?) And of course, is it Bach? 
Fortunately there are enough mechanical sounding recordings of this music that the search for good ones is not hopeless. Among those that have moved me, limiting myself here to contemporary recordings, are sets by Jennifer Koh, Gidon Kremer, Viktoria Mullova, Isabelle Faust, Monica Huggett, Sigiswald Kuijken, Alina Ibragimova, and Benjamin Schmid. All of these musicians succeed in drawing me into the music or their  recordings would be long gone. I can't say that I have a favorite among them and feel no need.
Mark Kaplan's set is new to me, so I set him the traditional task. Why do his performances matter? What I hear from Kaplan is a Bach with a reassuring sense of continuity, the feel of an extended narrative rather than presentations of individual aesthetic moments. There is an emphasis on line. I find myself being carried along. This is compelling, human Bach. I find this unmonumental quality the key to why we often find him monumental. It takes a mature musician of the first rank to perform Bach this way, which Kaplan surely is.
This doesn't sound like a very profound observation but Bach is hard to be profound about. His music leaves very little to say. I'll just say in addition that Kaplan's Bach is joining the others in my collection. 
                    *                    *                    *                     *                    *                    *                    *
Systems used for this audition, all headed by the Resolution Audio Cantata CD player w/BlackJack power cord: Blue Circle BC107 solid state preamplifier with NSP solid state amplifier and JM Reynaud Offrande Supreme, V2 loudspeakers.  Crimson interconnects and speaker cable; Volex power cables, Mapleshade Samson equipment rack.
Bob Neill, a former equipment reviewer for Enjoy the Music and Positive Feedback, is proprietor of Amherst Audio in Western Massachusetts which sells equipment from Audio Note (UK), Blue Circle (Canada), Crimson (UK), Jean Marie Reynaud (France), Resolution Audio (US), and Tocaro (Germany).