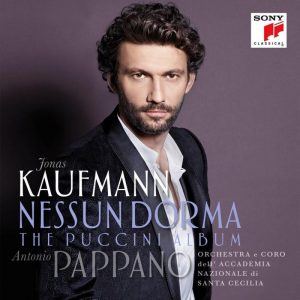 Nessun Dorma: The Puccini Album
It's happened again. I'd read several years' worth of pro-and-con about Ian Bostridge before hearing the fellow, on a recital disc that I reviewed for this site a few years back. Now, after hearing numerous encomia for tenor Jonas Kaufmann, I've finally heard him sing.
Given the novel repertoire for this artist—who's has been noted, at the Metropolitan, primarily for German roles—the pleasant surprise is how well Kaufmann adapts his basically Germanic instrument to the Puccinian melos, notably in the selections from Manon Lescaut that open the program. He fills out the long lines of Donna non vidi mai with an even legato, opening into a full-throated top. Tu, tu, amore? Tu? goes with a good sense of motion, and the middle section gets just enough extra space. In the Villi aria, I didn't care for the almost-whispered start, but the seamless way the tenor expanded it into full voice impressed me. Similarly, at "O soave vision" in the Edgar aria, he settles into a medium dynamic, working his way to a refulgent upward leap. The Butterfly aria is lovely—heartfelt and relatively simple—though the first climax sounds constrained: it doesn't expand.
That constraint hints at Kaufmann's mild technical discomfort in this music, even as his active repertoire includes a number of Italian roles. He mostly sounds quite good at full voice, but tightens when he attempts softer dynamics, as with the soft repeat of "Core tristezza" in the Villi piece. The note-to-note vocal production can be labored: the first Fanciulla selection and the item from Tabarro need to flow more. The tenor makes heavy weather of the first upbeat in the Tosca; the middle section is brighter, if not exactly impulsive, but then the diminuendo on the final note again closes. In Ah! non v'avvicinate! from Manon Lescaut and in the Schicchi aria, Kaufmann turns choppy in the vehement moments—and comes across, incidentally, as old for Rinuccio.
Some of the program choices seem odd. From La bohème we get, not the aria, but the love duet that follows; from Tosca, the tenor's first aria, but not the second. The second of two unfamiliar-sounding Fanciulla selections reveals itself, about three minutes in, to be the big aria, Ch'ella mi creda. It is good to hear Turandot represented, not just by the eponymous and ubiquitous Nessun dorma (capped by a solid but insufficiently ringy high B), but by a tender, spacious rendering of Non piangere, Liù, the arioso that launches the opera's first finale.
The producers have sprung for a full complement of supporting artists. Kristine Opalais has a lovely, clear soprano, though both she and Kaufmann miss the sweep of O soave fanciulla, where his quiet singing is gummy. The participation of a competent bass (Antonio Pirozzi) and baritone (Massimo Simeoli) in several scenes should help sort out any aural confusion occasioned by the tenor's dark, baritonal timbre in the low range. Antonio Pappano conducts capably and stylishly, bringing out the hint of Expressionism in the Rondine introduction; he draws warm sounds and clear textures from the orchestra, even if he can't always get the octave strings in the Edgar introduction to move together.
No doubt, the tenor's fans will be pleased to hear his very professional renditions of these selections. If, however, you've already got them by the likes of Pavarotti, the young Domingo, Bergonzi, or Gedda—not even to reach back into the Golden Age—don't feel obliged to add this to the collection. Sony provides texts and translations.
Stephen Francis Vasta is a New York-based conductor, coach, and journalist.
Jonas Kaufmann, tenor; Orchestra e Coro dell'Accademia Nazionale di Santa Cecilia/Antonio Pappano. Sony Classical 88875092492. TT: 60.52.
Manon Lescaut: Donna non vidi mai; Oh! saro la più bella...Tu, tu, amore? Tu? (with Kristine Opolais, soprano); Ah! Manon mi tradisce (with Opolais); Presto! In fila!...Ah! non v'avvicinate! (with Antonio Pirozzi, bass). Le villi: Ei giunge!...Torna ai felici di.  Edgar: Orgia, chimera dall'occhio vitreo. La bohème: O soave fanciulla (with Opolais). Tosca: Recondita armonia (with Pirozzi). Madama Butterfly: Addio, fiorito asil (with Massimo Simeoli, baritone). La fanciulla del West: Una parola sola!...Or son sei mesi; Risparmiate lo scherno...Ch'ella mi creda libero (with Simeoli). La rondine: Parigi! È la citta dei desideri. Il tabarro: Hai ben ragione. Gianni Schicchi:  Avete torto!...Firenze è come un albero fiorito. Turandot: Non piangere, Liù (with Opolais, Pirozzi); Nessun dorma.
Downloads: amazon.com (mp3); highresaudio.com (not available in U.S.); itunes.apple.com (various); prestoclassical.co.uk (mp3, FLAC, and hi-res FLAC); qobuz.com ("16-bit CD quality")