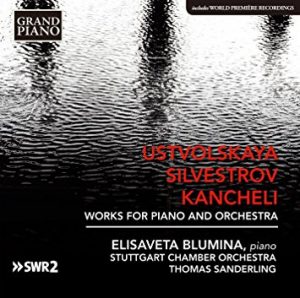 Ustvolskaya, Silvestrov, and Kancheli. Works for Piano and Orchestra. Elisaveta Blumina, piano. Stuttgart Chamber Orchestra, Thomas Sanderling. Grand Piano Records GP 678.
To many music lovers, the late twentieth and early twenty-first centuries belong to the composers of Eastern Europe and Russia. Notable among this group are Galina Ustvolskaya (1919-2000), Valentin Silvestrov (b. 1937), and Giya Kancheli (b. 1937). The Ustvolskaya work here, Concerto for Piano (1946), is an early one and not entirely representative of her more radical mature work but interesting nevertheless—as early pre-impressionist Monet paintings are. Pianist Blumina, who has also recorded the composer's solo piano music, gets the stark drama of the work perfectly—and clearly knows what lies ahead: Ustvolskaya is the link to her successors and to fellow Russian composer Sofia Gubaidulina.
Silvestrov's Four Preludes (2004) and Hymn (2001) represent the deeply meditative side of the composer's generation, more romantically and some would say more effectively than the better known Arvo Pärt. Kancheli's Sio for String Orchestra, Piano, and Percussion (1998) is the most interesting work in the program, presenting the composer's usual violent blend of meditation and passion. 
I find all of this music more emotionally involving than most contemporary works of Western Europe and the U.S. and, as always, urge it on you: Ustvolskaya, Silvestrov, Kancheli, Vasks, Schnittke, Gubaidulina. They are where the music went.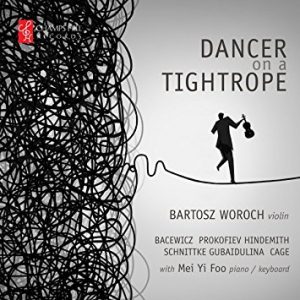 Dancer on a Tightrope. Bacewicz, Prokofiev, Hindemith, Schnittke, Gubaidulina, Cage. Bartosz Woroch, vioin; Mei Yi Foo, piano. Champs Hill Records. CHBC 114.
This album contains one of the most exquisite modernist works I know of, John Cage's (1912-1992) Six Melodies, perfectly performed by young Polish violinist Bartosz Woroch with pianist Mei Yi Foo. That the album also contains solo works for violin by the others named above is a bonus. Cage's Six Melodies were composed as a "postscript" to his String Quartet in Four Parts. Both were composed in 1950. Both are the kind of quiet, understated, meditative music that a great many composers were trying to write in the late twentieth century, most of which comes across to us as affected effort in search of effortlessness. Cage, as we know, composed a lot of odd things but also said some very profound things about music. And wrote these pieces. I like the String Quartet just fine but I love the Six Melodies. Have at them.
Duo Sessions: Julia Fischer, violin; Daniel Müller-Schot, cello. Kodaly, Schulhoff, Ravel, Halvorsen. Orfeo C902 161.
For lovers of strings this recital of modern music by Fischer and Müller-Schott, long time musical associates, is a dream. Duos by the above-mentioned composers played eloquently by two our best contemporary soloists in absolutely perfect sound. Few of us know all of this music —though the Kodaly and Ravel are familiar; so the release is educational and entertaining both. The informative program notes are mainly an interview with the soloists about their decade of collaboration and the music itself. It's my impression that there are fewer and fewer interesting classical CD's coming out these days, but this is surely one.
System used for this audition is made up of a Resolution Audio Cantata CD player w/BlackJack power cord; Audio Note OTO Signature integrated tube amplifier with Sogon AC power cord, and Audio Note SPx SE loudspeakers; Crimson interconnects and speaker cable. Mapleshade Samson equipment rack.
Bob Neill, a former equipment reviewer for Enjoy the Music and Positive Feedback, is proprietor of Amherst Audio in Western Massachusetts which sells equipment from Audio Note (UK), Blue Circle (Canada), Crimson (UK), Jean Marie Reynaud (France), Resolution Audio (US), and Tocaro (Germany).