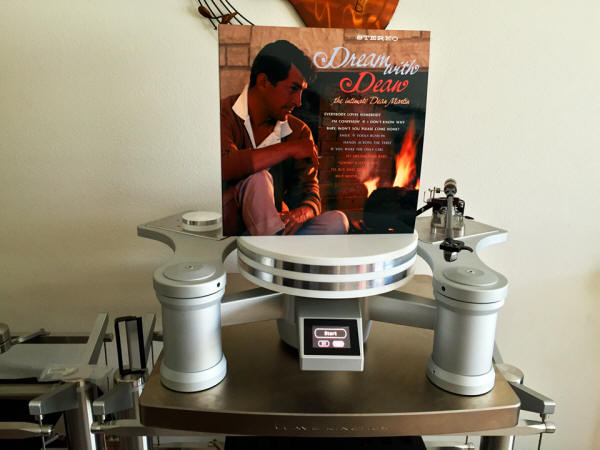 Dean Martin, Dream with Dean: The Intimate Dean Martin
Analogue Productions, QRP 200 gram LP, stereo, 45 RPM (2 LP set), USD $50
You know, it really isn't fair.
There I was. Just getting over my blood-pressure-wrecking pleasure over the brilliant Analogue Productions release of Duke Ellington's Masterpieces by Ellington (as reviewed HERE). Just getting back to listening to my box set of the complete LPs of The Smiths. Taking in the great Impex Records release of Monk's Straight No Chaser (of which, more later, I think). Getting ready to do a retrospective walk down memory lane with some of my favorite alternative rock of the early and mid-'90s…Foo Fighters, Bush, Everclear, Alanis Morrisette, The Toadies, The Spin Doctors…all on fresh 180 gram LPs.
All set. Ready, Eddy! Let 'em rip!
And then in comes a shipment from Acoustic Sounds with the brand-new release of none other than Dean Martin…Damn! Dean Martin, of all blasts from the past!...in a double 45 RPM LP set on monster 200 gram.
OK, time to defer my return to the alternatives for a bit.
Instead, my very good local audiobuds Jonathan Tinn of Blue Light Audio, and Din Johnson of Ristretto Roasters, having dropped by for a listening session, did the righteous rip of the factory seal, and we popped the LP onto the world-class Wave Kinetics NVS reference turntable. (The tonearm is the marvelous 12" Durand Telos Composite, with the Ortofon Anna MC cartridge.) I had heard rumors of the exceptional quality of the master tape, and had those rumors confirmed by Chad Kassem himself at the LAOC Gala banquet last December. They were mind-blowing, he said…and when Chad raves, you can take that sort of thing directly to the bank. So I was pretty sure that I was going to be pleased. It was just a question of how pleased.
Starting from outside in: The packaging of Dream with Dean is absolutely flawless. It's a double LP to accommodate the 45 RPM format. The cover art is on very heavy-duty stock, and reflects a very high-resolution reproduction of the original cover. The finish is an exceptional gloss; clearly no expense was spared to get the packaging right.
The LPs were truly hefty, tipping the LP balance beam at a highly commendable 207 grams for LP A, and 210 grams for LP B. Both were exceptionally flat, and without scuffs or skid marks due to sloppy handling. ("Sloppy handling" is not what you get from Analogue Productions/QRP.) These LPs, like the Ellington LP, are a pleasure for an experienced LP lover: Solid as a rock, clean, flat, and unmarked. LPs like this really set the standard…I've never seen better than this, amigos.
The dozen songs on this album are a cross-section of love songs recorded in 1964. Dean was supported by a fine jazz ensemble: Ken Lane on piano, Barney Kessel on guitar, Red Mitchell on bass, and Irv Cottler on drums. Jimmy Bowen handled the production work. It was originally a Reprise project, since Dean Martin had joined that label that his friend Frank Sinatra was on at that point. The idea of this project, from Dean's standpoint, was to put together a collection of crooner's love songs, done in an ultra-mellow, middle-of-the-morning sort of way, with no push, and no stress. The whole idea of the album being mellow, the studio was even lighted for the sort of early morning nightclub atmosphere that Martin wanted. He thought that he could do well with such an album, and even predicted that he could knock the Beatles off of the #1 spot that they held pretty regularly throughout 1964.
Yeah, and Babe Ruth called his homer, too, right?
He did, though. His song, "Everybody Loves Somebody" would eventually (in a fully orchestrated version, though, and not the version on this album) hit number one in the late summer of 1964. Quite the accomplishment for an earlier-generation crooner swimming upstream against the irresistible river of Lennon/McCartney.
You have to remember that Dean Martin was a bona fide singer, in the same general category as Frank Sinatra and Bing Crosby. I would put his sound much closer to Crosby than Sinatra, of course: His voice was mellow, round, and rich, reminiscent of Crosby, and less of the direct and penetrating sound of Sinatra, especially Sinatra in his younger prime. The problem that Dean Martin had was that too many people conflated his comedy career (remember Jerry Lewis?) and variety show mildly-drunk-singer-mugging shtick with his quite serious performance as a world-class singer and crooner. To hear Dean Martin in his serious work was to hear a man who was in his element while singing…perfectly comfortable within his skin, and his songs. He was one of the greats of his generation, for sure.
So…did all of this work in this reissue?
Once the LP was on the platter and cued, the results were immediately apparent. It's like Dean Martin was right there…right there…in my listening room! No just kinda' sorta' maybe. I mean, right there. Just slightly left of center, with his ensemble loosely around him. By 15 seconds into the first cut, "I'm Confessin' (That I Love You)," Jonathan, Din, and I were starting to make wowzer sounds…all variations of "Holy shit!" and "Unf***ingbelievable!" and so on. (Insert your own favorite expletives here if you don't like ours.) Once again, just like with the Ellington Masterpieces we were listening to a tape transferred to LP that sounded like it had been recorded that morning. Literally.
Every one of the songs had the same sort of amazing mellow sense of Dean's command, his very presence in the room. Martin wasn't showing off a wide range of music or ability: He was right in the groove of a smoky nightclub, with people who stayed late, smoking and drinking, because the best stuff always happened after midnight, you know? This was rare stuff, an experience so rich and captivating that Jonathan, Din, and I listened to the entire two-LP set straight through. It was really seductive…completely irresistible. Stretch out your hand…you'll feel like you can touch Dean. This is about as direct, clear, and transparent as I've heard a recording sound…and it was done in 1964. If you want to know what experienced audiophiles and music lovers mean when they use the word "palpable," just listen to this album. There it is, chilluns.
Oh, and by the way: I didn't hear a single tic or pop on any of four sides. None. And that was before running it through my KLAudio Ultrasonic Record Cleaner. These grooves were perfection.
Song after song rang straight and true. Some highlights for me: "Blue Moon" (a huge favorite of mine), "Everybody Loves Somebody" (of course! But this time, mellow and intimate), "I'm Confessin'"…but frankly, there isn't a weak song in the bunch. Every one of these songs was personally selected by Dean Martin as a home run…with the sole exception of "Everybody Loves Somebody," which he considered to be a weak sister, ironically, given its enormous success later that year.
No doubt about it: This is another absolute killer from Analogue Productions and Quality Record Pressings. I'm going to have to buy Chad Kassem a drink the next time I see him: For Masterpieces by Ellington and Dream with Dean I (and all of us) are deeply in his debt.
And so, listen up: Anyone displaying turntables who goes to AXPONA, Munich, or THE Show Newport Beach in 2015 without the Analogue Productions Dream with Dean…and, for that matter, without the Masterpieces by Ellington…needs to consider getting out of the biz. These are both absolute world-class, can't-be-beat, no-shit reference albums.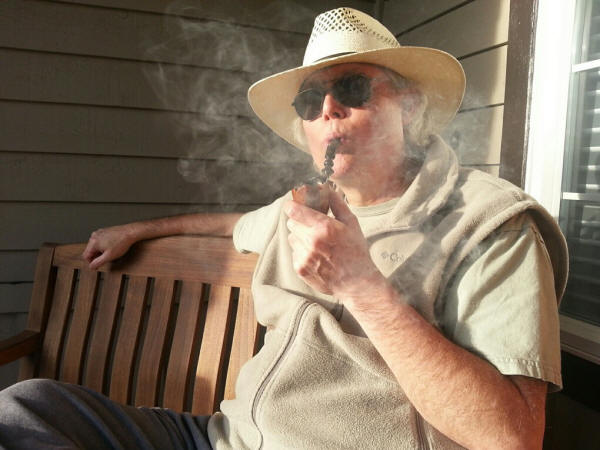 To sum up: If you haven't heard the new Analogue Productions' reissue of Dean Martin's Dream with Dean on Analogue Productions/Quality Record Pressings 45 RPM LP, then you are missing one of the very finest examples of "palpability" that I've ever heard. A reference classic: A brilliant, intimate jazz recording, rendered impeccably in AP's transfer and QRP's pressing.
Damn! Chad Kassem and company are on a roll!
Hurry over to http://store.acousticsounds.com/…/Dean_Martin-Dream_With_De… and do the righteous deed!
Don't sit there…get right out to the Acoustic Sounds and do the right thing!
Cover photograph by David W. Robinson; Robinson portrait by John W. Robinson