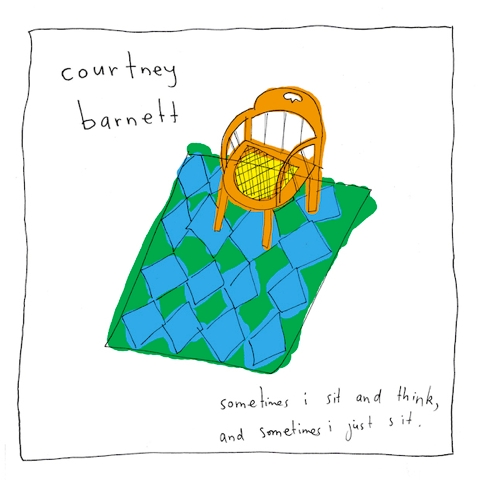 Singer-songwriter Courtney Barnett cites a poster hanging in her Grandmother's bathroom when she was a child as inspiration for the title of her first full-length album, Sometimes I Sit and Think, and Sometimes I Just Sit (Mom+Pop Records MP221-2). Distilling the mundane into lyrical profundity extends beyond just the titular for Barnett, whose songs on this release succeed at an extraordinary level in transforming everyday moments into brilliant and wry observations on the human condition as well as that of her own.
From the album's opener, "Elevator Operator," which finds Barnett in the shoes of a disillusioned young man, who, fed up with the drudgery and meaninglessness of his job and on his way to a familiar rooftop, is accosted by a socialite in an elevator mistaking his need for escapism as suicidal intent, to "Aqua Profunda!," in which Barnett nearly drowns herself in a swimming pool trying to impress an attractive stranger, this collection of songs derives lyrical inspiration from life's little moments.
Barnett's strength is in turning these little moments into subtle epiphanies. Take for example, the aforementioned "Elevator Operator," where Barnett admonishes the socialite, stating, "I think you're projecting the way that you're feeling. I'm not suicidal, just idling insignificantly. I come up here for perception and clarity. I like to imagine I'm playing Sim City. All the people look like ants from up here, and the wind's the only traffic you can hear. All I ever wanted to be was an elevator operator, can you help me please?" Likewise in "Depreston," the protagonist's search for a house quickly devolves from an evaluation of the home's structure and decor to musings on the moroseness of the previous deceased owner's life. Finally, Barnett repeats, "If you've got a spare half a million, you could knock it down and start rebuilding," which, after all, is easier than having to think about the futility of the previous owner's life, and indeed, her own.
Musically, the arrangements on Sometimes I Sit and Think, and Sometimes I Just Sit strike a counterpoint to Barnett's musical messages. From the punk-rock of "Pedestrian at Best" to the straight-ahead, grunge-inspired rock of "Nobody Really Cares If You Don't Go To The Party," Barnett proves ably that she came to play, and play hard. Lest one think that she is a one-trick pony, Barnett dabbles in multiple musical styles over the course of her debut album's 45 minutes, straying into blues for "Small Poppies" and alt-country for "Depreston." Barnett's band is well-chosen, as they play consummately but do not upstage Barnett with histrionics or other distractions. Barnett does allow the band to let its collective hair down on the album's longest cut, "Kim's Caravan," which has a dark, moody build-up to a climactic finale, with the band really cutting loose in the middle.
On her debut full-length album, Sometimes I Sit and Think, and Sometimes I Just Sit, Courtney Barnett evinces a maturity that far eclipses her years. A prodigious songwriter, this collection of relatable vignettes rewards repeated listening. Come for the music, stay for the storytelling. Highly recommended.
Formats: CD, LP, MP3