At the recent LA Audio Show packed with manufacturers—many known to me, but also many surprises—I noticed a table loaded with sharp-looking cables and manned by a gentleman I knew: Mitch Ko. His previous company, INEX, built the most fascinating and unusual cables on the planet:  they were made of fiber optic cable and battery powered. They also built an exotic fiber-optic-wired preamp. He left INEX to form a new company and build more conventional connectivity. He is, after all, an inventor and electrical engineer. His new company is called Unique Innovation Technology and is based in California.
As truly transparent as his fiber cables were, they had flaws which I will not go into here. For old times' sake, I offered to listen to two pair of the UIT Cables with the proprietary PMP module on board... RCA and XLR versions. At about $800 per pair, I put them in the queue to audition... eventually.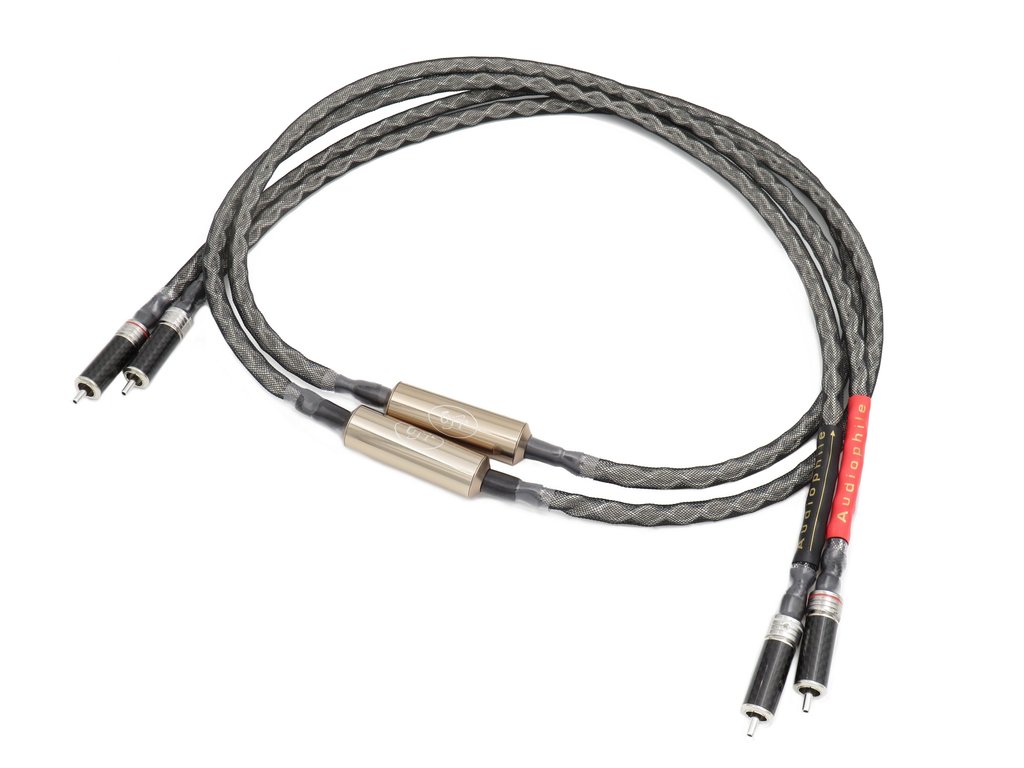 Unique Innovation Technology's Perfect Music Purifier cables, RCA version
An extremely expensive cartridge did not arrive on schedule and I hammered out two other reviews a bit faster than expected... so I reached for the UIT wires. I had not broken them in at all, but went ahead and connected them between the amp and preamp in my near-field system. I also put them between my DAC and preamp in my large main system.
That's what I get for taking things for granted.
I immediately heard added clarity… with no real added colorations. My attention now engaged, I began a rigorous run-in period. Fifty hours+ on the audioexcellence Cable Cooker, and fifty hours+ in a tuner circuit for each cable is my usual procedure. Once done, I placed them in the reference systems and took a listen. 
Kapow! Shortly thereafter, I emailed Mitch requesting 13 more meters of the UIT cables to wire all major gear in both systems. That did not include my turntable or loudspeakers, however. The wire is not suited for phono/tonearm use, and no loudspeaker cable is yet available. 
Then there began the parade of audiophiles to listen to what I was hearing. Comparing the wires to my references and other top contenders gave way to just enjoying the music. All but one audiophile ordered UIT wires for themselves within 24 hours! 
Construction
Terminated in excellent carbon fiber locking connectors or large carbon fiber XLR terminations, the wire itself is truly gorgeous. It is highly shielded and is made in two lengths or special order: 1.5 and 2 meters. 
From Mitch Ko: "The cables themselves are made of silver and copper, generally called "clad" or "silver-plated copper wire." Silver plated copper wire is composed of a copper core covered by a concentric silver plating. The materials of UIT cables are stranded Silver Coated OFC Copper with extruded Teflon Insulation. OFC Copper is better for mid-range and bass. Silver is better for upper mid-range, lower treble and treble. This material combines the advantages of copper and silver.
All UIT cables are braided with two stranded Silver Coated OFC Copper wires and two Coaxial Silver-Coated OFC Copper wire. Stranded Silver Coated OFC Copper wires are better for mid and Low frequency. Coaxial Silver Coated OFC Copper wires are better for high- and ultra-high frequency. This cable combines the advantages of strand wires and coaxial wire."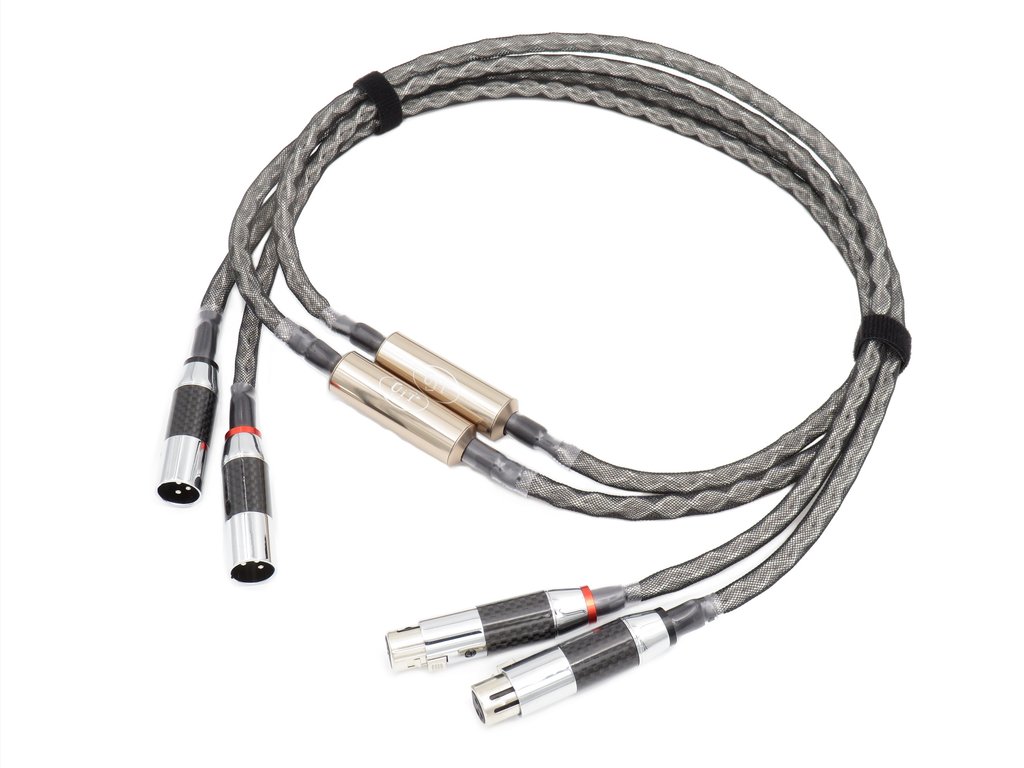 The UIT Perfect Music Purifier cables, XLR version.
The Perfect Music Purifier module covered in chrome in the center of the wire does four things passively. No added battery is needed and gain is identical to cables without the module. According to UIT, the modules:
eliminate EMI
eliminate RFI
reduce digital artifacts and jitter
eliminate ground loops/hum.
The module is an active, solid state circuit made of pure silver wire plus components, and is the exclusive invention of Mitch Ko. While listening, I heard no frequency response anomalies with the PMP on board. ZERO. For years and years cable designers have searched for ways to use silver and copper, strand and coax in that perfect formula to carry all music at all frequencies to perfection.  Could this be the year of the UIT?
Minor Miracle or Stroke of Genius
I am an audiophile, not an engineer, but I know after 55 years of searching for wire that is neutral like Seinfeld… sounds like nothing at all… the UIT wire gets extremely tantalizingly close. It is revealing in ways only the best and most expensive concoctions can achieve and is as dynamic as the best of the bunch. It will do subtle and rich, warm and fast, sophisticated and room shattering without breaking a sweat. I was unable to identify any colorations directly associated with the UIT wire runs. 
I will tell you this, depth and sound-staging are as big as your source allows. Imaging is rock-solid. They are never etched sounding, but smooth as a baby's butt. Though I would call these a stroke of genius, I am not ruling out a minor miracle. 
Adding just one pair in the circuit appears to clarify and enhance the music and mitigate system problems. Placed between DAC and Preamp resulted in the biggest boost in goodness, neutrality, and definition. In other words, "closer to the source" seemed to yield the largest gains. You can use that as a point of departure in your own experimentation with the UIT cables. No spot in the system seemed to be a problem for the UIT and they got along well with every cable brand in other parts of the circuit just fine. 
A complete run of the UIT wires from the turntable output and in the digital circuit to preamp and amps was a stunning leap in performance. Speaker wire brand was irrelevant, and tube or solid-state gear made no matter. With all UIT, you got the best of what was possible in your gear with remarkable, cutting-edge neutral clarity that you would have to hear to believe.
Not long ago I identified two newcomers to the cable party under $2000 per meter that over-achieved musically. Now that I have heard and evaluated the UIT wires, those others may be musical, but my estimation of their accuracy has been downgraded by the superior performance of the UIT. I compared the UIT to one wire that clearly bested the UIT by a small, but telling margin. Yes, it did have even more definition, and was slightly sweeter overall. But the problem is that this marginally superior cable sells for $10,000 per meter! No kidding! So yes, there are more expensive wires on the market that can do this amazing disappearing trick in your system. But none are under $2000 per meter—and the UIT cost half of that!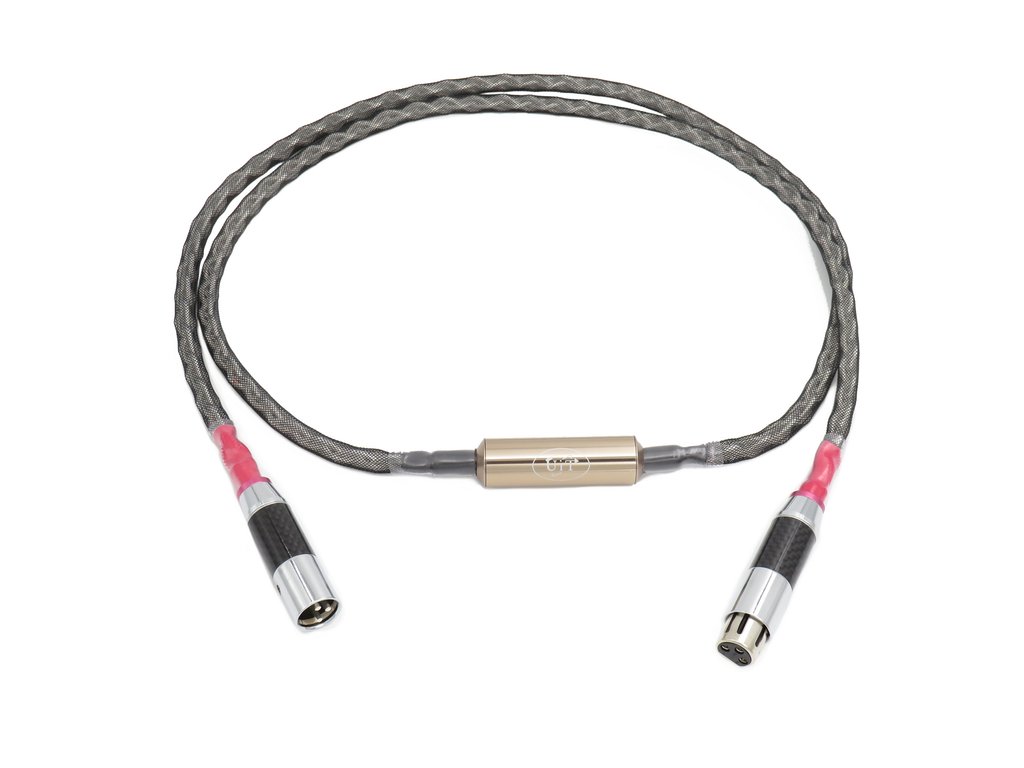 Yes, UIT also makes a digital version:  Here's their AES/EBU cable.
The UIT cables seemed to have no real limits other than the source components and the quality of your amplifiers, as far as I can tell. They are even flexible to handle, which is special for such a complex construction. The UIT bass was tighter and more detailed than most of my references, the mids were even more open and sophisticated, and the highs were more delicate and airy. Vocals are as solid, real, and textured as I have heard. My cable references contributed a bit of smear to vocals the UIT did not. Definition was a 9.5 out of 10. Backgrounds were consistently blacker and more spacious than my references. The UIT never sounded hyped or HIFI. They were always neutral with a bullet, or maybe lots of bullets.
Amazing!
Summary
The Unique Innovation Technology Perfect Music Purifier (PMP) Interconnect Series has taken connectivity in the under $2000 per meter category to a new supreme level, maybe even to the highest level. I will leave that conclusion to you, dear reader, to decide, but if you were considering any interconnects up to that cost, the UIT are your first and last option, in my judgement. Hell, the UIT cables cost half as much as the previous $2000 entry point for high-level performance high-end cables that I had previously assumed!
I will soon have what may be the finest, most neutral phono cartridge in for review, and how the UIT wires perform with this mega-buck transducer will be most telling. Mitch Ko may have stumbled a bit with the fiber cables of yesterday, but his UIT cables are winners in every way, and a bargain unlike I have never seen.
The Unique Innovation Technology Perfect Music Purifier (PMP) Interconnect Series has my highest, unequivocal recommendation.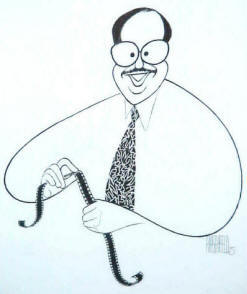 Perfect Music Purifier (PMP) Interconnect Series
Retail: $790 for 1.5 meters RCA terminations
Retail: $835 for 1.5 meters XLR terminations
Mitch Ko, Unique Innovation Technology
1.925.292.1299
All photographs courtesy of Unique Innovation Technology.