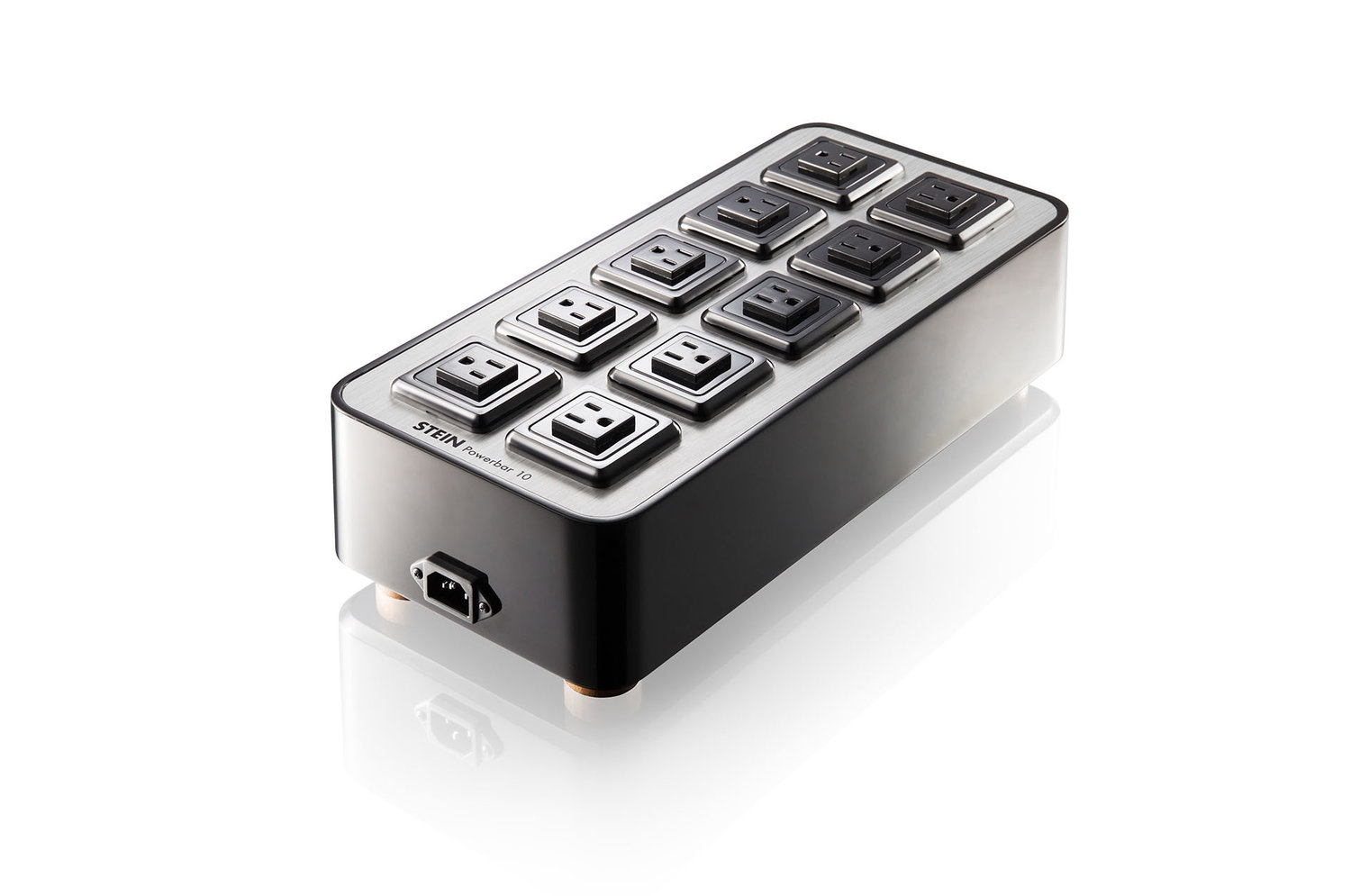 The Stein Music Powerbar 10 Signature (US version)
With a track record of doing the amazing and, occasionally, the impossible, Stein Music of Germany introduces a power distribution system that works effectively and elegantly in the most sophisticated systems. Holger Stein, Chief Engineer and CEO, is both an electrical engineer and physicist and has uniquely high levels of taste in his work. Having heard and auditioned everything he has manufactured, I can say that all Stein products are so unfailingly musical and involving that I am tempted to refer to him as the "Saul Marantz of Germany." The Powerbar 10 Signature and associated pieces are audiophile power accessories for top tier system owners searching for the best of the best.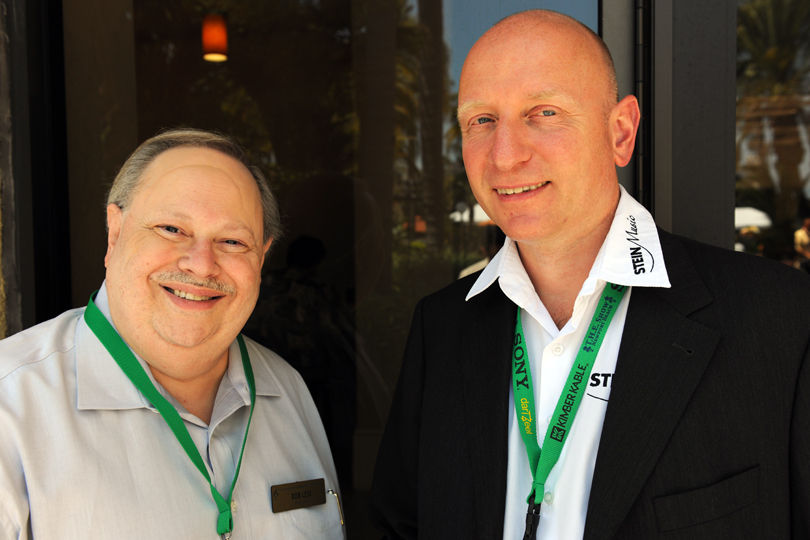 Bob Levi and Holger Stein, 2012 (photograph and image processing by David W. Robinson)
Having tried most of the most expensive power conditioners and distributors on the market, both active and passive, I am convinced you do not want an active device or generator unless you live in a high-rise building in a crowded residential/commercial area. A device that passively distributes your power to convenient outlets effectively, without compression, eliminates EMI and RFI, reduces vibration, gives effective isolation between components, and is ergonomically useful and effective, is the optimum power component in the best systems. 
So far, all of the power systems that require you plug your refrigerator into the device to "break it in" either compress big amps or screw up frequency response while doing whatever they do to "improve" the sound in your system. None were acceptable to me. All I can say about these active capacitor/transformer/battery devices is "try it before you buy it!"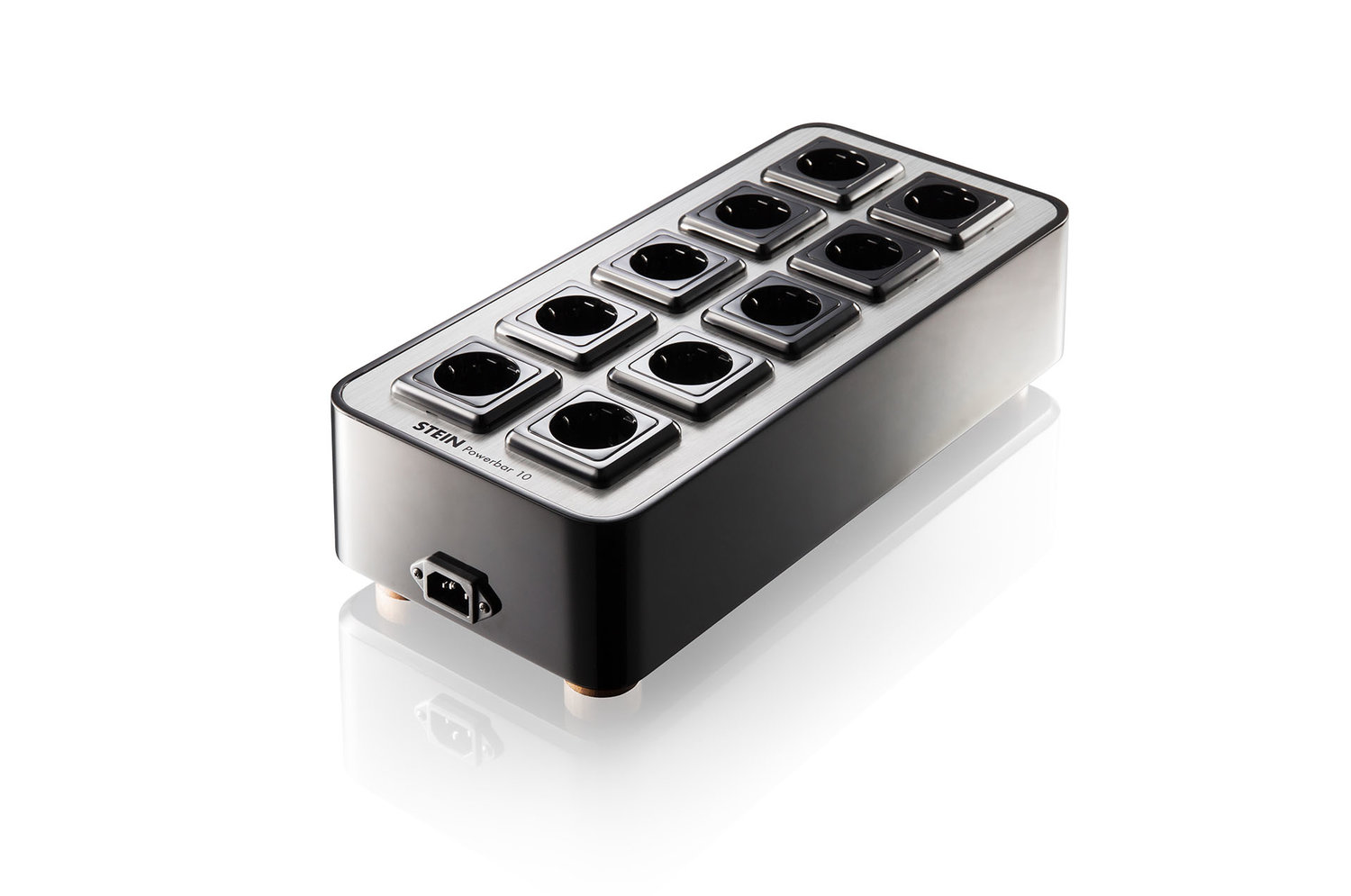 The Stein Music Powerbar 10 Signature (European version)
The Powerbar 10 Signature is the most effective, elegant and sophisticated passive power distribution device I have ever seen or auditioned. It is beautiful, it easily accommodates ten components of any power requirements with the biggest plugs, has an end-mounted AC input connector for convenient wall connection, and is made of multiple layers of materials each layer grounded in a proprietary way for optimum quiet. The filtering is totally passive, and every socket is isolated from all others, with each socket individually connected to the AC input connector. There is no big copper buss bar running the length of this distributor. Nor is there an on/off switch. Materials are both exotic and effective based on years of R&D by Holger Stein.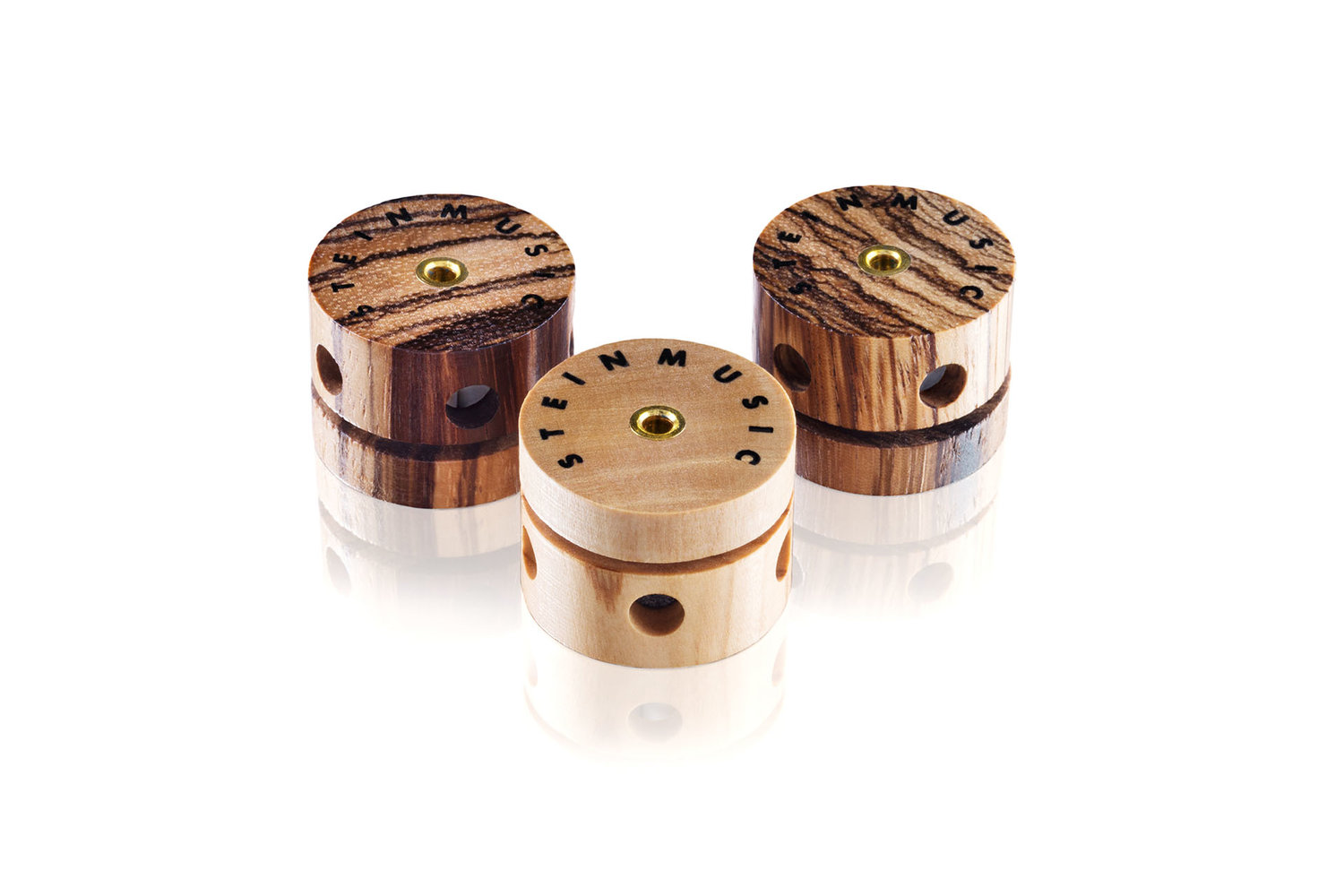 Stein Music Super Natural Gold Feet
To enhance performance and increase isolation, a set of Stein Super Natural Gold Feet are required. I used these after finding a solid improvement over the standard supplied walnut feet. Though I tried my best, most expensive reference power cords with the Powerbar, the Stein Highline Power Cord was noticeably superior and enhanced system performance. The synergy here is pretty obvious to me. So I used the Highline in the review as well. Therefore, the power system I recommend is the grouping of the Powerbar 10 Signature, Highline Powercord, and Stein super natural Gold Feet together for superior state-of-the-art performance. This system was used in the LA Audio Show 2017 in the Stein Music Suite to great effect.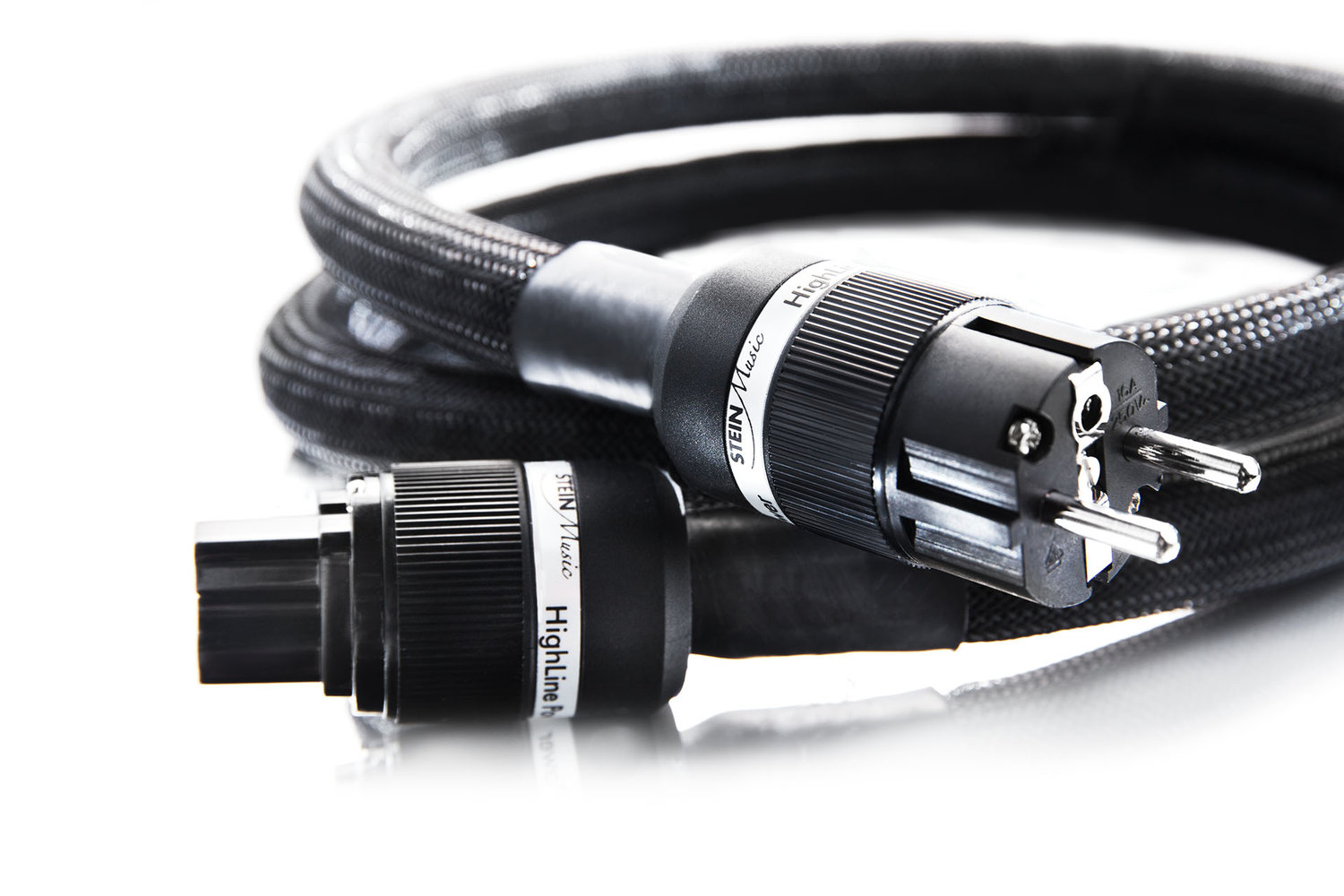 Stein Music's Highline Power Cord
Based on direct comparison with my reference passive AC distributor, sonically unsurpassed for several years, modified with gold Oyaide premium sockets, and added cryo treatment with the Stein Music power system, my old reference was clearly outperformed by the more flexible Powerbar. In a direct musical comparison using only hi-rez material and reference LPs, involving a panel of audiophiles including myself, system performance was assessed to have improved in every parameter. 
With all three parts of the Powerbar System employed, we placed the musical improvement at between 50%-60% over my reference! Yes, you read that right. We also heard no negative sonic effects, no subtractive action, and no new problems with the Powerbar 10. It was all good news, no bad. 
The musical parameters most improved by the Powerbar 10 were welcome, as well as dramatic and exciting. Overall dynamics, including ease of presentation, were enhanced over my old reference. Background noise was reduced with subtle tape hiss and delicate tones now more obvious. Imaging improved, and image density increased. The sound stage increased in size. Veils of noise and grit vanished. A smoother, more sophisticated musical presentation consistently emerged. Background definition was noticeably improved and clarified. Vocals were more "in the room" and alive. You never know what you are missing, until you hear something better. Without the Powerbar 10, turns out that we were missing a lot.
Stein Music has really developed quite a jewel in the Powerbar 10. After reviewing all the benefits of the system, the effective isolation of the sockets combined with the elimination of static electricity due to proprietary grounding of the multiple construction layers may be the most obvious secret sauces in play here. Knowing Holger Stein is much smarter than I, these "sauces" are probably just the appetizers in a gourmet feast of technical goodies. And a feast it is! I cannot imagine playing my system without them.
The not inconsiderable cost of the Powerbar 10 system is in line with top power system devices, both active and passive, on the market from many major manufacturers. I believe it is an audiophile perfectionist best bet for enhancing system performance. I have heard it on superb solid state gear, hybrid gear, and exceptional all tube gear, and the added goodness due to the Powerbar 10 was obvious and dramatic. It has no editorial effect or sonic signature that I or others could hear. It comes in three less expensive versions including a 6 socket bar in Europe, but it is unclear if they will be distributed here.
Summary
The Stein Music Powerbar 10 Signature, Highline Power Powercord, and Super Naturals Gold Feet combine to make a tour de force power system for the audiophile connoisseur. Though not an active device, with no power switch and no lights, it does more to enhance, perfect, and clarify a great audio system than any other, active or passive, that I have heard to date. The overall musical improvements with the Powerbar 10 are not subtle, and are wide-ranging. Plus, I heard absolutely nothing negative in its performance on extended use with high-powered mono-block tube amps in a complex system with all components plugged in simultaneously. How do you beat that?!
I give the elegant Stein Music Powerbar 10 Signature, Highline Power Powercord, and Super Naturals Gold Feet combination my highest recommendation. Congratulations Holger and team Stein!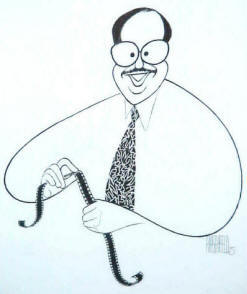 Powerbar 10 Signature
Retail: $3500 US dollars
Highline Powercord
Retail: $3000 US dollars
Super Naturals Gold Feet
Retail: $800 US dollars
Stein Music
USA Distrubtion
Fidelis Music Systems: Music for Life
All product photographs courtesy of Stein Music; portrait by David W. Robinson.