One day while browsing at the local Fry's Electronics superstore I noticed the mindboggling variety facing headphone customers. An entire aisle display was stocked full of headphones of every size, shape, and color. How does a brand set itself apart for consumer dollars in such a populous market?
Puro Sound Labs' answer is health and safety. Puro's research has determined that a generation of young listeners is susceptible to hearing damage due to long term exposure to loud headphone use for music and gaming. As a result, Puro has developed technology to limit dangerous sound pressure levels without sacrificing sound quality. Puro has been well received by concerned parents for their child size sets with volume monitoring ear protection.
The BT5200 ($150) is an on-ear wireless headphone aimed at discerning listeners on a budget. Each 6cm black puck contains a high quality 40mm dynamic driver. The left 'phone is jam packed with Bluetooth circuitry, amplifiers, microphone, volume controls, on/off switch, and button for pairing with devices. An LED lights blue when Bluetooth is engaged. Then the light pulses green, yellow, or red to indicate safe, caution, or dangerous listening levels, respectively. The ear pads are covered with soft black protein leather (pleather) ear cushions.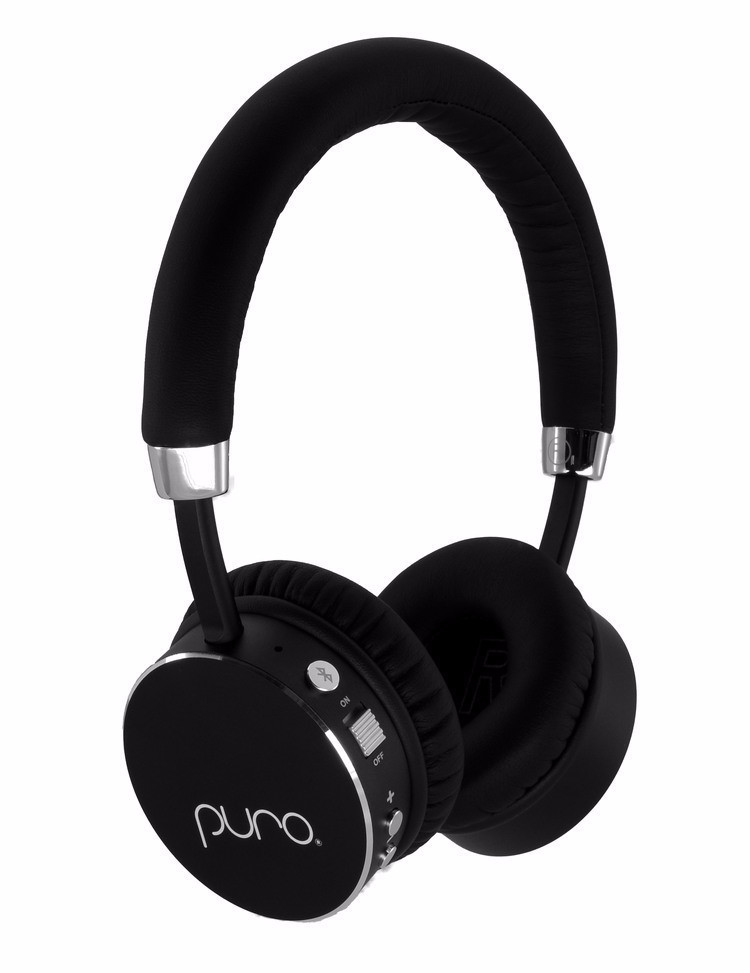 Right out of the box, the Puros can be listened to with the supplied 3ft. cable. In this manner, the headphones exceeded my expectations with their smooth balanced sound. In fact, the BT5200 sounded more balanced and refined than a pair of $200 portable headphones I had in a drawer. Most surprisingly of all, the Puros truly respected the space and air between musicians. For example, while listening to "Mean Streak" from Charlie Hunter/Leon Parker collaboration Duo I could hear the ambience and relative locations of sounds that I experience from the main system. The bass drive and crisp percussive attack were also impressive.
In order to take advantage in wireless mode, I first had to charge the BT5200 overnight. An AC charging module is not supplied but the white cube from my iPhone worked perfectly (.5 amps). The next morning I took the headphones with me to work for a day of clean up without students, a dreadful job if there ever was one. Usually, I play some music on pair of nondescript desktop speakers. But this time, I paired my iPhone with the Puros.
Suddenly like magic, music was playing in my ears untethered to the iPhone in my pocket. Again, the sound far exceeded my expectations of what was possible with Bluetooth. Music sounded completely uncompressed or corrupted by annoying digital artifacts. In fact, the sound reaching my ears was more akin to the quality associated with USB DAC headphone amp combinations rather than Bluetooth wireless. I worked diligently that morning in my room cleaning out desks, sweeping the floor, and hauling out trash to the sounds of my favorite playlists in my ears. When I next glanced up at the clock, about four hours had passed and not once did I remove the Puro B-5200 from my head due to discomfort or irritating sound.
Back at home, the Puro headphones were put to similar use while doing chores around the house or late night listening while reading a book before falling asleep. This usually happened while listening to the second movement "Andante" of Shostakovich's Piano Concerto No. 2 as played by Cristina Ortiz and the Royal Philharmonic conducted by Vladimir Ashkenazy on Decca. The movement is so quiet and notes emerge from just above the threshold of silence. Then you realize that silence is not silence at all but the hushed sustained moment just before exhale of a deep breath. The room breathes, the performers breathe, the piano breathes. Wonderful.
As a stand-alone headphone, the Puro BT5200's balanced performance easily matches or surpasses cans in its price class. Factor in wireless technology, microphone, quality amplification, and the BT5200 are an astounding bargain. Soon, I never left the house without the Puro's earning more that a couple of quizzical glances from other headphone users at the market or mall. "Yeah, these cans kick ass!" I'd think to myself while rocking a metal playlist, "but my ears will be fine in a few years. Will yours?" Highly recommended, a "no brainer". 
Puro