The world of high-end audio is wondrous, but can easily reach the realm of unrealistic indulgence for all but the very wealthy. I have been fortunate to hear two channel audio systems with price tags well into the six-figure range (plus custom or acoustically treated listening rooms) and have wonderful sonic imprints of the experiences. Yet shy of winning the lottery (which apparently can't happen if you don't buy lottery tickets, so my chances are zero), such sonic bliss will not be a nightly occurrence in my home. While I certainly enjoy reviewing audio gear that I can't afford for my personal system, it is particularly rewarding to review a component that performs well above its price point. This is exactly where the Parasound Halo Integrated Amplifier lives—but I get ahead of myself…

Features
The Halo Integrated Amplifier is a handsome unit with a clean and almost symmetrical face. On the left side there is a 3.5mm headphone jack (with a dedicated high-current amp using the TI TPA6120 chip), a 3.5mm auxiliary input, the IR sensor for the remote, small bass and treble adjustment knobs, and a tone defeat button to disable the bass and treble controls. I appreciate the attention to audio purity via a complete bypass of the tone controls, while still providing the ability to compensate somewhat for less than ideal room acoustics. On the right side are the input selector, sub level, and balance knobs, and the larger volume knob with an illuminated position indicator. Along the bottom of the faceplate are the illuminated power button, 11 input LED indicators, and an illuminated mute button. While the faceplate gives a clean look, the text is very small (ie. if you have reading glasses you'll need them!). The half-moon recess along the bottom gives a nice look and subtle back-lit blue glow for the on-off and mute buttons, but the recessed input LED indicators cannot be seen from directly above the unit. 

The rear of the Halo Integrated Amplifier provides five pairs of gold plated RCA analog inputs, one XLR balanced input that shares Analog Input 5, one pair of balanced XLR outputs, one set of pre-out RCA jacks with an infinite 20-140Hz crossover adjustment knob and a full range crossover bypass switch, an XLR sub output, and two RCA sub outputs that also have an infinite crossover adjustment knob from 20-140Hz and full range bypass switch. I appreciate the ability to bypass the crossover circuitry, providing a full range signal to the subs as well as a L/R channel, and the infinite frequency knob to fine tune the crossover frequency. There are also theater bypass amp inputs (which bypass the preamp section) supporting two subs and a L/R channel, with the associated warning that devices connected to these inputs must provide their own volume control. There are a lot of theater features for a two-channel integrated amp, but it provides a great deal of flexibility. The Halo Integrated Amp comes with a phono stage, with a selection switch for 100 Ohm MC, 47 kOhm MC, and 47 kOhm MM cartridges. The main speaker outputs are 24 karat gold-plated 5-way binding posts. Finally there are three digital inputs; the typical digital coax and optical inputs, and a USB input for the built-in DAC.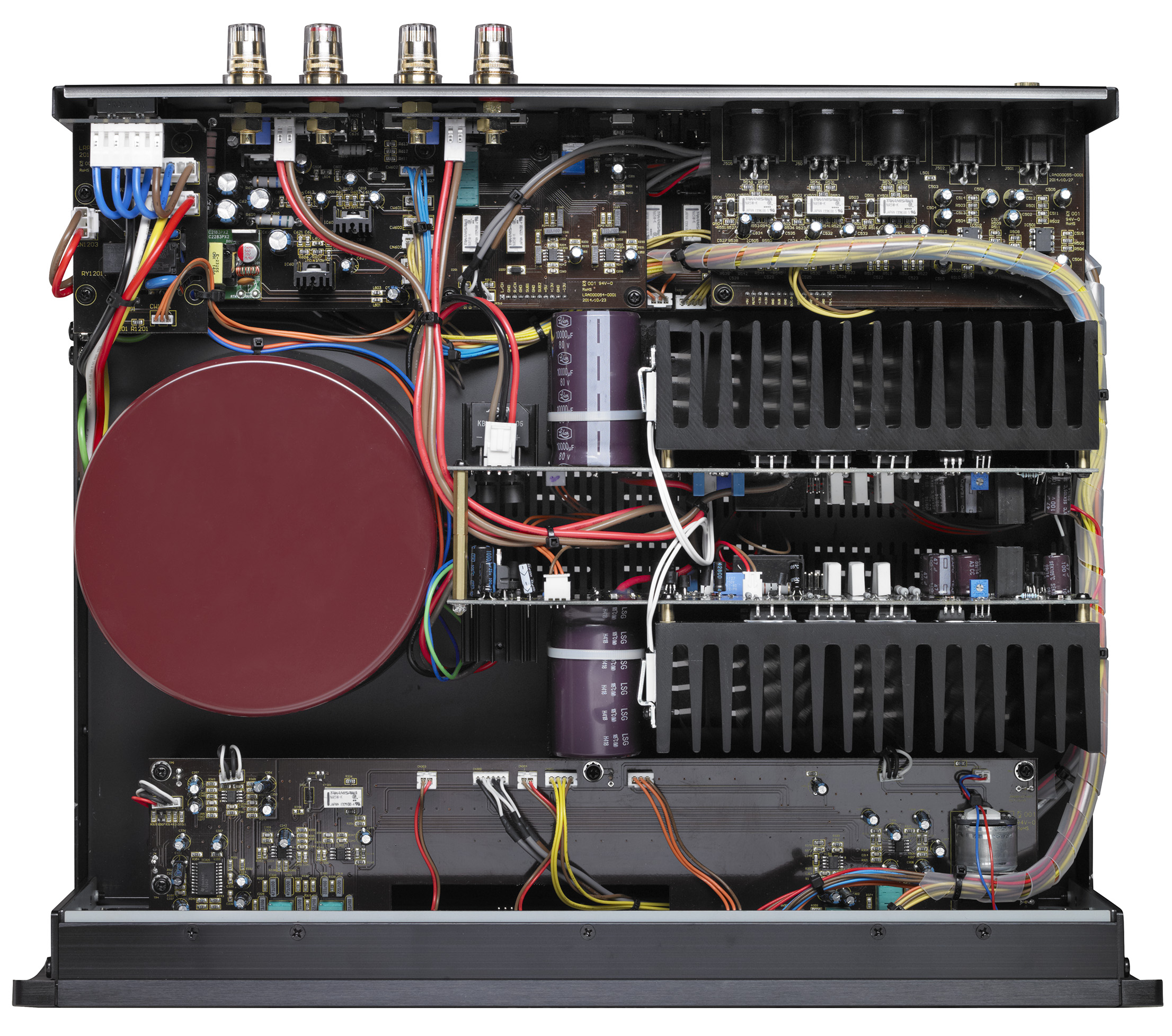 The amplifier section is a high bias class A/AB design providing 160 watts per channel into 8 Ohms and 240 watts per channel into 4 Ohms. The amplifier topology is a John Curl design. The output stage consists of 12 high voltage, high current MOSFET drivers in a dual-mono power amplifier configuration. John Curl is a legend in high-current, high-quality amplifier design. His amplifier designs are known for their ability to drive difficult loads while providing spacious, high fidelity sound. 
Built-in DAC
One of the distinguishing features of the Halo Integrated Amp is its ability to play very high resolution DSD files. This is no second-rate DAC—the Halo Integrated boasts a high quality ESS Sabre32 Reference DAC (the ES9018K2M) supporting PCM up to 384kHz/32-bit, DSD64, DSD128, DSD256, and DoP DSD high definition audio. Parasound provides free Windows USB drivers for ASIO and WASAPI on its website. Mac OS does not require special drivers.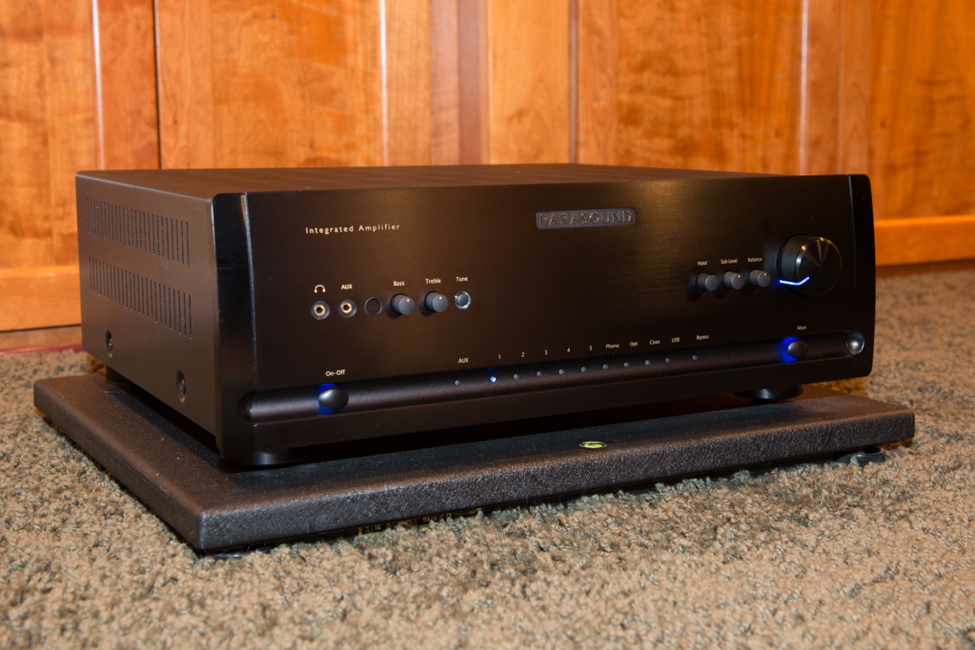 Setup
I primarily used my Magnepan 3.7i speakers and dual DWM woofer panels. These are wonderful speakers—amazingly dynamic with transparency (at least acoustically speaking!) and the ability to throw a huge sound stage. They can also provide very reasonable bass response with a suitable high-current amplifier. However, the 4 Ohm impedance Magnepan 3.7i mains and the dual DWM woofer panels connected in parallel are pretty much an amplifier torture test—it takes a very high-current amplifier to drive these speakers and produce good bass response.   
For sources, I used an Oppo BDP-105 and a MacBook Pro, and for connectivity I used Furutech's very fine NanoFlux speaker cables and NanoFlux power cables, Furutech's GDX-NCF outlet, Nordost Heimdall 2 USB cable, and AudioQuest interconnects. 
The Sound
After casual listening to ensure proper burn-in, I put the Halo Integrated through its paces. Listening to Michael Bublé's "Feeling Good" on it's time CD, the Halo Integrated Amp provided the wide and detailed big band soundstage with rich vocals that makes this cut stand out. Similarly, Melody Gardot's vocals on My One and Only Thrill were palpable—suspended front and center with a sense of the recording studio all around. During one listening session, while enjoying the The Cars The Cars album on SACD at a somewhat high volume, toward the end of the session I noticed my lights slightly dimming with the beat. Over the years I have had some high current/high wattage amplifiers plugged into this circuit, but this was the first time I experienced my lights dimming—the Halo Integrated can draw a lot of current (and the Magnepan 3.7i mains and DWM woofer panels can consume it just as fast!). In stark contrast, I have had lesser integrated amps go into current-over-protection mode while trying to drive the Maggies, so kudos to John Curl's amplifier design! The answer to the light-dimming problem may be a dedicated circuit, I'll first see if a simple replacement of the 15-amp circuit breaker for a 20-amp one improves the situation!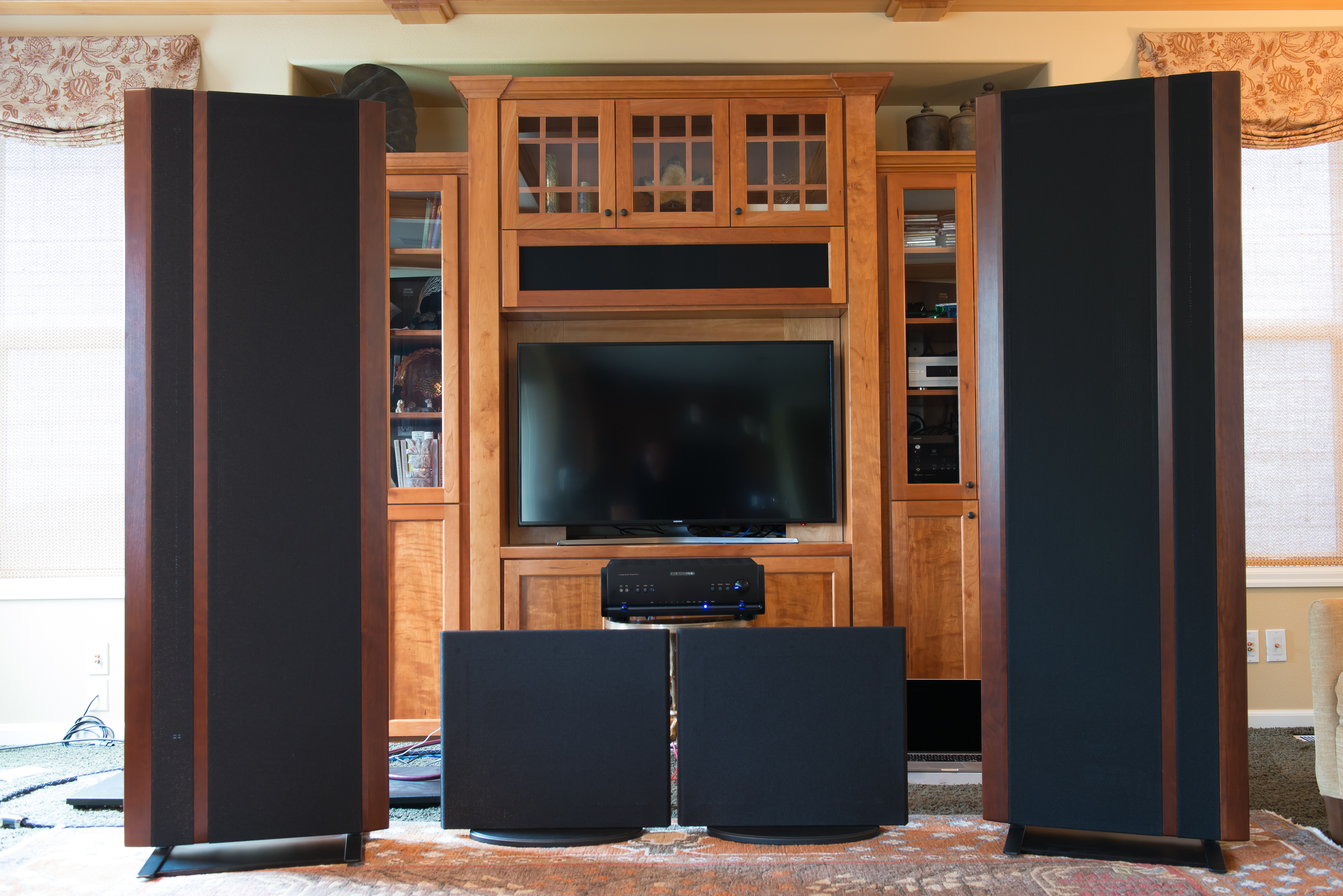 Moving into the realm of DSD music, I am particularly fond of Bob Marley's "Is this Love" DSD128 on my Maggie 3.7i speakers—the percussion imaging from far stage left, far stage right, above my head and below, provides a very satisfying and involving musical experience. The Halo Integrated's DAC and amplifier delivered a wonderful, well defined, and spacious sound stage, complete with a sense of air around the vocals and instruments. Moving to a rock genre, I cued up Led Zeppelin I on DSD128 and pushed the volume a bit. Interestingly, even with the relatively low 86 dB sensitivity of the Magnepan 3.7i's, I never got the volume past about 70% of maximum, which was plenty loud.  There was no sense of distress from the Halo Integrated—it delivered a rock concert with far more detail and nuance than the standard CD version of Led Zeppelin I. After such a punishing listening session the top of the Halo Integrated directly over the power amp section was hot to the touch—not burn-your-hand hot, but I didn't want to leave my hand on it either. If you plan to drive high current speakers, which the Halo Integrated is clearly very well suited for, be sure to provide adequate ventilation. As I mentioned already, it takes a prodigious amplifier to provide convincing bass response from the Magnepan 3.7i and DWM woofer panels. While the Halo Integrated drove the Magnepan speakers exceptionally well across the sonic range, to get the most out of the Magnepan 3.7i requires a significantly higher investment in amplification.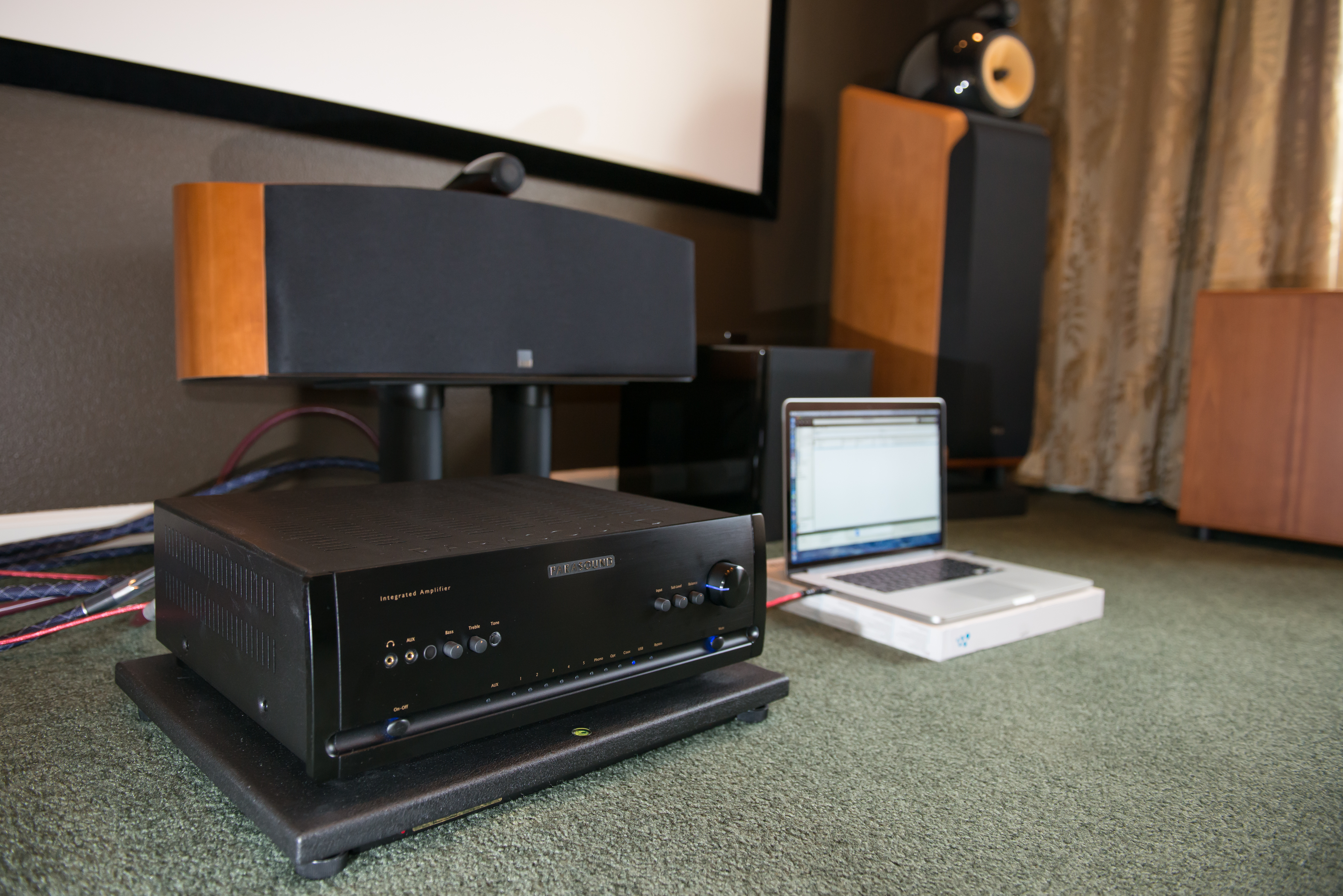 To change things up a bit, I connected the Halo Integrated to a pair of B&W 802D speakers—a much easier load than the Magnepan 3.7i speakers. The Halo Integrated performed very well with the 802D's, providing authoritative, controlled bass and a clear, uncolored midrange. While I have heard more spacious highs from significantly more expensive equipment, the Halo Integrated again showed itself to be a star performer in anything even close to its price range. 
So how good is the Halo Integrated's built-in DAC? Would you be better off with a separate DAC and amp/integrated amp? It is certainly possible, but not at this price point. For fun, I compared the Halo Integrated ESS Sabre32 DAC to a standalone DAC, also based on the ESS Sabre32, that cost as much as the Halo Integrated. It was very close—some content was too close to call, some a matter of subtle preferences. I do like the stand-alone DAC unit's display, confirming the type of DSD file it is decoding. The lack of a display on the Halo Integrated forces you to assume that if it plays it is working as advertised. The bottom line is that the Parasound Halo Integrated provides a very high quality DAC capable of playing PCM up to 384kHz/32-bit and DSD256, with a high-current amplifier and very flexible preamp, all in one package at a price point and level of sonic quality that rivals or exceeds similarly priced standalone DACs, stereo amps, and preamps. 
The Bottom Line
A company's track record is important—it provides peace of mind that the dollars you are investing are well place and will hold some value in the future. Parasound has been around since 1981 and has built a reputation on providing superior performance for the dollar. The Parasound Halo Integrated Amplifier is a first rate, high-current amplifier that can drive the most demanding loads with authority, clarity, and refinement; plus a very flexible preamp providing support for five analog inputs, three digital sources, multiple subs with highly configurable internal crossovers, and by-pass switches for both crossovers and tone controls; plus a first rate DAC supporting the latest/greatest digital formats; toss in a high current dedicated headphone amp and configurable phono stage for good measure, and you have an uncompromising 'best sound for the dollar' value proposition. The Halo Integrated is a no-brainer for anyone stepping into the realm of high-end stereo and digital audio. Highly recommended. 
Parasound Halo Integrated Amplifier
Retail: $2495
Parasound Products, Inc.
Associated Equipment
Oppo BDP-105
Macbook Pro
Magnepan 3.7i speakers
Magnepan DWM bass panel (x2)
Furutech NanoFlux Power Cables, 1.8m, Retail $4395 each
Furutech NanoFlux Speaker Cables, 2.5M set with premium Carbon Fiber-finished spades or bananas: Retail $7600.00
Furutech GTX-DR NCF Receptacle, Retail $280