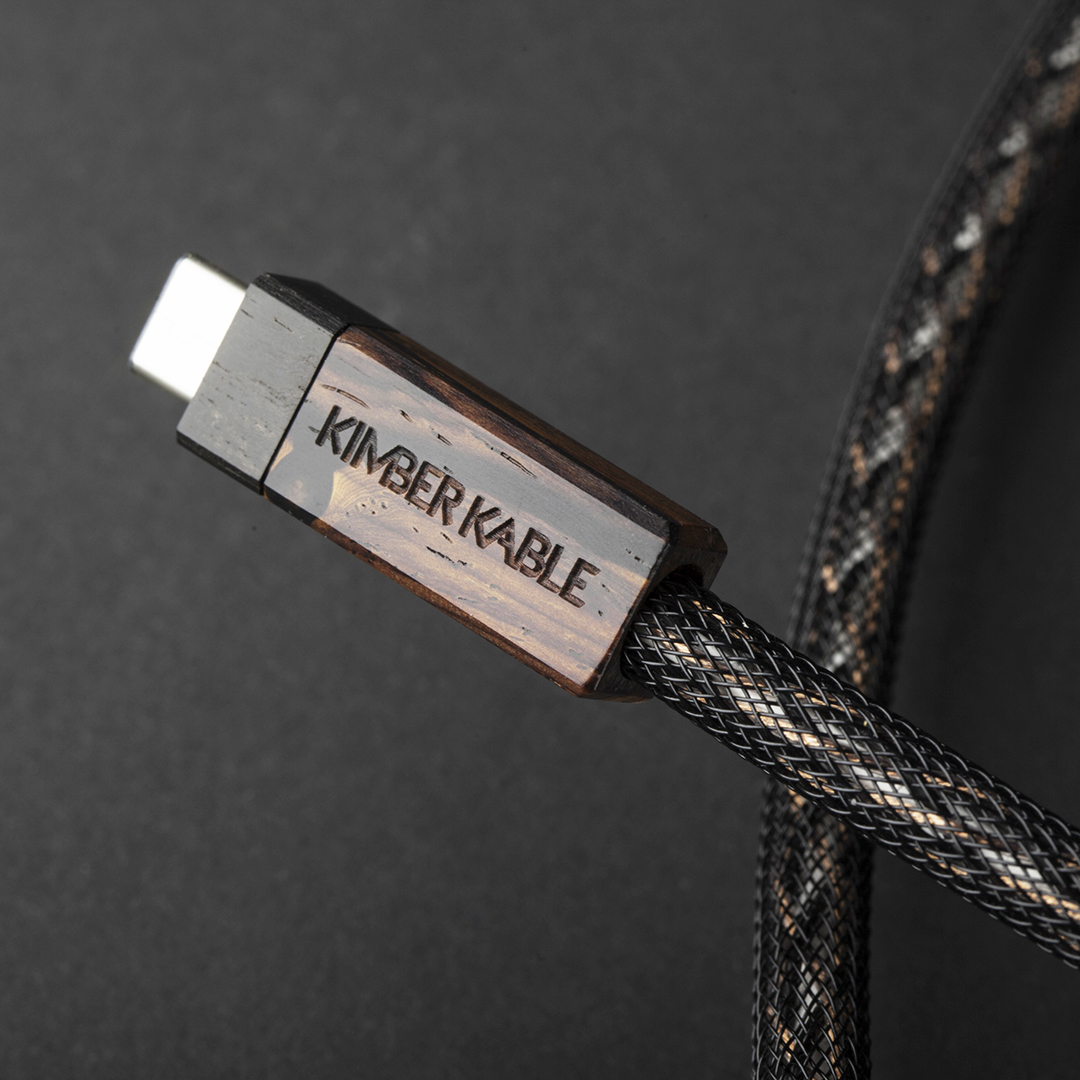 Hot off the assembly line in Ogden, Utah, comes Ray Kimber's very latest thinking in USB cable design. With five other models listed, starting at $50, this tour-de-force design is a semi-affordable $900 for a meter. This is quite a deal compared to the multi-thousand dollar models I have heard, and generally out performs those I have auditioned. Ray has made these Axios cables just as quiet, detailed, dimensional, image-stable, airy, and dynamic as the higher priced models, plus he has done one thing more the others do not do. The Kimber Kable Axios USB sounds ANALOG!
Right out of the box, the Axios USB was obviously different. It sounded like a $1000 phono cartridge, with all the texture and tone you would expect. Never heard that before in a USB! After 50 hours, I would up that to a $2000 – $3000 phono cartridge in analog tone. WOW!
System for Music Files
Toshiba Tecra with solid state drive running on batteries
24/192 files from master tapes provided by Owen Kwon at Astell&Kern for reviewing purposes
E.A.R. DAC 4 with Kubala-Sosna Elation AC Cable
E.A.R. 912 Preamp attached balanced to DAC 4 with UIT XLR Interconnects designed by Mitch Ko...more on these soon!
Description
The Axios USB is very flexible, but heavily shielded. All data links are independently shielded.
The shielding is circumferentially bonded to the connector shell via crimping and silver doped conductive epoxy. The shield has 95% coverage. The power line has 8 conductors. You can safely go all the way up to 6 meters in length! USB A, B, C, and micro are available. They are ALL built to order and take one week until delivery. The wood accents are gorgeous, and offer damping and stability.
Based on the complexity of construction, I get the price. Based on performance, they should be selling in the $2500 – 3000 meter range. I am glad Ray is so charitable. (He really is.)
Listening
I spent hours listening to the Blue Note library in hi-rez PCM, relishing the musicality of the master tapes. I had the same experience with the Maria Callas library produced in hi-rez as well. I compared the latest LPs from QRP of Blue Note albums to the digital files using the Grado Statement 2 and Kiseki Purple Heart cartridges, and was finally satisfied with digital. Occasionally, the files were so close to the LP I had a hard time deciding which was best. The LP had that extra layer of sonic warmth and mellifluousness—AND so did the Axios! 
Maria Callas had a focus, textural beauty, and image placement you would not expect from digital. The files through the Axios were extremely close to the LPs, with the Axios demonstrating a bit lower distortion and a touch more air. What's wrong with that? I am both astounded and excited. Someone actually listened to the cables as they were being designed. What a concept!
I could go on for a week with comparisons, mostly excellent news for the Axios, but you get the idea. These are the best USB cables I have heard to date, in all the ways that matter to me. Luckily for us they are made in Utah, not Eur-Asia. Plus, you'll have the ability to customize precisely your needs can be accomplished with ease. No settling with what is on the shelf.
I recommend about 50 hours run in before critical listening, although they will reveal a big slice of their analog beauty right out of the elegant box. A touch of Caig Gold in the ends was beneficial. I even demagnetized them...which made no difference at all...but was fun to do.
Conclusion
My hat is off to Kimber Kable who continues to treat audiophiles with honor and respect. My strongest recommendation goes to the Kimber Kable Axios USB, which becomes my USB reference.
Better order yours before the price goes up!
Kimber Kable Axios USB
Retail:  MSRP $900 for one meter length
Kimber Kable
2752 S. 1900 W
Ogden, UT  84401
801.621.5530
Nate Malan, nate@kimber.com