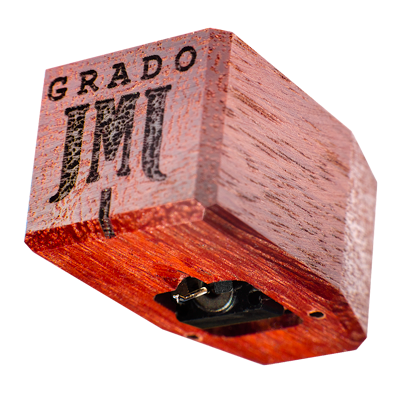 Out of production for two years, the Statement Series top of the range of Grado Cartridges is back and remarkably improved. Sporting a newly designed shape of all imported Jarrah wood from Australia, the lowest mass coils ever used, more precise construction, and double the output, we have a stunning contender for ideal reference cartridge. 
The new Statement is a dream to use. Built with all right angles and a long elegant cantilever, tweaking azimuth is easy. I found best performance was a tiny bit lower in the back from level and a tracking force of 1.8 grams. I dialed in about one gram of anti-skate. By the way, the Statement uses a unique diamond shape produced only for the Series 2.
Statement Series 2 Specifications
Output: 1mV @ 5 CMV
Controlled Frequency Response: 8-70 kHz
Channel Separation: Average 45 dB – 10-30 kHz
Load: 47,000 ohms
Inductance: 30 mH
Resistance: 72 ohms
Non-Sensitive to Capacitive Load
Chassis Mass: 10 grams
Tracking Force: 1.5 – 1.9 grams
My analog system consisted of the E.A.R. Disc Master Turntable, two Helius Omega Tonearms, a single-ended Kubala-Sosna Elation interconnect from tonearm to phono stage, E.A.R. 88PB Tube Phono Stage, and balanced Kubala-Sosna Elation interconnect from phono stage to E.A.R. 912 Professional Tube Preamplifier. I experimented with all MM circuit, with and without MC transformer assist, and found I did not have quite enough gain for MM. With 1mv of output, you will achieve big dynamics, ultra-low noise, and plenty of flexibility finding that sweet spot on the volume control with MC transformer boost engaged.
After 50 hours of playing time, the Statement came to life and I began serious listening. Moving iron cartridges sound pretty much like moving magnet designs in my experience, until now. I guess a company that has been innovating since 1953 is bound to develop a break-through design now and then. The Statement Series 2 is one of them. 
If you are auditioning or plan to audition as much as a $10,000 cartridge for your ultimate phono system, audition the Grado Statement Series 2 for a welcome surprise. I have never experienced anything like it in 55 years of playing LPs! Spend the extra money on expensive re-issues.
The Statement 2 does many things well, and some things no other cartridge I know of can do. I will try to explain.
Neutrality: Every LP I played was more authentic and unique with the Statement than my previous cartridge experiences. I had blamed my various phono stages for romantic or sweetened definition. I was wrong. It was my cartridges. 
Definition: Produces top notch textural nuance as superb as any moving coil. Best violins, vocals, and piano I have experienced. In-the-room sound.
Reality: Yields a sense of "you are there" definition I have never heard before. Alive.
Clarity:  The Statement has the lowest distortion and least smear from phase distortion of any cartridge I know of.
Dynamics: Almost as dynamic as the London Decca cartridges. Equals the best of the best MC's.
Width/Depth/Height: Absolutely excellent. Produces trendsetting definition in all dimensions. 
Highs: Clear, open, and extended. Lowest distortion. 
Mids: More real, alive, and dynamic than I have ever heard before.
Bass: Deep, tight, fast, and huge. Matches all other ranges without bloat. Extraordinary definition.
Tracking: Perfect.
Price: At $3500, a tremendous bargain.
LP Analysis
Alexander Nevsky, Reiner, Chicago Symphony, RCA LSC-2395, reissued by QRP. Prokofieff's film score masterpiece reissued here for the first time. I tried this LP on all three of my reference carts, and only the Statement made it sound like "war." The others made Nevsky sound like a tone poem or opera. The big battle passages were grand, but gently smeared with my references. I only know this from playing the Statement 2 last. The chorus was better defined and more delineated and realistic. This disk was shockingly superior with the Statement 2! No joke.
Scheherazade, Reiner, Chicago Symphony, RCA LSC-2446, reissued by QRP. With a remarkable infusion of elegance, smoothness, and romanticism, the Statement 2 brought out all the goodness of my references only more so. Bass was notably deeper and more detailed. Instruments were clearer and snappier. I heard more nuances and textures with the Statement 2 that brought me closer to a live event. Remarkable!
Just the Two of Us, Cyrille Aimee, Diego Figueiredo, Venus Records, VHJD-97. Aimee's vocals popped into my system with a truthfulness and snap I had never heard before. The Statement 2 eliminates a whole layer of haze and vocals benefit big time. The guitar was relaxed, realistic, and in the room alive. What a superb reference disk from Venus. The Statement 2 is the cart to bring it to life.
The Legendary Joe McQueen Quartet, Recorded at Man vs. Music Studios in 2014, Ray Kimber Executive Producer. Now this is a reference disk for all audiophiles and LP lovers. The instruments are alive and delineated to perfection. No distortion or phase problems here. It is tape like to the max particularly with the Statement 2. McQueen sounds young again and the organ and guitar are superb. I will try not to wear it out as I play it often. The Statement 2 gave me the thrill of reality with this LP, one I rarely hear in any convincing manner even with the mega-buck carts. You hear the blood in the instruments. What a thrill!
Bennett/Brubeck, The White House Sessions, Live 1962, Impex, IMP-624. This two LP set is great fun and great music, too. Recorded in open air, it was nowhere near as dry as I thought it might be. Closely mic'ed and recorded with tube gear, you still get plenty of the palpable reality of vocals and instruments in your room. The Statement 2 was just right in the way this LP came to life. You can actually hear the night air behind the instruments. I enjoyed both disks, but the side where Bennett is accompanied by Brubeck is tops! Well done Impex!
Beethoven, Symphony 5, Weiner Philharmonic, Carlos Kleiber, DG 479-3188, DG Reissue. DG is in the reissue game big time, and I have all of them. These are very good LP's, and I love the way they sound with the Statement 2. Yes, the orchestra is a bit distant as ever, but I hear more going on with the Grado. I can feel the intuitive conducting by the famous Kleiber and the sweet strings of the Wiener.  The Statement 2 breathes new life into these renowned classics and enhances their enjoyment.
Rachmaninov, Symphony 1, Andre Previn, LSO, EMI ASD 3137. An original EMI, this early symphony by Rachmaninov is rarely recorded. It is a snooze, except for the final movement which is thrilling and almost Brahms-like. Yes, it is a bit bright, as EMI tends to be, but the power of the orchestra and the wall-to-wall sound is outstanding, particularly with the Statement 2. Only the Statement 2, in my experience, gets this right. I was overwhelmed by the mellifluous strings and the power of the bass. As familiar as I am with this LP, I was blown away by the Statement 2.  Grado has made the most musically perfect, versatile, and top tracking transducer yet known to me.
Summary
The brand new revised and perfected Grado Statement Series 2 cartridge dramatically redefines the cost-versus-value/performance ratio for a phono cartridge. At half to a third of the price of an Anna, Goldfinger, Etna, XV1-T, or a host of other top MC models, the new Statement 2 offers performance equaling or eclipsing most of their virtues. The Statement 2 offers a sense of clarity and realism that is ground-breaking. I have already stepped way out on the analog limb here, so I will leave some oxygen for others to comment – and they surely will.
Meanwhile, the new Grado Statement Series 2 will become my top phono reference in my main reference system. John Grado should be proud of the birth of a legend.
Retail: $3500
Grado Labs
4614 7th Avenue
Brooklyn, NY  11220 USA
718.435.5340
Contact:  John Chen