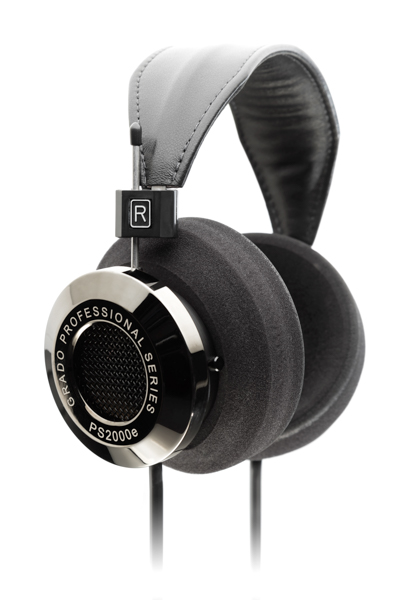 It is high time an American company—with manufacturing in Brooklyn, New York since 1953—should develop and build a state of the art challenger for the best open air headphones in the world. The PS1000e headphones were universally well regarded and became my reference for dynamic cans. These are still about as neutral as any pro music producer would want for mastering music, but not everyone's cup of tea if you want a richer, highly textured, cinerama-like experience. Close call to glory for the PS1000e, but not close enough for second generation inventor John Grado. 
I have spoken to John and he impresses me as a true gentleman, a warm friendly fellow who does not flaunt his brilliant intellect. Everything he has created, carefully builds on each achievement, each break-through, each discovery, and improved performance. The PS2000e exist as a result of the discovery of maple as a superb wood for headphones and used to good effect in two other models.
In the PS2000e, maple is sandwiched with an original secret alloy that carefully dampens the lively, carefully dried and cured wood. A new and more powerful driver is included and mounted with extreme care using specially selected materials chosen by ear. All wires are internally soldered, single crystal copper, so you must choose in advance your termination: phone plug or four pin balanced connector. 
The fine leather head band is wider than any other model for max comfort and balance. Foam ear pads surround your ears for long term use with low fatigue. Impedance is still 32 ohms and the cans are efficient at 99.8dBs at 1 mW. Frequency response is very flat from 5Hz to 50kHz and the drivers are matched to minute tolerances.
The undisclosed metal used is extremely beautiful with a smoky silvery finish, does not ring when tapped, and totally obscures the maple wood sandwiched inside. Fit and finish is solid and Cartier-like elegant. It is obvious why these cans are lower in distortion than any previous Grado. 
The reference system used to evaluate their performance included the E.A.R. Tube HP4 Head Amp designed by Tim de Paravicini, the Grado RA-1AC Head Amp, the Astell&Kern 240 DAP, the E.A.R Tube Acute 3 CD/DAC Player, E.A.R. 324 phono stage running directly to head amps, McIntosh MR-71 Modified FM Tuner, and Scott 350 FM Tuner. Cables included Kubala-Sosna Emotion interconnects and AC cables plus Kimber Select 1036 interconnects. 
Reference headphones for comparison included Audeze LCD-X plus Kimber Axios Cables, Stax Lambda electrostats with 006 OTL amplifier, Sennheiser HD800 headphones, Grado PS1000e headphones, Grado GS2000e headphones, Mr Speakers Ether Leaf headphones, and AKG 1000 headphones connected to E.A.R. 534 amplifier. 
My Impressions of PS2000e
The PS2000e headphones step up the game established by the 1000e, but retain the PS1000e tightly focused imaging, professional level neutrality, spot on tonality, and low distortion at all volume levels. The 2000e diverge from there with significantly brighter tonal colors, a bigger sound-stage, a truly life-like realistic presentation, a faster snappier sound, and an overall openness that is not a result of DSP or the like, but careful use of materials and more powerful driver. This is an accomplishment that does not come cheap...$2695 to be exact, Grado's most expensive headphone offering.
I think that if these were made in the EU or Japan, we would be talking $4000 or more. You do get significant savings producing in a facility you have owned for over 60 years and the President of the company is the chief designer.
Though 32 ohms, I found they performed well in low and high impedance inputs. The best, of course, was in the low impedance outputs on the E.A.R. HP4 head amp. Here they reveal superb musical colors, tight lively imaging without any hint of vagueness, tonal nuance to die for, and outstanding realistic stage size. 
Audeze LCD-X
These are the favorite cans of many experts and audiophiles. The addition of the Kimber Axios cable is a winner! The Grado PS2000e, in comparison, do sound more linear top to bottom, with tighter imaging, than the X. The Audeze has a vagueness and golden glow around images not present in the Grado. The Grados are more see through and, frankly, more realistic and faithful to the source. They both have similar dynamics and drive and both are exciting to use. The Audeze is much heavier than the Grado and less comfortable. The Grados are more neutral overall.
Sennheiser HD800
These are comfortable reference headphones and a favorite of many audiophiles. Overall definition between the two cans is very close, but the Grados offer more nuance, textural details, and better image solidity than the 800s. The Sennheisers are more vague offering an even bigger soundstage, which the Grado does very well, in exchange for less specificity. Where the Grados offer tightly focused, highly detailed vocals, the 800s were perceptively smeared. Both are dynamic and fun, with the Grado offering a bit more control at the highest levels.
MrSpeaker Ether Flow
These are comfortable and musical cans. They are intensely colorful and offer lots of definition. The Grados are significantly flatter top to bottom, tonally neutral, and somewhat more detailed. The Flow did not plumb the musical frequency extremes produced by the Grado nor are they as open and big sounding. The Leaf is entertaining and fun to use, but not in the league of the new Grado. By the way, I may not have the latest version of the Flow which has won many awards. Similar overall comfort levels.
Stax Lambda electrostatics
I love the Stax as much as I love this hobby. More comfortable than anything except the AKG 1000, you will forget you have them on. Linear, dynamic, and detailed, the Stax are the coolest of the cool. Unfortunately, the Stax Lambdas are more fiction than fact. They lack weight, slam, linearity, and are not a good choice for producing a recording. Lots of fun, but where the Grado rounds and shapes the images, the Stax are mostly flat and two dimensional. Stax bass is good and dynamics are improved, but not in the Grados league. The Stax run out of gas way before the Grados. The new Grados are very similar to the Stax 009, which I have heard many times and which cost double the Grados.
Only one final thought. With the PS2000e Headphones a reality, what is in store for us in the world of ultimate Grado phono cartridges?
Conclusion
With the neutrality and accuracy of their best designs as a given, the break through design of the Grado Labs Flagship Headphone PS2000e signals Grado Labs entry to the Big Time! Grado is challenging all state of the art headphone designs with the PS2000e, whether you listen for production or fun. The PS2000e bridges both the pro and home markets and makes it look easy! I listened to the new Grados after about 25 hours of run-in, and I wrote in my notes: So what's wrong with these?
Congratulations to John Grado and Grado Labs for the Grado Labs Flagship Headphone PS2000e. They have my highest recommendation. 
Addendum
John Grado will receive the Los Angeles and Orange County Audio Society Founder's Award, Highest Award in Audio, on December 3, in Los Angeles. Please save the date.
PS2000e Headphones
Retail: $2695
Grado Labs
John Chen 
718.435.5340
http://www.gradolabs.com/headphones/professional-series/item/69-ps2000e