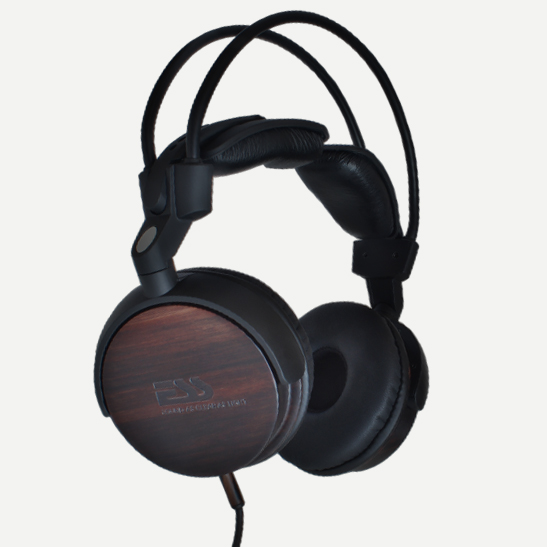 ESS RLM-713 Headphones, photograph courtesy of ESS
ESS is back big time with an array of top quality loudspeakers and—for the first time—headphones for the budding audiophile. The ESS RLM-713 headphones are very high quality cans with an ebony wood sealed sounding board and advanced circuitry. They sound musically superb and are surprisingly inexpensive, recently reduced to only $249 per pair! I have never heard a sonically better, more advanced pair of cans under $500 that approaches the finesse of the ESS. What an outstanding first effort!
All that ESS is today—it has been around for 40 years all in—is due to the high taste levels of its CEO, Ricky Caudillo. Now based in Southern California with speakers made in the USA, ESS is known for the Heil Air Motion Transformers and their advanced use in loudspeakers. They make a range of these. I owned an original pair of AMT-1's 40 years ago! The 713 headphones are a conventional driver used in an unconventional way with an AMT version on the way. 
Specifications
Speaker Size: 50mm
Frequency Response 20Hz-20kHz
Impedance 40 Ω
Sensitivity 113 +/- 3dB at 1kHz1mW
Cable Length 2 meters
Rated Input Power 30mW; Maximum input power 50mW
The sonic isolation is dramatic. I clapped my hands while wearing the 713's and heard pretty much nothing! Comfort is a 9 on a scale of 1-10; wear them for the entire session with no discomfort. They are light as a feather, balanced with unique supports, and covered with padded leather softer than a baby's rear. If they were circumaural, they would be perfection. My ears never got tired, even though they lay on the outer edges. 
I ran them for 50 hours before critical listening, and used my Scott 350 FM Tuner, E.A.R. Acute 3 CD Player, E.A.R. HP4 Headphone Amp, Grado RA-1-AC Headamp, and the Astell & Kern AK-240 portable player. I used the supplied cable which is small and light with very good connection and stability.
The Sound
I mightily enjoyed listening to the 713s! Using my Scott, on live from the Met, the sound was spacious, realistic, with exceptional imaging. Vocals were pinpoint perfect and surrounded with air. Soundstaging was near state-of-the-art, really! I have to use cans over $1000 to get this kind of right-to-left presentation, combined with real depth perspective. Plus, these are isolated cans to the max! I have not heard this kind of isolation in headphones, closed or not. Impressive engineering here I think.
Miles Davis' Kind of Blue CD Blue Spec Edition was very full and tape-like through the 713s. They are not the flattest cans on the market, but they are skillfully designed to enhance without detracting from the aliveness of the performance. Miles' trumpet had high definition and weight. Coltrane's horn was mighty and full. I loved the woody bell-like piano, which had focus and thrust. All this for $250... amazing.
Robert Silverman's Beethoven Piano Sonatas CD Set was fascinating, and defined what is possible technically to the connoisseur audio headphone designer with the desire to make this happen. The piano was distinctly in a large room, surrounded by air and ambiance, with full-range natural delicate timbres and tone. The bass was slightly heavy, but well defined. Caudillo has created a masterpiece for the personal listening fan and audiophile on a budget, unlike anything that has gone before.
I could not find a headamp that would not drive these well. As usual, my $6000 tube E.A.R. was best. I liked the low-Z input on that amp a bit better than the hi-Z input, so the 713 should do well with most everything. On my AK 240's, they were terrific!
Quibbles
Well yes, there were a few.
The cans are unmarked for left and right. The left is where the cable enters. Future models should indicate this, since many consumers would be confused. The connectors used are good enough, but for long term need to be better. The cable sounds best with the wood-covered end attached to the cans, and the black end going into the amp. This is not indicated either, though, and should be.
On the other hand, the cable is thin, but really special. ESS might consider producing interconnects made of this unusual OFC stuff. These are available with black backs instead of wood for no extra charge, but the wood is beautiful and is definitely my choice. 
Summary
The new ESS-RLM-713 Headphones are inexpensive, isolated, and musical to the max. What more can I say? I have never heard better closed cans, or more comfortable ones, anywhere near this price range. What a deal! If you were going to spend up to $200 for cans, spend a little more and find out why this hobby is so exciting.
My highest recommendation in this price range!
Retail: MSRP $349 (currently $249)
ESS, Ricky Caudillo, CEO  
1.888.377.8720