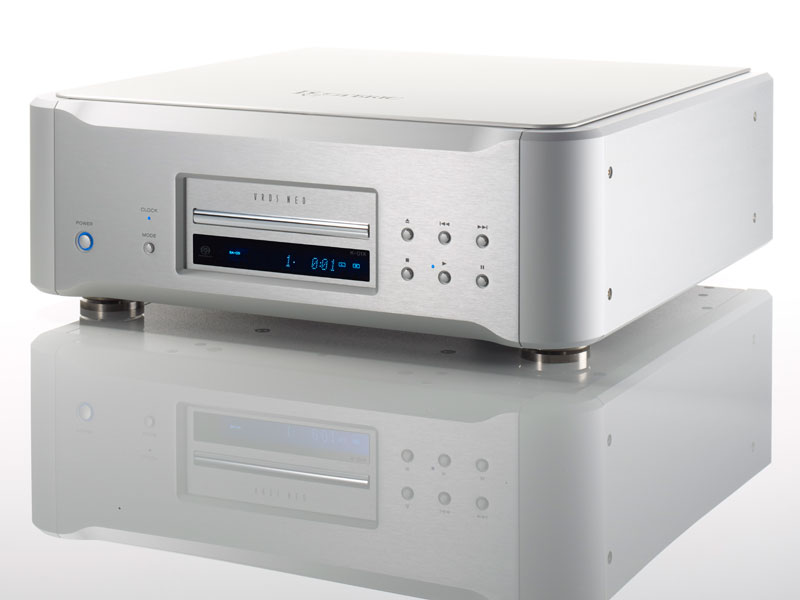 The Esoteric K-01X SACD/CD Player
It has been an interesting couple of years while ramping up on my knowledge and experience with computer audio and the latest from all things digital. For those marketing folks out there, the traditional definitions for innovators (2.5%), early adopters (13.5%), early majority (34%), late majority (34%), and laggards (16%) probably still applies in my case and maybe a few others. A quick search engine check will help you understand each specific definition but the labels are fairly clear.
My guess is that many of us are now in the "early majority" stage of computer audio as this technology rolls out. In addition to the ergonomics and convenience, we are intrigued by the possibility of sound performance beyond CD and SACD quality and maybe even approaching vinyl for the first time.
You would never label me an "innovator" or even an "early adopter". For computer audio, the thought of designing and building a custom standalone desktop or laptop music server with discrete audiophile quality hardware and software is well beyond my current level of expertise (and interest for that matter). On occasion, I did dabble with some music files on my Mac Pro while utilizing the DAC in my three-year-old Playback Designs MPS-5 SACD/CD player, still considered one of the best by many.
I was also tempted by a few DACs from Benchmark, Bryston, and Auralic that some of my audio buddies brought by. All were fantastic products at various different price points. Tremendous value. Great sound. Despite this, I still depended on my CDs and SACDs for most digital playback. I was waiting for an appropriate time and comfort level to take the next step.
To get this thing jump started, my goals and priorities needed to be clear. Beyond high resolution music files, I wanted to keep my collection and continue to listen to CDs and SACDs. Improved functionality and performance for networking and streaming were high on the list. It would also be nice to have something close to a turnkey solution and without too many additional boxes in the system.
About a year ago, the time seemed ripe for further investigation and even possible investment. First up were the digital hybrid Class A/D Devialet 400 and 800 integrated amplifiers. The Devialet lineup includes an integrated DAC that can be considered the basic engine that drives all of its primary functions. The Devialet was an absolute killer with an incredible feature set and wonderful sound.
Next was the Aurender N10 music server. I loaded it up with a nice quantity of DSD and PCM files and then experimented with it connected to both the Playback Designs MPS-5 and the Devialet integrated amplifiers. The Aurender hardware and software basically replaced my Mac Pro for networking, streaming, storage, and as a user interface (along with an iPad for remote functionality). The implementation process was very close to plug and play and the results were superb for each combination.
Which leads us to this review. I was definitely ready to investigate additional options for both DACs and transports.  The Esoteric K-01X SACD/CD player was an obvious candidate - highly recommended and revered by ears that I trust. Along with an elite music server like the Aurender N10, the K-01X can functionally provide everything that I mentioned earlier on my wish list. My expectations were high, but the K-01X delivered well beyond anything that I could have hoped for. Sit back and enjoy. The never ending debate between digital and analog has now become much more interesting.
Review System
Magico Q7 Loudspeakers
Sonus Faber Stradivari Loudspeakers
Pass Labs X350.8 Stereo Amplifier
Pass Labs XP-30 Preamplifier
Audio Research Reference 6 Preamplifier
Devialet 800 Integrated Amplifier
Esoteric F-05 Integrated Amplifier
REL G25 Subwoofers
Playback Designs MPS-5 SACD/CD Player
Esoteric K-01X SACD/CD Player
Oppo BDP-105D SACD/CD Player
Aurender N10 Music Server
Synergistic Research Element CTS Cable throughout
Rix Rax Hoodoo Component Rack
Magico QPod Footers
Caveat Emptor
System synergy and personal taste are critical when evaluating high-end audio products. This review is based on my subjective requirements, my subjective ears, my specific system, and my specific listening room. This combination is only one data point of many that exist out there for these components. Please consider my comments and analysis appropriately.
Design
"X is the unknown. "X" in a model name symbolizes the ultimate advancements of technology, craftsmanship and creative commitment". – Esoteric Audio
The Esoteric K-01X ($20,000) arrived triple boxed and fully strapped down with several steel bands to a large wood pallet. Two carrier attendants greeted me at the front door with feint smiles and several beads of sweat already circling down their red faces. In my experience, pallets are usually reserved for megaton monoblock amps and flagship size speakers. Yep, this baby is a beast at roughly 100lbs. shipped and 68lbs. unboxed. 
After the boxes and packaging were removed, you could not help but take notice and stand to attention. The simple lines and minimalist approach of the K-01X casework is quite majestic if not awe-inspiring. This projects a sense of strength and power which is very appropriate considering the performance that is yet to come. Physical dimensions are considerable at 17 1/4" x 6 3/8" x 13 ¼".  Make sure that your rack system is deep enough and with plenty of clearance.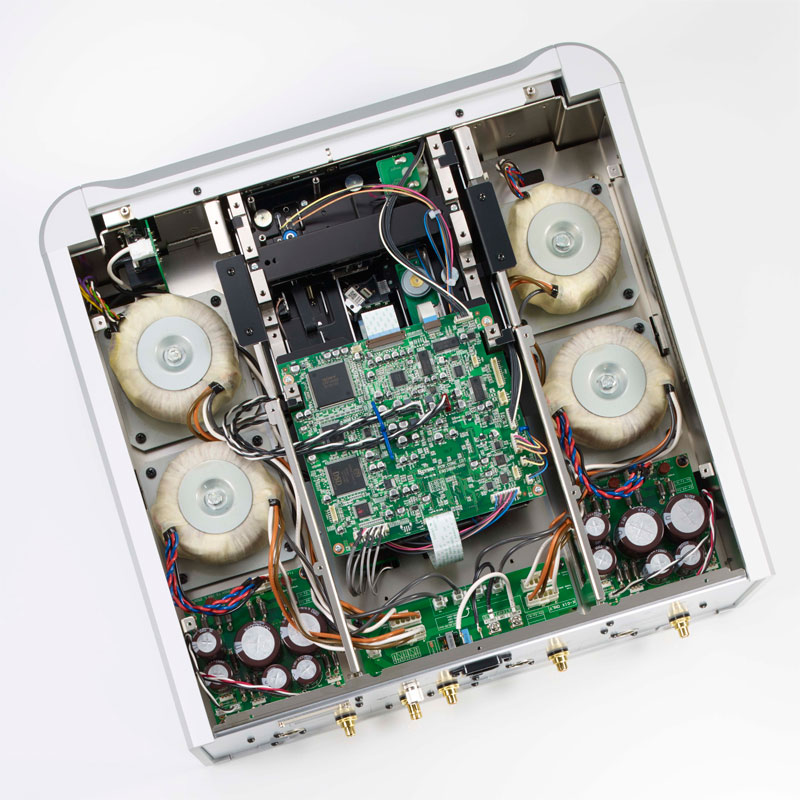 From a hardware and software perspective, there is no doubt that the K-01X is a technological tour de force. Based on the Esoteric Grandioso P1 transport ($35,000) and the mono-block Grandioso D1 DAC ($18,000 each), the K-01X proudly pounds its chest with superb engineering and mil spec like quality.
State of the art design choices include the well celebrated Esoteric VRDS NEO VMK 3.5-20S transport, the Asahi Kasei Microdevices Corporation 32-bit AK4495S DAC IC, and the MUSES 02 operational amplifier. Fully independent power transformers and power supply circuits are employed for each channel. The K-01X DAC also utilizes 8 parallel/differential circuits with 16 outputs driving each channel. All of this adds up to a true dual mono configuration that achieves outstanding linearity and minimal distortion.
The K-01X combines these multiple 32-bit DAC chipsets and utilizes a 35-bit D/A processing algorithm to convert the PCM signal to analog at a high resolution in excess of 32 bits. Esoteric claims that 35-bit processing achieves a resolution that is fully 2048 times that of 24-bit processing.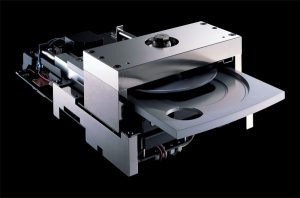 The VRDS-NEO VMK-3.5-20S transport deserves some additional discussion. It is considered one of the finest transports in the industry, and is one of the key reasons for the superb sound and performance discussed below. From the Esoteric website:
"The culmination of Esoteric's most advanced mechatronics know-how, the VRDS system radically improves the reading precision of Super Audio CD/CD discs by mechanically correcting for surface run-out. The K-01X's VRDS -NEO VMK-3.5-20S drive also features two sets of specially selected ball bearings supporting a duralumin turntable constructed to micron-level accuracy, and a 20mm-thick steel turntable bridge. The combined mechanical structure weighs an impressive 5.2kg (12kg including the rigid base)."
"The drive employs proven Esoteric technologies, including a high-flux-density magnet-driven coreless three-phase brushless spindle motor, a thread feed control derived from the thinking behind the P1, and a shaft-sliding pickup which consistently illuminates the disk with a precisely perpendicular beam of laser light."
"Additionally, the disc tray features a silent shutter mechanism that further ensures the ultimate in operating precision. This mechanism closes the shutter when the tray is retracted, then mechanically locks it into place in the front panel to ensure a more secure environment that minimizes the effects of extraneous noise and airborne contaminants, etc. on sound quality."
"At the heart of the VRDS-NEO drive is a spindle driven by Esoteric's proprietary VS-DD servo driver circuit. This uses a discrete three-channel amplifier to optimize the motor drive current, minimize vibration and provide ultra-smooth spindle operation and high-accuracy servo control. The K-01X is also equipped with a proprietary toroidal power supply that greatly enhances noise isolation."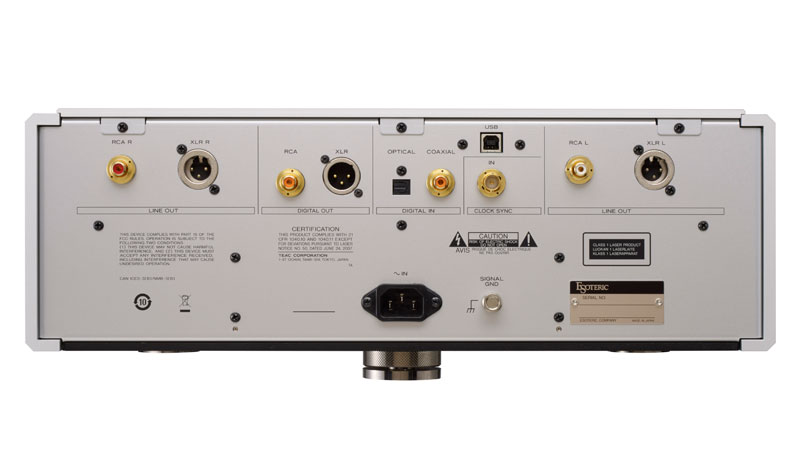 The K-01X also provides a nice variety of inputs and outputs. Coaxial and optical inputs support DSD via the DoP format and high-resolution PCM of up to 192kHz/24-bit. The USB input supports asynchronous transmission and rates up to 2.8/5.6 MHz DSD and 384kHz/32-bit PCM. The USB input also supports DoP and ASIO 2.1. Digital outputs include one XLR (AES/EBU) and one RCA (S/PDIF). Analog outputs include one pair of XLR and one pair of RCA.
In addition to playback at the original sampling frequency, PCM can be up-converted to 2X, 4X, and 8X the original sampling rate. Four types of digital filters can be selected for PCM signal processing including FIR1, FIR2, SDLY1, and SDLY2. PCM to DSD conversion is also an option.
Please see the Esoteric website for additional insight on all the inputs, outputs and digital filters. The choices seem endless, but once you spend the needed time to audition a few combinations, you will be greatly rewarded and satisfied by the results. As logic dictates, your specific system and specific listening room may require different preferences. Nice to have options!
Sound
Let's just cut to the chase. The K-01X is the finest digital front end that I have auditioned in my listening room. It has me staying up late at night listening to CDs, SACDs and various high resolution files that I have not listened to in years. I have now been reintroduced to most of my digital library. It has been quite a revelation.
This is the first Esoteric component that I have been able to fully evaluate, so I am not exactly sure why Esoteric has a rep for having an analytical if not left brain type presentation. Maybe this is just a new generation of product with a new design philosophy, but the K-01X is extremely musical and easily finds it way to both my head and heart.
The K-01X produced something very close to the ideal for my listening taste. Meaty and rich with lifelike harmonics that will pleasantly surprise you. Dynamics, detail and speed like the real thing. There is a presence and palpability that is quite astonishing if not addictive.
Mids were well fleshed out with layers and layers of inner density. Bass was the best that I have heard from digital with plenty of slam and depth charge like weight and authority. Highs were sweet with a wonderful sense of dynamic flair and visceral excitement.
With the K-01X in charge, the sound stage and scope of the presentation just seemed to expand in all directions. Imaging was locked in and three dimensional. The ambiance and spatial cues from familiar tracks unexpectedly had the hairs on the back of my neck standing on end. This was a big big sound—closely approaching if not the equal to what analog can offer.  
Setup and Format Notes
Let me also offer some setup and format notes that some may find interesting. The break-in period was virtually non-existent. It might have taken a few days to really open up, but the K-01X sounded great right out of the box. I don't understand all of the comments on the Internet about weeks if not months of burn in.
Though close in performance, I preferred the USB input over the Coax and Optical inputs. The USB was just slightly more open and of course had much more flexibility to handle a variety of DSD and PCM files. Again, this was a tough call and could have been based on some other factor like the quality and brand of cable used for each. 
After experimenting, I eventually left all upsampling and digital filters set to off when using either the Magico Q7 or Sonus Faber Stradivari speakers. These two speakers obviously represent two different data points on the musical verses analytical curve, but again I preferred everything set to off for both. For my ears, this provided an ultimate level of transparency and a more realistic sense of weight and bloom.
However, I must admit that the 4X upsample setting along with the SDL2 filter was very satisfying and delivered a sound with slightly more texture and a warmer balance. As always, to each his own and maybe your ears and system will require something different. 
If we look at the different disc and file sources, the K-01X set new benchmarks for all in my system. CDs and SACDs had a more lifelike purity and excitement than I could ever remember, even when compared to some of the same music on LP pressings. DSD and PCM files were at their best regardless of sampling rate and word length. I have read various reviews for other components that stated a preference for CDs vs. SACDs or DSD vs. PCM (or visa versa), but the K-01x delivered the goods for all of these formats.
High resolution DSD128 and PCM 192/24 files finally realized their full potential and thankfully justified all the time and energy that I have invested with computer audio.  With these formats via the Aurender N10 and the Esoteric K-01X working in tandem, my vinyl collection may have finally met its match. BTW, I did not enjoy the PCM to DSD feature. I can't put my finger on exactly why, but the results did not sound as natural and effortless as the original PCM format.
Music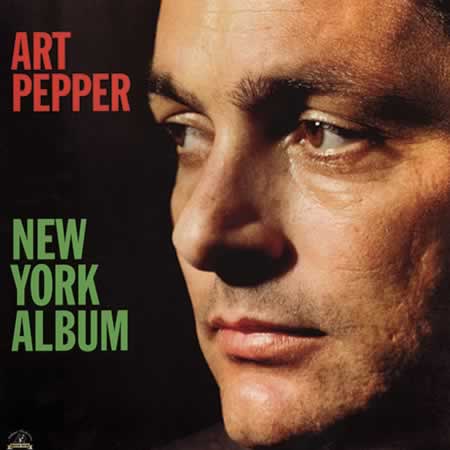 Art Pepper, New York Album (DSD128)
Recorded in 1979 and not released on the Galaxy label until 1985, Art Pepper is at his bebop best on this recording. The album is now available on the Analogue Productions label and for download on Acoustic Sounds. With an all star band including Hank Jones on piano, Ron Carter on bass, and Al Foster on drums, this recording was considered a true testament to his last comeback after years and years of dysfunction and a never ending battle with alcoholism and drug use. Pepper seems extremely inspired by this group and the results showcase the true skills and creativity that his fans yearned for late in his career. 
My favorite cut on the album is track 4 "Duo Blues". The K-01X really hammers home how wonderful double DSD can be. The recording venue expands beyond the speakers and then even beyond the walls in your listening room. Not only do you feel his emotion and frustration, you can almost reach out and touch as he swings from side to side and circles the microphone during the take. Art Pepper virtually stands before you and that reedy woody sound of his alto saxophone comes shining through like never before. If you love small venues and intimate jazz recordings, it doesn't get any better than this.
Greg Brown, The Poet Game (CD)
The Poet Game was released in 1994 on the Red House Records label. I love the CD, but I always preferred the original vinyl release as it had a much more organic and full bodied sound. Until now. The K-01X strikes again and turns this CD into something very special. You will be hard pressed to hear Greg Brown's well worn gravely voice sound better on any other format. Every instrument will pop out and grab you by the throat with endless amounts of detail and speed—yet you still get the proper weight and timbre of the real thing (something digital does not always get right).
"Jesus and Elvis" is the track that my wife always calls out for and it's easy to understand why. It has some goofy lyrics that will make you smile no matter how many times you hear the song, but more importantly, the sound of Greg Brown and Bo Ramsey on alternating acoustic guitars will easily raise the goose bumps. Without much effort, you can tell who is who and that these guitars are strung with different materials and possibly even a different gauge and tension. There is no edge or bite that will smear and homogenize the sound like most strings on digital recordings. The sense of ease and bloom will draw you into the drama and have you asking for more—just like good vinyl.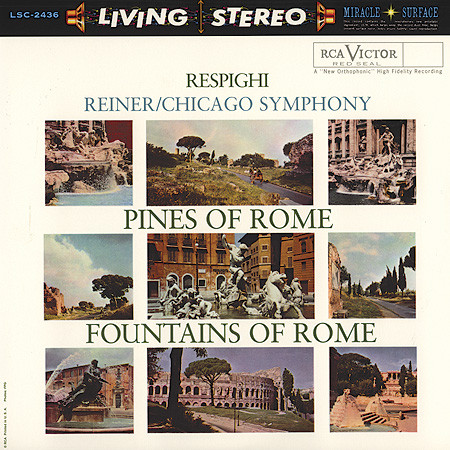 Respighi, Pines of Rome and Fountains of Rome - Chicago Symphony Orchestra - Fritz Reiner, Conductor (SACD)
This recording just might be my favorite of the entire RCA Living Stereo "Golden Age" catalog. Originally recorded in 1960 at Orchestral Hall in Chicago and released later that year, this SACD from Analogue Productions is not just another reissue. When played through the Esoteric K-01X, we have a performance and presentation that ranks right up there with the very best.
The Chicago Symphony Orchestra at that time was renowned for its brass section and for its almost overwhelming sense of power and grace. One of the many highlights on this recording is "Movement IV, Pines of the Appian Way". You first get the slow build up and momentum of the woodwinds and strings that will lull you into a state of calm, yet you know the locomotive will soon be approaching. With a sudden rush of dynamic verve, the brass section jumps on board and then is steadily followed by percussion and finally the entire orchestra. Waves and waves of sound will step by step build and overwhelm your listening room. The K-01X has the ability to separate and distinguish each section of the orchestra as the sound soars around you. There is no compression or confusion, just clarity, balance and power. Thrilling stuff!
Final Thoughts
Can digital get any better than this?  I don't know, but I will soon find out. I have several noble contenders coming to roost over the winter. The good news is that the technology is now gaining momentum and the results should be very competitive. As the pilgrimage continues, I will keep you posted.
The Esoteric K-01X SACD/CD/DAC Player is currently my favorite digital front end by a long shot (when utilized with the very best servers for music files). I have talked about the engineering, build quality and feature set—all absolutely magnificent. From a sound perspective, I must reiterate that not only does it check all the audiophile boxes, it also provides that "emotional connection" that is so hard to define and put your arms around. Highly recommended. An absolute must audition!
Esoteric K-01X SACD/CD Player
Retail: $20,000
INTEGRA
(Distributor for Americas)
18 Park Way
Upper Saddle River, NJ 07458
(201) 818-9200