My recent review of the Devialet 400 Integrated Amplifier was quite an eye opener for me and apparently many of our readers. Please see the review HERE. Many folks agreed with my findings and others provided some very interesting (but respectful) feedback. You gotta love this hobby! The entire exercise reminded me again and again that its all about emotion and how we each personally connect with our music. As we all know, it's a very subjective thing.
It may sound overly dramatic, but the evaluation process and experience with the Devialet 400 had me reevaluating both my listening priorities and my system. It also had me wondering about the Devialet 800 Integrated Amplifier which until two months ago was their flagship product. If the 400 was this good, what could the 800 deliver?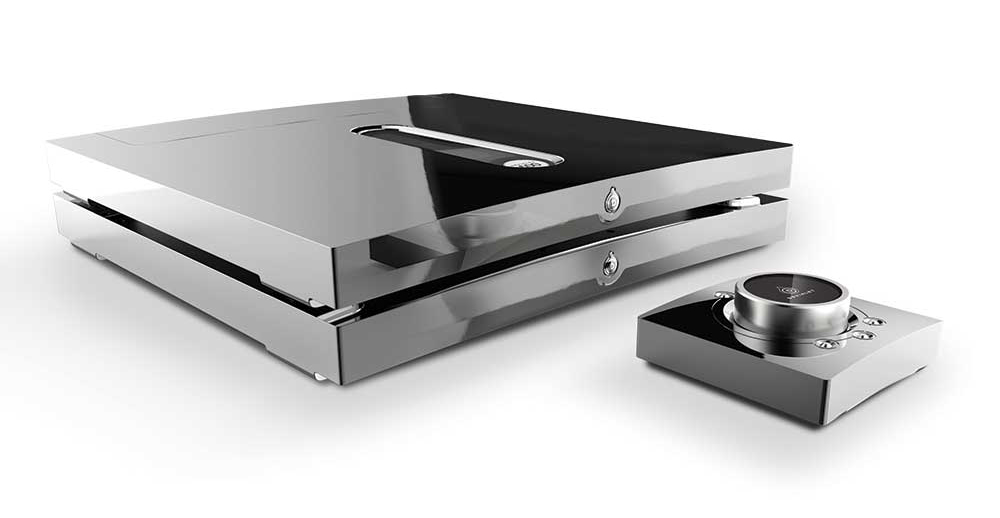 I searched the Internet for information on the 800 and other than the Devialet website pictures and specifications, I found very little. Yes, the Devialet Chat forum has some interesting insight, but there were no formal reviews to be found published in the USA or Europe (at least that I could find). I did hunt down one review from Japan but my translation tools did not make it much easier to understand.
So, I made it my mission to make this review happen. It took several months but I was able to obtain a review sample and the rest is history as they say. The Devialet 800 was well worth the effort!
I also had the opportunity to review a new product from Synergistic Research that should interest current and future Devialet owners. Please see my report below on the new Synergistic Research Atmosphere (Devialet Spec) AC Power Cords. Just another innovative product from Synergistic Research designed and configured to meet the unique needs of the entire Devialet lineup.
Lastly, Devialet has introduced a new flagship Integrated Amplifier called the Devialet L'Original d'Atelier which has been unofficially proclaimed the Devialet 900. I will give a brief description and explain the upgrades that make it uniquely different from the Devialet 800.
Review System
Magico Q7 Speakers
REL Gibraltar G-2 Subwoofers
Playback Designs MPS-5 CD/SACD/DAC
Aurender N-10 Music Server
Synergistic Research Element CTS Power Cords, Interconnects and Speaker Cables
Synergistic Research Atmosphere Power Cords (Devialet Configuration)
Synergistic Research Element CTS AES/EBU Digital Cable
Synergistic Research Powercell 10 UEF and FEQ - PowerCell Equalizer
MIT SL-Matrix50 Interconnects and SL-Matrix90 Speaker Cables
Rix Rax Hoodoo Component Rack
Magico QPod Footers
Caveat Emptor
System synergy and personal taste are critical when evaluating high-end audio products. This review is based on my subjective requirements, my subjective ears, my specific system and my specific listening room. This combination is only one data point of many that exist out there for these components. Please consider my comments and analysis appropriately.
Design
The following paragraphs about design, configuration tools and the SAM feature is basically a repeat of the descriptions in the 400 review with a few comments about the specifications that differ with the 800. I thought it was important to again include them in this review.
Devialet now offers six models including the new flagship Devialet L'Original d'Atelier (Devialet 900). Please see below. Each model number reflects the power output for a 6-ohm load. The Devialet 400, 800 and 900 are two chassis or two module configurations. You can evolve from a 200 to a 400 by retrofitting with an additional 200 module and software. You can evolve from a 250 to a 800 by retrofitting with an additional 250 module and software. Please note that the Devialet 250 and 800 uniquely include an upgraded machined aluminum case and a proprietary internal "blue gap" material. Both provide for better thermal and heat dissipation performance. Please see my comments later in the review for an overview of the Devialet L'Original d'Atelier.
Devialet 120 ($6495)
Devialet 200 ($9495)
Devialet 250 ($17,495)
Devialet 400 ($17,495)
Devialet 800 ($29,995)
Devialet L'Original d'Atelier ($36,900)
For all their models, Devialet utilizes their patented ADH (Analog Digital Hybrid) amplification core which includes a circuit design implementing both Class A and Class D in parallel. Devialet claims that the musicality of the Class A (voltage control) and efficiency of the class D (current output) takes the best of both circuit topologies. For the 800, the Total Harmonic Distortion (THD) rating at .001% and a signal to noise ratio of 130dB are also key contributors to the overall sound. These specifications for distortion and noise are simply outstanding!
The Devialet 800 does offer an integrated phonostage and a set of analog inputs for those with turntable needs. You get plenty of flexibility to manage your cartridge settings. Moving magnet and moving coil cartridges are both supported. You have stereo and mono settings along with a wide range of resistive and capacitive loading alternatives. To my knowledge, this level of adaptability and sophistication is unique for Integrated Amplifiers.
All inputs are processed in the digital domain. Analog inputs are converted to digital via the internal DAC (Burr-Brown PCM1792). You can select a sample rate of 96 or 192kHz. Digital inputs are acceptable up to 24-bit/192kHz and are up sampled to 384kHz. A switch-mode type power supply is also utilized to save space and weight.
The two modules are linked by a digital interconnect provided by Devialet and manufactured by Crystal Cable. When linked together and configured via a settings option, the two modules work in a Master/Companion type configuration.
Network access is possible through an Ethernet connection or via the use of the AIR application which needs to be installed on your PC or MAC. Additional inputs include Asynchronous USB, Toslink, mini-Toslink, and AES/EBU. It is also possible to turn a coaxial input into an output or use the USB port as an output. This might come in handy when trying to digitize vinyl. Again, analog inputs include one pair for singled ended line level and one pair for single ended phono. Balanced inputs are not provided.
Overall dimensions are 400mm (W) x 400mm (D) x 40.5 mm (H) or approximately 15.75 inches x 15.75 inches x 1.6 inches per module. Weight is 5.65 Kg or approximately 12.5 pounds per module.
Configurator
Thankfully, the Devialet configurator is very user friendly. For me, this was an unusual setup procedure for an amplifier but I just jumped right in and it was no problem. Remember, this is something like setting up a couple of very simple laptops, so keep that in mind and all will go well. Devialet Technical Support is also just a phone call away and they are there to serve. They always provided me with excellent advice and direction.
This is a two module configuration so I followed the process twice for two SD cards (provided by Devialet)—one for each module. I established a user name and password on the Devialet website. I then logged in and worked my way through the menu. The template guided me through all of my settings with a logical progression and excellent definitions for each option. When completed, I saved the configuration to each SD card and placed each into it corresponding Master and Companion module. I then hit the power button. Voila! Success from the get go.
You can experiment and save different configurations and settings. This is very helpful as your system evolves or if you are experimenting with new equipment. I was told that disabling unused inputs and outputs would provide better sound. I could not hear any difference. Even so, I turned off everything that was not being used.
SAM
SAM is an acronym for Speaker Active Matching. This software is specific to each speaker brand and model and is designed to address time delays and frequency response errors for frequencies under 200 Hz. SAM-V2 is now also available. Devialet states that SAM-V2 is able to support the most complex speaker designs, even those with passive radiators. Enhancements have also been made for better driver protection and sound quality when listening at high and low volume settings.
Devialet has an engineering group and several proprietary tools that examine the output characteristics and measurements of each speaker. From this analysis, the SAM software is developed and made available on the Devialet website for downloading to your SD cards via the configuration tool. 
Currently, the SAM database contains several hundred speakers and is growing quickly. This list is also available on the Devialet website. There is a process in place for Devialet owners to vote and request that their speakers be considered for SAM software development. Very democratic.
I have read on the Internet some interesting subjective opinions about SAM. Apparently, depending on the speaker, SAM can make a significant impact or very little. Some claim that bass performance is greatly improved with additional control and impact. You need to hear SAM for yourself. Just my opinion, but I greatly appreciate the flexibility that SAM can provide. Options can sometimes deliver superior solutions.
You can determine your own preference quite easily. By using a button on the Devialet remote, you can toggle back and forth between using SAM and not using SAM. Unfortunately, at this time, SAM is not available for my Magico Q7 speakers so I cannot give you my personal opinion on this feature in my system. It is available for the new Magico Q7 MII speakers. I did place a vote and request on the Devialet website. I will keep you posted.
Sound
The Devialet 400 is an amazing product. The Devialet 800 steps the game up to another level. Still the same smooth controlled performance at all frequencies, yet the 800 provides an additional sense of ease and refinement that is immediately apparent even to the casual listener. The overall sound is slightly sweeter and just a tad more organic and rounded yet still offers the same extreme amounts of speed and detail.
Bass performance on the 400 was exceptional, yet the 800 is possibly a notch better. I can now hear even further into this frequency range without any sense of strain or overload—even on the toughest tracks. I would have never used the word "strain" when auditioning the 400 and describing bass output, yet this sense of ease with the 800 is again an appropriate description. Even beyond the standards set by the 400, the control, power and endless layers of musical information in the lower frequencies is simply astonishing. This is absolutely the best bass performance that I have heard from the Magico Q7 speakers.
Highs and mids are silky smooth with plenty of jump factor. When listening to familiar recordings, you are typically surrounded by a tranquil sense of calm until a sudden transient hits the fan and you are quickly startled by new information that maybe seemed obscure in the past. There is plenty of depth and weight to these frequencies but never any bite or edge to emphasize something that should not be emphasized. You are serenely drawn into the music. For digital sources, you are rarely if ever fatigued which is simply a nice breath of fresh air these days for anything digital.
Soundstage seems to have locked in and expanded even further into the far corners of the recording venue. As with the 400, imaging is not as cutting edge sharp as other state of the art contenders, but the 800 imparts an impressive three-dimensional presentation that some may find more natural and inviting. Proper image size and placement is consistent with what is on the recording. Nothing artificial. Nothing pumped up to impress you.
Having stated all of the above, is it the 800 watts and superior headroom providing the difference or is it something else? Could it be the additional resonance and thermal control afforded by the upgraded machined aluminum case? Or, could it be the model specific application of the proprietary internal "blue gum" material? Check the Internet and be amazed by all the speculation. The results are clear but the reason is locked safely away in Paris. Bottom line though, you can hear the difference.
I want to step back and be clear about the 400. It is still a true "bargain" even at $17,900. In retrospect, the 400 is decidedly the best value in the Devialet lineup. Yet, the 800 is even more special. Is that difference worth the $29,995 price? Only your own ears and bank account can determine that.

One more comment beyond the standard audiophile check marks. Despite the high grades, none of these variables mean much unless the musical experience can take you to another level of emotion and satisfaction. Though I still feel that the Devialet sound is "different" than your typical tube and solid state amplifiers (see my 400 review), and may not be for everyone, I can unequivocally state that it is still extremely rewarding and quite moving. Over time, I can only say that both my wife and I have slowly but surely fallen in love with Devialet 800. It passes the goose bump test with ease. It's gonna be hard to give up!
Additional Comparisons
When compared to other components that have visited my listening room, the Devialet 800 provides an interesting contrast. When driving the Magico Q7 speakers, there are only two other bench marks that are worth considering and both are strong contenders for state of the art regardless of the system. The MSRPs are decidedly different, so this is not a fair apples to apples comparison, but I feel my findings can still be educational about differences in design philosophy and voicing.
The Pass Labs Xs Preamplifier ($38,000) and Xs300 Monoblock Amplifiers ($85,000) are the only components that I have heard driving the Q7 speakers that can compete with the Devialet 800 in terms of bass quantity and quality. Extreme amounts of slam and power are delivered by both. Beyond that, there is a significant difference in terms of harmonics and weight.
Simply stated, the Pass Labs components have a much richer and denser palate of color and texture from top to bottom while still providing similar levels of detail and speed. Mids are to die for. Pass Labs is still the champion for me when it comes to female vocals and wood wind instruments. IMHO, the Xs components venture well beyond anything else ever designed by Nelson Pass. Which is more accurate or appealing? That's a tough call depending on your personal preferences. Both are magical.
The D'Agostino Momentum Integrated Amplifier ($45,000) is another excellent match for the Magico Q7 Speakers. It comes very close, but it does not quite provide the bass performance of either the 800 or Xs components, though it is still outstanding by any other measure. From a harmonic perspective, it falls somewhere between the 800 and Xs with a slightly lighter touch than the Xs. Another smoothie with a nice compromise of musical appeal and plenty of micro and macro dynamics.
The Momentum Integrated does stand out in one specific way. It affords the most consistent and integrated sound across all frequencies. There are no interrupts or pronouncements in the output—just a very linear and fluid response that will have you thinking about the music and not the equipment.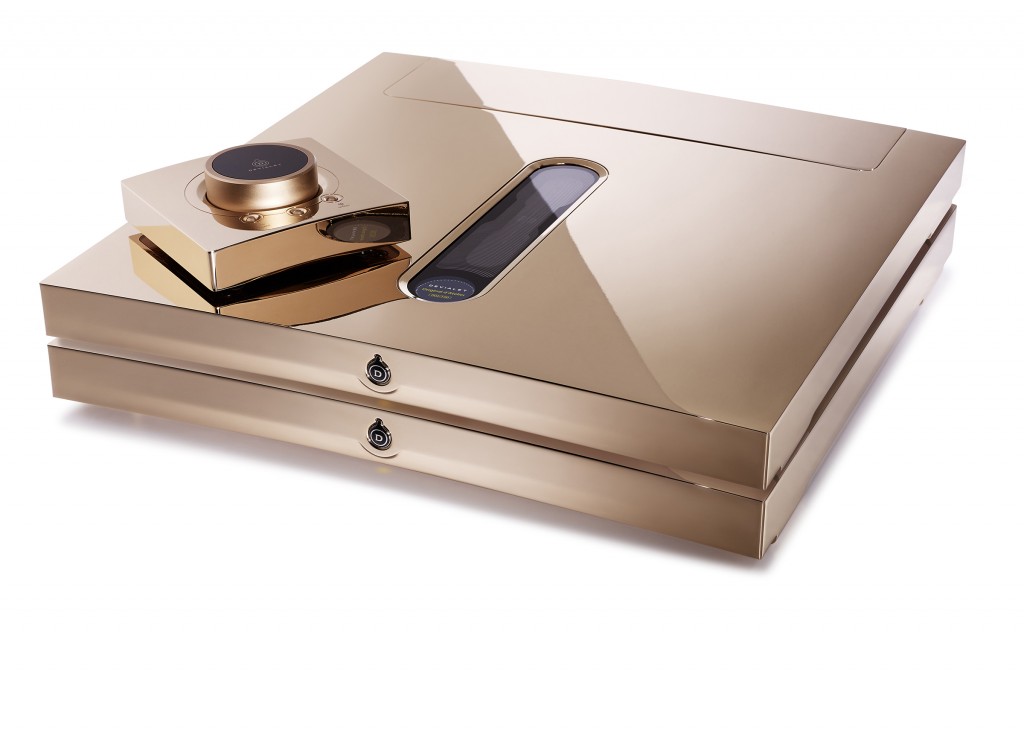 Devialet L'Original d'Atelier (Devialet 900)
The Devialet L'Original d'Atelier (unofficially proclaimed the Devialet 900) was introduced in Europe at the end of 2015. Based on feedback from friends in Europe who are familiar with both products, I can only imagine what the new Devialet L'Original d'Atelier can offer over the Devialet 800 when driving the Magico Q7 speakers. Unfortunately, there were only 100 units manufactured. 
Key design differences are said to include a new rose gold color finish and a double down application of the expensive internal blue gum thermal and resonance control material. Devialet also updated the Class D board and it yields an additional 100 watts of power at 6 Ohms over and above that of the 800.
Maybe we will get some trickle-down effect in the future with a new generally available model or upgrades for the existing product line. I have my fingers crossed that Devialet will provide me with the opportunity to make a 400 and 800 model comparison with the 900 and/or other advancements as we move forward.
Switch Mode Power Supply
There has been considerable speculation concerning the superior Devialet bass performance and the use of switch mode power supplies in general. I thought it might be important to mention these discussions here in this review.
Two of our most respected industry reviewers have touched on this subject in several reviews. Both Robert Harley (Stereophile) and Jeff Fritz (Soundstage) have the Magico Q7 speakers in their listening room for both personal enjoyment and their professional reviews. Both have discussed their listening experiences with the Devialet 400 Integrated Amplifier and the Solution 711 Stereo Amplifier. Both products utilize switch mode power supplies rather than traditional large toroidal power supplies. Both gentleman have praised these amplifier designs for many reasons including the quality of bass output. Just a coincidence? I think not!
The advantage of the switched mode power supply is said to be significant improvements in control and stability. These gains are reflected in many specifications including the following:
Power Output over a wide range of impedances
Peak Power Output
Current Output
Dampening Factor
Obviously, I have heard the Devialet 800 in my listening room. I have also heard the Solution 711 in several systems at various shows and dealers. To my ears, both products provide state of the art bass performance. Though I am not an electrical engineer, the results seem clear. Something is going on with this "switch mode power supply thing". I love the following statement by Robert Harley: "What I did and do hear is that when an amp has no droop in the supply at any level with any signal, the net effect seems to be equivalent to plugging your speakers directly into a wall socket". This is also what I hear with these two products.
In addition to the superbly talented folks at Devialet and Solution, I can only wonder what other industry experts and designers have to say on this subject. Maybe we have a design break through here that can be implemented at many price points and that could trickle down to all of us. Keep an eye on this subject as new amplifier products are released to the market!
Synergistic Research Atmosphere AC Power Cord (Devialet Spec)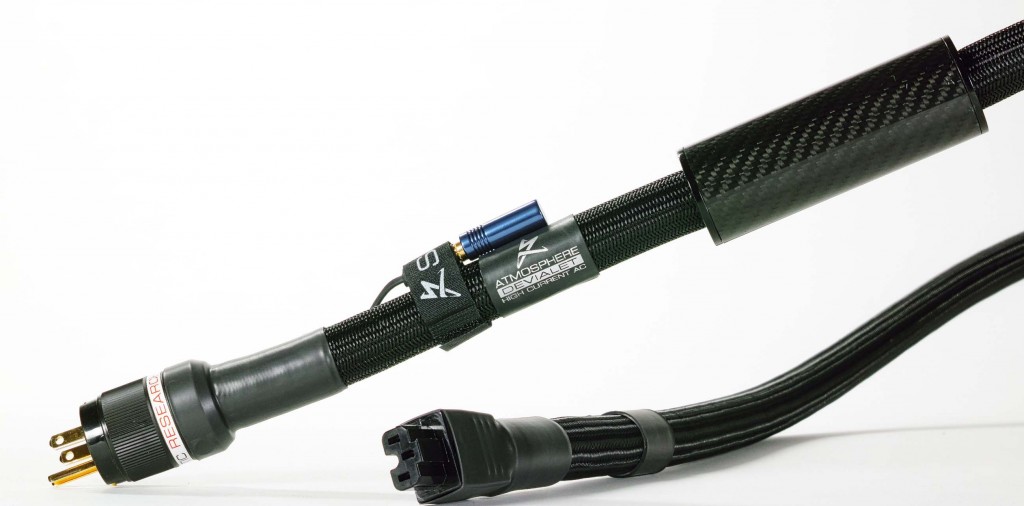 Synergistic Research released their new Atmosphere cable line earlier this year. The Atmosphere interconnects and speaker cables received rave reviews and were compared to competitive products at many times the price. This included their own Element CTS line. I can say with confidence that rarely does a manufacturer in this market ever put out a new model that outperforms its own current product line at a significantly cheaper price.
Now we have the new Synergistic Research Atmosphere power cords that are available in various configurations from Levels 1 to 3 (please see the SR website for a complete description). Like the rest of the family, these babies are overachiever's and are a must audition for virtually any system. Synergistic Research claims that they feature the world's first use of Graphene which has the highest current density of any material (eight million times that of copper). They also include built-in UEF (Uniform Energy Field) filters and internal power supplies for active shielding without the need for an external wall wart or mini power supply.
Synergistic Research also knows a good opportunity when they see it. Because of the tight rear panel area under the rear lid of all the Devialet models, it is almost impossible to utilize an after market power cord. Most of these power cords have large if not extra large super industrial IEC connectors and have no hope to find room for a secure and tight connection. It is especially difficult when trying to stack two modules as is the case with the Devialet 400, 800, and 900.
Known for their creativity and out of the box thinking, Synergistic Research designed a new Atmosphere Power Cord Devialet Spec model that is not only voiced specifically for Devialet product line but also utilizes a very low profile IEC connector for the Devialet rear panel. Ingenious! I used them for the Devialet 800 and the results were spectacular.
Keeping it brief, I guess that I could say the Atmosphere Devialet Spec power cords give you just a little more of everything that Devialet is known for without taking anything away. That's a tough combination to achieve in the high end audiophile world. But, that would also be quite an understatement. Sorry for the pun, but there is some wonderful synergy going on here and some killer sound.
The characteristics that really stood out for me was the feeling of additional air and clarity. This was not only realized around each instrument and voice, but also helped extend the soundstage beyond what I have heard before on very familiar recordings. You want superb resolution and ambience? You get it with the Atmosphere Devialet Spec.
If Devialet owners have ever felt limited before when it comes to power cords, they now have an excellent option at a very reasonable price. A global MSRP has been set at $1495 US with a price of $175 per extra foot if needed. This is a no brainer!
Music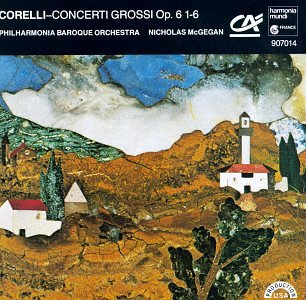 Corelli: Concerti Grossi Opus 6 Numbers 1 to 6 - Philharmonia Baroque Orchestra
This CD on the Hormonia Mundi label is a tough one to find, but it is well worth the effort. Conducted by Nicholas McGegan, the Philharmonia Baroque Orchestra from the San Francisco area is an absolute delight as they transport this music into your listening room from another time and era. I have always felt that Corelli is better served by period instruments. Normally this music can be slightly sedate and laid back—great for background music. With the Devialet 800 in charge we get something quite different.
Though only seventeen members, the scale and soundstage is modest in size yet also very powerful at the appropriate times in the orchestration. Concerto Number 5 is especially thrilling. Via the Devialet 800, the harpsichord and fortepiano are so rich and vibrant that you just might be forced to readjust your knickers and check the position of your white powdered wig.
I have heard this track hundreds of times on the very best systems. It always sounds wonderful, but the results here have been transformed. The Magico Q7 speakers have virtually disappeared and these folks are in your living room. The harmonics for each instrument are defined like never before. There is an unleashed rush of sound and impact that actually pressurizes the room. No, this is not Pink Floyd on steroids. Yes, I am talking baroque music! Exciting stuff!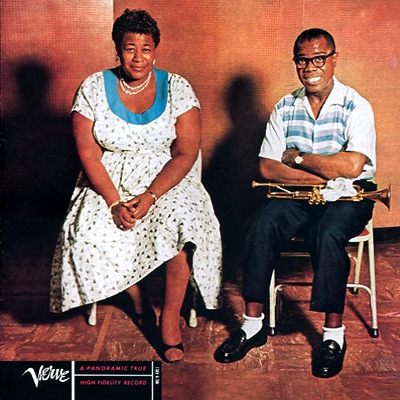 Ella Fitzgerald and Louis Armstrong - Ella And Louis
Ella and Louis is an audiophile favorite that never disappoints. I was looking for something that could challenge the midrange performance of the Devialet 800. Nothing better than the familiar voices of Ella Fitzgerald and Louis Armstrong.
Released in 1956 and produced by the infamous Norman Granz on the Verve label, the intent was to repeat a successful collaboration recorded on the Decca label back in the 1940s. Backed by the exquisite Oscar Peterson Quartet, the album took off in popularity and was followed by two more releases entitled Ella and Louis Again and Porgy and Bess. All three are excellent albums and valued additions to my record library. Highly recommended!
Nothing is like the velvety smooth sound of Ella with a simple microphone arrangement and an intimate soundstage. The standout track for me is "They Can't Take That Away From Me". The Devialet 800 produces her voice in a very natural and full bodied manner with just enough harmonics and plenty of inner detail. You don't get the color and bloom of tube amplifiers or even a solid state wonder like the Pass Labs Xs 300 amplifier. You do get a level of transparency and ambiance that will have your head spinning.
When Louis joins in, his thick and gravelly voice is as clear as a bell yet effortless and pure without edge. You sense him turning back and forth while waiting his turn as he and Ella alternate on the microphone and also when placing his trumpet to his lips—something that really never stood out before. When his trumpet swings into play, I can almost imagine Ella looking on and smiling along with me at the majesty of it all. If there was ever a doubt about the Devialet 800 providing an emotional connection, this recording will end that. Even in the important midrange frequencies, you get plenty of satisfaction and seduction.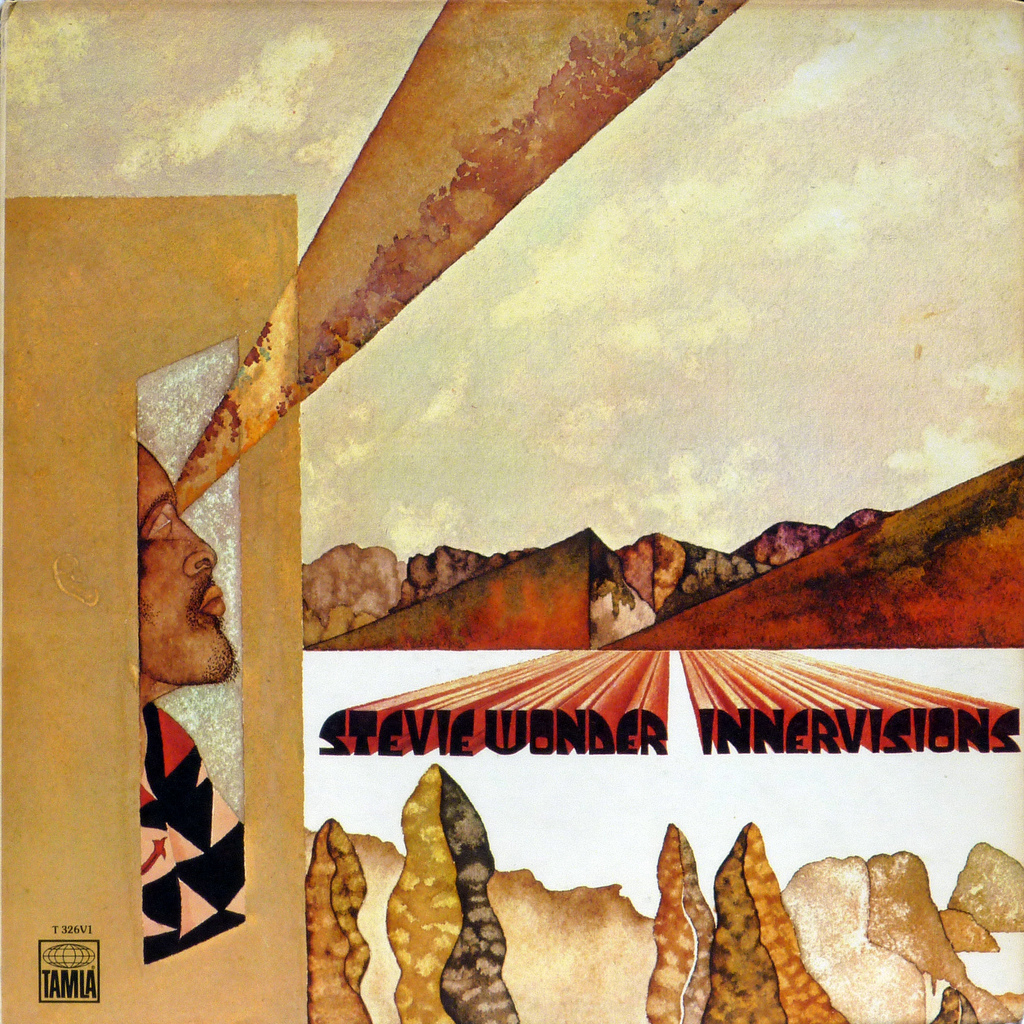 Stevie Wonder – Innervisions
Innervisions is considered by many critics and polls as one of the top pop/funk albums of all time. Released in 1973 on the Tamla label for Motown Records, it quickly reached number one on the Billboard charts and stayed near the top for the following year. Stevie Wonder was at his creative peak with several hit songs and world wide acclaim. The album won the Emmy as Album of the Year and also received an Emmy for Best Engineering. The song Living For The City won the Grammy for Best R&B Song.
Like many of his albums, Innervisions was primarily a one-man effort with Stevie Wonder providing all the lyrics, composition and production. The ARP synthesizer and similar electronic devices were some of his most important composition and production tools. Considered a pioneer in this area, his production techniques were highly influential throughout the music industry at that time and even today.
I have several iterations of Innervisions on LP, CD and SACD. All are very impressive, mostly because of the engineering and production values mentioned earlier. The FLAC 96kHz/24bit download from Acoustic Sounds is from another world. I am learning that high resolution files are hit or miss just like past LPs, CDs, and SACDs. This one is a winner and goes well beyond past releases. My favorite track on this album is Higher Ground. I have never heard it so alive and physically imposing.
Stevie Wonder plays all the instruments on this cut. With the Devialet 800 driving you forward and when the Hohner Clavinet and Moog Bass kick in, the blunt power and authority will have you smiling. Percussion floats above the other tracks and and fills the room in front and rear. Stevie's voice darts in and out yet is more clear and concise than on the other formats. The overall effect is both overwhelming and exhilarating. This is a must have for your hi-rez collection.
Final Thoughts
My time with the Devialet 800 was a compelling experience. The 800 has been unfairly labeled a lifestyle product for it's feature set, ergonomics and integrated efficiency. This is unfortunate as I strongly feel that it can compete with the very best audiophile components on any performance variable—both integrated and separates. The additional sense of ease, refinement and control compared to the Devialet 400 was easy to identify. Compared to other bench marks, the sound was "different" yet still highly enjoyable if not addictive. The Devialet 800 also provided a clear emotional connection with the music—a most important and critical requirement. All in all, a great achievement with superb design and execution.
Are there some elements in this design and performance that will drive us closer to the future of high end audio? I think that there is. At the trail end of the review process, I was given the opportunity to review the new Aurender N-10 Music Server. I was told by several Aurender and Devialet aficionados and by a few champions of all things digital, that this is a combination that must be heard. Though the Devialet 800 is a hybrid Class A/D design, this all digital system might just shed a light on things to come—especially when driving the Magico Q7 speakers. Yes, just three components. Only a few boxes and limited wire. A simple, powerful and highly potent configuration. Stay tuned. Its gonna be fun!
Devialet 800 Integrated Amplifier
$29,995
Synergistic Research Atmosphere AC Power Cord (Devialet Spec)
$1495
Devialet
SAS 10, Place Vendôme
Paris 1ER
France
France: (33) 502-155-682
USA: (844) 975-6718
Synergistic Research
17401 Armstrong Avenue
Suite 102
Irvine, CA 92614
(800) 578-6489