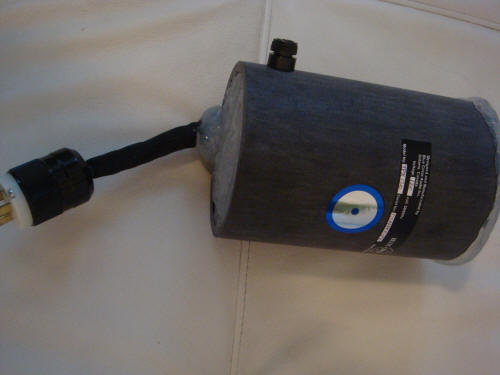 Several months ago I wrote about Blue Circle's FX-2 X0e PLC and was impressed enough to purchase my review loaner. When visiting Blue Circle's Gilbert Yeung at last year's TAVES he suggested I try his new balanced power based TPX120. The TPX120 is a plug-in balanced power module that offers 120W of filtered and balanced power. It can be used by itself or used in conjunction with other filters such as the FX-2.
As with the FX-2, the TPX120 is part of Blue Circle's budget Thingee line. Essentially Gilbert takes most of the circuitry of his more upscale components and houses them in every day ABS piping thus significantly reducing costs. Fancy brushed aluminum faceplates and metal cases are a significant portion of a component's cost. ABS pipe can be had at your local hardware store for a few dollars. As with most if not all Blue Circle components there is copious use of silicone caulk. It may not please the eye but it is an effective adhesive, sealer and resonance control material. Mate the TPX120 to an FX-2 X0e and, according to Blue Circle, you can obtain a good deal of the performance of the BC30X1 for roughly half the cost. The only real trade-off is you won't get the more attractive component appearance of a BC30X1. But you can easily hide it behind the rack to avoid offending the sensibilities of your snooty audiophile buddies or significant other.
While the FX-2 X0e utilizes parallel capacitance to work its magic, the TPX120 sports a transformer in a balanced power configuration. Balanced power offers +-60 V instead of 120 V to ground. According to Blue Circle, "To produce balanced power, a transformer with a grounded center-tapped secondary (output) is required. Transformers, by their very nature, have a tendency to oppose very fast (transient) current demands. For this reason we recommend that only line-level components like DACs, phonostages, and linestage preamps, or low-power amplifiers should be connected to the balanced-power outlets".
The TPX120 is limited to a combined total of 120W so big power amps are a no-go. Using a balanced power unit such as the TPX120 with a FX-2 offers another advantage. Everything plugged into the TPX120 not only benefits from the filtering of the FX-2 but also receives additional filtering on the secondary of the transformer. But wait, there's more. With balanced power you also get the benefit of common-mode rejection.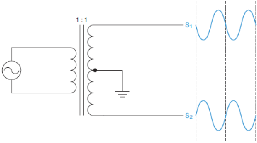 "When the center-tap on the secondary is tied to ground as in the figure above, any noise on one side of the grounded center tap is 180˚ out of phase with the noise on the other side. This means that the noise on either side of the center tap will cancel out. This adds another level of filtering to these outlets. It also prevents any noise being generated by one component (such as clock noise from a DAC) from leaking into the power supply of another component connected to the conditioner. This offers a great advantage to components that are processing very low-level signals, like phonostages".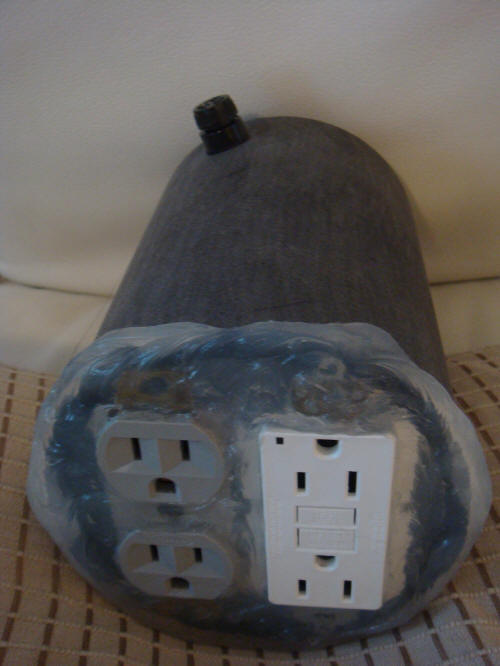 The innards of the TPX120 are basically identical to the balanced power module inside the more expensive BC301X1. It features two outlets, one of which is a GFCI. As both terminals are hot, the TPX120 requires a GFCI outlet for safety. If there is a current imbalance due to a ground fault, the GFCI will trip thus cutting power. Push the reset button on the outlet and power is restored. There is also a user-replaceable fuse mounted externally for easy access. While you can use the TPX120 as a two-outlet or four-outlet device, Blue Circle recommends using the sonically superior industrial outlet. The TPX120 ships with a three-inch hardwired power cord. As with all Blue Circle components, there are plenty of custom options available such as installing hospital-grade outlets. And I'm sure if you're a fan of a specific high-end aftermarket outlet, or you want your TPX120 in hot pink, Blue Circle can probably accommodate you.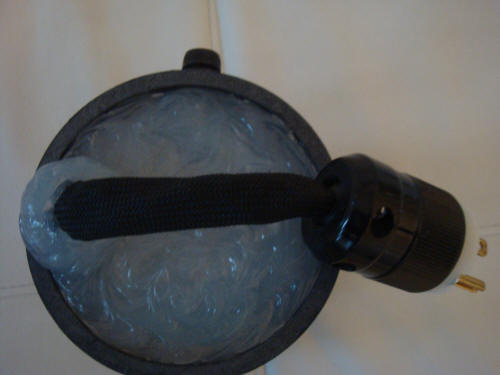 I plugged the TPX120 into my FX-2 X0e and as per Blue Circle's recommendations only connected line components such as a CEC TL-51 transport, Audiomat Tempo 2.6 DAC, Audiomat's new Maestro 3 DAC (which I'll be reporting on in the coming weeks), Teddy Pardo Pre1 preamp, Project TubeBox phonostage and the power supply of my WTL Amadeus turntable. I left all amps and subs plugged into the FX-2 X0e directly. I avoided any critical listening for a couple weeks to allow for any run-in time.
With any of line-level component connected to the TPX120, it was immediately apparent that something had changed. Talk about a dead quiet black background, it was downright eerie. And keep in mind this is on top of what the FX-2 X0e offers as reported in my review several months ago. It wasn't so much that I could hear more detail, deeper bass or greater treble extension but more a sense of greater calm, a more transparent less electronic presentation if you will. The biggest overall impact was on my analog front end and the CEC transport. I thought the TPX120 offered a significant uptick in overall musicality. Strings in particular came across far more naturally than before and more importantly the pulse or forward momentum of music was more explicit. Again it wasn't so much that I could hear more detail or typically audiophile sound effects but more a sense of greater relaxed ease and flow. Even the Teddy Pardo preamp which sports a rather robust proprietary power filtering circuit came across a little more relaxed and easy flowing. My only criticism is that while I noted deeper, blacker backgrounds with the Audiomat DACs, music lost some of its light and life. It was if oxygen was being sucked from my listening room. I can recall visiting one room in particular at a past RMAF show which featured several power line conditioners primarily transformer based ones that while effectively eliminated any semblance of line noise and grunge it was if a wet blanket was thrown over the speakers. I was amazed that a number of visitors actually enjoyed this audiophilesound but to me it was completely unnatural and just plain wrong. While the TPX120 didn't go that far, it did conjure up that particular memory. And that's not to say your mileage may not vary with different DACs. Both Audiomat pieces feature rather robust power supplies therefore perhaps more modest digital offerings might have fared better. Still, with my analog front end and CEC transport all responded wonderfully to the insertion of the TPX120. Later on, just for the heck of it, I plugged my laptop, Synology NAS and Ethernet switch into the TPX120 and was pleasantly surprised to hear a good deal of the sonic goodness mentioned above. I hadn't planned to try it with my computer based front end as I keep it on a separate dedicated circuit. What possible difference could the TPX120 have on that? But it did.
While I had mixed results with the TPX120 it certainly enhanced my enjoyment of music once I matched it with a copasetic component. While Blue Circle's FX-2 X0e remains the most cost effective PLC I have tried in its price range, adding the TPX120 certainly took it even further. Recommended but careful audition is strongly suggested. Paul Candy
Blue Circle TPX-120
Retail: $595
Blue Circle
http://www.bluecircle.com