Audio Vault USA is a relative newcomer to the world of audio equipment racks designed for use in high end systems. Audio Vault USA was founded a year ago by Dave Vincent. Dave is the President of Audio Vault USA and Dave is a mechanical engineer. 
Dave and James Wall who works for Audio Vault USA came to my house in February of 2016 and delivered and set up an Audio Vault USA, Executive series single with level 1 isolation and solid maple top shelf rack for my system. The MSRP for this rack is $1392.00. The rack is 22 ½" W x 22 ½" D x 27 ¼" H. The total thickness of the top shelf is 2 ¼". The solid butcher block maple top shelf is 1 1/8" thick and is bonded to a piece of MDF.  The butcher block top is sourced from the local Amish community and is finished very nicely. Between the butcher block top and the MDF is a sheet of composite material that contains some proprietary ingredients said to reduce/shield the components from vibration and the effects of EMI and RFI. The bottom two shelves are made of 7/8" thick MDF and they are nicely finished in black. All three of the shelves are 21 ¾" D x 19 ½" W.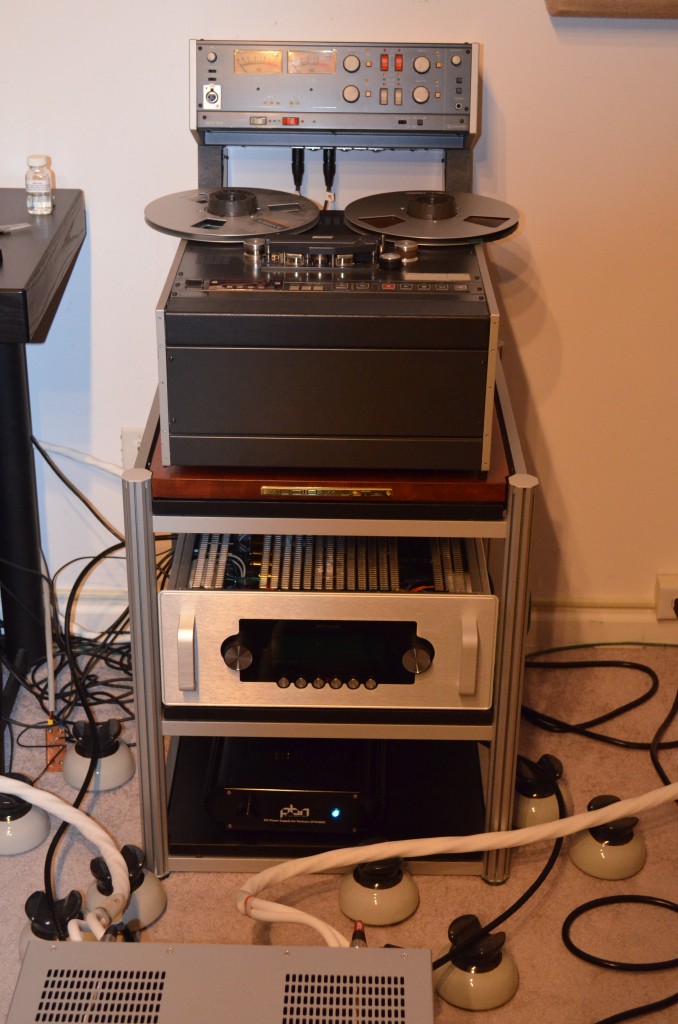 What sets Audio Vault USA racks apart from many other audio racks is the modularity of their construction and their easy ability to be added onto at another time to accommodate a growing system. The legs of the rack are made from extruded aluminum which is both strong and rigid. The legs have grooved channels which make them look elegant and those grooves are also functional as they hold the cam lock fasteners from the side supports and the shelf supports. The bottoms of the legs can be configured with adjustable spikes or with flat adjustable feet. My rack came with the flat adjustable feet.
Building the rack is very straightforward and you should easily have it built and in place within 45 minutes of unpacking the shipping boxes. You only need one tool to assemble the rack which is a T handle hex driver and it comes with the rack. Because of the grooves in the legs, you can adjust the position of your bottom two shelves to accommodate the gear that will be sitting on them which is another nice feature. The rack comes with detailed build instructions. You will need a tape measure in order to measure the shelf supports so that you set them all at the same distance so that your shelves will be level when you finish.
I actually used the rack in two different configurations in my system. This also gave me the opportunity to take the rack apart and build it myself using different shelf heights from how Dave and James originally built it. I had it completely reassembled in less than 30 minutes. Each side support and shelf support has a cam lock fastener on each end. You slide the tab from the fastener into the groove of the leg and using the T handle hex driver, you just tighten the cam lock with a twist. This method of construction is simple, elegant, and strong.
Adding on to make the rack double wide is not only easily accomplished, the price will also be reduced from the cost of a single rack because you will only be purchasing 2 additional legs instead of 4. Dave also informed me that you can custom order your rack for different dimensions than the standard ones they offer and you can also have one solid top to span a double wide rack instead of two separate top shelves for an additional cost. I think you are pretty much only limited by your imagination with regards to custom configurations you can order from Audio Vault USA.
The rack the Audio Vault USA replaced in my system was a cheap Sanus rack which in hindsight, I embarrassed I kept it around as long as I did.  Somehow it doesn't make sense to have expensive components sitting on a $200 rack. However, it's easy to think of a rack as just a utility device and not a component of your system. The reality is that racks really are a component of your system and can and do influence the sound you will hear.
The first thing I noticed with the Audio Vault rack in my system (aside from how nice it looked and how nice my components looked sitting on it) was a new level of quiet and a better focus of the sound. For those of you who made the switch from cheap racks to serious racks, I'm sure you know exactly what I'm talking about. For those of you who haven't taken the plunge yet, I can promise you it will be an "aha" moment when you make the switch.  You will wonder why you didn't make the switch sooner after you hear the difference. Good gear belongs on good racks, it's really that simple.
As setup by Dave and James, I had my Otari MX-55 sitting on the top shelf of the rack and my ARC Ref 6 sitting on the middle shelf. When I subsequently tore the rack down and reconfigured it, I changed it into a rack that will be dedicated to my digital gear and any digital gear that comes in for review. I sat my laptop that acts as my server running JRiver 20 on the top shelf, my Sony S9000ES CD/SACD player on the middle shelf, and my Mytek Stereo 192 and the two external hard drives on the bottom shelf. I noticed the same type of improvements in sound with my digital gear as I did with my tape deck and ARC Ref 6 when used on the Audio Vault USA rack.
Pricing for audio racks and especially racks truly designed for high-end gear are all over the map. I think that Audio Vault USA racks are priced fairly and are in the sweet spot for the quality they offer and they will improve the sound of your system if you are not already using a rack of this quality. You really get a triple bonus when you buy a good rack like the Audio Vault. You improve the looks of your system, you gain functionality for configuring your shelves, and your sound improves. What more can you ask for? The Audio Vault USA Executive series rack is perfect for being my digital rack and it's not going anywhere. If you are shopping for a rack in this price range, I highly recommend you contact Audio Vault USA and discuss your needs with them.
Audio Vault USA
Fort Wayne, IN
Dave Vincent (260) 908-0945
James Wall (260) 804-9134