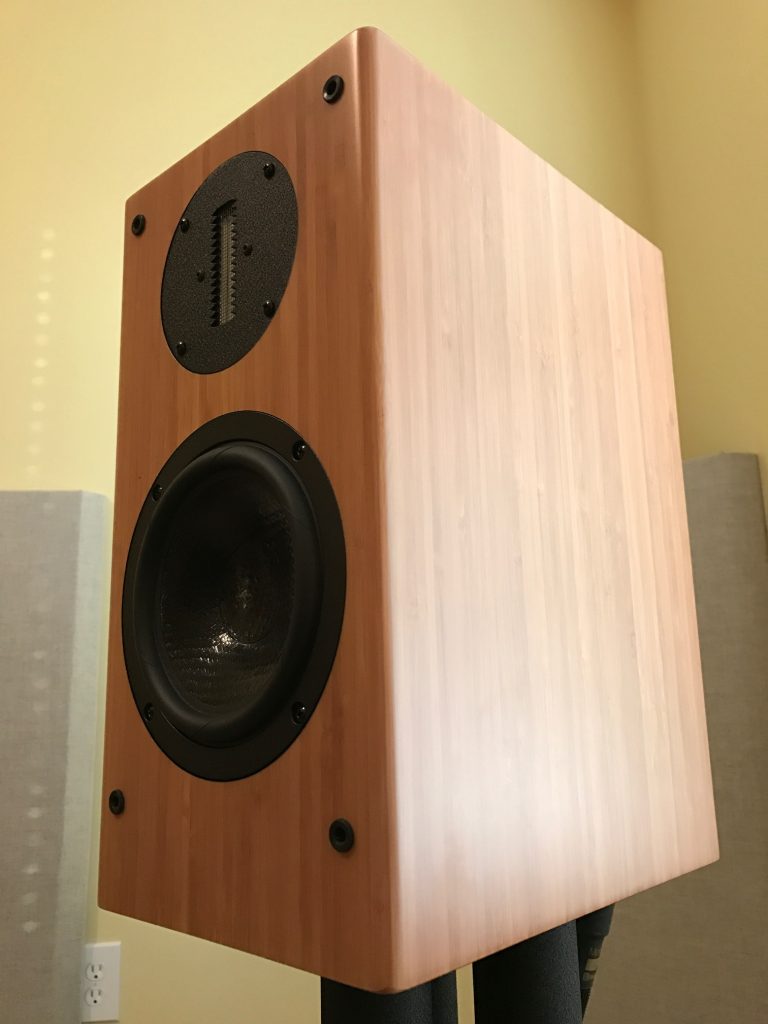 Ascend Acoustics is a high-end loudspeaker manufacturer operating out of Southern California. Founded by David Fabrikant in 1999, Ascend Acoustics' mission has been to deliver class-leading price-to-performance ratios for customers seeking loudspeakers for music-listening and home-theater applications. Ascend Acoustics maximizes value by selling direct to customers and minimizing marketing expenditures. Over the years, the company has received numerous accolades from customers and reviewers alike for providing a true glimpse of the high-end at mid-fi prices. In recent years, Fabrikant and Ascend Acoustics have moved decidedly upmarket with the introduction of the Sierra line of loudspeakers. Employing cutting-edge transducer and cabinet technologies, the Sierra line represents Ascend Acoustics' assault on the state of the art at prices that appeal to audiophiles not in the top percentile of wage earners.  
One of two stand-mounted monitors in the Sierra lineup, the Sierra-2 shares numerous technological aspects with its Sierra-series brethren. Starting with the cabinet, Fabrikant selected bamboo over the more traditional medium-density fiberboard (MDF). Bamboo possesses significant advantages over MDF in damping resonances, but is more expensive and very difficult to cut. Fabrikant searched for a long time before finally locating a suitable bamboo provider and a machinist that could cut the cabinets. Fabrikant denotes his bamboo cabinets as V-LAM, making reference to the vertically-laminated construction. When it came time to choose transducers, Fabrikant posed himself a Herculean challenge in not only selecting the most appropriate drive-units befitting a premium monitor loudspeaker, but also ensuring that they were retrofittable to the extent Ascend Acoustics Sierra-1 loudspeaker, thereby offering existing owners a cost-effective upgrade path. Over the years, Fabrikant has developed great relationships with driver manufacturers RAAL of Serbia and SEAS of Norway. Partnering with RAAL, Fabrikant was able to commission a custom ribbon tweeter that not only met his cost target, but was also able to be retrofitted to the existing Sierra-1 cabinet. Fabrikant likewise engaged SEAS to build a custom 6" Curv bass / midrange driver that could be fitted to a Sierra-1 driver cutout. The RAAL true ribbon tweeter employs an aluminum foil with total moving mass of less than 1/100th of a gram. A high-quality transformer optimizes impedance for efficient energy transfer and amplifier coupling.  The proprietary Curv woofer was expressly designed to play up to the higher crossover point dictated by the RAAL tweeter without cone breakup or other anomalous effects. SEAS was able to optimize the cone shape to provide additional surface area, resulting in a 6" driver that fits into a 5 1/4" frame. The Curv woofer employed in the Sierra-2 incorporates a radially-reinforced surround for greater linearity and higher excursion capabilities, as well as a vented pole piece, open spider and customer magnesium basket for long-term reliability. Lastly, the woven polypropylene of the Curv driver is very light, with excellent damping characteristics, which enables it to better match the transient capabilities of the RAAL tweeter.  
Getting disparate driver technologies to play coherently is a challenge for the best loudspeaker designer. Fabrikant utilizes quality components in the Sierra-2 crossover and places as much emphasis on time-domain performance as he does on frequency-domain performance, the goal of which is to afford a seamless transition between the ribbon tweeter and CURV woofer.  
Specifications for the Sierra-2 include an anechoic frequency response of 46Hz - 38kHz within 3dB tolerances, with typical in-room bass extension specified as 41Hz, again within a 3dB tolerance. Impedance is stated as 8 ohms-compatible, with a minimum impedance of 6 ohms. Anechoic sensitivity is 86dB at one meter with a 2.83 volt input. Recommended power is 45 - 150 watts, with short-term peak input power specified as 300 watts. The Sierra-2 measures 14.25" high by 7.5" wide by 10.5" deep.  Each Sierra-2 weighs 20 pounds. The Sierra-2 is a bass-reflex design and is loaded by a port located on the rear panel.  Aside from the bass-reflex port, the back panel contains one pair of high-quality five-way binding posts. The front baffle contains, aside from the drivers, mounting holes at each corner for affixing the supplied grille cloths. Ascend Acoustics offers several cabinet finish options for the Sierra-2, including Natural, which reflects the bamboo coloring and grain, as well as Satin Black Cherry and Satin Espresso stains; Piano Black finish is also offered. Fabrikant can and does offer custom finish options to customers, the premium pricing of which depends upon the finish chosen. Fabrikant pair-matches each set of Sierra-2s to within +/- 1dB tolerances and provides individual frequency response plots for each loudspeaker. Ascend Acoustics provides a class-leading seven-year warranty for the Sierra-2 and a 30-day in-home audition period.  
The Sierra-2s arrived from Ascend Acoustics double-boxed and very securely packed. Each Sierra-2 is ensconced in a white cloth bag and surrounded by shock-absorbing material. Aside from the aforementioned frequency-response plots, documents are providing urging users to take care when placing the Sierra-2 on a stand to avoid scratching or marring the cabinet finish, as well as to remove (carefully!) the magnetic protector covering the ribbon tweeter prior to use. My sample Sierra-2 loudspeakers came in the natural finish, which was stunning. The Sierra-2s were remarkably easy to place and not at all finicky in their set-up requirements. I evaluated the Sierra-2s in several placement configurations, ultimately settling on a nearfield arrangement in my smallish 13' by 10.5' listening room. I placed the Sierra-2s well out into the room along the long wall, spaced eight feet apart and toed in nearly directly to my listening chair, which was located about five feet from each loudspeaker. I did all critical listening with the grilles removed.  
During the course of the review period, my system comprised a Simaudio MOON CD5.3 CD player, Bel Canto S300i, and Cayin A55T integrated amplifiers, Kimber Kable Hero AG interconnects and Monocle X speaker cables, Audience aR2p-TO power conditioner and powerChorde power cords, with room treatments by Acoustic Sciences Corporation. All components were placed on a SolidSteel 6.2 Audio Table, and the Sierra-2s resided on Sanus Ultimate Foundation speaker stands.   
Some loudspeakers require an inordinate time to break-in and sound their best. I'm happy to report that the Sierra-2 sounded good out of the box. Over the course of the first 200 hours of play, I noted subtle improvements in bass extension, midrange transparency and treble smoothness, with resultant gains in soundstage cohesion.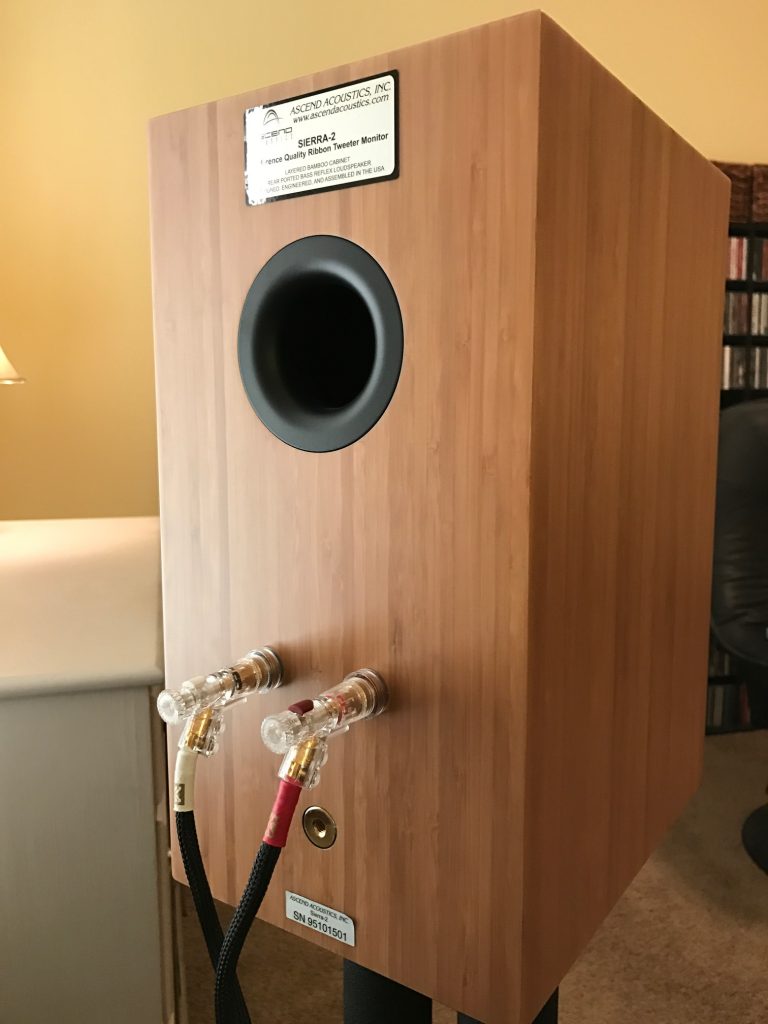 So how did the Sierra-2 sound? In a word, superb. If I had to sum up the overall presentation, the words articulate, engaging and musical come to mind. Coming from my current reference, the ATC SCM11 v2, a larger, sealed bookshelf monitor, the first thing I noticed was the bass. The Sierra-2 is much more extended in the bass, with usable response in my room down into the upper-30Hz range. The rumbling low-frequency synthesizer that underpins "When I Was a Young Girl" from Feist's The Reminder CD (Cherrytree/Interscope Records B0004442-02) was utterly convincing in its menace, contributing a sense of discordant unease to the overall presentation. Apart from the depth, I was taken with how rhythmic and taut the bass frequencies were, as evidenced by the reproduction of Peter Cetera's supple and fluid bass-playing on "Poem 58" off of The Chicago Transit Authority CD (Rhino R2 76171). There was no overhang, and no "one-note" nature that is frequently ascribed to ported designs. Indeed, the Sierra2 gave the ATC a run for its money with respect to the agile nature of its bass reproduction.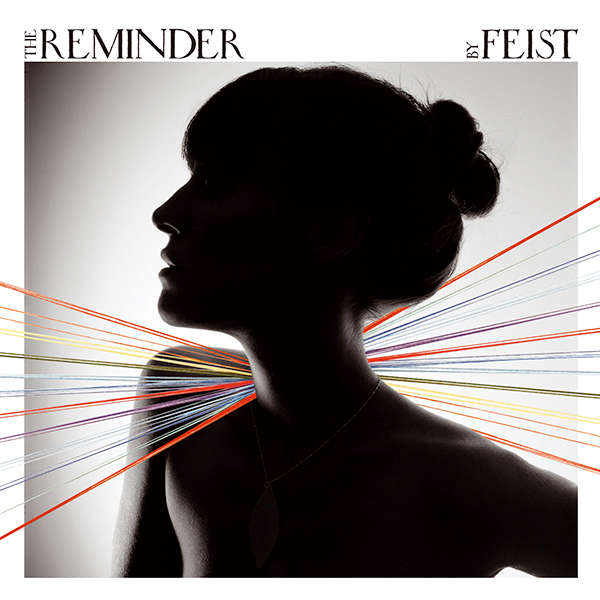 The second quality that jumped out at me was the purity and extension of the treble frequencies. I've owned or evaluated speakers with nearly every type of tweeter, from soft domes (including Dynaudio's venerable Esotar), hard domes (including Focal's beryllium), ribbons, planar, AMT, electrostatic, etc, and there really is a magic to the RAAL ribbons. Transients were reproduced with a level of celerity that was astonishing, and yet were paradoxically imbued with a sweetness that was truly beguiling, even listening in the nearfield. I was able to hear every detail, but the treble range did not divorce itself from the overall musical picture by calling attention to itself. I was especially taken with the verisimilitude of Joe Morello's cymbal work on "Take Five" and "Strange Meadowlark" from The Dave Brubeck Quartet's seminal Time Out (Columbia/Legacy CK 65122), not just the cymbal strike itself, but the accompanying sustain and decay, which added to the sense of realism.      
The transition from the tweeter to the SEAS Curv woofer was utterly seamless, which speaks volumes about the quality of the driver, as well as that of the crossover. The Sierra 2's midrange was open and transparent, yet possessed of a touch of warmth that lent voices and other mid-centric instruments a robust, organic quality. Jay Beckenstein's saxophone on "Elegy for Trane" from Spyro Gyra's Freetime release (Amherst Records AMH 8000-2) was vibrant and tactile, and Poe's vocals on "If You Were Here" from her sophomore CD Haunted (FEI/Atlantic 83362-2) were pure and open, with just a hint of burnish to ensure that the nuanced detail never strayed into the mechanical.  
I don't know whether it was a result of the tight-tolerance pair-matching, the superb integration of drive units, or some other quality, but the Sierra-2s' soundstaging and imaging capabilities were simply first-rate, even for monitor-sized loudspeakers. The Sierra-2s cast a broad, deep soundstage with tremendous height when called for. The soundstage was not as forward as some competing designs, starting a few feet behind the plane of the speakers and continuing back for several feet (depending on the recording). Imaging was likewise pinpoint, but where the Sierra-2s excelled was in their ineffable ability to create three-dimensional images that seemed to live and breathe within the soundscape, rather than being presented homogeneously across a flat two-dimensional sonic canvas. Layering of images in the depth plane was also superb.  
Lastly, I was gratified to hear how well the Sierra-2 performed at lower volumes. I listen nearfield in a small room at low volumes (typically 60dB - 65dB), and the Sierra-2 didn't sound thin, anemic or less detailed at these levels.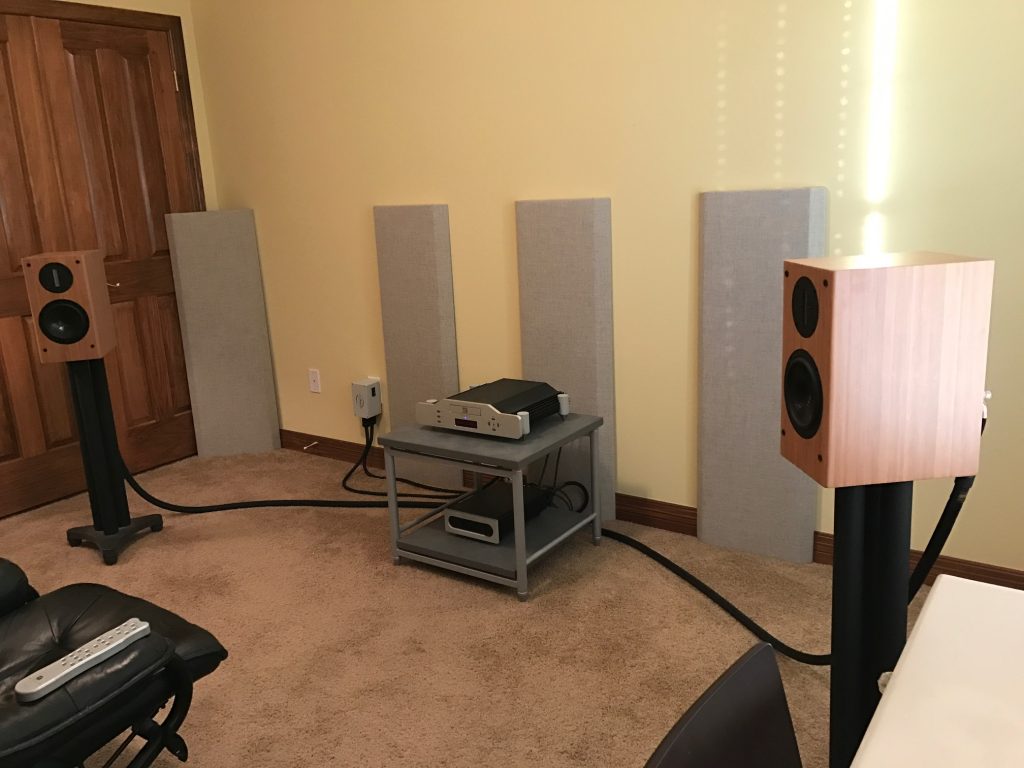 Are there any downsides? At this price, none. Outside of the context of price, ultimate bass extension into the lowest octave is obviously beyond the Sierra-2's capabilities, but that's why Ascend manufactures the Sierra Tower floorstanding speaker, as well as offering several subwoofers. From a build perspective, if I have to pick nits, I would prefer to see something other than the philips-head screws affixing the drivers to the front baffle, but I'm really scraping there.  
Compared to the ATC SCM11 v2, the Sierra-2 is considerably more sensitive, is more expressive at low volumes, has a sweeter midrange, a more extended treble, and a more dynamic and extended bass response. The only area where the ATC trumps the Ascend is in macro dynamics and ability to play loud (assuming one has lots of watts), as befits its studio pedigree.  
Overall, I'm thrilled with the performance of the Ascend Acoustics Sierra-2 loudspeakers; for the price, they represent one of high-end audio's true bargains. When it comes to sheer performance and musicality, the flagship Ascend Acoustics monitors compete with designs many multiples of their price.  
Ascend Acoustics Sierra-2 Loudspeaker
Retail: $1448
Ascend Acoustics