This is an ongoing project by Claude Lemaire of Soundevaluations.
In a slight variation of sorts, and at the risk of foregoing a bit of diversity, for Part 3, I elected to pit back-to-back two selections sharing a common thread between them.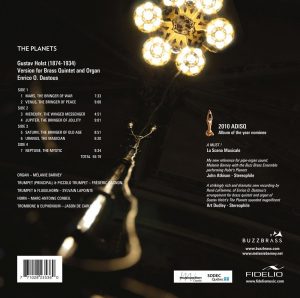 21. Buzz Brass, Mélanie Barney, The Planets. Fidelio Music Inc. FALP028 (2012), (2x45 rpm). Genre: classical, modern
Finding great sounding organ recordings on vinyl has always been a challenge, especially so when one has the chance of attending live recitals of the mighty 'beast' of classical instruments and having the latter close by as a comparative reference. Most often, the case turns out as one of sonic disappointment depending on our own set of expectations. I won't pretend that the above selection is on equal footing as the real thing as that would surely cement my reputation as lacking any critical credibility; what I can convey is my deep admiration for getting closer to that lofty goal than any other organ recording transferred to disc than I have heard since. Organist Mélanie Barney combined her talent with Montreal's own Buzz Brass quintet, resulting in a magnificent interpretation of Holst's most famous work. From the opening bars of the military-esque "Mars the Bringer of War" you can feel the 'gravissima-sounding' pedal stops' rumbling through the air molecules, anchoring the beautiful Saint-Viateur d'Outremont church's room dimensions and foundation. Not only does it reach down real low but the dynamic scale is quite realistically portrayed along with some solid deep soundstaging. The brasses are captured with uncanny realistic timbres with just the right ratio of bite and legato 'color' and clarity. Fidelio founder and recording engineer René Laflamme's combined use of two pairs of high caliber condenser mics; triode tube preamplifers; DSD conversion; 2 track analog tape transfer; and Bernie Grundman's double-45 rpm lacquer cutting; created a winning recipe for sound quality, worthy of Mercury's Robert and Wilma C Fine(st) recordings, and Professor Johnson's Ref. Recordings—limited more by one's sound system than the actual record (mini-monitors need not apply). For a more in-depth evaluation, you can go HERE.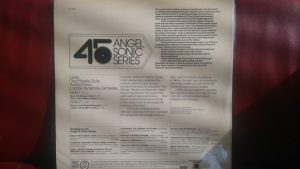 22. André Previn, London Symphony Orchestra, The Planets Suite. Angel 45 Sonic Series SS4500 (1979), 45 rpm. Stereo, Quadrophonic Genre: classical, modern
Originally released in its full 'seven planets' version in 1974 [His Master's Voice ASD 3002] on regular 33 1/3 rpm, this stereo-quad compatible 45 rpm omits three planets for sonic/groove cutting purposes, zooming on Mars; Venus; Mercury; and Jupiter. At first glance you might think what is the big deal? After all we have many 45 rpms reissues on the market nowadays; but keep in mind that this came out way back in 1979 when the only market open to this format at the time was that of the discotheque–heck even Linn's LP12 came standard with only one speed—33 1/3 rpm; their thinking being no serious audiophile would dare listen to 7-inch 45's nor 12-inch 'maxi-45' disco singles! So whatever your opinion on the whole disco movement, at least you can thank the deejays for demanding this superior sound carrier, so we can now enjoy all our precious other music genres at their very best. Yes there were a few direct-to-disc 45 rpms recorded and pressed in Japan for RCA under the 'Direct Master Series', but the latter were not reissues of older LPs. German-American conductor André Previn leads the LSO in an energetic performance of one of my three favorite orchestral works of the modern classical period—the other two being Stravinsky's L'Oiseau de Feu and Le Sacre du printemps—all three written between 1910 and 1916, right at the dawn of WW1. The overall sound is consistent, and quite excellent if not as outstanding as the Fidelio version, mostly due to a slight lack of the lowest octaves which dimishes the 'power and majesty' of the performance. That aside, the brasses, tonality, and dynamics distinguish themselves from the competition making this version a viable alternative if one can accept less planetary diversity.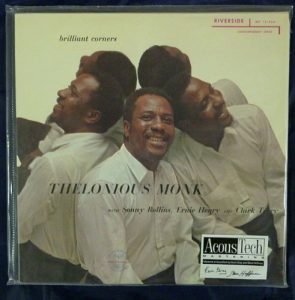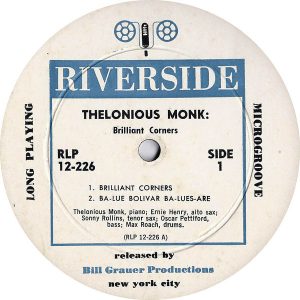 23. Thelonious Monk, Brilliant Corners. Riverside RLP 12-226 (mono) (1957), Analogue Productions AJAZ 12-226 (mono) (2003) (2x45 rpm). Genre: jazz, bop, hard bop
Along with Parker, Gillespie, Christian, and Clarke, Monk certainly represented the fifth pillar at Minton's Playhouse when bebop took over from the big band era in the mid-1940s. This and the following entry are my two favorite Monk albums for music and sound; both of which share many similarities: identical label; year of original release; producer; recording engineer; remastering team and label; 'double 45rpm' format; and finally pressing plant. The main technical differentiator being one reissued in mono while the other was reissued in stereo—though each were originally released in both formats, recorded simultaneously supposedly with different mic setups. For this first selection, big names accompany the ivory genius: Sonny Rollins; Oscar Pettiford; Max Roach; Clark Terry; Paul Chambers; and a little less known, alto Ernie Henry; who like so many in the jazz world, would die from a heroin overdose about a year later at age 31, just on the cusp of attaining name recognition. The title track's intro has most of them playing in unison with typical 'Thelonious-esque' twists, tempo changes and dissonance. The horns stand out with a very big, bold, biting presence, leaping to front stage with edgy potent vibrancy; the entire track apparently taking twenty-five takes to get it up to the leader's satisfaction with many parts spliced together by producer Orrin Keepnews. Monk plays the celeste—a rarity for jazz—on "Pannonica"; a track in tribute to the 'bebop baroness' Kathleen (Rothschild) de Koeniswarter. Monk's piano is particularly well captured on "I Surrender, Dear" with solid hammer articulation and resonance. My only minor criticism regards the cymbals which are a bit distant, and lack some transparency, and harmonic extension. Riverside and Reeves Sound Studios' Jack Higgins, engineered the recording in NYC while Kevin Gray and Steve Hoffman at AcousTech handled the mastering+cutting, and RTI did the pressing. I have not heard an original pressing nor the stereo version so I cannot opine on any comparison, but this format theoretically gives it an edge over a single 33 1/3 rpm when well remastered.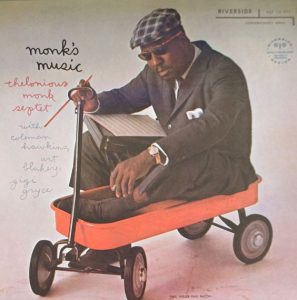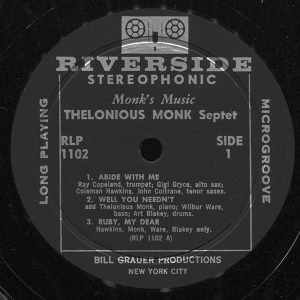 24. Thelonious Monk Septet, Monk's Music. Riverside RLP 12-242 (mono) (1957) RLP 1102 (1958), Analogue Productions AJAZ 1102 (2004) (2x45 rpm). Genre: jazz, bop, hard bop
A veritable who's who of jazz giants: Blakey, Hawkins, and Coltrane just to name a few key players from this septet. Musically and sonically it is up there with the previous selection if even more so, with its spectacular spread, sounding Kenton-esque at times. On that note I must point out, that strangely some of the instruments—e.g. the drum cymbals–get panned between L-C-R during the course of the track in a creative manner rather than true to life; thus you should view this more as a 'Dali painting' than an accurate photo. Monk surprises us with the opening track: "Abide with Me", which just under a minute or so, serves more as an intro to the second track, and is atypical in the sense that it is played strictly by the horns, not in jazz form but rather in a small fanfare—based on an 1847 hymn by Henry Francis Lyte and (by sheer coincidence for the last name) William Henry Monk–with great purity, to the point of perceiving the air traveling from the player's lips through the column, before exiting the bell. My original 'deep-groove' US Riverside pressing is quite excellent, especially regarding Coltrane's realistic tone, front, panned stage left; as is Monk's piano timbre stage right. Again we must recognize Higgins' great work. The Gray/Hoffman 45 rpm remastering pretty much equals the original on these aspects; offering up a slightly different texture, with cleaner, transparent timbres but with a slight loss of tenor tonal saturation, which some listeners may equate with less saturation while others may note a tiny loss of proximity and presence, depending on one's sound preference. If it was limited to that, I would consider it a 'toss-up'; but all the other instruments, especially the drumset—tom tom dynamics; rim-stick realism; cymbal extension; etc.—as well as the soundstage depth are greatly expanded on the 2004 A. Prod. reissue, making the latter the obvious choice over the still impressive original.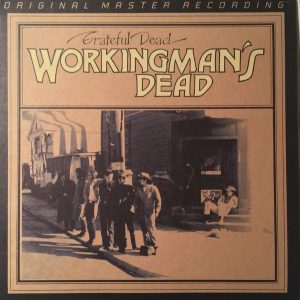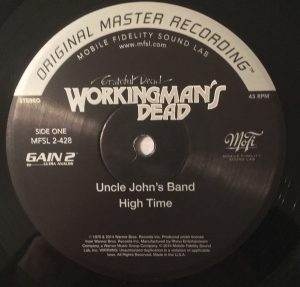 25. Grateful Dead, Workingman's Dead. Warner Bros. Records WS 1869 (1970), MoFi MFSL 2-428 (2014), (2x45 rpm). Genre: folk rock, country rock, roots rock
By the end of the decade, what defined the bastion of 1960s counterculture came to a close. Leaving behind the very style that built their massive cult following, namely the experimental, psychedelic sound of acid rock; the Dead—like their close counterparts The Byrds—reincarnated from the burnt ashes of Woodstock into a workingman's rootsy country folk fusion, sometimes baptized Bakersfield sound. Along with its follow up American Beauty [Warner Bros. WS 1893 or MoFi MFSL 2-429], it reveals a different facet from this unique jam band. Gone are the lengthy 'spaced-out' poly-rhythmic flourishes from the San Francisco Bay Area, now replaced by uncluttered harmonious voices and acoustic guitars aiming straight for the heartland. Taking a page from CSNY, and preparing the terrain for future 1970s icons The Doobie Brothers and the Eagles, Garcia and co. deliver the goods with utmost purity. The group vocals and strings are the best ever encountered on record: detailed; transparent; and so natural with great stage separation and image height; to the extent of holding your breath in order to 'catch' theirs. Even for 'small scale' music, the dynamics are delivered with aplomb and the tonal balance is devoid of any artificial color, like in real life. While I felt rather confident just lately that pretty much no 'normal release' could surpass or equal the latest advancement in sound–such as MoFi's UD1S one-step method—here comes this Dead remastering that astounds and confounds me in its sheer realism, which leads me to believe that the original 1970 recording done at Pacific High in San Francisco must have been superior still to Santana's Abraxas [MoFi UD1S 2-001] dating from the exact same year, so as to mitigate the theoretical advantages of the latter over the standard three-step pressing we have here. That it stands up to such a high level, reaffirms the incredible engineering work of the period as well as MoFi's own Krieg Wunderlich remastering and cutting it at 45 rpm. A solid 9.8 (almost 10 if it were not for the last side, which still fine, does not attain the perfection of the previous sides). I did not have an original pressing to compare with but doubt it could equal this latest version in realism. The Dead were recognize as sound perfectionist for their live shows and these early studio albums certainly live up to that reputation, and heaven forbid, if you must limit yourself to only one Dead album, this is it—sonically at least.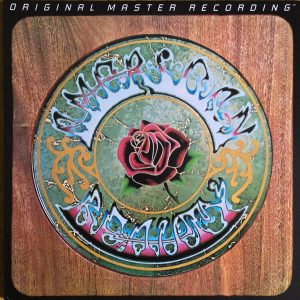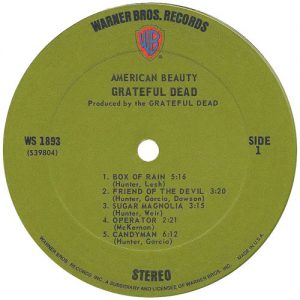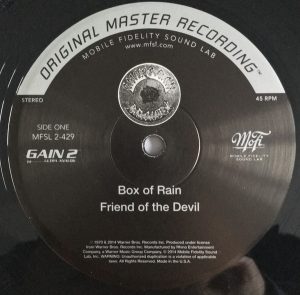 26. Grateful Dead, American Beauty. Warner Bros. Records WS 1893 (1970), MoFi  MFSL 2-429 (2014), (2x45 rpm). Genre: folk rock, country rock, roots rock
Pursuing the styles and sounds worshiped on Workingman's Dead, and a strong precursor to the global amalgam labeled Americana, this album represents the apex of the Dead's delights blending bluegrass strings with Beach Boys-esque harmonies, and predates America's folksy debut album sharing the same label by a full year. My original US 'olive green' Pitman pressing still sounds utterly gorgeous; a testament to the musicians' mellifluous dexterity; Steve Barncard's impeccable sound aesthetics co-producing the recording done at Wally Heider studio; and the usual high standards that Warner Brothers held back then, regarding general sound and major artists repertoire—especially so during the 'green-tan' and 'Burbank' label period. Now if you ever got the chance of listening to the above original, you probably would not yearn for a reissue. Likewise if you only heard the MoFi double-45 reissue, you probably would feel quite content and not see a need of finding an original first press; in my book they are both equals, outstanding but yet different in strengths, and if combined would be perfect or on par with Workingman's Dead. In reality each isolated from the other, I would rate them both around 9.5 vs the 9.8 for the previous LP. The original digs deep, surprisingly quite low, with a 'cushiony' bass. The lower and central mids—vocals especially—exhibit an 'alnico magic' to them flowing effortlessly; the piano is transparently articulate and easy to follow in the sometimes dense mix; finally the highs are typical 'Warner' warm, sweet, and detailed—though not overly so. In counterpart the four-sided MoFi remastered by Krieg Wunderlich is less heavy in the lowest registers, slightly shifting the tonal balance more towards the upper mids, up to the top octave; thus favoring the speedy string picking delineations; the guitar pick sound striking the strings; the higher-pitch back vocals in relation with the lower main vocal; greater stage height; wider left-to-right separation; minor micro-dynamic superiority; and lastly–save for a few exceptions on 'side C'—a veil is lifted bringing a bit more airiness to the mix. All in all, it sounds subtly more modern or 'neutral' than a typical early 1970s pressing. Depending on mood and system-voicing I could go for either one, and as such am placing both versions in my collection on the same pedestal. Note that in its earliest years, MoFi originally released a single 33 1/3 rpm version back in 1979 [MFSL 1-014], half-speed cut by Stan Ricker which I have not compared with but suspect has its own particular flavor. If the previous Dead entry was my sonic favorite, this one here primarily for its mixture of melodies and harmonies, musically supersedes it.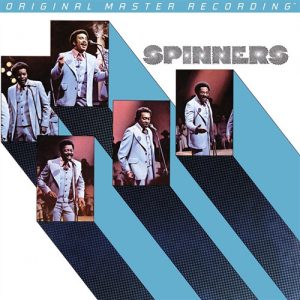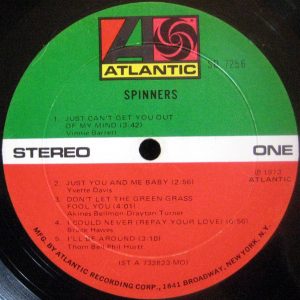 27, Spinners, Spinners. Atlantic SD 7256 (1973), MoFi  MFSL 1-450 (2015), 33 1/3 rpm. Genre: Philly soul     
If there is one group that exemplifies the migration from the motor city to the land of Philly it is the Spinners. First signed to Harvey Fuqua's Tri-Fi label at its inception in 1961, then ending up at Motown and its subsidiary V.I.P. once Berry Gordy acquired it two years later; it wasn't until Stevie Wonder(fully) penned their 1970 hit "It's a Shame"—which would turn out to be a soul single staple spinning in the discothèques of New York, Philly, and London—that the quintet finally found their way. Sensing the shifting soul scene towards Philadelphia, they switched ships to the shores of Atlantic in 1972, under the guidance of conductor, arranger, producer Thom Bell and the backing of the Philadelphia players soon to be known as MFSB. Although Gamble and Huff–the original instigators of this slick soul—do not appear in the credits, one could easily be fooled in thinking otherwise, such is the influence of the 'house' band and lush sound, wonderfully recorded by Joe Tarsia at Sigma Sound Studios. This is MoFi's sole Spinners' release and they made the right choice, it being the band's best album musically. Not only does it contain three of their biggest hits—"I'll Be Around"; "Could it Be I'm Falling in Love"; and "One of a Kind (Love Affair)"—the remaining songs are also quite good; now perhaps more apparent, given the proper care it always merited, and only received just recently. Indeed most of the time we expect a certain level of improvement when a serious reissue label takes pains to remaster a 'classic' LP that may not have experienced yet its full sound potential, but in this case that 'sonic step' is stupendous. I don't own an original MO (Monarch) pressing but I do have the 1973 US 'club edition' [Atlantic SD 7256, SW-95065] which admittedly could sound slightly different or even inferior to the MO. That being said I have heard many 1970s US Atlantic pressings and the majority are usually not that impressive, often light in the bass, 'middy' and more compressed than their contemporaries—there are of course exceptions. In my 'club' case, the sound reflects pretty much what I just described, nothing awful, yet nothing worthy of inclusion on this List; roughly a rating around 6.5. The MoFi remastered and cut by Krieg Wunderlich walks all over it; there is simply no contest, rivaling Carole King's Tapestry [MFSL 1-414] in sonic enhancement. By the latter, I don't want to suggest any artificial changes; on the contrary I mean to say it sounds closer to a well-balanced analog master tape: with mid-1970s warmth, weight, brass bite, sweet strings, clear vocals, and most impressive is Earl Young's floor tom backbeat, coming out so strong and solid; as well as his hi-hat, much more present, extended, and realistic. The mild listener-fatigue of the older pressing is completely vanished on the MoFi. A double-45 rpm would have been preferable, especially given the fact that the two best songs of the LP are confined at both side endings, close to the label–thus the least desirable place to be. Still, a 9.5 remains a reasonable rating. Lastly, the RTI pressing was impressively quiet and beautifully lustered.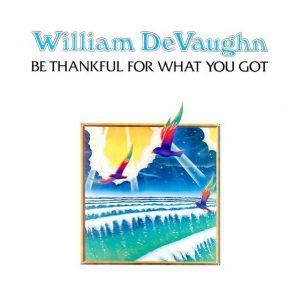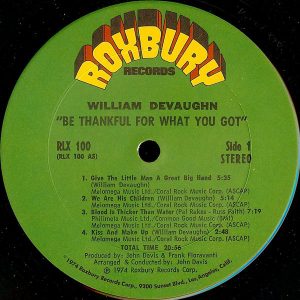 28. William DeVaughn, Be Thankful for What You Got. Roxbury Records RLX 100 (1974), 33 1/3 rpm. Genre: Philly soul, smooth, down tempo  
This is DeVaughn's debut and it would take six more years until he released his second and final album. Released on Roxbury—a sub-label of Chelsea–its smooth soul vibe, supported by many members of MFSB—including vibist Vince Montana—just like the previous selection, makes it also an attractive companion to the latter. Engineered and mixed by Carl Paroulo, Doug Fern, and Joe Tarsia at Veritible and Sigma Sound Studios, and mastered at Kendun Recorders; the seven minute title-track features near its half-way mark, a beautiful 'breakdown', and 'buildup' showcasing—slightly ahead for its time, and a precursor to the proto-disco formula—the multiple musical layers forming the foundation for this very soulful song. The warm tonal balance is pretty spot on; with good stereo separation; appropriate dynamics for the genre; and a frank floor tom backbeat, similar to the Spinners' above, and first popularized by MG's drummer Al Jackson Jr. on Al Green's 1971 southern soul classic "Let's Stay Together". In a perfect world, I would welcome a touch more low end weight to give it even more full range status but it is by no means anything approaching thin balanced or 'ascending'. The track "Blood Is Thicker than Water" follows the exact same recipe than the title-track, and as such makes it a perfect song for blending the two together in a club setting when owning a second copy—which was common practice for deejays back in the day. The opening track "Give the Little Man a Great Big Hand" is also enjoyable, and like many of the tracks, there are definite resemblances with Curtis Mayfield regarding vocals styles, and to a certain but lesser degree, also music-wise.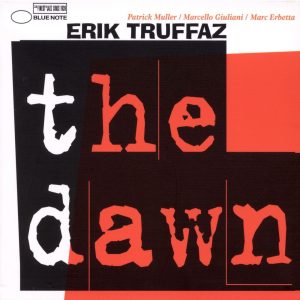 29. Erik Truffaz, The Dawn. Blue Note 493916 1 (France) (1998), 33 1/3 rpm. Genre: nu jazz, drum n bass rhythmic influences, sparse 'jazzy' hip hop vocals
Probably the closest heir to Miles Davis if ever there was one; Swiss-born, French trumpeter Truffaz's second release, combines innovative ventures in nu jazz playgrounds, underpinned by moderate drum n bass patterns precisely played by drummer Marc Erbetta, and bassist Marcello Giuliani—the latter on double and/or electro acoustic. Patrick Muller accompanies them on piano and Fender Rhodes, while rapper/narrator Nya brings his unique refined touch and timbre to the mix on five out of the seven tracks. All compositions are first rate with "Wet in Paris" representing the closest track in traditional jazz structure, while "Round-Trip" terminates the journey in a more exploratory avant-garde style than the rest of the tunes; with prepared piano, bowed bass, and introspective horn interacting over 'loop-styled' agitated percussive rhytmic patterns. Syncopation and synergistic interplay of great grooves with atmospheric ambience, intertwine in superb wide range crisp sound; bold tonal balance; tight kick; rapid-fire snare drum dynamics; solid articulate organic bass; and 'close-mic' intimate horn; borrowing from Davis' late 1960s to early 1970s output. The mini LP was recorded and perfectly mixed by Benoit Corboz at Studio du Flon in Lausanne, Switzerland; mastered by Alexis Latrobe aka Alex (Gopher) at Translab in Paris; and pressed in France by MPO (Moulages et Plastiques de l'Ouest); the latter is fairly good, just don't expect the 'silent black background' you normally get from a heavy RTI or Pallas pressing. My only minor criticism concerns the top end, which shows a slight lack of extension, level, and transparency in absolute terms, and in juxtaposition with the following LP.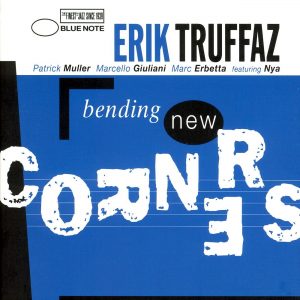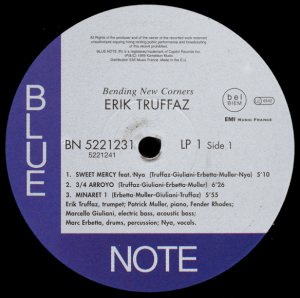 30. Erik Truffaz, Bending New Corners. Blue Note 522123 1 (France) (1999), (2 x 33 1/3 rpm). Genre: nu jazz, drum n bass rhythmic influences, sparse 'jazzy' hip hop vocals
Bending New Corners essentially extends the previous release's style; bringing a bit more sophistication to the production; pretty much doubling the length of the album; and spreading it on two LPs instead of one. In other words if you liked The Dawn, you'll probably love this one even more, unless your preference veers a bit more towards 'rawness' than 'smoothness'. Think Bitches Brew but with tighter boundaries and finer focus. Indeed the preceding cast of players and personnel reprise their roles, maintaining, and perhaps even elevating the already high level of musicianship for which I had the pleasure of experiencing live outdoors for the first time at the Festival International de Jazz de Montréal—aka Mtl Jazz Fest—in the summer of 2000, and at a later date indoors at the old Club Soda that December. Again, kudos to Benoit Corboz at Studio du Flon in Lausanne, Switzerland, and Alex Gopher at Translab in Paris, France for the recording, mixing, and mastering respectively. Perfect extended tonal balance; displaying a bit more warmth, and less upper mid forwardness than the preceding LP; providing a slightly receding or further soundstage perspective in revenge. The latter sheds a few 'hairs' off the former's edge, supported by a slightly 'softer/cushiony' 'bass bed' foundation. Nya's poetic prose is featured on about a third of the tracks. Asked to choose between the two LPs is near-impossible; both are indispensable in my book.
A final note:
Now don't go 'bonkers' if you have not found your favorite recording included in this List, just remember: we are only at the beginning of a long long journey...into sound.
For more from Claude Lemaire go to his blog...
http://soundevaluations.blogspot.ca/