This is an ongoing project by Claude Lemaire of Soundevaluations. Here is the second 10 of his Top 500 SuperSonic List...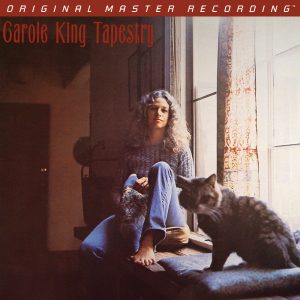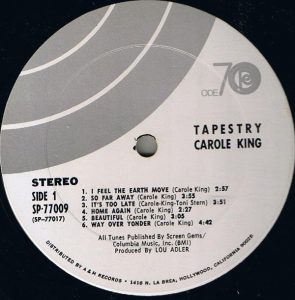 11. Carole King,Tapestry. Ode Records. SP 77009 (1971), MoFi, MFSL 1-414 (2013), 33 1/3 rpm. Genre: pop, soft rock, acoustic folk, jazzy overtones
Throughout the 1960s Carole King and song-writing partner Gerry Goffin wrote a ton of hits for music publishers and pop singers in the famous Brill Building situated at 1619 Broadway in Manhattan NYC. Contrary to expectations, King's 1970 debut Writer did not garner much consideration at the time; rather her breakthrough came a year later with her second and most accomplished, personal record Tapestry entirely written or co-written by her, and produced by Ode and Dunhill label founder, Lou Adler. This is an incredible album both in terms of music and sound quality, comprising strong compositions, and selling well over 25 million copies worldwide since. The hit single "I Feel the Earth Move" opens the LP with its toe-tapping syncopated piano riff; ready to explode with great energy and excitement—spurring emotions we've all sensed at one time in our lives when falling for someone new. The counterpart to all that euphoria unfortunately is the 'breaking up' period and ironically that was exactly the message originally delivered on its flip side: "It's Too Late" with its much slower tempo and minor key sentiment conveyed the sorrow of 'splitting up' or scarier still, the sensation of detachment between two people once so connected, now so far apart. Superbly recorded by engineer Hank Cicalo in A&M's studio B, the original Ode70 pressing showed promise but lacked bottom and top frequencies with the mids 'pushing' a bit; Bernie Grundman's first remastering in 1999 [Classic Records SP 77009] improved somewhat on those shortcomings, making it my de facto choice up until I compared it with the newer MoFi version remastered and cut by Krieg Wunderlich which simply blows away the two aforementioned versions in all aspects: first off, a big sound veil is lifted; the kick drum is so much better, with the rare sought-after combination of a fast rise time and a long sustain, contributing to an incredibly articulated warm punch in tandem with plenty of plump bass-guitar grooving to the max; King's piano and vocals come out with great lively presence at just the perfect level; Curtis Amy's soprano sax and Danny Kootch's guitar oppositely-panned are warmly infectious complementing Carole's piano to a t. The dynamics, tonal balance, and horizontal spread are so impressive, one could easily be fooled in thinking this was a double-45 rpm instead of a regular 33 1/3 rpm; as such I believe it is either MoFi's best 33 1/3 rpm release or at least on par with Gino Vannelli's Powerful People [MFSL 1-041] from 1980. Most important is that Wunderlich really captured the vibe of the moment. On a comparative basis, I would rate the original Ode around 7; the Classic an 8 at the most; and this MoFi a 9.7 approximately–all numbers based on the A side; the B side falls a bit behind in the vocals and punch; the latter closer to a 9 overall. I have not heard the 2012 Grundman/Chris Bellman [ORG Music ORGM 1071] double-45 rpm remastering—theoretically having a technical advantage—but cannot imagine how or where it could surpass this MoFi.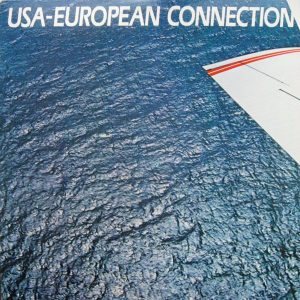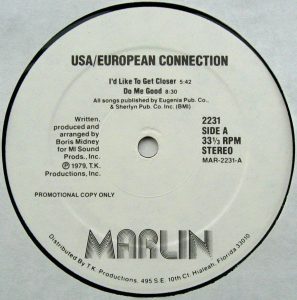 12. USA-European Connection, USA-European Connection. Marlin. 2231, T.K. Records. PTK 92061 (Can.) ­(1979), 33 1/3 rpm. Genre: progressive eurodisco.
Better known for his 1978 top charting Come into My Heart, this 1979 self-titled project produced by Russian-born, disco composer Boris Midney is in fact the second and last release under that banner. Both cited LPs are musically creative, progressive, engaging, and recommended but I would place this particular one ahead of the debut in terms of ultimate sound quality, as well as finer musical composition and arrangements. Classically trained at the Gnesin Music Institute and Moscow Conservatory, he moved on to work for ABC's Impulse label, arranging progressive Big Band jazz, and scores for TV shows at NBC, as well as composing for symphonic orchestra. Combining the latter with disco and electronic influences, he followed a similar musical path to eurodisco pioneers Giorgio Moroder, Cerrone, and Alec R. Costandinos, even though this heavily arranged and more complex subgenre of disco was in its last years and completely extinct by 1980—accelerated by the premature 'death' of disco. Mixing a string ensemble with bass, guitar, congas, and female vocals; all perfectly blended in his own Eras Recording Studio in NYC. I have not heard the original US pressing to compare but I can state unequivocally that this Canadian TK pressing is perfect in every sonic parameter; so much so that I cannot see where one could improve anywhere without losing the cohesiveness of this 48-track mix recording, supposedly using Telefunken equipment exclusively. In the pure tradition of Eurodisco, both LP sides, feature two tracks that run uninterrupted, segue-style. Full range tonal balance is spot on, with minimal analog compression and a hint of multi-track warmth and sweetness from start to finish, along with widespread soundstaging. Midney and Dmitri Zbrizer's greatly engineered production, boasts 'zero listener-fatigue' and makes you turn up the volume unwittingly.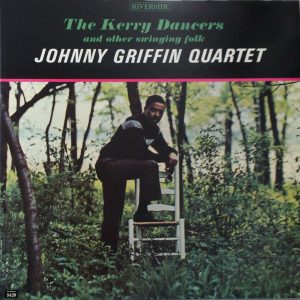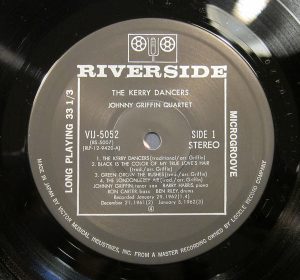 13. Johnny Griffin Quartet, The Kerry Dancers. Riverside. RLP 9420 (1962), Analogue Productions. AJAZ 9420 (2003) (2x45 rpm). Genre: jazz, hard bop
Founded in NYC by Bill Grauer and producer Orrin Keepnews in 1953, right up until its demise in 1964, Riverside Records—along with Contemporary–was among a handful of independent jazz labels that represented the top plateau of the golden age of recording. Joined here by Barry Harris on piano; Ben Riley on drums; and jazz's most prolific recorded bassist, Ron Carter; tenor saxophonist Johnny Griffin delivers an exquisite and extremely intimate performance, perfectly captured by Riverside's recording engineer Ray Fowler. Though all four instruments are finely balanced and rendered in the mix, it is truly Griffin that stands out, with the others playing more of a supportive role; and by standing out I mean, not only in delivery but also literally from the speakers, with great presence, crispness, and bite. There are a couple of mid to uptempo tracks where the quartet exchanges more freely but the smoother soulful ballads really steal the show. The tenor–sometimes panned to the left, other times to the right—really shines with every last breath of air passing through its reed, neck, body, and bell, as well as the squeaky key shifts reinforcing the sound realism; while Griffin explores the lower registers of his instrument, almost sounding baritone in fullness. I would characterize the tonal balance as 'neutrally' near-perfect; though I would have welcomed a 'smidgen' of added warmth and a fraction of shelf lift at the very top, being extremely demanding. That said, this remains one of my all time references for saxophone veracity. The pairing of engineers Steve Hoffman and Kevin Gray on the cutting-lathe for this double-45 rpm reissue, elevates even more so the very high sound standard that Riverside held around that music period.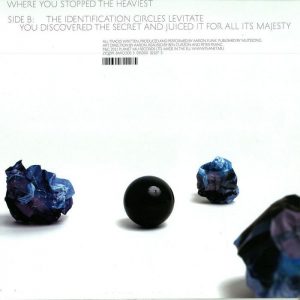 14. Venetian Snares, Cubist Reggae. Planet Mu. ZIQ299 (EU) (2011) 33 1/3 rpm EP. Genre: dub, glitch, electronic, experimental, breakcore
If you are looking for something that sounds incredible but totally atypical of the traditional audiophile sphere, look no further: Venetian Snares is the creation of Canadian electro-experimentalist Aaron Funk, signed to the equally experimental English label Planet Mu. The EP comprises two tracks per side, each one exploring an eccentric subgenre of musical mutation. In this case, it is the unorthodox meeting of dub with abstract asymmetrical electronic breakcore; in other words the organic world merges with the cerebral world, unleashing uncommon time signatures that would make Brubeck proud. Unlike many prior Funk compositions which pursued more 'purebred' breakcore at breakneck speeds, this 2011 release relies on slower underlying tempo alternating with abrupt speed shifts and ritenuto 'reverse breaks'—hopefully easing entry into what for many may be uncharted territory. The sound composition, mixing, and mastering is extended in both frequency extremes, being bold, brawny, and balanced with no portion particularly exaggerated, while textures remain fast, fierce, solid, startling, swirling, immersive, invasive, and palpable. For a more in-depth evaluation, you can go HERE.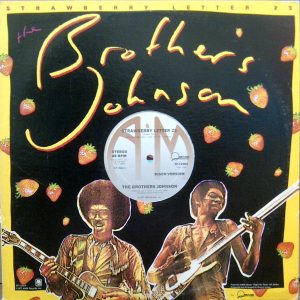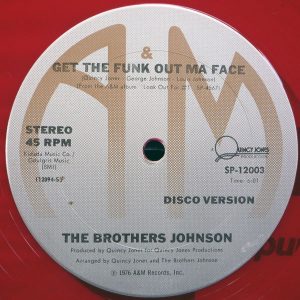 15. The Brothers Johnson, "Strawberry Letter 23"/"Get the Funk Out Ma Face" (disco version on both) A&M Records. SP-12003 (1977), 12", 45 rpm, red clear vinyl. Genre: psychedelic soul, pfunk
The Brothers Johnson scored three hits worthy of inclusion on this List. This 12-inch single reunites two of them, both initially released separately in many different vinyl formats. Back in 1971, American singer-songwriter and multi-instrumentalist Shuggie Otis released his second album Freedom Flight [Epic E 30752] which contained his original composition "Strawberry Letter 23". Fast forward six years later when Quincy Jones teams up with the duo and produces their funkier interpretation, which became the version most people know, and perhaps never knew was in fact a cover. As such their biggest hit, recorded in 1977, appears here in it's full length form–thus the 'disco version' designation rather than a true 'discofied' alteration per say—on the A-side. In and of itself the musically soulful 'catchy' track might make the List—generally good sounding though a slight upward tilt approaching 'treble fatigue' in some parts—but it is really the B-side that steals the show sonically. Recorded the previous year, the idiosyncratic and highly syncopated "Get the Funk Out Ma Face" bears no strong resemblance to its smoother flip side; rather it features more of a harder pfunk feel, with super solid bass—reaching low and quite kick-articulated—limpid mids that you wish swimming into, and clean guitar, tambourine, and incisive harmonica sharing the higher frequency region. Lastly the sound stage is simply spectacular. Now that latter qualifier is not something I usually associate with this genre of music; even though there are many excellent sounding funk and soul recordings, 'spectacular' is a word I keep more for symphonic or 'grandiose-type' styles. But here it is well-merited, with what must be the widest, deepest sound field ever for this musical form—akin to listening through a superb pair of headphones but with the scale and organic groove of 'dance-floor' speakers added to the mix.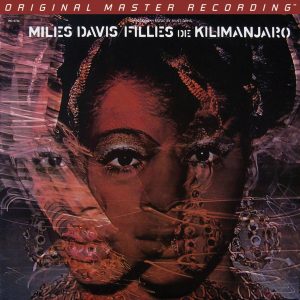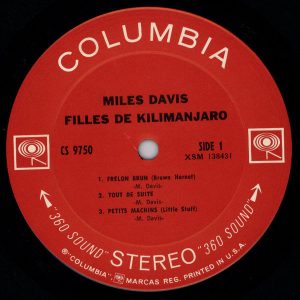 16. Miles Davis, Filles de Kilimanjaro. Columbia. CS 9750 (1969), MoFi, MFSL 2-438 (2015), (2x45 rpm). Genre: jazz, post bop, fusion
Recorded in June and September 1968 and released in February of the following year, Filles de Kilimanjaro featuring Miles' second great quintet, continues in the lineage of Miles in the Sky [MoFi MFSL 2-437] while exploring all the more so elements of funk, rock, and freeform within groove-based modal patterns, in a 'jam-live' feel with synergistic interplay between top-notch players. On this album we get a strong sense that he is paving the way for his 1970's landmark Bitches Brew [MoFi MFSL 2-439] and even beyond. It is obvious how this particular time period of Miles has left a profound influence on Swiss-born French trumpeter Erik Truffaz as well as saxophonist Ilhan Ersahin, both players pursuing the adventurous path set forth by the maestro. Whereas many wonderful Blue Note recordings of the same era are easily recognizable by their musical stylings of the day, this album just as those preceding it, remains as fresh today as it was back then. Columbia recording engineers Arthur Kendy and Frank Laico did a fantastic job capturing most of the instruments: the drum panned right upfront is energetically present with hi-hat and snare rolls sounding very realistic; electric piano and/or Fender Rhodes counter on the left, playing a constant game of chasing each other; electric bass centered further back is larger than life, nearly invasive, and organically 'loose' but surprisingly still substantially solid; tenor sax tends towards a lean and biting veracity; ironically it is Miles' trumpet that comes out just short of impressive with a bit of mic saturation smearing on fortes, despite its good tone. The latter caveat aside, MoFi's 'wonder team' of Krieg Wunderlich and Shawn R. Britton did a colossal tape to disc remastering and cutting to 45 rpm, supported by RTI delivering the most silent pressing I ever heard. I did not have a '360 Sound' original pressing to compare with but having heard many of that same era, often by the same engineers and producers—e.g. Dave Brubeck LP's–I have no doubt that this new double 45rpm comes out way way ahead. For a more in-depth evaluation, you can go HERE.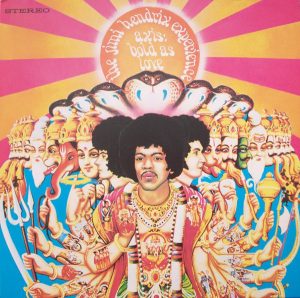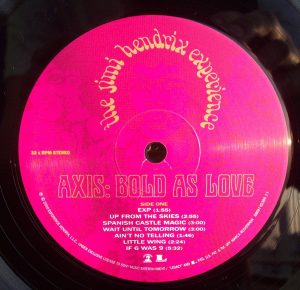 17. The Jimi Hendrix Experience, Axis: Bold as Love. Track Record. 613 003 (UK) (1967), Experience Hendrix. 88697 62396 1, Legacy (2010) 33 1/3 rpm. Genre: psychedelic rock, blues rock
London, late fall 1966: two powerful trios each launch their debut release nearly simultaneously, setting the stage—and bar—for a major rock transformation placing the 'guitar God' phenomenon in the forefront of innovation. Cream and more importantly The Jimi Hendrix Experience, comprising Hendrix on guitar and vocals, Noel Redding on bass, and Mitch Mitchell on drums–in a short span of barely four years, and cut abruptly by his premature death–would sow the seeds for fusing psychedelic, heavy, and even funk with rock. From a musical standpoint their first two albums are absolutely essential in any serious music collection, and many would strongly argue in favor of their third and final epic—Electric Ladyland released in October 1968. Though their 1967 debut Are You Experienced [Experience Hendrix 88697 62395 1, Legacy] is highly creative and musically superb, its slightly distant sound varies from fair to near excellent, whereas Axis: Bold as Love—the band's second LP released at the tail end of the year is outstanding all through, thus the favored choice for this List. Both LPs were recorded mainly by a young Eddie Kramer in London; with Axis done at Olympic Studios on Ampex 4-track half-inch using a combination of Neumann U67s and AKG C12s in a left-center-right pattern for drum overheads taken from the drummer's perspective, and a Beyer M160 for vocals. George Marino at Sterling Sound in New York handled the lacquer-cutting with Kramer supervising the remastering using the original 2-track master tape. I did not have an original UK pressing to compare with but did hear the Grundman mono cut [Experience Hendrix  612 003] (licensed to Classic Records) from 2000 prior to this 2010 stereo version, and preferred by a long shot this newer one finding it much richer, warmer, and wider—as to be expected from stereo vs mono versions. The mixdown is perfectly balanced spectrally with great solid drum and bass presence, in addition of classic tube warmth and low compression; confirming Kramer's true genius. Of course, some may prefer the mono for its rock-solid central image but I find the panoramic, and myriad phase, etc., effects more communicative of Hendrix's 'mind-expanding altered states' at the time. Given all the efforts that Kramer put into recording the drums in true stereo; bouncing the initial 4-tracks from one deck onto 2-tracks on a second deck for further multi-layering; and panning in 'real-time' guitar solos, vocal EFX, etc. makes a strong case for the stereo version. As a bonus, packaging—original gatefold artwork and LP-sized booklet–is rather premium considering the modest price.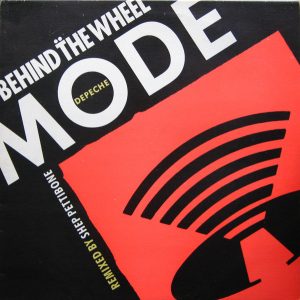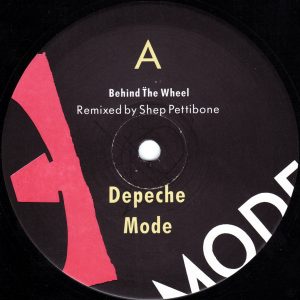 18. Depeche Mode, "Behind the Wheel" (remixed by Shep Pettibone). Mute, 12 Bong 15 ­(UK) (1987), 12", 45 rpm. Genre: electropop, synthpop, tech house
In another confluence of sorts: two of the leading proponents of the 1980s British alternative dance scene surfaced within a month of each other: both New Order and Depeche Mode produced their first single in early 1981, and share the distinction of releasing much better song versions on the 12-inch single format than the versions appearing on their LPs—i.e. in terms of superior remixes by renowned deejays and most important to us audiophiles, in substantially superior sound quality. For now I will focus on the latter formation which have at least five or six releases worthy of inclusion on this List and concentrate on their oldest contender for great sound—"Behind the Wheel" by dj-remixer-producer Shep Pettibone, who first 'cut his teeth' on disco's premier label par excellence, Salsoul Records. In the very beginning the band was more into a light upbeat new wave/synthpop style—as exemplified by the single "Just Can't Get Enough" [12 Mute 016]—but as the decade progressed, elements of industrial and harder textures slowly infiltrated the mixture to a certain degree. Then came the added touch by the remixers of the day, which further steered the style towards the oncoming tech house movement. French engineer and producer David Bascombe recorded the track at Studio Guillaume Tell in Paris and KonK Studios in London. Mastered at The Exchange and Musitech, and pressed by Damont—all three located in the UK—the tonal balance is perfect with tight driving electro kick drum; crisp 'crunchy' synths; and exciting panning effects on percussion and vocals. With a total time coming just under 6 minutes/side and cut at 45 rpm, the sound maintains its excellent 'raunchy' sound and throbbing pulse throughout the track.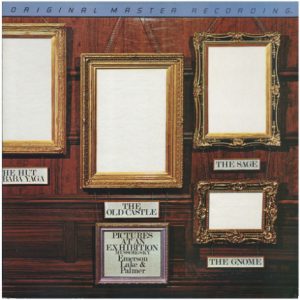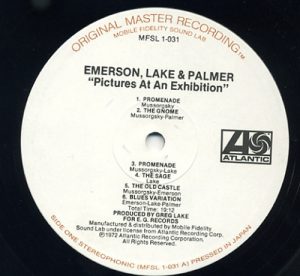 19. Emerson, Lake & Palmer, Pictures at an Exhibition. Island Records. HELP 1 (UK) (1971), MoFi, MFSL 1-031 (JVC) (1980), 33 1/3 rpm. Genre: progressive, symphonic rock
There are only a handful of sonically oustanding live rock recordings available on vinyl–ELP's 1971 reinterpretation of Mussorgsky's famous work is one of them. Recorded in Newcastle city Hall in England, this is the trio's third LP following Tarkus [Island ILPS 9155 or MoFi MFSL 1-203]. Combining about half of the Russian composer's original ten 'tableaux' with the other half comprised of their own material, the British prog supergroup not only delivers a great entertaining performance but also astonishingly superb sound in any context, especially so for a live setting with minimal intrusion or distraction from its audience. Luckily for fans, most of their LPs are truly well recorded, mixed, and merit some space on this List.  Engineer Eddy Offord, who co-produced a multitude of Yes' best albums, and engineered ELP's first four releases, once again did a fine intimate presentation: good tonal balance with a detailed top end, even perhaps slightly emphasized in absolute terms but in revenge it contributes to strong articulation of the often rapid, complex, and staccato rhythm patterns for which the band is renowned for. MoFi's first generation mastering team, pairing Gary Giorgi with the legendary Stan Ricker are credited for this early catalogue release, cut at half-speed, and pressed in Japan on thin 'virgin vinyl'. I did not have an original UK pressing to compare with.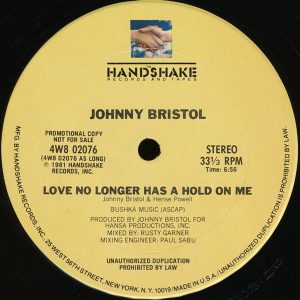 20. Johnny Bristol, "Love No Longer Has a Hold on Me".Handshake Records and Tapes. 4W8 02076 ­(1981), 12", 33 1/3 rpm, promo. Genre: soulful disco
Better known for his 1974 breakthrough hit "Hang On in There Baby"–a soulful disco track in the same vein as Barry White's Love Unlimited style—this 1981 promo 12-inch single, shares many of the earlier song's strengths but with so much superior sound in comparison, that the choice at least regarding this List, seems obvious. Bernie Grundman is credited for the mastering/cutting and I can confirm that he really hit the nail on this one, to the point of perfection and I dare add, devoid of any of the so-called 'signature sound' we sometimes associate with BG cuts. Very pleasing recording, mixdown, and tonal balance with just the right equilibrium of lows, mids, and highs. Great groove, punch, and weight in the former with smooth silky strings, and transparent harp in the latter; Bristol's vocals are clear and dynamic for this music style, gravitating a bit towards Lou Rawls' own forays into 1970s Philly Sound period. Other highlights include: superb articulated PRAT; wide and tall sound stage; and an interesting, unusual, electronified-percussive break that appears 'pasted' or edited-in this largely organic composition adorned with soaring sunny arrangements. Being a promo, both sides are absolutely identical, thus providing a 'safety copy' if ever one side gets damaged or loses luster with time.
A final note:
Now don't go 'bonkers' if you have not found your favorite recording included in this List, just remember: we are only at the beginning of a long long journey...into sound.
For more from Claude Lemaire go to his blog...
http://soundevaluations.blogspot.ca/
I felt it appropriate to create this Reference List for those about to 'jump on this train' for the very first time, and for those already aboard; perhaps eager to discover some new or old hidden gem to add to their precious collection. In that frame of mind, I am limiting the scope of the project to great recordings, going back to that early hifi period right up to the present, released on vinyl, either as LPs, EPs, or singles. I am estimating completion within four to five years at a rate of approximately 10 selections per month. In order to keep things rolling, a capsule-type review instead of an in-depth evaluation will accompany each selection, along with the picture of the album or single, and the recommended label pressing and country of origin. When not specified, the U.S. pressing is always the default option. If a full review of a selection already exist, a link to the latter will be provided at the end of the capsule. There are no individual ratings but I will try to set the 'sonic bar' at no less than 8/10 and give priority to those surpassing 9/10 in my judgement. Contrary to a 'Rolling Stone-type' of list where albums are chosen on musical merit or relevance with no mention of sound quality whatsoever, and the extreme polar opposite—a 'purely audiophile-only' list—where sometimes sub-par music value is overlooked by extraordinary sound, I will endeavor to bridge the gap between these two solitudes. One last note: the order within the list is by and large arbitrary and only there to reflect where we are situated in the project's time frame; i.e. number 25 is not necessarily better or worse than number 50; it is impossible to assign a preference order when dealing with so many different music and production styles. Like any list out there, personal tastes will differ between individuals, so always keep in mind that these are my Top 500 favorites chosen from the 'roughly' ten thousand titles from my Vinyl Vault after 42 years of collecting records.