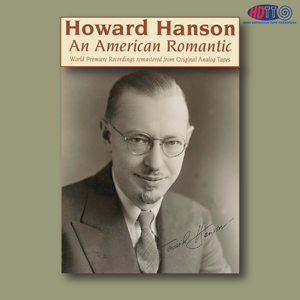 Title: Howard Hanson: An American Romantic
Artist(s): David Craighead, organ; Rochester Chamber Orchestra, David Fetler conducting (Organ Concerto; Ballet Nymphs and Satyr) Recording session in Asbury First Methodist Church, Rochester, New York
Brian Preston, piano; Meliora Quartet (Concerto da Camera; Yuletide Pieces). Recording session in Parmenter Chapel, Roberts Wesleyan College, Rochester

Tracks included on tape:
Concerto for Organ Harp and Strings
Two Yuletide Pieces for Piano Solo
Suite Nymphs and Satyr
Concerto Da Camera for Piano and String Quartet
Bonus tracks included on the USB Flash Drive not included on tape:
A Prayer of the Middle Ages
How Excellent Thy Name
I will Lift up Mine_Eyes
Praise Ye the Lord
Barbara Harbach, organ; The Roberts Wesleyan College Chorale, Robert Shewan conducting (Choral Anthems) Recording session in First Lutheran Church, Lyons, New York. Schlicker tracker-action pipe organ

Recording Info:
The Concerto for Organ, Harp and Sering Orchestra, Nymphs and Saryr Ballet Suite, and Three Psalms were recorded at sessions which followed their performance at a Howard Hanson memorial concert at Asbury First United Methodist Church in Rochester, NY on 27 Sepcember 1981.
The Concerto and Ballet Suite were recorded in Asbury First United Methodist Church, Rochester, NY (Austin organ); the Three Psalms, along with A Prayer of the Middle Ages, were recorded in First Lutheran Church, Lyons, NY (Schlicker cracker-action organ). Equipment used in the recording sessions included Neumann condenser microphones, an analog Studer professional recorder.  All selections were produced and engineered by John Proffitt.
Personally signed by The Producer/Engineer John Proffitt
Included with your purchase all Digital Formats from DSD256 through PCM 24/96 on a USB Flash Drive
"If you enjoy the Mercury Living Presence recordings of Howard Hanson with the Eastman Rochester Orchestra, this collection of Hansen's short works and choral pieces will be equally entertaining." - Steven Plaskin  audiostream.com
"The sonic results in this case are simply exceptional, There is unbelievable ease, with nuanced delicacy in the pianissimos, and yet dynamic slam aplenty in the fortissimos, Top-notch in every way, and carrying my very highest recommendation." - David Robinson Positive Feedback
For details, or to order, please go to https://www.highdeftapetransfers.com/collections/reel-to-reel/products/hanson-an-american-romantic-1-1-copy-of-the-original-master-tapes.