Brooklyn-Based Pianist Erik Deutsch Digitally Releases Debut Solo ALBUM & VIDEO
Available DSD Pure/Hi-Res PCM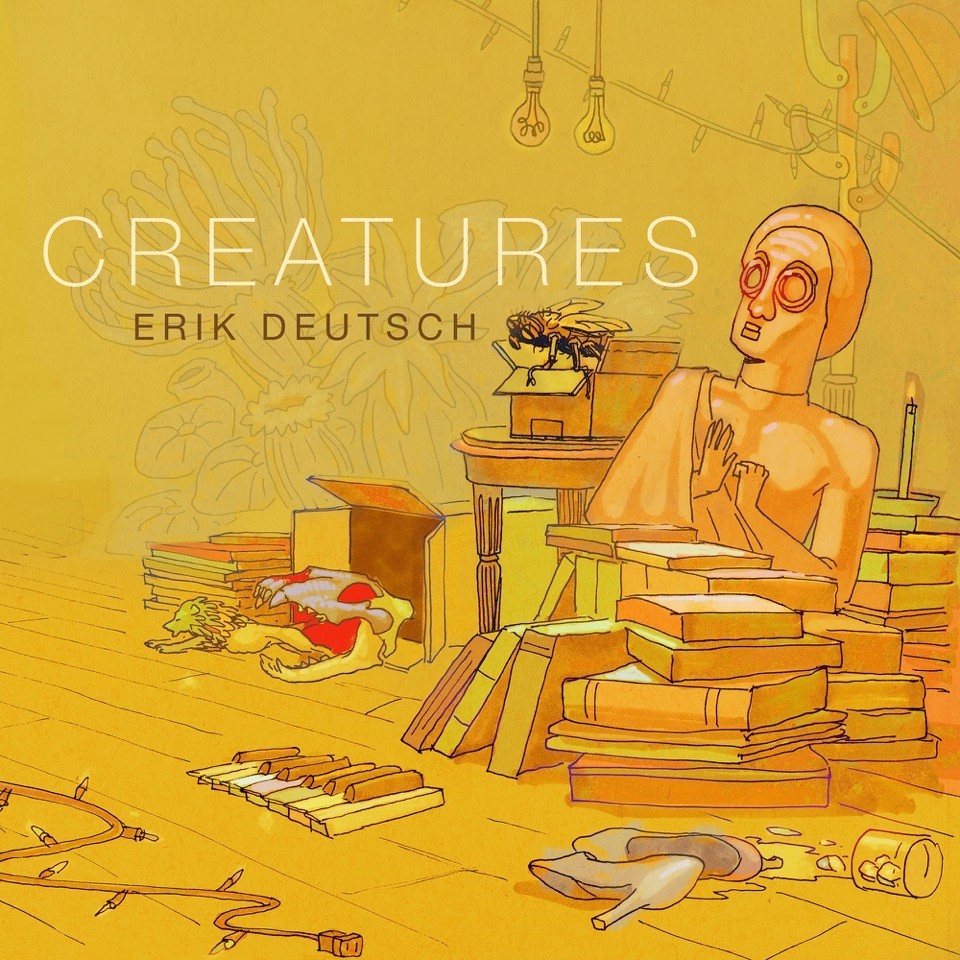 Creatures
(Immersive Records, Release Date: November 18, 2016)
"Erik Deutsch, a pianist with a taste for tuneful provocation, is an especially valuable resource as a solo commentator and accompanist…" -New York Times
"A talented member of the new generation of jazz musicians, Deutsch's star just keeps shining brighter with each project."
-All About Jazz
"…the contemporary keyboardist reasserts himself as a masterclass composer worthy of a Herbie Hancock-esque level of glory with soaring jazz instrumentals…" -
PopMatters
"Once upon a time, there was such a thing as an instrumental pop hit. If the charts still had room for the likes of the Allman Brothers' 'Jessica' and Herbie Hancock's 'Rockit,' not to mention the JB's and MG's, then Erik Deutsch would be assured a place atop them." -Philadelphia City Paper
Pianist, composer, arranger, and producer Erik Deutsch embarks down a path that many instrumentalists ponder, but rarely conquer: a solo instrumental album. Well-known as a go-to NYC-based keyboardist – who regularly tours alongside an impressive array of lauded artists including Citizen Cope, Shooter Jennings, and most recently Leftover Salmon, Deutsch went big and recorded his debut solo studio album in front of a live audience with a multi-camera HD shoot for a companion DVD. The recordings were captured direct to DSD via a Sonoma System with Meitner converters at Immersive Studios. A collection of nine original compositions, Creatures is produced by GRAMMY® and Emmy Award-winning producer Steven Vidaić (Co-owner, Immersive Records) and is scheduled for national digital- only release as an HD Video / Hi-res audio set by Immersive Records on Friday, November 18, 2016. Hi-res/DSD audio will be available exclusively by Acoustic Sounds at http://store.acousticsounds.com/superhirez. Erik Deutsch and Steven Vidaic are available for interviews upon request.
In Winter 2013, Deutsch broke away from his perpetually crazed touring schedule for a short trip to Boulder, CO to record Creatures at Immersive Studios. A home-away-from-home for Deutsch -- which happens to house a beautiful Baldwin grand piano -- Immersive became the haven where the pianist laid down his most personal work to date. Stripped of accompaniment by his deft band members, compositions that were originally arranged for a full ensemble now took on a life of their own showcasing Deutsch's sheer talent. The earthy, dark, and breathy tones of the Baldwin deepened Deutsch's solo reinventions, which morphed into raw, streams of consciousness running between his fingers, the ivory, and percussive interludes on the piano strings.
Creatures…lions, flies, fish, lovers, fireflies, doctors, and outlaws are the characters that comprise Deutsch's first solo recording project. Other stalwart jazz giants such as Paul Bley (Open To Love), Art Lande (The Eccentricities of Earl Daunt), and Keith Jarrett (Koln Concert) shaped Deutsch's sound over his 20-year piano career helping to inform the nine pieces on Creatures.
The album kicks off with "Firefly," a song that Deutsch describes as being, "campfire music, as if you were camping on the moon." It was initially recorded for his debut studio album, Fingerprint, and effortlessly lends itself to a solo performance. Inspired by the music of Wayne Shorter, "Lover's Eyes" presents a dreamy atmospheric piece with rich harmony and unexpected twists and turns – it appears on his record, Demonio Teclado. "Fishmonger" pulls from Deutsch's earlier writing from 2004; a song he's only performed live once prior to the concert at Immersive. "I really thought of my musical mentor Art Lande when I performed this piece. It's playful, challenging, and the free improvising allowed me to experiment with the harmonics of the piano. If you listen closely, you might just hear the sounds of a bustling fish market on a Monday morning."
"Tiny Lion" firmly rests within the gospel genre; as Deutsch notes, "gospel music is definitely a style that I hold close to my heart." Written in Brooklyn, NY where he resides, "Black Flies" is a tribute to the super-sized and seemingly super-powered river flies that lurk outside of his residence. The song was recorded for his 2009 album, Hush Money; Deutsch adds, "it needed to be turned on its head to be performed without woodwinds, guitars, bass and drums." Also appearing on Hush Money, "Incandescence" is a love song that leans on classical music.
While in his final semester at Colorado University – Boulder in 2004, Deutsch was fortunate to hear a speech by a Candomble High Priestess named Zimewanga. Leaving a lasting impression, he composed the solo piano piece, "Prayer for Zimewanga," which can be heard on Fingerprint. Diving even further back into his career to 1997, another Fingerprint song "Doctor's Demon" is included on Creatures as it adapts well for solo piano with its left-hand ostinato. The album goes out on a high note with "Outlaw Boogie," a throwback boogie-woogie number from his latest studio album, Outlaw Jazz. The song bookends Deutsch's nearly two decades of compositions represented on Creatures.
As the former full-time keyboardist in guitar great Charlie Hunter's trio (appearing on Hunter's 2007 Mistico and 2008 Baboon Strength) and working with a slew of other acclaimed artists, Deutsch is well-versed in many musical styles to cull from for Creatures. He's performed and/or recorded alongside Norah Jones, Theo Bleckmann, Phillip Phillips, Rosanne Cash, Alice Smith, Steven Bernstein, Joe Russo, Jenny Scheinman, and Devotchka. As a leader, he's put out four albums under his own name, Demonio Teclado (2012), Hush Money (2009), Fingerprint (2007), and Outlaw Jazz (2015), all of which have received critical praise from mainstream and jazz press.
For additional information on Erik Deutsch and Creatures, please visit hammerandstring.com and immersiverecords.com
Erik Deutsch
Creatures
Immersive Records
Release Date: November 18, 2016
Track Listing:
Firefly
Lover's Eyes
Fishmonger
Tiny Lion
Black Flies
Incandescence
Prayer for Zimewanga
Doctor's Demon
Outlaw Boogie